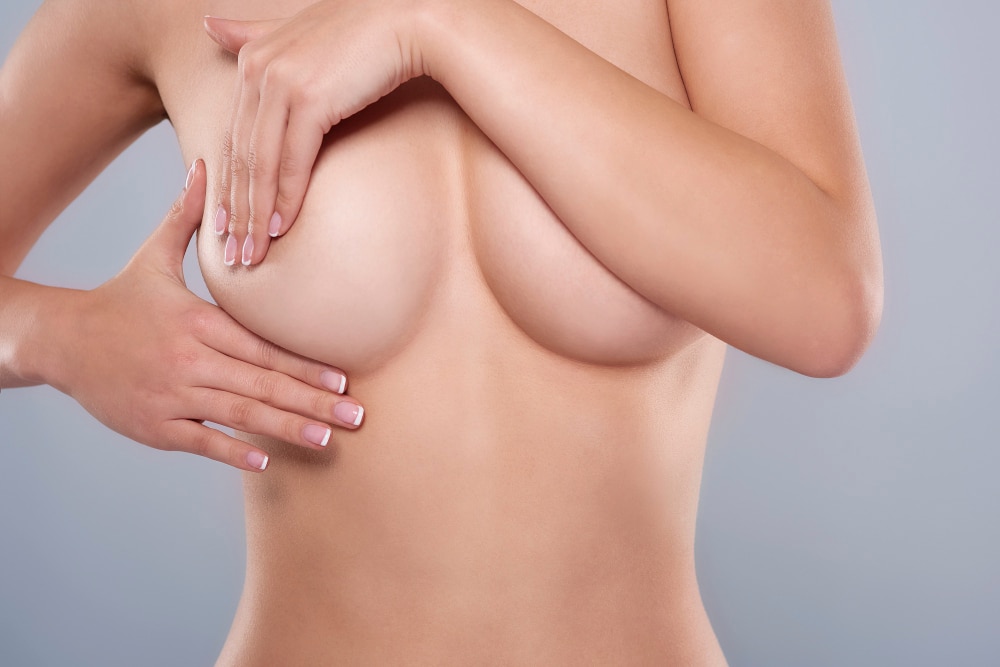 Breast implant surgery continues to be one of the most popular cosmetic surgery procedures in the UK to enhance breast volume. Many women tell us how they have developed a significant boost in self-confidence and emotional well-being from having larger breasts that help them to feel more feminine. Having said that, it is important to remember that breast implant surgery carries certain risks with up to one in five women needing to have either breast implant removal or breast implant replacement within ten years of their first procedure. Women can ensure they can enjoy the results of breast augmentation in the long term by choosing an expert breast surgeon who carries out all types of breast surgery regularly. It is important to bear in mind that implants may undergo changes over time which means that certain breast implant problems will require corrective breast surgery and this should not be viewed as a failure of the original operation.
Common Questions about Breast Implants
Common types of breast implant problems may need revision breast surgery and it is therefore important that women are able to recognise the symptoms of potential problems with their breast implants. Undiagnosed breast implant problems that go undetected for many years may result in medical harm. Breast implants can potentially last a very long time in excess of twenty years provided you have never had any problems with them. Most women however can expect an average breast implant lifespan of between ten and twenty years with modern fifth-generation implants. During this period, you may wish to explore potential options for either breast implant removal or replacing old breast implants with brand-new ones, especially if you would like to go larger or smaller. Many women who already have breast implants often wonder when they should consider having their breast implants replaced.
What are the potential breast implant problems that women may face?
Having your breast implant procedure performed by an experienced plastic surgeon at Centre for Surgery means you are receiving the very best possible medical care for your breast surgery. This helps to minimise the risk of complications occurring. Women who choose to have the surgery carried out abroad, especially in Turkey, have a much higher risk of developing serious breast implant problems, including implant-related infection, due to a lack of sterile precautions. Patients who choose their surgeon and clinic based on cheaper prices than what is found in the UK open themselves up to massive potential risks, many of which may not be correctable with revision breast surgery. Breast implant problems can also present in other ways and women often choose to have breast implant removal or replacement for reasons other than acute medical complications occurring soon after their surgery.
Implant-related complications – breast implants can develop capsular contracture or undergo implant rupture which most commonly needs corrective breast surgery.
Replacing old breast implants – breast implants may cause no issues even after 15 to 20 years although we would recommend having old breast implants replaced with new implants or have them removed if you no longer wish to have breast implants to prevent medical complications.
Removal of PIP implants – the PIP breast implant scandal left many thousands of women with substandard breast implants containing industrial-grade silicone. These types of implants have a high risk of complications, including implant rupture, compared with FDA-approved breast implants. Many women choose to have breast implant replacement or removal to ensure they do not suffer complications of PIP implants.
Cosmetic appearance – many women may feel they no longer like how their breasts look, which often leads to consideration of revision breast surgery to remove old breast implants and replace them if desired. Women may be unhappy with the outcome of the first breast procedure or may no longer like how their breasts look now that implants have been inserted.
How to recognise common breast implant problems?
It is equally important for women to have knowledge of both the different types of breast implant problems that can occur as well as being able to recognise the features of a potential breast implant problem. If you are confident in being able to recognise clinical features of a developing problem with your breast implants, then you will be better placed to have an earlier consultation with a breast specialist to treat the problem. In our experience, early recognition of breast implant complications leads to better treatment of implant issues. Many types of breast implant problems can be accurately detected with high-resolution ultrasound scanning performed at Centre for Surgery.
Capsular contracture – capsular contracture refers to the formation of thickened scar tissue affecting one or both breast implants. This breast implant problem develops due to the body's normal reaction to a foreign object. The formation of a scar capsule around the implant is designed to protect the body against any harmful components of the implant. Recognised clinical features of capsular contracture include pain in one or both breasts, a feeling of tightness, localised areas of tenderness or an abnormal breast shape due to the capsule causing deformation of the underlying implant.
Silicone implant rupture – silicone implants are composed of a cohesive gel-like material which has a much thicker consistency compared with saline implants. If an implant ruptures, any internal material inside the implant remains inside and does not leak out. This means that many patients may not know that they have an implant rupture as silicone implant ruptures are often silent ruptures without any symptoms. Symptoms that may occur include localised tenderness, a swollen appearance, pain in the breast, a reduction in the size of the breast, and a burning sensation or numbness.
Saline implant rupture – saline implants contain a sterile salt water solution encapsulated in an outer silicone shell. When saline implants rupture, the saline solution is safely reabsorbed by the body with no risk of medical complications. Possible signs of saline ruptures include a significant change in the shape of the affected breast with a reduction in size. Saline breast implants are not commonly used in the UK and have been superseded by silicone implants. Silicone implants have a more natural feel, consistency and texture.
Why do women have old breast implants replaced?
One of the most common reasons to have cosmetic breast surgery is to eliminate saggy breasts, which commonly develop as a result of the ageing process. Breast lift surgery is a highly effective treatment for improving the perkiness of the breasts which makes breasts sit higher up on the chest wall to give them a more youthful appearance. No type of cosmetic surgery, including a breast lift can stop or reverse the natural ageing process. Many women find they are no longer happy with the appearance of their breasts and would like to have the old breast implants replaced with new ones or removed.
The elasticity of the breasts naturally decreases as women get older and the presence of old breast implants can accentuate breast sagging. A similar effect occurs in women who have large and heavy breasts resulting in the development of breast sagging. Breast asymmetry may develop gradually over time, and the best treatment for both conditions is a breast implant replacement combined with breast uplift.
When is revision breast surgery needed to correct breast implant problems?
Breast implant replacement surgery is the most appropriate treatment for women with breast implant problems and women who want to change the size of their implants. The procedure involves the removal of old breast implants before being replaced with new implants. Implant exchange surgery takes approximately 1 to 2 hours to carry out and is performed under a general anaesthetic as a day case procedure. Surgery for capsular contracture may take longer especially if an en-bloc removal of both implant and capsule in one piece is performed. The surgeon will use your old incision to remove and replace the implants so there will be no additional scarring following the procedure.
How much is breast implant removal?
If you think you may have breast implant problems, the next step is to have a consultation with a specialist breast surgeon. Centre for Surgery is one of the most experienced providers of cosmetic breast surgery in the UK. Our surgeons have expertise in both breast implant removal and implant replacement surgery.
Amazing from start to finish, the communication was the main thing was fully informed and looked after, on the day of my breast augmentation, the staff were fab and made me feel at ease through out the whole process. Thank you so much.
Mohammed Farid
18/11/2021
I've had such a great experience with excellent advice, care and attention and surgical treatment (gynaecomastia) - I can fully endorse the treatment I have received from Centre for Surgery with absolutely no qualms at all. Brilliant in every way - thank you all so much.
Caroline Thorpe
14/11/2021
Very pleased with my whole experience of having a procedure. Was so nervous about getting treatment and i was reassured and felt so comfortable throughout thanks to the amazing nurses. I definitely made the right decision to have breast augmentation at centre for surgery with dr erel.
Melissa Briggs
08/11/2021
So glad I went with centre for surgery, the whole process went very smoothly from the consultations down to the actual day of the procedure. I was so nervous on the day but the whole team put me at ease and I'm happy with my results as I feel a lot more comfortable wearing certain clothes now. My surgeon was Alberto Di Giuseppe who performed a breast Augmentation on me, and I would definitely recommend as he was very clear on what the outcome of the surgery would be and which size would look the best for my frame.
Couldn't be happier with Dr Tillo work,i had my breast surgery one week ago and so happy with the results so far,all the staff are extremely nice and very supportive,i would definitely recommend their services,thank so much
From start to the finish everything was perfect for tummy tuck surgery. All staff is very friendly and the aftercare has been good. The Doctor and the nurse team was fantastic. I'm so happy...result is amazing. Thank you!!!
This was overall a great experience, all the staff at Centre for Surgery were friendly and put me at ease. It is a nerve wracking thing to go through an op but the staff were so nice. Mr Ertan has got a great team around him. On the day of the operation everything went smoothly to plan, there was no delay or holdups, I had another consultation with Mr Ertan who confirmed what was going to be done and that I was still happy to proceed. I was prepped for the procedure, I met with the anaesthetist who again was really nice and put me at ease explaining his role. After the procedure I woke up with the nurse by my side making sure I was OK and checking on me, I was able to stay in the clinic until I was ready to leave and was not rushed at all. I was well looked after from the start to the point when I was discharged. Post operation I was staying at a local hotel it was so close there was no point in even getting a taxi and I was able to walk back where my partner was waiting for me. I was expecting a lot of bruising to both my eyes but there was very little if any by the time the cast came off after 7 days, I am now at the two week post operation point and it is healing well with no outwardly visible bruising or scaring. The next milestone is a checkup at the 6 week point with my surgeon. If you're thinking of having something like this done I would highly recommend getting in touch with Centre for Surgery.
The staff at Centre for Surgery were very kind and accommodating. They answered any questions I had about the procedure and were constantly checking up on me. A special thank you to Christina for all her support throughout.
I would just like to state the quality of care received from the nurses at Centre for Surgery was beyond the highest level. Sophie takes her patient care to another level beyond words. She always puts me at ease. She is there for me even at awkward hours just when I mostly needed reassurance and she is one of the most compassionate nurses I have come across and demonstrates her passion naturally for caring for others. She totally deserves recognition at its finest and thank you for always being there for me. 😍