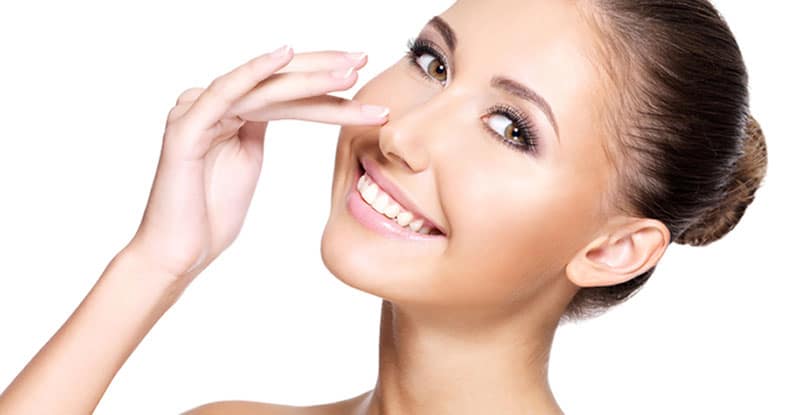 There are several different types of nose shapes including Nubian, Greek, Celestial, fleshy and Roman noses. Although many of these different types of noses may be unfamiliar to many people, certain types of nose shapes may be well known due to certain celebrities who may have that particular new shape. One of the most commonly known types of nose shape is the bulbous nose. In this article, we describe what a bulbous nose tip looks like as well as how to improve the appearance of a bulbous nose with a nose job.
SEE ALSO: Surgical versus non-surgical rhinoplasty
What does a bulbous nose tip look like?
A bulbous nose tip most commonly appears as an enlarged swollen area in the tip area of the nose. When the lower part of the nose appears larger than normal, the overall proportions of the nose can appear distorted with a loss of balance with the rest of the person's face. Many people who have a bulbous nose tip may have a reduction in self-confidence and may avoid many types of social situations.
When people have a bulbous nose tip, one of the most common causes is related to genetics. People are simply more likely to have a bulbous nose if other members of their family also have a similar nasal appearance. Other factors that may result in the appearance of the bulbous nose tip include enlargement of the lower lateral cartilages and thick and sebaceous skin in the lower third of the nose which commonly occurs in men. In other cases, the development of a large bulbous nose can develop due to the development of rhinophyma which is regarded as one of the end-stage features of severe rosacea that may not have responded to medical treatment. Rosacea is a chronic inflammatory condition of the skin resulting in extensive facial redness. Excessive alcohol consumption has been thought to be linked with the development of rhinophyma with many studies ongoing to study this association further. Men are more likely to develop a bulbous nose tip than women and the condition most commonly affects those after the age of 50 years old. There are a number of well-known people who have bulbous nose tips including many Hollywood celebrities.
Bulbous nose tips most commonly affect men and a more commonly seen in certain ethnic backgrounds. People of African heritage have wide noses with thicker nasal tips compared with Caucasian people.  The African nose is distinctive due to having large nostrils and a rounded appearance to the tip of the nose with a lowered nasal bridge. Bulbous noses are also seen more commonly in Scandinavian countries where noses often have a wide base with a prominent nasal tip.
What are the benefits of a bulbous nose job?
Bulbous nose job surgery is designed to reduce the size of a bulbous nose tip and reshape it to look more in proportion with the rest of one's facial features. Surgery on the nasal tip is also known as rhino-tip surgery and is a commonly performed type of rhinoplasty procedure to improve the appearance of a bulbous nose tip.
RELATED: How to make your nose smaller
A rhinoplasty for bulbous tips can be performed using an open rhinoplasty or a closed rhinoplasty. The technique chosen will depend on the type of correction required and whether any surgery is required to the nasal dorsum. The most common type of no surgery is an open rhinoplasty as the surgeon is able to fully visualise the bony and cartilaginous framework for optimal correction of the deformities which result in the appearance of a bulbous nose tip. Closed rhinoplasty is an alternative technique for patients who prefer to avoid having a scar on the columella. All the incisions for a closed rhinoplasty are made inside the nose with no visible scar. Closed rhinoplasty is a quicker procedure to perform with a shorter recovery period. The procedure is unable to address more extensive nose contouring and patients who have a very large bulbous tip may not be able to achieve optimum results with a closed rhinoplasty.
RELATED: What is the difference between an open and closed rhinoplasty?
When you have your rhinoplasty consultation, our expert rhinoplasty surgeon will be able to recommend the most appropriate technique for your bulbous nose job surgery.
How can a bulbous nose job reduce the size of a bulbous nose?
Rhino tip surgery is a type of rhinoplasty procedure designed to surgically alter the size and shape of the nose tip. Rhino tip correction can also address the bulbous nose tip. The procedure involves reducing the size of the nose by surgically removing part of the lower lateral cartilages which are often enlarged in those with bulbous nose tips. The resulting appearance is a nose tip that appears smaller and less rounded. In many cases, your surgeon may be able to perform a bulbous nose job as a closed technique so that all incisions are positioned inside the nostrils which means there will be no visible scarring. The nose tip surgery will be customised to the individual patient's anatomy.
In some cases, particularly for extensive nose contouring, your surgeon may need to perform an open rhinoplasty. This procedure will involve an incision being made in the skin of the columella which lies between the two nostrils at the bottom of the nose. Once the incision has been made, the surgeon will gently separate the skin from the underlying cartilage and bony framework. This gives the surgeon optimum visualisation of all the nasal structures which require surgical nose contouring. At the end of the procedure, the columella is suited with non-dissolvable sutures as these will give a better-looking scar followed by the application of brown tape and a thermoplastic splint to protect the nose while it is healing. The dressings, sutures and nasal splint will be removed at a one-week appointment with our post-operative nurse. Open rhinoplasty is an ideal procedure for patients who have significant deformities of nasal anatomy which include having a bulbous nose tip.
Bulbous nose job surgery at Centre for Surgery
Centre for Surgery is a specialist cosmetic surgery clinic in London with expertise across the full range of rhinoplasty procedures including bulbous nose rhinoplasty using both the open rhinoplasty and closed rhinoplasty techniques. I'll surgeons have many years of experience carrying out both aesthetic and reconstructive rhinoplasty including difficult revision rhinoplasty cases referred from overseas. If you would like to book a consultation, please call us today on 020 7993 4849 and speak to one of our friendly patient coordinators to book a rhinoplasty consultation at our state-of-the-art surgical facility in Marylebone.
Amazing from start to finish, the communication was the main thing was fully informed and looked after, on the day of my breast augmentation, the staff were fab and made me feel at ease through out the whole process. Thank you so much.
Mohammed Farid
18/11/2021
I've had such a great experience with excellent advice, care and attention and surgical treatment (gynaecomastia) - I can fully endorse the treatment I have received from Centre for Surgery with absolutely no qualms at all. Brilliant in every way - thank you all so much.
Caroline Thorpe
14/11/2021
Very pleased with my whole experience of having a procedure. Was so nervous about getting treatment and i was reassured and felt so comfortable throughout thanks to the amazing nurses. I definitely made the right decision to have breast augmentation at centre for surgery with dr erel.
Melissa Briggs
08/11/2021
So glad I went with centre for surgery, the whole process went very smoothly from the consultations down to the actual day of the procedure. I was so nervous on the day but the whole team put me at ease and I'm happy with my results as I feel a lot more comfortable wearing certain clothes now. My surgeon was Alberto Di Giuseppe who performed a breast Augmentation on me, and I would definitely recommend as he was very clear on what the outcome of the surgery would be and which size would look the best for my frame.
Couldn't be happier with Dr Tillo work,i had my breast surgery one week ago and so happy with the results so far,all the staff are extremely nice and very supportive,i would definitely recommend their services,thank so much
From start to the finish everything was perfect for tummy tuck surgery. All staff is very friendly and the aftercare has been good. The Doctor and the nurse team was fantastic. I'm so happy...result is amazing. Thank you!!!
This was overall a great experience, all the staff at Centre for Surgery were friendly and put me at ease. It is a nerve wracking thing to go through an op but the staff were so nice. Mr Ertan has got a great team around him. On the day of the operation everything went smoothly to plan, there was no delay or holdups, I had another consultation with Mr Ertan who confirmed what was going to be done and that I was still happy to proceed. I was prepped for the procedure, I met with the anaesthetist who again was really nice and put me at ease explaining his role. After the procedure I woke up with the nurse by my side making sure I was OK and checking on me, I was able to stay in the clinic until I was ready to leave and was not rushed at all. I was well looked after from the start to the point when I was discharged. Post operation I was staying at a local hotel it was so close there was no point in even getting a taxi and I was able to walk back where my partner was waiting for me. I was expecting a lot of bruising to both my eyes but there was very little if any by the time the cast came off after 7 days, I am now at the two week post operation point and it is healing well with no outwardly visible bruising or scaring. The next milestone is a checkup at the 6 week point with my surgeon. If you're thinking of having something like this done I would highly recommend getting in touch with Centre for Surgery.
The staff at Centre for Surgery were very kind and accommodating. They answered any questions I had about the procedure and were constantly checking up on me. A special thank you to Christina for all her support throughout.
I would just like to state the quality of care received from the nurses at Centre for Surgery was beyond the highest level. Sophie takes her patient care to another level beyond words. She always puts me at ease. She is there for me even at awkward hours just when I mostly needed reassurance and she is one of the most compassionate nurses I have come across and demonstrates her passion naturally for caring for others. She totally deserves recognition at its finest and thank you for always being there for me. 😍