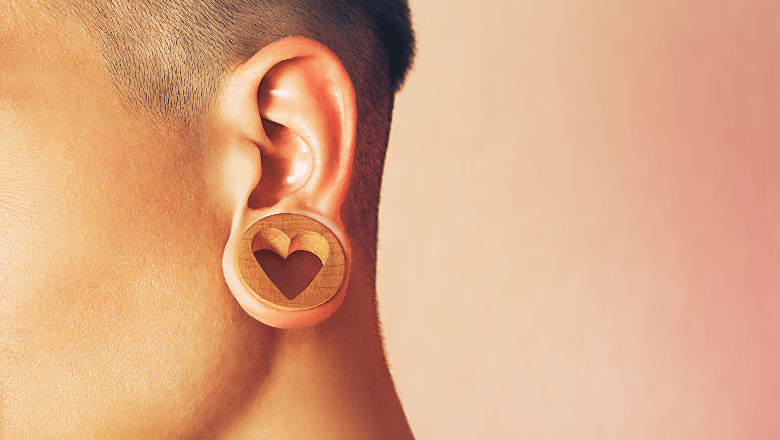 Tribal earlobe repair is increasingly requested for earlobes that have significantly stretched due to tribal earlobe piercings. Earlobe piercings that are greater than 1 cm in diameter mean the ear lobe is highly unlikely to retract back to its original size. Stretched-out earlobes can appear misshapen and be a significant source of anxiety and distress that can lead to loss of self-confidence and potentially affect career progression in the workplace.
RELATED: What are the benefits of ear surgery?
Tribal earlobe repair, also known as stretched earlobe repair, is a highly effective earlobe reduction surgical procedure that is designed to correct the appearance of excessively stretched earlobes from tribal ear piercings. When considering stretched ear lobe repair, it is important to choose an experienced plastic surgeon with experience in both aesthetic and reconstructive ear surgery. The goal of the procedure is to create a natural curvature of the earlobe to minimise the risk of developing an unnatural appearance which may appear uneven. Centre for Surgery is the leading clinic in the UK for tribal repair, and our London clinic is home to some of the best consultant plastic surgeons. They all have specialist expertise in corrective ear surgery.
RELATED: What is earlobe reduction?
Am I suitable for tribal earlobe surgery?
The first step is to have an in-person consultation with a surgeon experienced in tribal earlobe repair. During the consultation, your surgeon will conduct a detailed clinical assessment to assess your eligibility for tribal ear surgery, followed by a discussion of the most appropriate treatment options. Your surgeon will review your medical history and want to learn about your expectations from having earlobe surgery. The potential risks and complications of tribal earlobe repair surgery will be discussed. You will have an opportunity to ask any questions about the procedure. You will then be seen by your dedicated patient coordinator, who will act as your personal point of contact throughout your journey with us at Centre for Surgery. Once you have booked the procedure, you will have a preoperative assessment to ensure you are fit for the procedure. Tribal earlobe repair is routinely performed with a local anaesthetic which is well tolerated by most patients. You may need to stop certain medications in the days or weeks before the procedure to minimise the risk of bleeding after the procedure.
What does tribal earlobe repair surgery involve?
Tribal earlobe surgery is performed as an outpatient, so you can go home immediately after the procedure. The procedure takes approximately 30 minutes per ear to perform, depending on the extent of surgical correction required. Once you arrive at the clinic, your Surgeon will go through any aspect of the procedure before allowing you to sign the consent form. Photos of the ears will be taken and added to your electronic medical record. The nursing team will then prepare you for the procedure. Once you are in the operating theatre, the surgeon will inject a local anaesthetic into the earlobe. They will then surgically remove a wedge-shaped piece of tissue from the ear. Any redundant tissue is surgically removed. The incision lines are then closed with dissolvable stitches. A sterile dressing will then be placed to protect the incisions. Once you have recovered from the anaesthetic effects, you will be able to go home to continue the rest of your recovery.
RELATED: What is an earlobe cyst and how can it be treated?
Does tribal earlobe repair hurt?
There should be little or no pain during the procedure. Your surgeon will apply a topical numbing cream followed by a local anaesthetic injection to ensure the earlobe is numb before performing the tribal earlobe correction. Immediately after the procedure, your earlobe may feel slightly sore as the local anaesthetic wears off. This does not require any pain relief in most cases, although over-the-counter painkillers such as paracetamol can be useful for some patients.
How long does it take to recover from tribal ear surgery?
After the procedure, you'll be given detailed after-care instructions, which you must follow to minimise the risk of complications occurring. You may be given a prescription for painkillers or antibiotics, and you should take these as instructed by your surgeon. If you have any questions or concerns during the recovery period after tribal earlobe surgery, please contact us via the dedicated nurse helpline. There is little or no downtime after tribal earlobe correction, with the vast majority of patients able to return to work the next day. Strenuous exercise should be avoided for approximately three days after the procedure. You will attend a post-operative follow-up appointment with one of our nurses one week after your procedure. This will involve an assessment of your incision lines, and you will receive postoperative after-care information to help your recovery. You will be reviewed by your surgeon six weeks after your procedure. You should be fully healed by the stage, and your surgeon will provide customised recommendations on how to minimise scarring after tribal earlobe repair.
What is the scar like after tribal earlobe repair surgery?
All surgical procedures that involve an incision will leave a scar. Tribal earlobe repair is no different. The incision will appear as a thin linear scar on the yellow. Initially, it might appear red and raised above the level of the surrounding skin, but it will gradually fade to white colour over time and flatten to form a faint line. You're Surgeon will provide detailed after-care instructions on how to improve the appearance of your scars. Silicone gel sheets may be recommended four weeks after the procedure once your incisions have fully healed.
Is tribal earlobe surgery permanent?
The results from tribal ear surgery or permanent unless you decide to apply tribal piercings to your ear again. The earlobe will not return to its stretched-out state over time.
How much does tribal earlobe repair cost?
The exact cost of tribal earlobe repair surgery will be determined by the extent of surgical correction required to create a natural-looking earlobe. Tribal earlobe repair costs more than split earlobe repair as the procedure may involve complex reconstructive techniques to improve the appearance of the ear lobe. Prices for tribal earlobe repair start from £800 for one earlobe. Once you have had an in-person consultation, your dedicated patient coordinator will give you an accurate quotation.
RELATED: Face Cosmetic Surgery Prices
Tribal earlobe repair at Centre for Surgery
Centre for Surgery is the leading cosmetic surgery clinic in London and is home to some of the top consultant plastic surgeons in the UK. We are especially Centre for all types of ear reconstruction including tribal earlobe correction and earlobe reduction. Contact us today at 020 7993 4849 to schedule an in-person consultation at our state-of-the-art Baker Street clinic in Marylebone.
RELATED: Earlobe surgery near me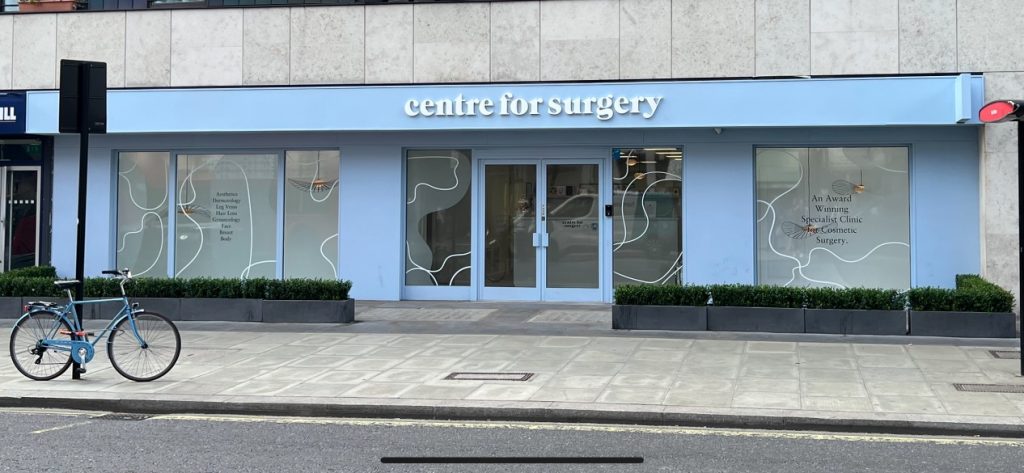 Amazing from start to finish, the communication was the main thing was fully informed and looked after, on the day of my breast augmentation, the staff were fab and made me feel at ease through out the whole process. Thank you so much.
Mohammed Farid
18/11/2021
I've had such a great experience with excellent advice, care and attention and surgical treatment (gynaecomastia) - I can fully endorse the treatment I have received from Centre for Surgery with absolutely no qualms at all. Brilliant in every way - thank you all so much.
Caroline Thorpe
14/11/2021
Very pleased with my whole experience of having a procedure. Was so nervous about getting treatment and i was reassured and felt so comfortable throughout thanks to the amazing nurses. I definitely made the right decision to have breast augmentation at centre for surgery with dr erel.
Melissa Briggs
08/11/2021
So glad I went with centre for surgery, the whole process went very smoothly from the consultations down to the actual day of the procedure. I was so nervous on the day but the whole team put me at ease and I'm happy with my results as I feel a lot more comfortable wearing certain clothes now. My surgeon was Alberto Di Giuseppe who performed a breast Augmentation on me, and I would definitely recommend as he was very clear on what the outcome of the surgery would be and which size would look the best for my frame.
Couldn't be happier with Dr Tillo work,i had my breast surgery one week ago and so happy with the results so far,all the staff are extremely nice and very supportive,i would definitely recommend their services,thank so much
From start to the finish everything was perfect for tummy tuck surgery. All staff is very friendly and the aftercare has been good. The Doctor and the nurse team was fantastic. I'm so happy...result is amazing. Thank you!!!
This was overall a great experience, all the staff at Centre for Surgery were friendly and put me at ease. It is a nerve wracking thing to go through an op but the staff were so nice. Mr Ertan has got a great team around him. On the day of the operation everything went smoothly to plan, there was no delay or holdups, I had another consultation with Mr Ertan who confirmed what was going to be done and that I was still happy to proceed. I was prepped for the procedure, I met with the anaesthetist who again was really nice and put me at ease explaining his role. After the procedure I woke up with the nurse by my side making sure I was OK and checking on me, I was able to stay in the clinic until I was ready to leave and was not rushed at all. I was well looked after from the start to the point when I was discharged. Post operation I was staying at a local hotel it was so close there was no point in even getting a taxi and I was able to walk back where my partner was waiting for me. I was expecting a lot of bruising to both my eyes but there was very little if any by the time the cast came off after 7 days, I am now at the two week post operation point and it is healing well with no outwardly visible bruising or scaring. The next milestone is a checkup at the 6 week point with my surgeon. If you're thinking of having something like this done I would highly recommend getting in touch with Centre for Surgery.
The staff at Centre for Surgery were very kind and accommodating. They answered any questions I had about the procedure and were constantly checking up on me. A special thank you to Christina for all her support throughout.
I would just like to state the quality of care received from the nurses at Centre for Surgery was beyond the highest level. Sophie takes her patient care to another level beyond words. She always puts me at ease. She is there for me even at awkward hours just when I mostly needed reassurance and she is one of the most compassionate nurses I have come across and demonstrates her passion naturally for caring for others. She totally deserves recognition at its finest and thank you for always being there for me. 😍