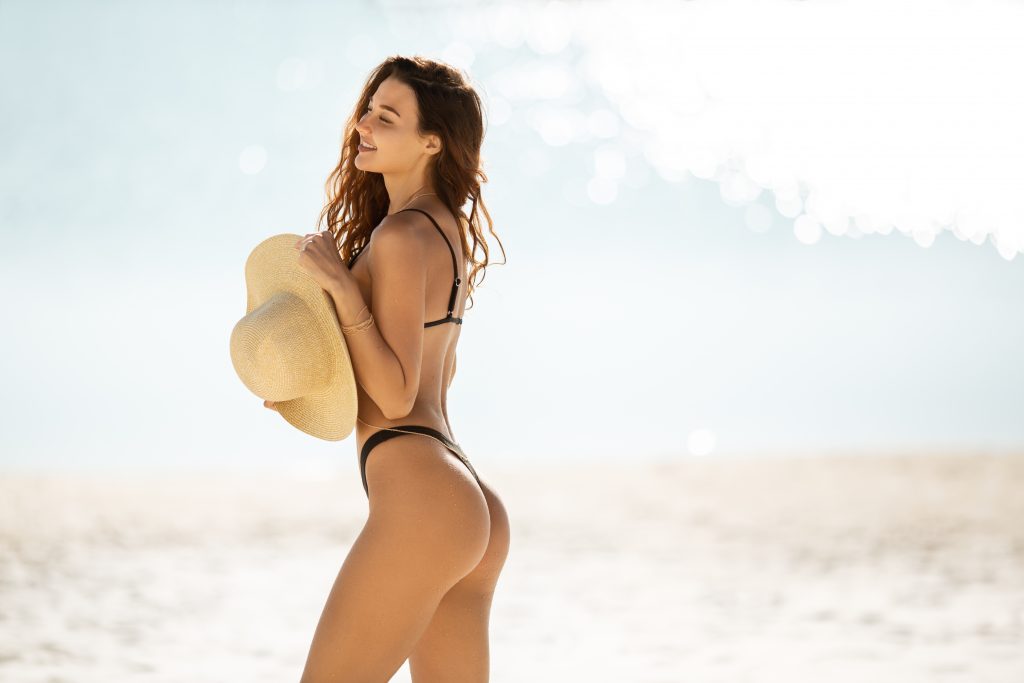 The size and shape of the female vagina can differ significantly between women and all these different types can be considered as a variant of normal. The pelvic floor muscles which surround the vagina have an elastic consistency which allows the vagina to expand in size when needed such as when accommodating the head of a newborn baby followed by the shrinkage of the vagina to its original size.
The pelvic floor muscles can be weakened by a number of causes including childbirth, certain medical conditions and the ageing process. These factors may result in the development of stress incontinence and pelvic organ prolapse or may cause women to develop reduced sensation during sexual intercourse. The long-term result can be a significant reduction in self-confidence and emotional well-being.
Fortunately, women now have access to a range of highly effective non-invasive laser vaginal tightening treatments as well as surgical vaginoplasty procedures to tighten the vagina muscles and this can help to reduce the size of a big vagina with a consequent improvement in both mental and emotional well-being.
What are the causes of a loose vagina?
There are a number of recognised causes of a loose vagina.
Pregnancy and childbirth – the most common reason for a big vagina is a vaginal delivery. During a vaginal delivery, the baby exits the uterus and the vaginal soft tissues have to expand significantly to permit the safe passage of the baby to the outside world. In preparation for childbirth, women can improve the strength and tone of their pelvic floor by undertaking pelvic floor exercises however even this intervention may not be able to restore the vagina to its normal state after childbirth due to significant stretching of the supporting tissues. As well as causing a loose vagina, childbirth can also result in stress urinary incontinence and pelvic organ prolapse which in some cases may be permanent in nature. Women who go on to have more children may find that their pelvic floor muscles become even weaker due to further stretching of the vagina and discount worsen symptoms of vagina laxity and urinary incontinence.
Ageing process – as we undergo the normal process of ageing, our bodies begin to lose collagen and elastin which is a significant component of the connective tissues in the pelvic floor muscles. The result is a loss of vagina firmness leading to a loose vagina. Symptoms can be exacerbated by women who have previously undergone childbirth and women going through menopause. The menopausal period is associated with a significant decrease in oestrogen levels.
Hormonal oestrogen levels – related to the ageing process, women's oestrogen levels begin to drop with time and this may have an effect on the tightness of the female vagina with an inevitable reduction in elasticity which gives rise to the feeling of a loose vagina or wide vagina. The most common reason for low oestrogen is menopause but there are a number of other medical conditions which may be responsible in addition to certain medications which women may be taking.
Certain medical conditions – a loose vagina may also be caused by a number of medical conditions including cancer of the cervix or vagina, previous surgery for endometriosis, trauma to the female genitalia and other more generalised connective tissue conditions such as Ehlers Danlos syndrome.
It is a common misconception held by many women that sexual intercourse may increase the risk of developing a big vagina. Having frequent sexual intercourse or multiple sexual partners does not increase the risk of developing a wide vagina. The same applies to the use of sex toys which have no recognised link with the development of vagina looseness.
What are the problems associated with having a loose vagina?
The vagina is an internal feature of the female genitalia and is therefore not visible, unlike the external labia. In most cases, women will not be able to determine whether they have a loose vagina from visual inspection alone. There are a number of recognised clinical features and symptoms which are associated with having a wide vagina which causes many women to develop reduced self-confidence and may have an adverse effect on everyday life. Common symptoms associated with a loose vagina include:
Urinary incontinence – as a result of childbirth and the ageing process, the pelvic floor muscles can undergo a significant degree of stretch and this can affect the function of the bladder leading to the development of stress incontinence and urge incontinence. Stress incontinence develops when women cough, sneeze or laugh leading to the involuntary expulsion of urine. Urge incontinence may result in women feeling an unpredictable urge to go to the toilet at any time. The symptoms can have a significant impact on a woman's quality of life and in severe cases can lead to significant mental illness. Mild cases of urine incontinence respond very well to laser vaginal tightening treatment while more severe cases may require vaginoplasty surgery and pelvic floor repair.
Pelvic organ prolapse – the development of a loose vagina as a result of stretching of the muscles of the pelvic floor may result in the development of pelvic organ prolapse. Pelvic organ prolapse refers to the condition whereby one or more organs positioned in the pelvis such as the bladder, bowel or the uterus itself become abnormally mobile and begin to migrate downwards from their normal anatomical position. This can result in visible bulging from the vagina. There are a number of different grades of pelvic organ prolapse and the most common grading is from 1 to 4. Grade 1 prolapse is the mildest form which may not have any associated symptoms while grade 4 prolapse is the most extensive and is the grade most likely to require pelvic floor repair for proper correction. In long-standing cases of pelvic organ prolapse, women may develop pain and discomfort and this can lead to an adverse impact on quality of life and everyday activities. Fortunately, the condition is not dangerous or life-threatening in nature.
Diminished sexual sensation – many women may find they have a reduced sensation in the vagina as a result of childbirth and this is most noticeable during sexual intercourse. Women may find they have less satisfaction and enjoyment from having intercourse as a result. The symptoms can be exacerbated if women have had traumatic childbirth necessitating surgical reconstruction as these areas may often have tender scars which may be felt during intercourse leading to significant pain and discomfort.
Best treatments for loose vagina?
At Centre for Surgery in London, our expert gynaecologists use only the most effective clinically proven treatments for a loose vagina.
Pelvic floor exercises – in many cases, an ideal starting point for the treatment of a big vagina is the use of pelvic floor exercises. For patients who have minimal amounts of vagina laxity then these exercises could be useful for short to medium-term benefit. The most effective technique involves tensing and contracting your muscles down below whilst alternately bringing the position of the vagina upwards through muscle contractions. Our gynaecologists recommend carrying out these exercises quickly initially followed by a slower motion and focusing more on maintaining the muscle contraction for as long as possible before beginning the cycle again. Pelvic floor exercises should be repeated approximately four times a day and can be carried out even while you are at work whilst you are sitting down or standing up. It's important to be consistent with the exercises as it can take time for them to bring improvement.
The use of pelvic tilting is an alternative technique and involves standing straight up against the wall whilst maintaining your knees in a non-locked position. You should then aim to contract your abdomen whilst maintaining your lower back against the wall. The muscle contraction should be maintained for at least five seconds before relaxing.
Laser vaginal tightening – Dr Dimitriadi is a renowned specialist in laser vaginal tightening treatments using the Fotona laser at our 106 Crawford Street clinic in London. These treatments have truly been revolutionary in improving vagina tightness without the need for more invasive surgery or anaesthesia. The risks of non-surgical vaginal tightening treatment are therefore much less compared with traditional vaginoplasty surgery. Studies have shown clinical improvement that matches or in some cases exceeds the results obtained from surgery. The treatment is also much more affordable and can be repeated if necessary for further clinical improvement.
RELATED: Laser Gynaecology
Vaginal tightening surgery (vaginoplasty) – in the most severe cases of loose vagina, non-invasive pelvic floor exercises and laser vagina tightening treatment may not improve certain symptoms such as pelvic organ prolapse. The best treatment in these cases is a vagina tightening surgery which is also known as vaginoplasty. This surgical procedure aims at tightening the pelvic floor muscles and the surrounding supporting tissues to improve strength, tone, and control of the vagina area which helps to improve sensation and tightness.
RELATED: What is recovery like after vaginoplasty surgery?
The surgery involves the use of absorbable sutures to surgically reconstruct the loose muscle around the vagina leading to tighter supporting tissue. Any redundant tissue is then removed leading to an improvement in both appearance and function of the vagina. For women who had traumatic childbirth leading to the damage of the perineal area, the procedure of pelvic floor repair and all perineoplasty may be required for full correction of both the perineum as well as the deeper pelvic floor muscles surrounding the vagina.
There is also the further option of vaginal rejuvenation which involves a combination of treatments to improve the appearance and function of the female genital area. Common procedures which are used for vaginal rejuvenation include labiaplasty, vaginoplasty and pelvic floor repair. Labiaplasty is also known as labia reduction and is a surgical procedure designed to reduce the size of large labia which may be carried out for aesthetic or functional concerns. Women are able to choose a combination of procedures to give them the best vaginal rejuvenation.
RELATED: What is laser vaginal rejuvenation?
Centre for Surgery are renowned for our procedures aimed at restoring a woman's body to its pre-birth condition and the mummy makeover procedure is one of our most popular procedures which involves a combination of abdominal contouring using a tummy tuck and reshaping of the breast with breast uplift. There are many different combinations of procedures which make up a mummy makeover and your surgeon will be able to advise you of the different treatments available after carrying out a clinical assessment to determine the best treatment for you. The advantage of having a mummy makeover is that these treatments can be combined into a single procedure and many women will be able to have vaginal rejuvenation at the same time which may involve a labiaplasty or vaginal tightening surgery for a comprehensive mummy makeover.
RELATED: All about Mummy Makeover
The term 'designer vagina' is a popular term commonly used to describe any type of cosmetic surgery procedure performed on the female genitalia such as labiaplasty or vaginoplasty and is not a distinct surgical procedure in itself.
Many women come to us at Centre for Surgery for vaginal rejuvenation procedures as they have been very concerned about the appearance or function of their genitalia and in most cases have found it difficult to speak to their primary care provider often out of embarrassment. Our expert female gynaecologists are highly experienced in carrying out the full range of designer vagina procedures with years of experience and many satisfied patients as shown in our hundreds of verified Trustpilot reviews.
We understand the sensitivity involved in women who have these conditions and will always aim to treat you with the utmost respect, dignity and care at all stages of your patient journey with us.
Centre for Surgery is one of the leading cosmetic surgery clinics in London with both non-surgical and surgical locations dedicated to the delivery of the highest quality medical care. Our medical specialists are some of London's best vaginal rejuvenation specialists including Dr Dimitriadi who carries out many hundreds of vaginal rejuvenation procedures each year. We differ from more traditional private hospitals in that we specialise in day-case procedures using the most advanced anaesthesia techniques to optimise your recovery and minimise any time off from everyday activities. We have an expert and proactive nursing team who are on hand 24/7 to answer any of your questions or concerns about your treatment.
For further information about the treatment of loose vagina, designer vagina surgery or vaginal rejuvenation, please get in contact with our friendly and experienced patient coordinator team who will be able to answer any of your questions and book you in with Dr Dimitriadi, our expert female gynaecologist in London.
Amazing from start to finish, the communication was the main thing was fully informed and looked after, on the day of my breast augmentation, the staff were fab and made me feel at ease through out the whole process. Thank you so much.
Mohammed Farid
18/11/2021
I've had such a great experience with excellent advice, care and attention and surgical treatment (gynaecomastia) - I can fully endorse the treatment I have received from Centre for Surgery with absolutely no qualms at all. Brilliant in every way - thank you all so much.
Caroline Thorpe
14/11/2021
Very pleased with my whole experience of having a procedure. Was so nervous about getting treatment and i was reassured and felt so comfortable throughout thanks to the amazing nurses. I definitely made the right decision to have breast augmentation at centre for surgery with dr erel.
Melissa Briggs
08/11/2021
So glad I went with centre for surgery, the whole process went very smoothly from the consultations down to the actual day of the procedure. I was so nervous on the day but the whole team put me at ease and I'm happy with my results as I feel a lot more comfortable wearing certain clothes now. My surgeon was Alberto Di Giuseppe who performed a breast Augmentation on me, and I would definitely recommend as he was very clear on what the outcome of the surgery would be and which size would look the best for my frame.
Couldn't be happier with Dr Tillo work,i had my breast surgery one week ago and so happy with the results so far,all the staff are extremely nice and very supportive,i would definitely recommend their services,thank so much
From start to the finish everything was perfect for tummy tuck surgery. All staff is very friendly and the aftercare has been good. The Doctor and the nurse team was fantastic. I'm so happy...result is amazing. Thank you!!!
This was overall a great experience, all the staff at Centre for Surgery were friendly and put me at ease. It is a nerve wracking thing to go through an op but the staff were so nice. Mr Ertan has got a great team around him. On the day of the operation everything went smoothly to plan, there was no delay or holdups, I had another consultation with Mr Ertan who confirmed what was going to be done and that I was still happy to proceed. I was prepped for the procedure, I met with the anaesthetist who again was really nice and put me at ease explaining his role. After the procedure I woke up with the nurse by my side making sure I was OK and checking on me, I was able to stay in the clinic until I was ready to leave and was not rushed at all. I was well looked after from the start to the point when I was discharged. Post operation I was staying at a local hotel it was so close there was no point in even getting a taxi and I was able to walk back where my partner was waiting for me. I was expecting a lot of bruising to both my eyes but there was very little if any by the time the cast came off after 7 days, I am now at the two week post operation point and it is healing well with no outwardly visible bruising or scaring. The next milestone is a checkup at the 6 week point with my surgeon. If you're thinking of having something like this done I would highly recommend getting in touch with Centre for Surgery.
The staff at Centre for Surgery were very kind and accommodating. They answered any questions I had about the procedure and were constantly checking up on me. A special thank you to Christina for all her support throughout.
I would just like to state the quality of care received from the nurses at Centre for Surgery was beyond the highest level. Sophie takes her patient care to another level beyond words. She always puts me at ease. She is there for me even at awkward hours just when I mostly needed reassurance and she is one of the most compassionate nurses I have come across and demonstrates her passion naturally for caring for others. She totally deserves recognition at its finest and thank you for always being there for me. 😍