Does my vagina look normal?
Many women often find themselves asking the question, "what is a normal-looking vagina?". At Centre for Surgery, an increasing number of women are interested in procedures on their labia, clitoral hood, mons pubis and vagina. Labiaplasty surgery has surged in popularity in the UK have the last few years. It is no longer a taboo subject to talk about procedures to enhance female genitalia. The labia and vagina have a wide spectrum of normality regarding appearance, and we offer several treatments to help you look and feel great about yourself.
How popular is vaginal rejuvenation?
When it comes to talking about procedures and treatments that target the labia and vagina, there are often two opposing camps. A significant number of women may never have heard of the term vaginal rejuvenation and its benefits. Other people may wonder why women feel the need to have procedures to enhance the appearance of the labia or vagina.
RELATED: How much does vaginal rejuvenation cost?
A growing proportion of women have become increasingly distressed about the appearance of their vaginas and may experience adverse symptoms after childbirth. The appearance of the labia and especially large labia, is a significant source of concern for many women, which may affect their overall self-confidence. If you experience functional symptoms from large or saggy labia and are unhappy with their appearance, a labiaplasty can be a transformative procedure.
What does a normal vagina look like?
When people refer to their vagina and its appearance, in many cases, what they really mean is the inner or outer labia which is around the vaginal opening. The vagina is an internal structure compared with the labia, which are the visible external structures. Labiaplasty and vaginoplasty surgery are two distinct procedures with several differences.
Most women may never have given much thought to the appearance of their vagina, although they may be familiar with the sensation of vaginal tightness and vaginal looseness. The labia are more likely to be a source of aesthetic concern either from being excessively large or demonstrating significant asymmetry.
The most common reason women seek consultation for aesthetic gynaecology concerns is for excessively large inner labia, also known as the labia minora. The inner labia may protrude excessively compared with the outer labia. This may create an imbalance between the inner and outer vaginal lips. The inner labia may begin to enlarge significantly during puberty and protrude outwards beyond the margins of the outer labia. Changes in the labia may also occur after childbirth or with the natural ageing process. Labiaplasty is designed to produce smaller inner labia that look more "tidy" and with a more uniform appearance by the removal of excess skin from the labia minora.
There is a wide spectrum of normality when it comes to the size of the labia. Approximately one-third of adult women believe they have some degree of labial hypertrophy or oversized labia. Labiaplasty surgery is often undertaken to improve aesthetics, and there is no one size fits all appearance regarding the labia or vagina. In some cases, having oversized labia can cause several functional symptoms. Labial tissue is highly delicate and can become easily traumatised by friction from tight clothing items. Women may find they cannot wear certain types of clothing or carry out vigorous physical exercise due to the fear of pain and discomfort.
How common are saggy labia or large labia?
Large labia are more common than you might think. The average dimensions of the inner labia may vary between six and 10 cm or more. Regardless of the size or shape of the labia, many women often suffer in silence, not knowing that highly effective treatment exists to produce smaller and better-proportioned labia. Our expert gynaecologists and plastic surgeons have years of experience consulting with women who may be apprehensive about discussing their concerns about the appearance of enlarged labia.
RELATED: What is labial hypertrophy?
The size and shape of the labia may alter significantly after childbirth or significant weight loss. Other women may have noticed they have large or saggy labia from puberty. Whatever the underlying cause of labial hypertrophy or sagging, labiaplasty surgery can produce transformative results for a significant boost in self-confidence and complete alleviation of physical pain or discomfort.
RELATED: Common questions about labia reduction
When is the best time to have a labiaplasty?
There is no ideal time to have labiaplasty surgery. Labia reduction can be undertaken at any age, provided patients are in a good state of overall physical and mental health and are over 18. Although labiaplasty can be carried out before or after pregnancy, it is generally recommended not to become pregnant after labiaplasty surgery, as the size and shape of the labia will change during pregnancy and childbirth. This may affect the results of labiaplasty surgery. It is not medically harmful if you do, however, decide to have a labiaplasty after pregnancy.
Will I have scarring after a labiaplasty?
Incisions for labiaplasty are expertly located in the natural skin creases and skin folds to minimise the appearance of labiaplasty scars. The vast majority of women will be unable to see scars after labiaplasty as the labia have an excellent blood supply.
What is the difference between a labiaplasty and a vaginoplasty?
Labiaplasty is aimed at altering the size and shape of the inner or outer labia, which are part of the external genitalia. labiaplasty does not involve surgery on the internal vagina. A vaginoplasty or vaginal tightening surgery is undertaken to tighten a loose vagina. A labiaplasty may be combined with a vaginoplasty in the same procedure. The most appropriate option depends on your individual needs and desires. Centre for Surgery is the leading plastic surgery clinic in the UK and carries out hundreds of labiaplasty and vaginoplasty procedures each year at our Baker Street clinic.
How is labiaplasty different from female genital mutilation (FGM)?
Labiaplasty is sometimes confused with FGM. Although both procedures are carried out in the region of the vaginal opening, these are two distinct procedures. Female genital mutilation is carried out to reduce or eliminate genital sensitivity and is considered illegal throughout most parts of the world. It is never carried out by registered healthcare professionals in the UK.
A labiaplasty is a type of female genital cosmetic surgery carried out to alter the size or shape of the labia to improve the appearance and relieve pain and discomfort.
Benefits of cosmetic vaginal surgery
Labiaplasty is one of the most common surgical procedures at Centre for Surgery in London. Labiaplasty can improve the external appearance of the genitalia to create smaller labia with smooth edges. A vaginoplasty is commonly requested to reduce the size of a big vagina and make it tighter.
We offer the full range of vaginal plastic surgery procedures, including labiaplasty, clitoral hood reduction, mons lift, vaginal tightening and perineoplasty. Women choose to have cosmetic gynaecology procedures as they may have expressed intense dissatisfaction with how their labia or vagina looks. Other women may feel self-conscious about having an excessively loose vagina after having children or from significant weight loss. As women approach menopause, vaginal dryness becomes more common, and laser vaginal rejuvenation is a highly effective treatment. Although cosmetic appearance is commonly cited as a reason to have labia surgery, many women suffer from significant pain and discomfort with large and saggy labia affecting many everyday activities. Large labia may rub against many items of clothing and may even protrude and become visible through swimwear.
What is labiaplasty?
Labiaplasty is a type of vaginal rejuvenation procedure aimed at surgically altering the size or shape of the labia minora or labia majora. The size and shape of the labia may be affected by childbirth or the natural ageing process. The labia may enlarge and become saggy with age, while other women may have had significant label asymmetry from birth or develop large labia after puberty. Labiaplasty Surgery is one of the most popular procedures at Centre for Surgery. It has very high patient satisfaction rates due to the significant improvement in quality of life achievable after surgery. Women often wish they had the procedure much earlier due to the life-changing results achieved with a labiaplasty.
RELATED: What is labiaplasty surgery?
When you arrive on the day of surgery, you will be admitted by one of our nurses before being reviewed by your surgeon. Labiaplasty takes between one and two hours to perform, and you will then recover in our dedicated recovery suite after surgery. Labiaplasty is a day-case procedure which means you can go home later the same day. Labiaplasty scars heal exceptionally well, and it is not known to cause adverse effects on vaginal sensation or the ability to achieve orgasm during sexual intercourse.
RELATED: How to reduce labiaplasty swelling
What are the benefits of labiaplasty surgery?
Labiaplasty surgery may be requested for several reasons, whether to improve cosmetic appearance or to address functional symptoms. Many women may have enjoyed having large or saggy labia for many years resulting in significant pain and discomfort. Due to the sensitive nature of the procedure, many women may be unaware of the benefits of labia reduction surgery. It is important to bear in mind that labiaplasty surgery can achieve a permanent improvement in several symptoms, including skin irritation resulting from large labia rubbing against underwear.
Benefits of labia reduction include:
Achieve smaller labia with smooth edges
Relieve pain and discomfort
Correction of labial asymmetry
Improve sensitivity during sexual intercourse
What does a labiaplasty procedure and recovery involve?
Labiaplasty can be carried out under either a local anaesthetic or a general anaesthetic and takes between one and two hours to perform, with patients being able to go home later the same day. Recovery after labiaplasty is relatively quick, with most women being able to return to normal daily activities after approximately one week. Labia swelling and bruising will improve after the first few days. Localised discomfort can be controlled by regularly applying cold packs and oral painkillers. Patients should take plenty of time out for rest and relaxation to ensure smooth healing and recovery. You will be reviewed by a nurse one week after surgery to review your incision lines and check that you are healing as expected. Your surgeon will review you six weeks after surgery to assess the results of your procedure and will provide further advice on improving the appearance of labiaplasty scars.
RELATED: What is labiaplasty recovery like?
Labiaplasty FAQs
Why is labiaplasty so popular?
Labiaplasty surgery has one of the highest patient satisfaction rates due to the incredible results achieved. Women report a significant boost in self-confidence after having labia reduction and often wish they had the procedure much earlier. There are several treatment options available to correct the external genitalia, including labiaplasty, clitoral hood reduction or mons pubis liposuction.
What does a labiaplasty involve?
A Labiaplasty is designed to remove excess labia tissue from the inner labia minora or the outer labia majora to achieve a smaller size and better shape. The procedure is most commonly carried out with a local anaesthetic combined with sedation and takes approximately two hours to perform.
Is my labia normal?
The size and shape of the labia can vary significantly between women, and there is no one normal appearance. Large labia can cause problems and affect normal life, including pain and discomfort from rubbing against underwear, and may even protrude through swimwear. Large labia may also be a source of psychological upset and may affect the ability to form intimate relationships. Labiaplasty surgery is designed to make you feel much more confident about your appearance and helps to get rid of pain and discomfort, and can be a truly transformative procedure.
What is the difference between labiaplasty and vaginoplasty?
Although the labia and vagina are close to one another, the procedures of labiaplasty and vaginoplasty are completely different. Labia reduction surgery is designed to alter the external labia located on either side of the vaginal opening. Vaginoplasty surgery is designed to tighten the internal vagina, which has often developed after childbirth or as part of the natural ageing process.
What are the risks of labiaplasty surgery?
Labiaplasty involves certain risks and complications as with any type of surgical procedure. Specific risks of labiaplasty surgery include bleeding, asymmetry, infection, wound breakdown, excessive scarring and excessive tissue removal. To minimise the risk of complications, it is important to choose an experienced labiaplasty surgeon to perform your procedure. There are many risks of having surgery overseas, and our surgeons commonly see patients who have undergone botched labiaplasty surgery in Turkey and often require a revision labiaplasty.
Schedule a Labiaplasty consultation at Centre for Surgery
Centre for Surgery is the leading plastic surgery clinic in London and is home to some of the best surgeons in the UK. Our state-of-the-art Baker Street clinic in Marylebone is purpose-built for the full range of vaginal rejuvenation procedures, both surgical and nonsurgical. Call us today on 020 7993 4849 to book an in-person consultation with an expert gynaecologist or plastic surgeon experienced in all types of labiaplasty surgery.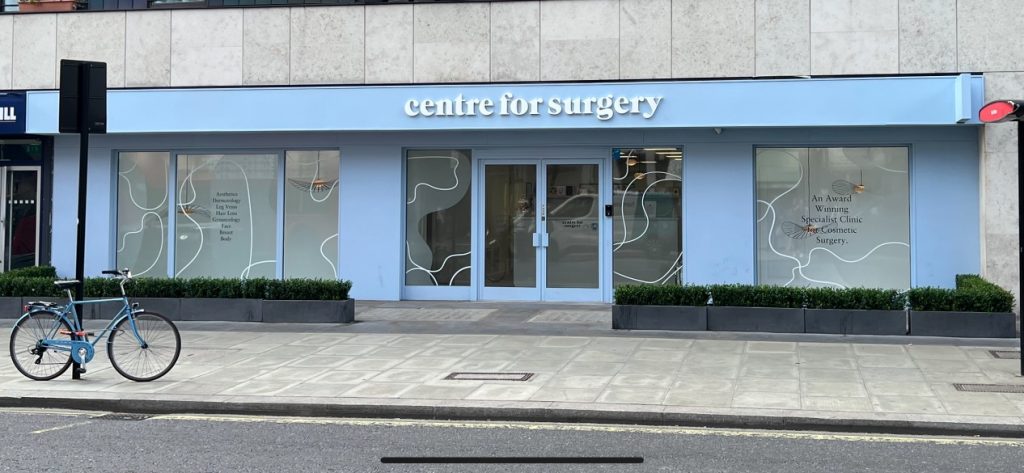 Amazing from start to finish, the communication was the main thing was fully informed and looked after, on the day of my breast augmentation, the staff were fab and made me feel at ease through out the whole process. Thank you so much.
Mohammed Farid
18/11/2021
I've had such a great experience with excellent advice, care and attention and surgical treatment (gynaecomastia) - I can fully endorse the treatment I have received from Centre for Surgery with absolutely no qualms at all. Brilliant in every way - thank you all so much.
Caroline Thorpe
14/11/2021
Very pleased with my whole experience of having a procedure. Was so nervous about getting treatment and i was reassured and felt so comfortable throughout thanks to the amazing nurses. I definitely made the right decision to have breast augmentation at centre for surgery with dr erel.
Melissa Briggs
08/11/2021
So glad I went with centre for surgery, the whole process went very smoothly from the consultations down to the actual day of the procedure. I was so nervous on the day but the whole team put me at ease and I'm happy with my results as I feel a lot more comfortable wearing certain clothes now. My surgeon was Alberto Di Giuseppe who performed a breast Augmentation on me, and I would definitely recommend as he was very clear on what the outcome of the surgery would be and which size would look the best for my frame.
Couldn't be happier with Dr Tillo work,i had my breast surgery one week ago and so happy with the results so far,all the staff are extremely nice and very supportive,i would definitely recommend their services,thank so much
From start to the finish everything was perfect for tummy tuck surgery. All staff is very friendly and the aftercare has been good. The Doctor and the nurse team was fantastic. I'm so happy...result is amazing. Thank you!!!
This was overall a great experience, all the staff at Centre for Surgery were friendly and put me at ease. It is a nerve wracking thing to go through an op but the staff were so nice. Mr Ertan has got a great team around him. On the day of the operation everything went smoothly to plan, there was no delay or holdups, I had another consultation with Mr Ertan who confirmed what was going to be done and that I was still happy to proceed. I was prepped for the procedure, I met with the anaesthetist who again was really nice and put me at ease explaining his role. After the procedure I woke up with the nurse by my side making sure I was OK and checking on me, I was able to stay in the clinic until I was ready to leave and was not rushed at all. I was well looked after from the start to the point when I was discharged. Post operation I was staying at a local hotel it was so close there was no point in even getting a taxi and I was able to walk back where my partner was waiting for me. I was expecting a lot of bruising to both my eyes but there was very little if any by the time the cast came off after 7 days, I am now at the two week post operation point and it is healing well with no outwardly visible bruising or scaring. The next milestone is a checkup at the 6 week point with my surgeon. If you're thinking of having something like this done I would highly recommend getting in touch with Centre for Surgery.
The staff at Centre for Surgery were very kind and accommodating. They answered any questions I had about the procedure and were constantly checking up on me. A special thank you to Christina for all her support throughout.
I would just like to state the quality of care received from the nurses at Centre for Surgery was beyond the highest level. Sophie takes her patient care to another level beyond words. She always puts me at ease. She is there for me even at awkward hours just when I mostly needed reassurance and she is one of the most compassionate nurses I have come across and demonstrates her passion naturally for caring for others. She totally deserves recognition at its finest and thank you for always being there for me. 😍