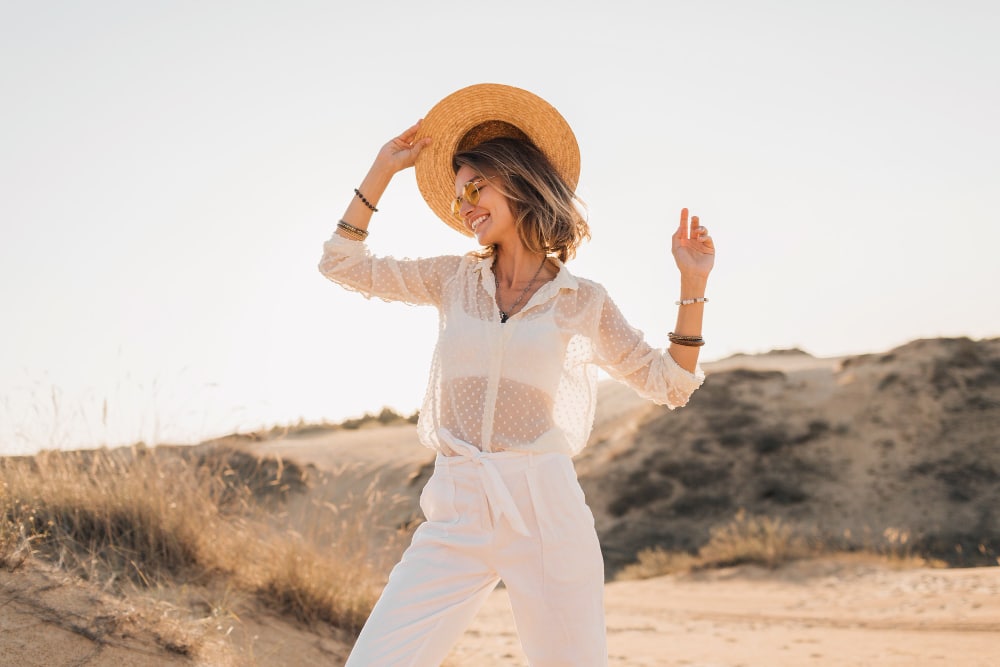 The physical appearance of the labia varies enormously from one woman to the other, just as people differ in their skin colour or facial characteristics. It is a common misconception that normal labia conform to one particular type of appearance. However, many women may wish to alter the size and shape of the labia either as a result of discomfort or if they are simply unhappy with their appearance. Labial hypertrophy affects many women in the UK.
Labial hypertrophy is used to describe the common condition of enlarged labia, also known as vaginal lips. In many cases, there may be a significant degree of labia asymmetry. Although no woman has perfect labia symmetry, when one labium is more prominent compared with the other side, it is often highly visible and can be a source of loss of self-confidence. This type of labial hypertrophy is harmless because it is not related to an underlying serious medical condition.
RELATED: What is a Labiaplasty?
Causes of labial hypertrophy
Enlarged or hypertrophied labia can be due to a number of potential causes. In most cases, there may be no underlying cause giving rise to enlarged labia. Just as the breasts have significant differences in size and shape over the course of a woman's life, the change in size and shape of the labia similarly can change in response to hormonal fluctuations and the natural ageing process.
Many women may develop large labia with age. As oestrogen levels begin to decrease, the labial tissue may begin to lengthen particularly as women approach menopause. This is a similar mechanism causing labial hypertrophy during puberty. Changes in the levels of oestrogen can result in a number of biological changes, and the growth of the labia is one example of this. Labial hypertrophy can also be caused by pregnancy. The mechanism causing large labia in this situation is often due to increased blood flow to the vaginal area and this can result in engorgement of the vaginal tissues, and the area can often feel heavy.
Many cases of labial hypertrophy are related to genetics. Women may often find that their first-degree relatives have also experienced labial enlargement, which has been present from birth. In those with a genetic predisposition to labial hypertrophy, it is possible to see enlarged labia before puberty develops.
Symptoms of labial hypertrophy
The aesthetics of the labia is something very personalised to the individual patient and a wide range of symptoms may prompt women to seek medical attention. Having said that, most cases of labial hypertrophy that result in symptoms can be easily confirmed by a visual examination of the labia. Labial hypertrophy can result in a loss of confidence with the inability to form intimate relationships with a resultant reduction in emotional well-being for many affected women.
Enlarged labia may occur on one or both sides, and labial hypertrophy can affect the labia minora and the labia majora, the outer lips that sit on either side of the labia minora. Labial hypertrophy is most commonly used to refer to the enlargement of the labia minora or the inner lips. Women with big labia often have thickened labial tissue with a stretched appearance. This can result in the enlarged labia bulging through common items of clothing including swimwear.
Apart from cosmetic considerations, labial hypertrophy can result in significant discomfort from repeated irritation of the labia minora. Women often describe tenderness and sensitivity when the labia minora are touched as the inner lips contain more nerve endings compared with the labia majora. Enlarged labia can rub on clothing resulting in continual friction and eventually resulting in sensitivity. Women may develop discomfort during sexual intercourse due to large labia exerting undue pressure on the genitalia. This problem can also occur during physical exercise.
The presence of enlarged labial tissue and extra folds of skin may result in some women developing problems with hygiene. Labial hypertrophy is linked with an increased incidence of bacterial and fungal infections.
Labial hypertrophy treatment
It is important to bear in mind that the aesthetics of the labia minora is highly subjective. What is seen as normal in one woman may be viewed as unsightly in another. There are no specific diagnostic tests that can be performed to confirm labial hypertrophy. There is no official system of measurement to confirm the degree of hypertrophied labia. Every woman is different, and there will always be a degree of asymmetry which can be considered a variant of normal if this is barely noticeable.
Labial hypertrophy is not detrimental to overall health and well-being. However, many women will wish to have treatment to alleviate functional symptoms of pain and irritation or for cosmetic improvement. The diagnosis of labial hypertrophy is made after a physical examination by an expert gynaecologist. Dr Dimitriadi treats many women each year suffering from labial hypertrophy with surgery to alter the size and shape of the labia.
Labiaplasty, which is also known as labia reduction, is suitable for women who consider their labia minora to be too big or uneven. A labia minora that is too large can cause discomfort during certain activities or while wearing certain clothing. There is a range of causes for a large labia minora. This includes hormonal changes, childbirth, ageing or simply the shape when you were born.
Anatomy of the female genitalia
Labia minora – these are the inner lips that are made up of 2 folds of tissue that extend backwards on each side of the vaginal opening (introitus). The labia minora can vary in the degree of pigmentation and are typically hairless
Labia majora – these are the outer lips of tissue that extend backwards from the mons pubis. The labia majora contain hair and the appearance can vary from full to a more loose and baggy appearance. Labia majora reduction can tighten the labia majora by surgically removing loose skin.
Clitoris – The clitoris is oval-shaped and is an erectile mass of tissue located beneath the urethral opening and is connected to the mons pubis. It contains many sensory nerve endings. A hoodectomy can reduce the size of the clitoral hood.
Mons pubis – the defined area of adipose tissue in a triangular shape above the labia and covered by pubic hair. The size of the mons pubis can be reduced with a mons lift.
There is considerable variation in the appearance of the female genitalia. However, most women who request a labiaplasty procedure typically have a very specific shape in which the labia minora or labia majora are overly prominent, whether in the front, middle or back part. It is not uncommon for there to be a considerable amount of asymmetry between left and right labia minora and this can also be corrected with a labiaplasty procedure.
To gain a better appreciation of the different labiaplasty techniques, knowledge of the anatomy of the external genitalia is helpful.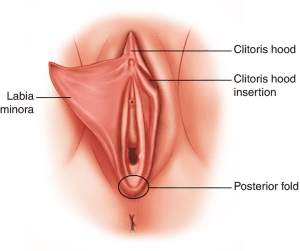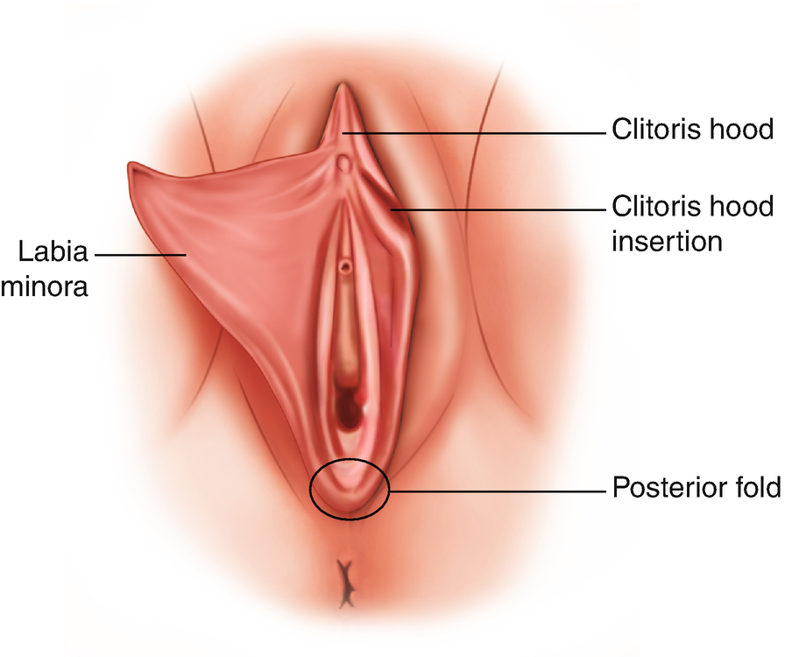 Asymmetries can also exist in other areas such as the clitoral hood, thickness of labia minora or pigmentation.
Labiaplasty focuses on reducing, reshaping and contouring the labia minora and/or labia majora so you will no longer feel any physical discomfort. A clitoral hood reduction can also be performed if symptoms are experienced from too much tissue or asymmetry in this area to effectively balance the appearance.
The labiaplasty consultation
At your consultation with Dr Dimitriadi, you will undergo a full medical assessment. Dr Dimitriadi will take a medical history and perform a thorough physical examination. The vaginal rejuvenation technique will be fully explained. You will have an opportunity to express any concerns and have your questions answered about the procedure. A customised treatment will then be prepared for you.
If you wish, Dr Dimitriadi may be able to show you a selection of before and after photographs of previous patients to show what can be achieved with labia reduction surgery.
The best way to treat labial hypertrophy is with labiaplasty. Labiaplasty surgery involves the removal of excess labial tissue to achieve a desired cosmetic appearance. There are two different types of labiaplasty procedures. The first is the trim labiaplasty technique which involves making a linear incision to surgically reduce the size of enlarged labia. This technique is particularly useful for removing labial edges that appear excessively pigmented. The desired result is smaller-sized labia that have a more uniform colour and an enhanced shape.
RELATED: Trim Labiaplasty vs Wedge Labiaplasty
The second technique for a labiaplasty involves performing a wedge labiaplasty. This technique involves the removal of tissue by making a triangular-shaped cut in the central part of the labia. The incision results in two edges that will be stitched together to produce a smaller-sized labia. This type of labiaplasty often produces an excellent transition from the clitoral hood area without causing any potential irregularities in the labial edges.
The type of labiaplasty chosen to treat labial hypertrophy will depend on the tissue characteristics of the labia as well as your individual needs and preferences. Dr Dimitriadi has over ten years of experience helping women in London and surrounding areas. Dr Dimitriadi is a female gynaecologist experienced in treating all types of labial hypertrophy with labiaplasty surgery. If you would like to learn more about treatment for labial hypertrophy and the cost of labiaplasty, please get in touch with us today and speak to one of our friendly and knowledgeable patient coordinators on 020 7993 4849.
Amazing from start to finish, the communication was the main thing was fully informed and looked after, on the day of my breast augmentation, the staff were fab and made me feel at ease through out the whole process. Thank you so much.
Mohammed Farid
18/11/2021
I've had such a great experience with excellent advice, care and attention and surgical treatment (gynaecomastia) - I can fully endorse the treatment I have received from Centre for Surgery with absolutely no qualms at all. Brilliant in every way - thank you all so much.
Caroline Thorpe
14/11/2021
Very pleased with my whole experience of having a procedure. Was so nervous about getting treatment and i was reassured and felt so comfortable throughout thanks to the amazing nurses. I definitely made the right decision to have breast augmentation at centre for surgery with dr erel.
Melissa Briggs
08/11/2021
So glad I went with centre for surgery, the whole process went very smoothly from the consultations down to the actual day of the procedure. I was so nervous on the day but the whole team put me at ease and I'm happy with my results as I feel a lot more comfortable wearing certain clothes now. My surgeon was Alberto Di Giuseppe who performed a breast Augmentation on me, and I would definitely recommend as he was very clear on what the outcome of the surgery would be and which size would look the best for my frame.
Couldn't be happier with Dr Tillo work,i had my breast surgery one week ago and so happy with the results so far,all the staff are extremely nice and very supportive,i would definitely recommend their services,thank so much
From start to the finish everything was perfect for tummy tuck surgery. All staff is very friendly and the aftercare has been good. The Doctor and the nurse team was fantastic. I'm so happy...result is amazing. Thank you!!!
This was overall a great experience, all the staff at Centre for Surgery were friendly and put me at ease. It is a nerve wracking thing to go through an op but the staff were so nice. Mr Ertan has got a great team around him. On the day of the operation everything went smoothly to plan, there was no delay or holdups, I had another consultation with Mr Ertan who confirmed what was going to be done and that I was still happy to proceed. I was prepped for the procedure, I met with the anaesthetist who again was really nice and put me at ease explaining his role. After the procedure I woke up with the nurse by my side making sure I was OK and checking on me, I was able to stay in the clinic until I was ready to leave and was not rushed at all. I was well looked after from the start to the point when I was discharged. Post operation I was staying at a local hotel it was so close there was no point in even getting a taxi and I was able to walk back where my partner was waiting for me. I was expecting a lot of bruising to both my eyes but there was very little if any by the time the cast came off after 7 days, I am now at the two week post operation point and it is healing well with no outwardly visible bruising or scaring. The next milestone is a checkup at the 6 week point with my surgeon. If you're thinking of having something like this done I would highly recommend getting in touch with Centre for Surgery.
The staff at Centre for Surgery were very kind and accommodating. They answered any questions I had about the procedure and were constantly checking up on me. A special thank you to Christina for all her support throughout.
I would just like to state the quality of care received from the nurses at Centre for Surgery was beyond the highest level. Sophie takes her patient care to another level beyond words. She always puts me at ease. She is there for me even at awkward hours just when I mostly needed reassurance and she is one of the most compassionate nurses I have come across and demonstrates her passion naturally for caring for others. She totally deserves recognition at its finest and thank you for always being there for me. 😍