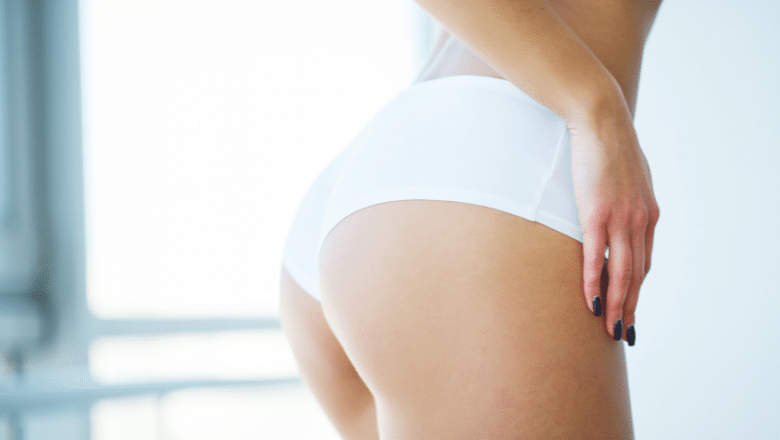 Having a fuller, curvier bottom is back in fashion, largely thanks to well-known celebrities and social media influencers. But what if you're naturally quite thin or you'd like your bottom to be a bit more shapely? Or maybe you have some extra fat around your waist that's hiding your natural curves?
The good news is, you don't need to resort to silicone butt implants to get the backside you want. The Brazilian Butt Lift, or BBL for short, gives you a more natural way to enhance your bottom. This technique takes fat from your own body and uses it to shape and fill out your bum. At the same time, surgeons can trim down other areas like your waist, back, and stomach to give your body a more harmonious look overall.
If you're thinking about getting your bum boosted, you might be curious about what the recovery process is like. We've put together a week-by-week rundown of what you can generally expect during BBL recovery. Just bear in mind that everyone's healing journey is unique, so use this as a basic guide, not as an exact blueprint.
RELATED: Brazilian Butt Lift FAQs – Q&A about BBL Surgery
BBL Recovery Week-By-Week
One Week After Your Brazilian Butt Lift
A week after your Brazilian Butt Lift (BBL), the first thing you'll need is someone you can rely on to help you during the initial stages of your recovery. This person should be there to pick you up following the surgery and give you daily assistance for at least the first fortnight.
Once you're back home post-surgery, you might still feel a bit numb from the anaesthetic and pain relief you were given during the operation. By the following morning, however, these drugs should have worn off, and you might start experiencing some swelling, discomfort, or soreness. Make sure to take any prescribed painkillers as directed to help manage this discomfort.
Upon waking up from the procedure, you'll likely find yourself wearing special compression garments around the areas where liposuction was done. These garments are designed to cut down on swelling and help your skin stick properly to the tissue underneath.
Your surgeon will recommend that you keep these compression garments on pretty much all the time for at least two weeks, except when you need to go to the toilet or take a bath or shower. Remember, if you stop wearing these garments too early, it could adversely affect the end results of your BBL.
The first week after your BBL is critical in terms of recovery. Following your surgeon's guidelines carefully will make sure that everything goes as smoothly as possible, and you'll be much more likely to be happy with your final results. One key instruction you'll get is to avoid sitting directly on your newly enhanced bottom for at least two weeks.
At the one-week mark, you may also notice that your bottom looks bigger than you expected, or perhaps differently shaped than what you discussed with your surgeon. Don't worry; this is completely normal. During the BBL, fat cells are taken from another part of your body with liposuction and then transferred into your buttocks, a procedure known as autologous fat transfer or micro-fat grafting.
In this kind of operation, not every transferred fat cell will make it. Typically, between 30 and 60 percent of the fat cells will successfully establish a new blood supply and become a permanent part of your buttocks. But thanks to the advanced fat transfer techniques we employ at Centre for Surgery, the maximum number of fat cells are likely to survive the process.
Lastly, our surgeons pay meticulous attention to each step of the procedure, ensuring that patients experience minimal swelling, bruising, and pain. Their attention to detail allows them to create a beautifully shaped figure for each patient.
RELATED: Recovery After BBL Surgery – Top Tips
Two Weeks After Your Brazilian Butt Lift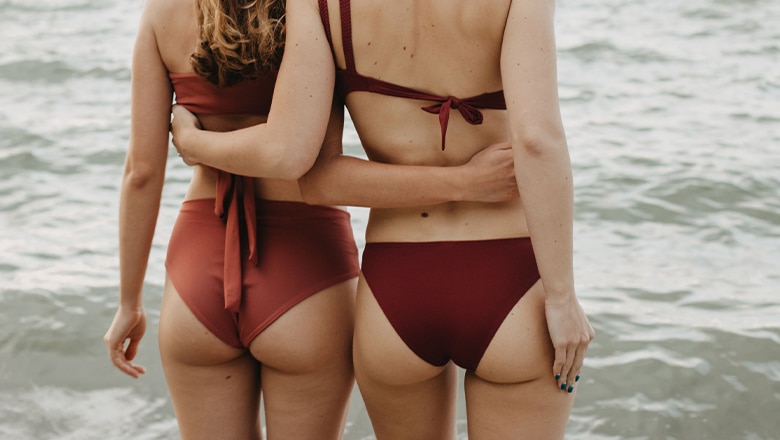 At the two-week mark post-BBL, you'll notice more changes as your body continues to absorb some of the transferred fat cells. The shape and size of your bottom will keep refining itself, and although you'll still have some swelling, it should be considerably reduced. Any bruising or discolouration you had will most likely have faded by this time.
As you move into this phase of recovery, you'll generally start to feel much better and you'll find yourself becoming more mobile. Now is a good time to incorporate gentle exercise like walking into your daily routine. This helps boost blood circulation and can reduce the time it takes for swelling to go down.
You might be wondering, "When can I finally sit on my bottom again?" For the first two weeks post-procedure, it's critical that you avoid sitting on your newly enhanced bottom altogether. This means you should also sleep on your stomach or side to alleviate any pressure on the buttocks. Special contour pillows can be a helpful aid for this.
RELATED: When Can I Sit After BBL Surgery?
After these initial two weeks, you should still avoid sitting on your bottom for prolonged periods for up to two more months. If your job involves sitting for most of the day, consider taking additional time off or finding an alternative seating arrangement. Adhering to these post-care guidelines is crucial for ensuring that the transferred fat cells have the best chance of surviving and thriving.
Following your surgeon's instructions diligently during this period will optimize the outcome of your BBL procedure, helping to make sure you're happy with your new, enhanced figure.
Weeks 3-4 After Your Brazilian Butt Lift
As you enter the third and fourth weeks following your BBL, you'll generally find that you're feeling much better, and any initial pain and discomfort should mostly have gone away. While you may still notice some lingering swelling, it should be diminishing week by week. If you're still feeling significant pain, discomfort, or have extreme swelling, it's crucial to contact your surgeon as soon as possible.
Aesthetically speaking, the areas where liposuction was performed should begin to look smoother. The natural flow of your body's contours, especially between your bottom, waist, back, and tummy, will start to appear more refined and seamless. Any irregularities like lumps and bumps should have disappeared by now.
At this stage, you can begin to gradually ramp up your daily activities. Tasks like doing household chores, shopping, running errands, and even returning to work are generally okay. Light exercise is encouraged, but heavy lifting and very strenuous workouts should still be avoided.
You should continue to be cautious about sitting on your enhanced bottom for prolonged periods. The aim is to minimise the pressure on the transferred fat cells, helping to ensure their survival. If you're uncertain about how much sitting is too much, consult your surgeon during your next follow-up visit for personalised advice.
By the end of the fourth week, you should have a better idea of what your bottom will look like in its final form. However, keep in mind that you won't see the ultimate results of your BBL until 6 to 12 months after the procedure.
BBL Recovery: Additional Helpful Tips and Information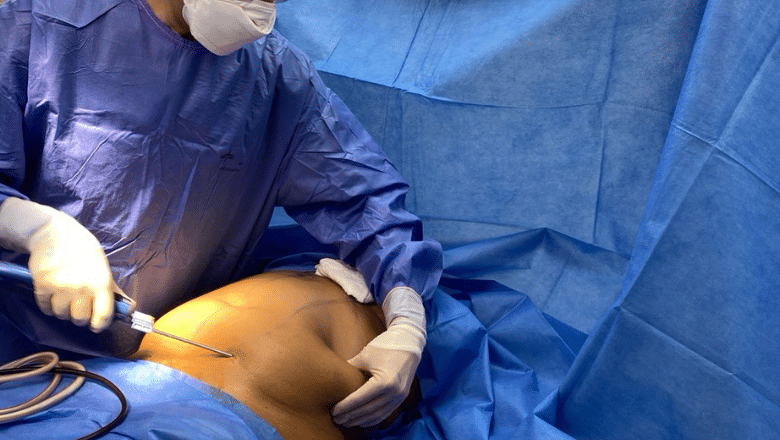 Attending all scheduled follow-up appointments is vital for a smooth recovery. These visits allow your surgeon to personally assess your healing progress, identify and tackle any minor complications such as infection or fluid build-up (known as seroma), and document your recovery journey with photographs at different stages.
Eating a balanced, nutritious diet can significantly speed up your healing process. Make sure your meals are rich in fruits, vegetables, whole grains, and lean proteins. Staying hydrated with water and herbal teas can also help manage water retention and reduce swelling. It's advisable to steer clear of highly processed foods, as they don't offer the essential nutrients your body needs to heal properly.
Maintaining a healthy diet has another advantage: it helps you maintain a healthy body weight. While the effects of the liposuction that was part of your BBL are permanent, it's important to remember that the remaining fat tissue can still expand.
Weight gain can also affect other parts of your body, not just the areas that were treated. Dramatic weight fluctuations after your surgery can disrupt the carefully crafted balance and proportions that your surgeon worked hard to achieve. By maintaining a stable weight, you help preserve the results of your BBL for the long term.
Why Choose Centre for Surgery for Your BBL?
When it comes to enhancing your body's natural curves, Centre for Surgery stands out as a leading specialist in Brazilian Butt Lift procedures. But what sets us apart?
Expertise and Excellence
Our team of highly qualified surgeons brings years of experience and unparalleled expertise in the field of plastic surgery. They employ meticulous techniques to ensure you achieve a shapely, beautiful figure with minimal pain, bruising, and swelling.
Patient-Centric Approach
We understand that every patient is unique. That's why we offer personalised consultations to discuss your specific goals, concerns, and expectations. From the initial consultation to post-operative care, our dedicated team will be with you at every step, offering comprehensive support to ensure a smooth recovery and fantastic results.
Cutting-Edge Technology
We use the latest technology and unique fat transfer techniques to maximise the survival rate of transferred fat cells. Our modern facilities are equipped to provide a comfortable and safe environment for all procedures.
Patient Testimonials
Don't just take our word for it. Hear what our satisfied patients have to say:
"The staff at Centre for Surgery were so supportive and professional. My BBL procedure went smoothly, and the results are fantastic!" – Emily, London
"I couldn't be happier with my experience. From the consultation to the after-care, everything was top-notch. I'm thrilled with my new curves!" – Sarah, Manchester
Convenient Location
We are conveniently located at 95-97 Baker Street, London W1U 6RN, making it easy for you to visit us for consultations and follow-ups.
Further Information
For more information on Brazilian Butt Lifts and other plastic surgery procedures, feel free to check out our extensive plastic surgery blog: Centre for Surgery Blog
Ready to take the first step towards achieving the figure of your dreams? Contact us today for a consultation.
📞 Phone: 0207 993 4849
📧 Email: contact@centreforsurgery.com
Choose Centre for Surgery for a Brazilian Butt Lift experience that prioritises your comfort, safety, and satisfaction.