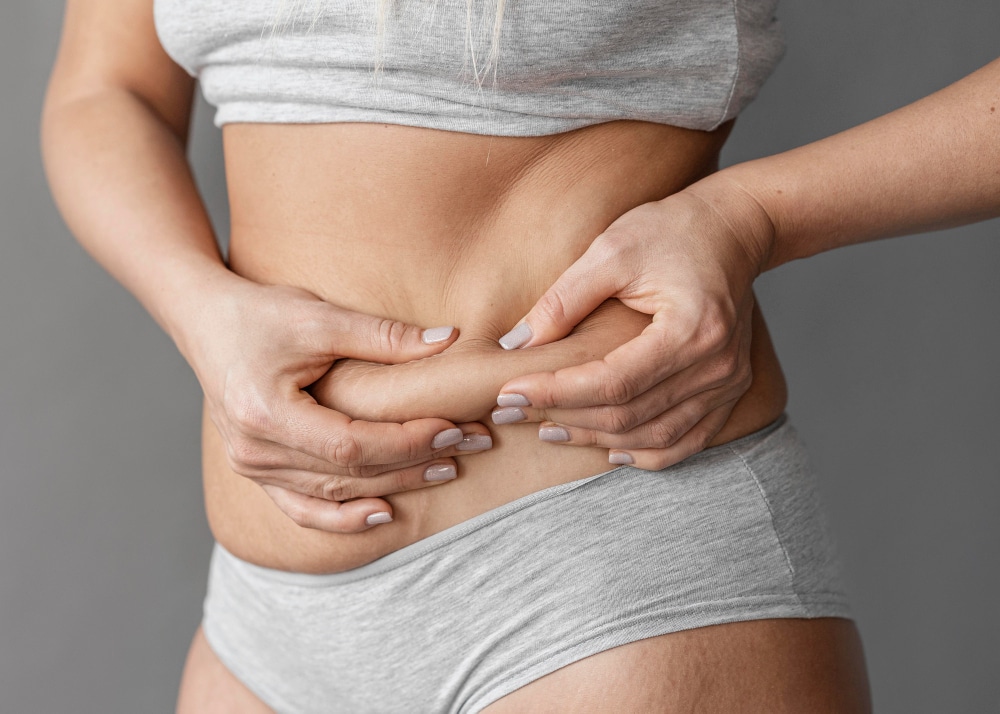 When people begin to enter the middle age part of their life, it often becomes much easier to accumulate extra weight around the midsection and particularly excess belly fat. This phenomenon is often known as the 'midlife spread'. This problem can affect both women and men, although women may find they have an extra propensity to develop belly fat during this phase of life. This is why getting rid of resistant belly fat is one of many people's most important weight loss goals.
There are two types of abdominal fat, with visceral fat being the more dangerous type as it is often associated with certain medical conditions such as type two diabetes and ischaemic heart disease. The risk of breast cancer is increased in women with large amounts of visceral fat. Reducing the risk of developing these conditions means that people should get rid of belly fat as one of the best ways to improve overall health and well-being.
The proportion of people who develop excessive belly fat increases yearly due to an increasingly sedentary lifestyle, and getting rid of belly fat can be challenging. We present the most effective strategies to get rid of belly fat and prevent its recurrence.
Healthy diet
Eating a healthy and balanced diet is at the core of achieving optimal health. The best way to lose weight is to eat a calorie-restricted diet with a reduction in carbohydrates and fat. If this is followed, you may start noticing excess belly fat reduction and a generalised decrease in overall body fat so that you appear slimmer.
The best way to start a healthy diet is to remove foods with high levels of refined sugar. This includes sweetened fizzy drinks, cakes, biscuits and other confectionery. Scientific research has proven a link between those who consume a lot of sugar and excess fat developing in the abdomen. Visceral fat can increase with an accumulation of fat surrounding the liver. Eliminating sweetened foods will be effective in reducing belly fat. Many people are unaware that many sports drinks and fruit juices contain high amounts of sugar, and these will need to be reduced. Excessive alcohol consumption is linked with weight gain and the development of belly fat, and people should try to drink less than 14 units of alcohol per week.
Overall carbohydrate intake should be reduced as this will encourage your body to metabolise your stores of fat. Abdominal fat and visceral fat are the most harmful types of fat and are linked with many severe medical conditions, such as type two diabetes. You should increase your lean protein intake and focus on eating whole-grain foods, which will help you keep fuller for longer and therefore help to burn stomach fat. The overall principle in any successful diet involves reducing your overall food intake. Most nutritionists recommend a daily calorie deficit of between 500 to 800 cal to stimulate the weight loss process.
Physical exercise
Healthy eating habits should be combined with regular physical exercise to lose weight and improve overall well-being. Combining different types of activity, with the most effective ones being aerobic exercise and resistance training, for overall fat loss and muscle gain simultaneously is best. Cardiovascular exercise is very effective for weight loss and includes jogging, swimming and rowing. NHS guidelines recommend that we carry out a minimum of 150 minutes of physical activity, which can be broken down into 30-minute blocks. Spreading physical exercise over a large number of days will help to promote effective weight loss and prevent belly fat from coming back. Any exercise routine should be realistic and achievable to ensure you exercise regularly. If you were to stop exercising, this would increase the chances of you regaining weight.
Belly fat is one of the most challenging types of body fat to get rid of, and you should focus on exercises which increase your heart rate for prolonged periods to stimulate fat burning. Sometimes despite regular physical activity and healthy eating, many people are unable to lose belly fat, and this is where other treatments can be effective for getting rid of belly fat permanently.
Liposuction for getting rid of belly fat
Liposuction is the ideal treatment for people with significant areas of excess fat in the abdominal area or in any other body part where exercise and diet have failed to produce results. Stomach liposuction is a minimally invasive body contouring procedure regularly carried out by our expert plastic surgeons to permanently remove fat cells using specialised aspiration cannulas connected to vacuum suction. Removing belly fat results in a more contoured and flatter stomach. Tummy liposuction involves breaking up fat cells with specially shaped aspiration cannulas inserted via small incisions. The loosened fat cells are then removed with gentle suction. Power-assisted liposuction is the most common technique for eliminating belly fat at Centre for Surgery. Once fat cells have been removed, they do not grow back. Liposuction should be viewed as a permanent method for removing belly fat. Liposuction is not, however, a weight-loss method and should not be considered a replacement for eating healthily and exercising regularly.
Patients who continue to eat an unhealthy diet with lots of junk food and do no exercise may notice their belly fat recur. You should follow a healthy lifestyle after your belly fat liposuction surgery to ensure your results are maintained over time.
Stomach liposuction is one of the most effective methods to get rid of a 'muffin top'. A muffin top is an extra prominence of fat which is often noticeable bulging outwards over the top of tight-fitting trousers.
RELATED: Stomach Liposuction (Tummy Lipo)
Gastric balloon
Sometimes if weight loss proves impossible with diet and exercises alone, you may be an appropriate candidate for fitting a gastric balloon.
Weight loss procedures are usually reserved for people who are clinically obese and need early treatment to avoid or minimise the impact of certain obesity-related diseases, including Type II diabetes and high blood pressure. Most patients should have a body mass index (BMI) of 40 or higher to qualify for weight loss treatment. Alternatively, patients who have a BMI between 35 and 40 and have a weight-related condition may also be suitable for weight loss surgery. Patients should ensure they are prepared to continue following a healthy diet and lifestyle after undergoing weight loss surgery to get the maximum benefit.
Weight loss surgery encompasses four different procedures, each with pros and cons. The least invasive weight loss procedure is a gastric balloon. A gastric balloon involves the insertion of an air-filled or saline-filled balloon into the stomach via an endoscope. The intended effects include a sensation of feeling fuller after eating smaller quantities of food. Over time patients will lose weight due to a lower food intake. A gastric balloon is fully reversible, and the balloon remains in the stomach for no more than 6 to 9 months, after which it is removed via an endoscope.
Gastric band surgery involves the placement of an adjustable silicone band around the upper portion of the stomach, which will need several adjustments so that the resulting stomach pouch can lead to safe and effective weight loss. A gastric band is also fully reversible.
Gastric bypass and gastric sleeve surgery are major types of weight loss surgery and involve permanent surgical alterations to the size of the stomach. Gastric bypass surgery involves altering the route for food to pass through to the small intestine. Gastric sleeve surgery focuses on reducing the stomach size so that people will feel full eating small quantities of food.
Weight loss surgery can produce significant weight loss, including getting rid of stubborn belly fat. It is essential to remember that both gastric bypass and gastric sleeve surgery are major surgical procedures and are irreversible. We recommend conducting thorough research to explore the four different treatment options, including their advantages and disadvantages, before proceeding with weight loss surgery.
Belly Fat Removal at Centre for Surgery
At Centre for Surgery, we offer a full range of treatments, including liposuction and weight loss surgery. If you want to find out the best option for you, contact us at 0207 993 4849 to book a face-to-face consultation with an expert surgeon at our Baker Street clinic in Marylebone.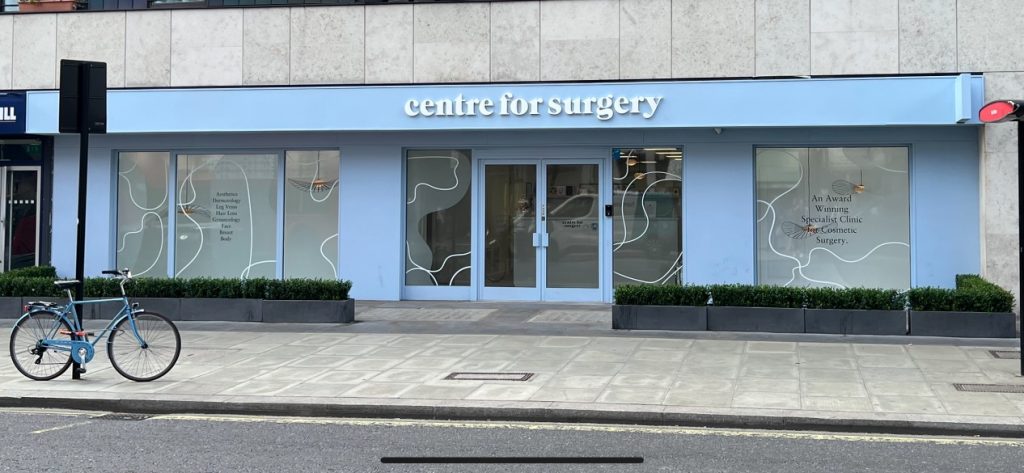 Amazing from start to finish, the communication was the main thing was fully informed and looked after, on the day of my breast augmentation, the staff were fab and made me feel at ease through out the whole process. Thank you so much.
Mohammed Farid
18/11/2021
I've had such a great experience with excellent advice, care and attention and surgical treatment (gynaecomastia) - I can fully endorse the treatment I have received from Centre for Surgery with absolutely no qualms at all. Brilliant in every way - thank you all so much.
Caroline Thorpe
14/11/2021
Very pleased with my whole experience of having a procedure. Was so nervous about getting treatment and i was reassured and felt so comfortable throughout thanks to the amazing nurses. I definitely made the right decision to have breast augmentation at centre for surgery with dr erel.
Melissa Briggs
08/11/2021
So glad I went with centre for surgery, the whole process went very smoothly from the consultations down to the actual day of the procedure. I was so nervous on the day but the whole team put me at ease and I'm happy with my results as I feel a lot more comfortable wearing certain clothes now. My surgeon was Alberto Di Giuseppe who performed a breast Augmentation on me, and I would definitely recommend as he was very clear on what the outcome of the surgery would be and which size would look the best for my frame.
Couldn't be happier with Dr Tillo work,i had my breast surgery one week ago and so happy with the results so far,all the staff are extremely nice and very supportive,i would definitely recommend their services,thank so much
From start to the finish everything was perfect for tummy tuck surgery. All staff is very friendly and the aftercare has been good. The Doctor and the nurse team was fantastic. I'm so happy...result is amazing. Thank you!!!
This was overall a great experience, all the staff at Centre for Surgery were friendly and put me at ease. It is a nerve wracking thing to go through an op but the staff were so nice. Mr Ertan has got a great team around him. On the day of the operation everything went smoothly to plan, there was no delay or holdups, I had another consultation with Mr Ertan who confirmed what was going to be done and that I was still happy to proceed. I was prepped for the procedure, I met with the anaesthetist who again was really nice and put me at ease explaining his role. After the procedure I woke up with the nurse by my side making sure I was OK and checking on me, I was able to stay in the clinic until I was ready to leave and was not rushed at all. I was well looked after from the start to the point when I was discharged. Post operation I was staying at a local hotel it was so close there was no point in even getting a taxi and I was able to walk back where my partner was waiting for me. I was expecting a lot of bruising to both my eyes but there was very little if any by the time the cast came off after 7 days, I am now at the two week post operation point and it is healing well with no outwardly visible bruising or scaring. The next milestone is a checkup at the 6 week point with my surgeon. If you're thinking of having something like this done I would highly recommend getting in touch with Centre for Surgery.
The staff at Centre for Surgery were very kind and accommodating. They answered any questions I had about the procedure and were constantly checking up on me. A special thank you to Christina for all her support throughout.
I would just like to state the quality of care received from the nurses at Centre for Surgery was beyond the highest level. Sophie takes her patient care to another level beyond words. She always puts me at ease. She is there for me even at awkward hours just when I mostly needed reassurance and she is one of the most compassionate nurses I have come across and demonstrates her passion naturally for caring for others. She totally deserves recognition at its finest and thank you for always being there for me. 😍