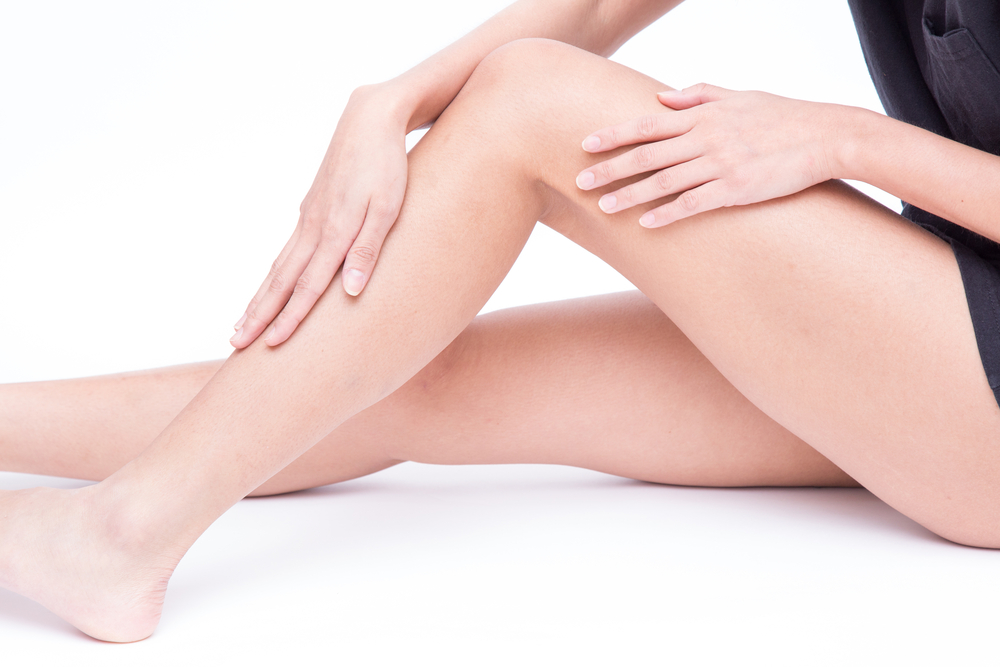 Calf liposuction and ankle liposuction or a specialist type of liposuction procedure designed to get rid of fat calves and fat ankles. Patients with this procedure often tell us how their self-confidence has significantly improved. Many patients desire increased definition of the calves and ankles, with many patients complaining of having so-called 'cankles'. Cankle liposuction is an excellent way to reduce the appearance of chubby-looking ankles and calves.
In some cases, patients may have asymmetry of the calves and ankles, often due to a previous injury or because of a congenital deformity present from birth. Calf implants can effectively correct calf asymmetry. Liposuction is an excellent way to restore symmetry and produce an improved size and shape on each side. Patients who have calf and ankle liposuction develop a much-improved sense of emotional well-being. Many patients tell us that they are restricted in wearing certain clothing styles, including shorts, swimwear or above-knee skirts. Ankle and calf liposuction can contour and sculpt the lower leg to achieve natural-looking results that allow you to regain your sense of style in wearing the full range of clothing.
Lipedema most commonly affects women and can result in significant fullness of the legs, including the ankles and calves. Calf liposuction can effectively treat this condition using power-assisted liposuction for patients affected by this potentially disabling medical condition.
Cellulite commonly affects the thighs, buttocks and legs, leading to an unsightly cosmetic appearance due to dimpled and pitted skin. It should be remembered that any type of liposuction, including calf liposuction, is not an effective treatment for getting rid of cellulite. Centre for Surgery is proud to have highly effective cellulite treatments, including CelluTite for permanent cellulite removal. The treatment can be combined with calf and ankle liposuction to remove fat and treat cellulite simultaneously. The results of calf liposuction often depend on the structure of the leg muscles. Patients who have highly developed leg muscles should be aware that liposuction is only effective for localised areas of fat and does not reduce the size of bulky or muscular legs.
What does the 'cankle lipo' procedure involve?
Calf and ankle liposuction is carried out at our state-of-the-art Marylebone clinic on Baker Street in central London. Once you are admitted for the procedure, you will be anaesthetised before the procedure begins. The surgeon will make tiny incisions through the skin to permit the insertion of specialised liposuction cannulas to break up the fat. Once the fat cells have been broken up, they are removed with vacuum suction. The procedure will be carried out on the other side, and your surgeon will constantly be assessing symmetry throughout the procedure. Once the procedure is complete, your surgeon will apply sterile dressings followed by the application of bandages. Once you are medically fit for discharge, you'll be allowed to go home with a responsible adult escort who must also look after you for the first 24 hours after your calf and ankle liposuction procedure.
Our surgeons commonly get asked whether fat cells grow back after getting removed. After any type of liposuction procedure, fat cells do not grow back. As long as you maintain a healthy lifestyle with sensible eating and regular exercise, you will maintain the results of your slim carbs and ankles for a long time.
Once the procedure is complete, it is essential to follow your surgeon's after-care instructions to ensure you undergo a smooth liposuction recovery and quick healing. You should avoid starting strenuous exercise too soon, and your surgeon recommends wearing the liposuction compression garment for a minimum of six weeks. Calf and ankle liposuction generally takes six weeks for a full recovery. You will see your surgeon at this time for further recommendations to optimise the final results, which should become evident between three and six months after the ankle and calf liposuction procedure.
Can I have calf and ankle liposuction?
The calf liposuction and ankle liposuction procedure are considered minimally invasive with a low risk of complications provided you meet the criteria below:
Patients should be at a healthy weight and ideally below a body mass index of 30.
You have a confirmed diagnosis of lipedema, which is causing you significant pain and discomfort.
You have tried diet and exercise and have failed to get rid of calf and ankle fat.
You have researched the procedure and have realistic expectations of what results to expect with ankle and calf liposuction.
You are distressed at the appearance of having fat ankles or fat calves.
You have good skin elasticity and have not lost significant amounts of weight, resulting in loose skin.
You are in good physical health with no chronic medical conditions.
Can ankle and calf liposuction be combined with other procedures?
Both ankle liposuction and calf liposuction can be easily combined with other cosmetic surgery procedures, as well as liposuction performed on other body areas such as the stomach, thighs, knees, love handles or the back. Calf and ankle liposuction is most commonly combined with liposuction of thighs and inner knees to produce an overall improvement creating slimmer, more contoured and sculpted legs with natural-looking results.
Calf and ankle fat that has been extracted using liposuction can also be used as part of a fat transfer procedure to enhance volume in other parts of the body. Fat transfer involves performing liposuction as a first step to remove unwanted fat, followed by purification and then re-injection into the breasts or buttocks to enhance body contours. Fat transfer to the face can also be carried out with the most common areas, including the lips, cheeks, chin and temples.
Women concerned by the appearance of cellulite can also combine cough and ankle liposuction with CelluTite. CelluTite is a radiofrequency skin tightening procedure combined with cellulite subcision to break up the vertical bands responsible for creating dimpled and puckered skin. The ideal result is smoother and firmer skin with overall improved calf and ankle contour.
Why choose Centre for Surgery?
Centre for Surgery is known for being a centre of excellence for liposuction, with procedures being carried out from our state-of-the-art Baker Street clinic in London.
We have a greater than 95% satisfaction rating, with many patients choosing to refer their friends and family to us.
We have hundreds of verified five-star Google and Trustpilot reviews with many video testimonials for you to view at your consultation.
Our surgeons are specialists in calf and ankle liposuction. This liposuction is only carried out by the most highly trained liposuction surgeons.
Our anaesthetists are trained in the most advanced anaesthetic techniques to ensure your recovery from cough liposuction is quick and free of side effects such as sickness, dizziness or drowsiness.
Our preoperative and post-operative nursing teams are renowned for providing high standards of medical care both before and after your ankle lipo procedure.
All patients have access to a 24-hour emergency number after the procedure in case they have any questions or concerns.
We are regulated by the Care Quality Commission and have achieved a 'Good' rating at our 106 Crawford Street clinic.
Our Baker Street clinic is purpose-built to offer a full range of cosmetic surgery procedures.
We were one of the first liposuction clinics in the UK to perform specialist fat transfer to the buttocks and calves.
How much does calf liposuction cost?
Calf liposuction starts from £2995 at Centre for Surgery in London. If you combine this procedure with liposuction in other areas, the cost of the procedure will increase.
Many patients increasingly choose to have 360 liposuction of the thighs and legs, and this procedure starts from £5495. Your ankle and calf liposuction procedure includes all preoperative and post-operative care, Unlimited surgeon follow-up appointments, facility fees and anaesthetic fees. You will also be allocated an expert patient coordinator who will be able to assist you throughout your journey with us at Centre for Surgery. Our liposuction prices are known for being some of the most competitive in London because we own and operate our own cosmetic surgery facility, unlike most other cosmetic surgery providers.
Any prices shown online should be viewed as a rough guide only. Once you have had a consultation with a Liposuction Surgeon, you will be seen by your patient coordinator, who will give you an accurate quotation for your calf liposuction and ankle liposuction procedure. As with all types of cosmetic surgery in the UK, calf and ankle liposuction incurs VAT as it is carried out to improve cosmetic appearance. The NHS does not carry out cosmetic surgery of any type, and we would recommend seeking treatment at a private clinic such as Centre for Surgery. In several rare cases, which will depend on your local clinical commissioning group (CCG), you may be eligible for funding to treat lipedema. We would advise consulting with your GP in the first instance to explore this possibility. However, even this is now increasingly difficult to obtain funding for, and Centre for Surgery have surgeons who are expert in performing private lipedema surgery.
What are the causes of fat calves and fat ankles?
Fat calves and ankles are also known as 'cankles'. There are several different causes for why we get fat calves and fat ankles. Genetics is one of the most significant influences on how calm and ankles appear. If you have a first-degree relative such as a parent who has large calves and ankles then you will be more likely to have ankle fat. Many patients may carry out regular physical exercise and are still unable to achieve well-defined calf muscles. As a result, patients may develop the unsightly appearance referred to as 'cankles'.
Lipedema is a condition which primarily affects women, with over one in ten women suffering from lipedema affecting the lower legs in the UK. Lipedema results in the development of fat ankles and fat calves and, in many cases, can be very painful due to excessive fat accumulation in the calves and ankles. For many people, lipedema may have a genetic predisposition that can also be due to several causes, the most common being hormonal fluctuations which commonly occur in puberty, pregnancy or menopause. Lipedema may also develop in women who take the oestrogen-containing contraceptive pill.
Obesity is also a well-known cause of fat ankles and fat carbs. People most commonly become overweight or obese through consuming excessive calories in a poor diet with an associated lack of physical exercise. Nutritionally poor diets contain high quantities of refined sugar often found in sweetened fizzy drinks, cakes, biscuits and other types of confectionery. Processed meat and white bread also contribute to weight gain. The best approach is to consume foods which contain whole grains such as wholemeal bread and brown pasta. Other foods include nuts, seeds, beans, vegetables and fruit. These foods help you keep fuller for longer and prevent excess fat from accumulating. People who drink excessive alcohol are also at risk of becoming overweight or obese. Many types of alcoholic beverages are calorie-dense, with certain types of cocktails being very high in sugar.
Minimal physical exercise increases the risk of becoming overweight or obese. We would recommend at least 30 minutes of physical exercise five days a week to be aligned with the NHS national recommendations on carrying out at least 150 minutes of physical activity each week. It is important to remember that even if you follow these guidelines, you can still develop excess ankle or calf fat if you are generally physically inactive for much of the week. Many types of office jobs involve sitting at a desk for prolonged periods and many people watch 3 to 4 hours of TV every evening without getting off the sofa. We would recommend getting up each hour to stretch your legs and move about and stimulate your body's metabolism to burn ankle fat and calf fat.
Having a poor sleep routine coupled with high amounts of stress leads many of us to choose unhealthy types of food such as sweets or junk food. People may drink more alcohol when they are stressed. Making healthy food choices depends on minimising stress and getting at least 7 to 8 hours of sleep every evening.
Foods that are high in salt place a significant sodium load upon the body leading to fluid retention. This can make someone appear overweight. Women often develop cankles during pregnancy as a result of fluid retention. Sometimes pregnancy-related calf fat and ankle fat does not go away after pregnancy.
The best way to identify the cause of fat ankles or fat calves is to consult with one of our expert surgeons. It is essential to have a thorough medical assessment as some causes may be related to a significant underlying medical condition that requires specific treatment.
What is the best way to lose calf and ankle fat naturally?
The most effective methods to reduce excess fat from the ankles and calves involve losing weight. Effective weight loss depends on a combination of eating a healthy, nutritious diet and increasing the amount of physical exercise you carry out. It would help if you tried to eliminate certain foods from the diet, such as sugary snacks and increase your intake of vegetables, fruit, whole-grain and lean protein. Certain foods such as junk food should be eliminated altogether. It would help if you also tried to reduce your consumption of alcohol as excessive alcohol is linked with weight gain.
Following our recommendations of 30 minutes of exercise five times, a week will help shed fat and produce slim calves and uncles. If you are in an office-based job, try and get up every so often and carry out gentle exercises to tone and strengthen your lower legs. These will help to reduce the appearance of cankles over time.
Once you have introduced healthy eating habits, there are several calf exercises you can carry out to get rid of calf and ankle fat. Heel raises can be highly beneficial and involve standing straight up with arms fixed across your upper chest. The heels should then be raised, and you should try to maintain this position for at least 3 to 5 seconds before continuing the cycle. For best results, you should attempt this for 10 to 15 repetitions. Other types of exercise include stretching of the calf muscles. Stand close to the wall with 1 foot ahead of the other, and you can bend forward into the wall whilst maintaining your back leg in a straight position. During an exercise, you should keep your feet firmly on the floor, which will help to increase muscle stretch. This stretch should be maintained for at least 20 seconds before repeating on the other side for ten repetitions.
One of the most modern advances in physical exercise routines includes the development of high-intensity interval training (HIIT). This technique is a great way to lose body fat in a short workout routine of no more than 15 to 20 minutes. Any type of resistance training can be easily combined with jogging, swimming or rowing to tone the ankle and calf muscles and get rid of calf fat.
Lymphoedema is a relatively common condition in women, and nonsurgical treatments include applying compression garments to the legs, which should be worn continuously per your doctor's instructions.
Even with all the effective non-surgical treatments outlined above, it is not uncommon for resistant calf fat to persist in the legs despite eating a balanced diet, exercising regularly and adopting a healthy lifestyle. Our surgeons recommend calf and ankle liposuction as the most effective technique to permanently remove excess fat in a quick and straightforward procedure.
To learn more about getting rid of unsightly calf and ankle fat, please contact us today to book a face-to-face consultation with an expert UK liposuction specialist at our London clinic.
[trustindex no-registration=google]