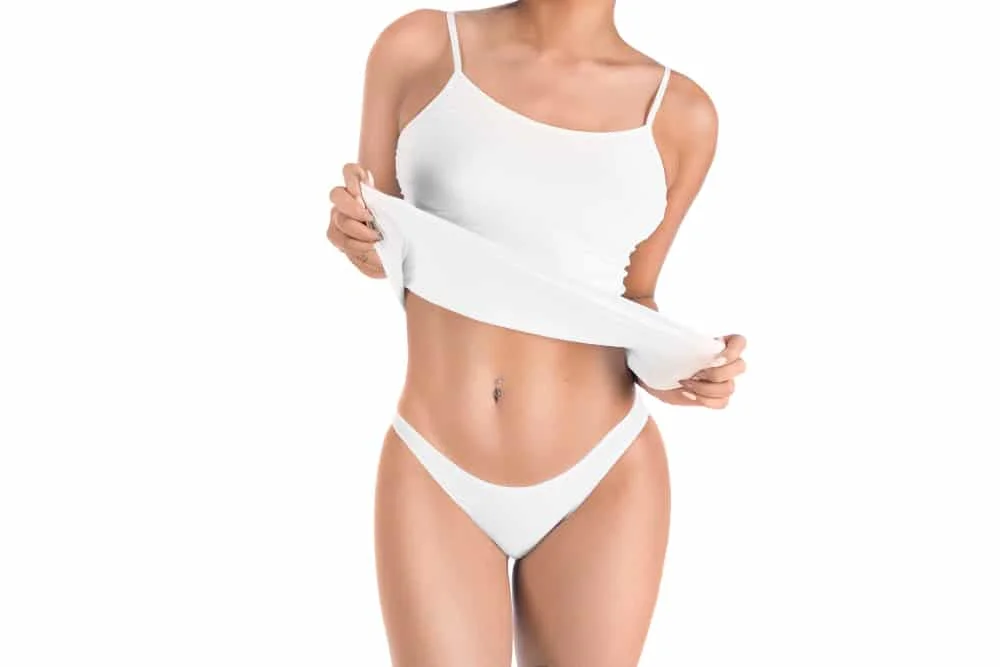 Love handles are the prominent bulges of fat that commonly develop at the side of the abdomen and around the hips. People who develop noticeable love handles may develop a loss of self-confidence, resulting in heightened anxiety, increased stress and depression. It is essential to know about the causes of love handles and what they look like before discussing the optimal treatments to get rid of love handles.
RELATED: What are the common liposuction areas?
What are the causes of love handles?
Love handles develop in people most commonly due to eating a poor diet high in calories associated with a lack of exercise sufficient to burn off excess calories. The result over time is a significant accumulation of fat all over the body, and in some genetically predisposed people, fat develops disproportionately in the love handle area. People with prominent love handles often find it difficult to wear certain types of clothing, including fitted trousers leading to a loss of emotional well-being. The causes of love handles include hormonal changes, common during menopause and in women during and after pregnancy. The natural ageing process can also make it easier to develop love handles due to a reduction in basal metabolism.
What is the best way to get rid of love handles?
The first step to get rid of love handles involves modifying your diet and increasing the amount of exercise you do. It is recommended to carry out at least 150 minutes of exercise each week, and we recommend spacing this out over five sessions of 30 minutes each. Healthy diets should contain plenty of fresh fruit and vegetables, nuts, seeds, avocados and lean protein sources such as eggs and poultry. You should also make sure to get plenty of sleep with a minimum of 7 to 8 hours each night and try to minimise your stress levels to avoid excessive snacking, which can often happen when people feel stressed.
Other ways to remove love handles include cosmetic surgery. Liposuction is the most effective body contouring procedure to get rid of love handles permanently. Liposuction is a minimally invasive procedure and involves the targeted removal of fat cells from the love handle area via tiny incisions to permit access for specialised aspiration cannulas connected to vacuum suction. Liposuction should be combined with a healthy lifestyle consisting of a good diet and regular exercise to get the best results. Many patients who have had love handles removed with liposuction are pleased with their new sculpted and toned appearance.
Centre for Surgery is home to specialist liposuction surgeons, and we carry out hundreds of liposuction procedures each year, including the removal of love handles. If you would like to remove love handles, please contact us today to book a consultation at our Baker Street clinic in Marylebone.
How can I lose love handles quickly?
Whilst it is good practice to have a healthy lifestyle that will help you lose weight and remove love handles, you will also feel a heightened sense of mental and physical well-being. The results from healthy lifestyle habits can take months or years to get rid of love handles completely. The best solution to get rid of love handles quickly is surgical liposuction at Centre for Surgery in London.
Can tummy tuck surgery reduce love handles?
Although liposuction is most commonly used to remove love handles, abdominoplasty or tummy tuck surgery can also be used for love handle treatment. Abdominoplasty surgery is most frequently used when people have an excess amount of skin and excessive fat in the love handle area. Often liposuction alone will result in significant skin laxity. Effective skin tightening with fat reduction can only be achieved with a tummy tuck procedure.
RELATED: Can I get a tummy tuck on the NHS?
Tummy tuck surgery involves making a horizontal incision across the lower part of the abdomen. The abdominal skin is then carefully separated from the underlined muscle before being surgically removed. The incision is then stitched closed with the formation of a new belly button. The results of tummy tuck surgery are instantly visible, and you will be able to see your love handles have disappeared permanently. As with all types of surgical treatment, the best results are achieved when love handle liposuction is combined with a good diet and regular exercise to maintain a healthy lifestyle and prevent the recurrence of fat accumulation in the love handles.
RELATED: How to have the best tummy tuck
RELATED: Can I combine liposuction with a tummy tuck?
Where is the best place to have liposuction to remove love handles?
Centre for Surgery is based in Marylebone on Baker Street. Our state-of-the-art London clinic is home to some of the top plastic surgeons in the UK. We are experienced in all types of body contouring procedures including liposuction, tummy tuck and fat transfer surgery. Our post-operative nursing team are renowned for providing exceptionally high standards of medical care to ensure you heal as best as possible after your procedure. If you are keen to learn more about getting liposuction for your love handles, get in touch with us today to book a one-on-one consultation with an experienced plastic surgeon in London.
[trustindex no-registration=google]