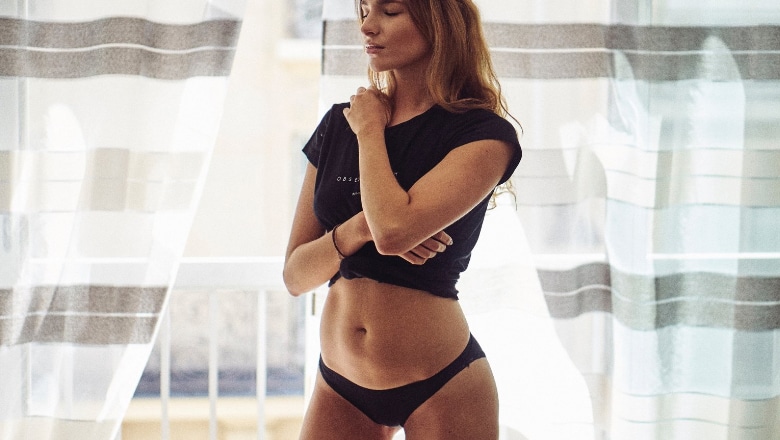 Liposuction and tummy tuck are both highly effective body contouring procedures that can be used to improve the appearance of the abdomen. The desired result is a more contoured and flatter abdomen with tauter skin. Despite sharing some similarities, liposuction and tummy tuck are very different procedures which address different aspects of the abdomen.
What is liposuction?
Liposuction is also known as Lipo and is a highly effective minimally invasive surgical technique for the removal of excess body fat from areas of the body resulting in a more sculpted and contoured body shape. There are many different techniques used for liposuction however the most effective and safe technique uses vibration energy also known as power-assisted liposuction to mechanically disrupt the fat cells before being extracted from the body using a negative pressure vacuum device. Liposuction can target both the lower and upper parts of the stomach but can also treat these areas separately if desired. Lipo is one of the most effective means of getting rid of hard to lose fat deposits from the stomach and also can be used to eliminate unsightly muffin tops and saddlebags. Liposuction is however not a treatment for weight loss and is most effective on patients who are at or near their ideal body weight and have good skin elasticity and adequate muscle tone. Liposuction can target subcutaneous fat which is the fat found just below the skin surface however it is unable to tighten the skin or abdominal muscles.
Can I combine liposuction with a tummy tuck?
What is a tummy tuck?
Tummy tuck surgery is also known by its medical name, abdominoplasty and focuses on the removal of redundant sagging skin and the simultaneous tightening of the underlying abdominal musculature. It is not uncommon to develop excess loose skin following dramatic weight loss. The accumulation of extra fat results in stretching of the overlying skin envelope. When that weight is then subsequently lost by eating sensibly and exercising regularly, this stretched out skin is unable to return to its original state of tightness. As we all age, the body's stores of collagen and elastin begin to diminish and this results in the loss of skin elasticity and the development of skin sagging and the appearance of wrinkly skin. Older people are particularly affected by even modest amounts of weight loss which can result in the appearance of wrinkly skin in the area of the abdomen.
The procedure of tummy tuck is extremely popular and commonly requested by women who have had multiple pregnancies and may have had a Caesarean section. Pregnancy results in the development of saggy skin and stomach muscles that have lost their tightness. The procedure of abdominoplasty is able to re-tighten these tummy muscles and is the best treatment for diastasis recti which refers to a midline gap that develops between the abdominal muscles as pregnancy progresses with stretching of the overline muscle by the growing uterus. In many cases, a tummy tuck is an effective treatment for the permanent removal of stretch marks. When the loose skin is removed, stretch marks are often found in this area and will be removed along with the excess skin.
How to have the best tummy tuck
Can liposuction and tummy tuck be combined in the same procedure?
Our surgeons regularly carry out liposuction in conjunction with a tummy tuck in appropriately selected patients and this is also known as a Brazilian tummy tuck or Brazilian abdominoplasty. To determine if you are a suitable candidate for a Brazilian tummy tuck, your surgeon will examine you to determine your suitability.
As well as Liposuction and tummy tuck is able to be carried out together in the same procedure, these procedures are also performed in conjunction with lipo on other areas of the body. Mummy makeover surgery commonly involves a tummy tuck in conjunction with some form of breast surgery such as a breast uplift. In many cases, a mummy makeover may also include a vaginal rejuvenation procedure such as a vaginoplasty also known as vaginal tightening surgery. These procedures focus on the restoration of the female body shape to the original prepregnancy appearance.
Lipo and abdominoplasty are not only performed on women, men also form an increasingly growing group of patients who can derive immense benefit from the liposuction and abdominoplasty procedure.
Tummy tuck surgery is routinely carried out in one surgical procedure. Liposuction on the other hand may well be carried out in a number of different treatments especially if the treated areas are large and multiple in nature. Liposuction and tummy tuck are types of cosmetic surgery procedures and as with any surgical procedure, there is always a potential risk of complications occurring. Compared with other types of cosmetic surgery, abdominoplasty surgery carries a slightly higher risk profile. Your surgeon is ideally placed to give you clear and detailed information on the different risks associated with abdominoplasty surgery. However, in expert hands, abdominoplasty is a very safe procedure and is routinely carried out as a day case procedure at Centre for Surgery in London.
Are liposuction and tummy tuck results permanent?
Abdominoplasty and liposuction treatments benefit from producing results that are permanent in nature. However, as with all types of cosmetic surgery, it's important to follow your surgeon's post-operative instructions in full to maintain the results of liposuction and tummy tuck over the long term.
Your surgeon will recommend focusing on exercises that strengthen your core once you have recovered fully from your tummy tuck after six weeks. The most common types of exercises include abdominal crunches, pelvic floor exercises and Pilates. Regular cardiovascular exercise helps to condition the heart and lungs as well as to strengthen the muscles tendons and ligaments and this will help to optimise the results of tummy tuck surgery. All patients should ensure that they adhere to eating a healthy and nutritious diet and avoid certain lifestyle habits such as smoking or excessive alcohol. Patients who gain a significant amount of weight after a tummy tuck or lipo will often find that the results of the original procedure may be adversely affected. This could necessitate a second revision procedure to restore the results obtained after the first procedure.
Liposuction and tummy tucks are body contouring procedures and are not recognised treatments for weight loss. They are ideally performed on patients who are at or near their target body weight. Women who plan to have more children in the future then they should defer having liposuction and especially abdominoplasty until they have completed their family in full. Women who become pregnant after having abdominoplasty may find that the skin and abdominal musculature may develop stretching once again which may reverse some or all of the benefits from the previous tummy tuck operation.
What are the best techniques for lipo and abdominoplasty?
At Centre for Surgery in London, our expert plastic surgeons regularly deploy cutting-edge liposuction and abdominoplasty in combination to achieve dramatic body contouring results for women who have developed a significant loss of self-confidence as they see their body size and shape change over time. Our surgeons offer a full range of tummy tuck surgery procedures including mini tummy tuck, full tummy tuck, Brazilian abdominoplasty, fleur-de-lis Abdominoplasty, extended tummy tuck and belt lipectomy surgery. Tummy tuck carried out without liposuction is rarely performed nowadays at Centre for Surgery as our surgeons believe the results are inferior to liposuction combined with tummy tuck also known as a lipoabdominoplasty.
We are also proud to offer the full range of liposuction techniques including traditional suction-assisted liposuction, MicroLipo, SmartLipo, power-assisted liposuction, BodyTite lipo and SAFElipo. For women concerned by the appearance of cellulite, we are able to offer the highly effective procedure of CelluTite for the permanent removal of cellulite.
If you are keen to learn more about the different options for liposuction and tummy tuck, please get in touch with one of our friendly and knowledgeable patient coordinators on 0207 993 4849 to book a face-to-face consultation with an expert Plastic Surgeon at Centre for Surgery in London.
Amazing from start to finish, the communication was the main thing was fully informed and looked after, on the day of my breast augmentation, the staff were fab and made me feel at ease through out the whole process. Thank you so much.
Mohammed Farid
18/11/2021
I've had such a great experience with excellent advice, care and attention and surgical treatment (gynaecomastia) - I can fully endorse the treatment I have received from Centre for Surgery with absolutely no qualms at all. Brilliant in every way - thank you all so much.
Caroline Thorpe
14/11/2021
Very pleased with my whole experience of having a procedure. Was so nervous about getting treatment and i was reassured and felt so comfortable throughout thanks to the amazing nurses. I definitely made the right decision to have breast augmentation at centre for surgery with dr erel.
Melissa Briggs
08/11/2021
So glad I went with centre for surgery, the whole process went very smoothly from the consultations down to the actual day of the procedure. I was so nervous on the day but the whole team put me at ease and I'm happy with my results as I feel a lot more comfortable wearing certain clothes now. My surgeon was Alberto Di Giuseppe who performed a breast Augmentation on me, and I would definitely recommend as he was very clear on what the outcome of the surgery would be and which size would look the best for my frame.
Couldn't be happier with Dr Tillo work,i had my breast surgery one week ago and so happy with the results so far,all the staff are extremely nice and very supportive,i would definitely recommend their services,thank so much
From start to the finish everything was perfect for tummy tuck surgery. All staff is very friendly and the aftercare has been good. The Doctor and the nurse team was fantastic. I'm so happy...result is amazing. Thank you!!!
This was overall a great experience, all the staff at Centre for Surgery were friendly and put me at ease. It is a nerve wracking thing to go through an op but the staff were so nice. Mr Ertan has got a great team around him. On the day of the operation everything went smoothly to plan, there was no delay or holdups, I had another consultation with Mr Ertan who confirmed what was going to be done and that I was still happy to proceed. I was prepped for the procedure, I met with the anaesthetist who again was really nice and put me at ease explaining his role. After the procedure I woke up with the nurse by my side making sure I was OK and checking on me, I was able to stay in the clinic until I was ready to leave and was not rushed at all. I was well looked after from the start to the point when I was discharged. Post operation I was staying at a local hotel it was so close there was no point in even getting a taxi and I was able to walk back where my partner was waiting for me. I was expecting a lot of bruising to both my eyes but there was very little if any by the time the cast came off after 7 days, I am now at the two week post operation point and it is healing well with no outwardly visible bruising or scaring. The next milestone is a checkup at the 6 week point with my surgeon. If you're thinking of having something like this done I would highly recommend getting in touch with Centre for Surgery.
The staff at Centre for Surgery were very kind and accommodating. They answered any questions I had about the procedure and were constantly checking up on me. A special thank you to Christina for all her support throughout.
I would just like to state the quality of care received from the nurses at Centre for Surgery was beyond the highest level. Sophie takes her patient care to another level beyond words. She always puts me at ease. She is there for me even at awkward hours just when I mostly needed reassurance and she is one of the most compassionate nurses I have come across and demonstrates her passion naturally for caring for others. She totally deserves recognition at its finest and thank you for always being there for me. 😍