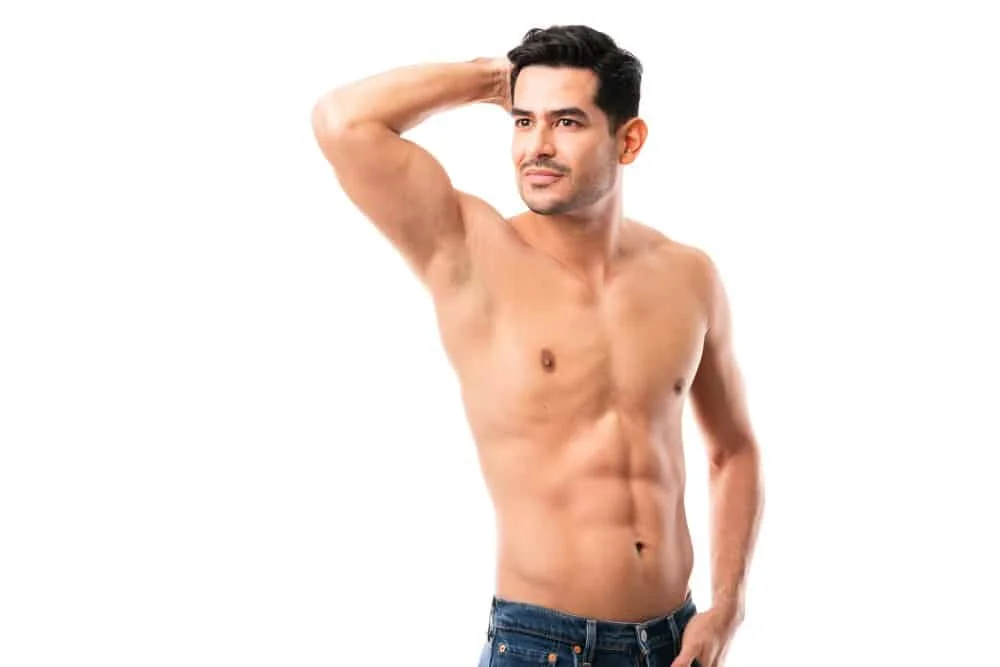 Male tummy tuck, also known as a male abdominoplasty, is a common procedure that can reduce the size of a protruding abdomen by removing excess skin and tightening the muscles in the midsection. Tummy tuck surgery can deliver a flatter, tighter, more aesthetically appealing abdominal contour.
Frequent or significant changes in weight can cause the abdominal muscles to weaken, the skin to sag, and stretch marks to appear. In many cases, however, simple ageing is the primary reason behind the flabby midsection that is the source of frustration and disappointment for many men.
As we age, fat redistributes itself to the abdominal area. For many men, exercise alone cannot produce the slim, fit, and youthful-looking result you desire. Male tummy tuck surgery (or male abdominoplasty) can improve the appearance of the abdominal region through the removal of excess skin and tightening of the abdominal muscles. For the best results, male tummy tucks should be teamed with a balanced diet and regular exercise. A common and highly successful procedure, male tummy tuck surgery can create a tighter, flatter abdominal area for men, as well as provide a boost in confidence and a new, more youthful contour for many men.
This type of surgery should not be confused with liposuction. The goal of liposuction is to remove fat deposits from the body, not excess skin. Although it is a cosmetic procedure, a male tummy tuck is still a form of surgery.
Male tummy tucks may be combined with other procedures such as liposuction of flanks, back and extremities, body lifts, gynecomastia treatment. The results of these procedures are spectacular for many men, as they greatly improve overall appearance and self-esteem.
The decision to have a mini tummy tuck depends on the amount of excess fat and skin that has to be removed, and the location. If you only need to have excess tissue below the umbilicus removed, then a mini tummy tuck may produce the best results.
The male tummy tuck should not be used as an alternative to weight loss, and the surgery does produce visible scars. However, the scars can be hidden by underwear.
Can I have a male tummy tuck?
You will be a suitable candidate for a male tummy tuck if you have excess skin around the abdomen which you are wishing to remove.
Prior to having a male tummy tuck, you will need to:
Refrain from smoking
Stop certain medications which increase the risk of bleeding
Maintain a stable weight
How is a male tummy tuck performed?
A male tummy tuck is performed under general anaesthesia. Centre for Surgery uses TIVA anaesthetic. Unlike traditional general anaesthetic, TIVA does not involve the use of volatile gases and has a faster on and offset, with a smoother recovery.
The surgery involves an incision being made from hip to hip. The surgeon will remove excess skin and fat, and then tighten any muscles if necessary. The remaining skin is pulled tight in order to create a firm abdomen and then stitched together. If needed, liposuction is undertaken to contour the abdomen.
The procedure takes about two hours to perform.
What is the recovery period like after male abdominoplasty?
The recovery is relatively quick and uncomplicated. Directly after the surgery, it is normal to experience bruising and swelling, particularly around the incision sites. You will be given a garment which you will be required to wear, which will help to reduce any bruising and swelling and speed up the recovery period.
You will be able to return to work after one week. However, you will have to avoid any strenuous physical activity for around six weeks.
Contact us today to find out more or to book a consultation.
[trustindex no-registration=google]