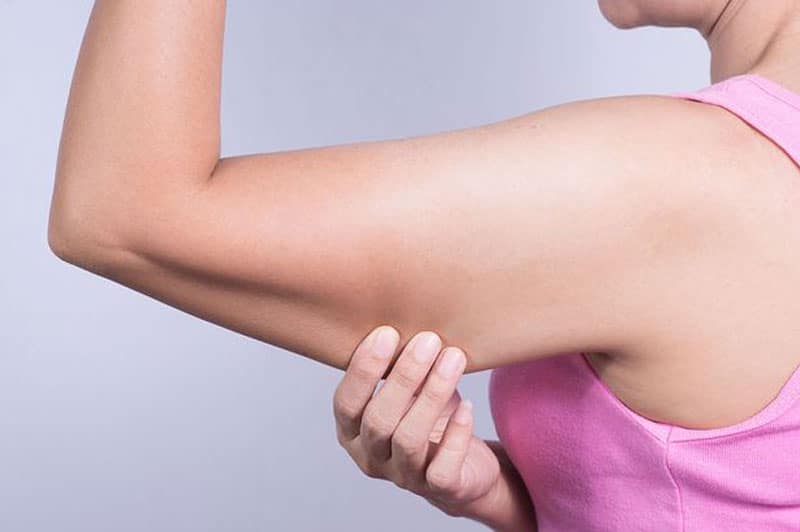 Bingo wings, otherwise known as the excess folds of loose skin on the underside of your upper arms can often be an area of the body where people can be self-conscious and leading to a reduction in self-confidence. Many patients feel uncomfortable wearing short sleeve clothing to avoid exposing their arms whilst many types of long sleeve clothing don't fit correctly. Although bingo wings are most commonly seen in women they can also affect men, particularly after significant weight loss.
Bingo wings most commonly affect patients who are overweight or obese and can still persist even after dramatic weight loss. Many slim people can also have bingo wings even if they have skinny arms.
It is an area of the body which is particularly prone to excess fat and is an area which can be hard to tackle with healthy eating and exercise. This is why some people choose to look at surgical options such as liposuction of bingo wings.
What are bingo wings?
Bingo wings is another term for the excess fat which is located beneath the arms. This is often more visible when the arm is raised as is in motion. Bingo wings form when there is a lack of muscle definition in the arms. It can also be caused after undergoing a large weight loss. Bingo wings can also become more prominent as we naturally age and begin to lose skin laxity. Bingo wings can cause problems with self-confidence and cause people to alter what style of clothing they wear, opting for clothes with long sleeves.
Bingo wings most commonly occur due to the natural ageing process when the skin begins to lose its inherent elasticity and can be worsened by excessive sun exposure and sun damage. The skin begins to lose collagen and elastin and stretches out and this stretching process may accelerate when there is an excess of fat in the arm. Arm liposuction is the most effective treatment to reduce excess fat in the arm and tighten the skin by up to 10%. Those with significant skin laxity may be better candidates for a brachioplasty also known as an arm reduction. Arm lift surgery can be either a full arm lift or a mini arm lift.
Non-surgical treatments
People who have sagging skin affecting the upper arms can improve their appearance with certain non-surgical treatments. Morpheus8 uses radio frequency micro-needling technology to tighten and lift the skin. In a smaller number of cases, Profhilo may be used to create firmer-looking skin which often appears much smoother after treatment. Morpheus8 is a non-invasive treatment that does not involve the incisions and scars of traditional surgery. The treatment is quick to carry out and does not involve any downtime. For patients with more than mild skin laxity, nonsurgical treatment may not be as effective as surgical arm lift surgery for getting rid of bingo wings. Patients who have severe skin laxity are not appropriate candidates for non-surgical bingo wings treatment.
Am I a suitable candidate for liposuction of bingo wings?
You will be eligible to undergo arm liposuction if you:
Have excess fat on the underside of the arms which you are wanting to remove
Are 18 years or older
Are physically and mentally healthy
Have reasonable skin laxity
Have reasonable expectations about what the procedure can achieve
If you have excess skin, rather than excess fat, beneath the arms, you will not be considered eligible for arm liposuction alone. Instead, you may wish to undergo an arm lift to remove the excess skin. If necessary, arm liposuction can be performed at the same time as the arm lift. Patients who have mild to moderate amounts of excess skin may be able to have a mini arm lift which has shorter incisions compared with a full arm lift.
You will have to be a non-smoker, or be able to stop smoking at least two weeks before the procedure, as well as stop smoking during the recovery period.
Patients who have slim arms can benefit from skin excision alone but patients who have large and heavy arms will require additional liposuction to reduce the size of heavy arms. The scar for an arm lift is situated along the inside of the arm to make it less visible and runs from the armpit to the elbow.
How is bingo wing liposuction performed?
Bingo wing liposuction will be performed under a local anaesthetic. However, if you do not wish to be awake for the procedure, you may opt for a general anaesthetic. At Centre for Surgery, we exclusively use TIVA anaesthesia. You will be able to wake up much quicker, and will not experience that groggy feeling often associated with a  traditional general anaesthetic.
Surgery to remove bingo wings can be performed under local anaesthetic or general anaesthetic depending on your preferences. If you are having arm liposuction combined with another procedure then we would recommend a general anaesthetic for your comfort.
Liposuction procedures at Centre for Surgery in London are performed using the PAL lipo method. This is a liposuction method which is commonly used by Centre for Surgery. Unlike other methods of liposuction, PAL lipo does not involve the use of heat, reducing the chance of bruising and swelling afterwards, and the chance of damage to the body during the procedure.
The arm is first injected with a solution which is a mixture of a local anaesthetic and a vasoconstrictor.  This not only numbs the area, reducing the risk of pain and discomfort but also reduces the risk of bleeding. Next, small incisions are made. Liposuction is then used to aspirate the fat globules, which ensures the blood vessels and stromal network are not damaged. A small, vibrating cannula is then used to break up the fat cells. Finally, the surgeon will sculpt the final layer of fat to ensure you achieve natural-looking results.
Bingo wing liposuction will be performed as a day case, and you will be able to return home once the effects of the anaesthetic have worn off.
What can I expect from the arm liposuction recovery period?
After bingo wing liposuction, you may experience some swelling, bruising and redness, particularly around the incision site. You may wish to apply an ice pack to the area or take pain medication if necessary. The swelling will subside after 7 to 10 days.
You will have to wear a compression garment on your arms. This will help to reduce swelling and ensure your arms stay in the best shape possible.
You may need to take two to three days off work. This will vary from person to person, and some people may need a longer period of time to recover. If your job is physically demanding and involves lots of heavy lifting, you may need to take a longer period of time off work.
You will have to avoid any strenuous physical exercise for at least two weeks, which includes heavy lifting. If you have to look after young children you may have to consider this when planning your recovery period. After two weeks you will be able to start light activities again.
Brachioplasty
This procedure is also known as an arm lift or arm reduction. Brachioplasty surgery is designed to remove areas of loose skin and excessive areas of fat from the upper arm. Liposuction is commonly combined with skin removal as part of the arm lift procedure. Liposuction or Lipo is first carried out to remove excess fat. The loose skin beneath the arm is then surgically removed.
Patients who have moderate amounts of excess fat and skin may be a suitable candidate for a standard full brachioplasty. Patients who have mild to moderate skin laxity may be suitable for a mini brachioplasty also known as a mini arm lift. Mini arm lift involves creating a curved incision beneath the armpit compared with a full arm lift which involves an additional incision running down the inner aspect of the upper arm to the elbow. Any areas of excess fat and loose skin is surgically removed before the skin is carefully stitched together to leave minimal scarring. In Patients who have lost significant amounts of weight, an extended brachioplasty may be appropriate to remove loose skin which often extends onto the side of the chest. The disadvantage of an extended brachioplasty involves a much longer incision being made to remove loose skin. The resulting scar is therefore much longer compared with a standard arm lift. Arm lift surgery is one of the most effective ways of getting rid of bingo wings whilst significantly improving the tone and definition of the arm allowing patients to freely expose their arms without being self-conscious.
Are you interested in getting rid of bingo wings? Centre for Surgery offers both liposuction and arm lift surgery to treat this common condition. Contact us today to find out more or to book your consultation.
Amazing from start to finish, the communication was the main thing was fully informed and looked after, on the day of my breast augmentation, the staff were fab and made me feel at ease through out the whole process. Thank you so much.
Mohammed Farid
18/11/2021
I've had such a great experience with excellent advice, care and attention and surgical treatment (gynaecomastia) - I can fully endorse the treatment I have received from Centre for Surgery with absolutely no qualms at all. Brilliant in every way - thank you all so much.
Caroline Thorpe
14/11/2021
Very pleased with my whole experience of having a procedure. Was so nervous about getting treatment and i was reassured and felt so comfortable throughout thanks to the amazing nurses. I definitely made the right decision to have breast augmentation at centre for surgery with dr erel.
Melissa Briggs
08/11/2021
So glad I went with centre for surgery, the whole process went very smoothly from the consultations down to the actual day of the procedure. I was so nervous on the day but the whole team put me at ease and I'm happy with my results as I feel a lot more comfortable wearing certain clothes now. My surgeon was Alberto Di Giuseppe who performed a breast Augmentation on me, and I would definitely recommend as he was very clear on what the outcome of the surgery would be and which size would look the best for my frame.
Couldn't be happier with Dr Tillo work,i had my breast surgery one week ago and so happy with the results so far,all the staff are extremely nice and very supportive,i would definitely recommend their services,thank so much
From start to the finish everything was perfect for tummy tuck surgery. All staff is very friendly and the aftercare has been good. The Doctor and the nurse team was fantastic. I'm so happy...result is amazing. Thank you!!!
This was overall a great experience, all the staff at Centre for Surgery were friendly and put me at ease. It is a nerve wracking thing to go through an op but the staff were so nice. Mr Ertan has got a great team around him. On the day of the operation everything went smoothly to plan, there was no delay or holdups, I had another consultation with Mr Ertan who confirmed what was going to be done and that I was still happy to proceed. I was prepped for the procedure, I met with the anaesthetist who again was really nice and put me at ease explaining his role. After the procedure I woke up with the nurse by my side making sure I was OK and checking on me, I was able to stay in the clinic until I was ready to leave and was not rushed at all. I was well looked after from the start to the point when I was discharged. Post operation I was staying at a local hotel it was so close there was no point in even getting a taxi and I was able to walk back where my partner was waiting for me. I was expecting a lot of bruising to both my eyes but there was very little if any by the time the cast came off after 7 days, I am now at the two week post operation point and it is healing well with no outwardly visible bruising or scaring. The next milestone is a checkup at the 6 week point with my surgeon. If you're thinking of having something like this done I would highly recommend getting in touch with Centre for Surgery.
The staff at Centre for Surgery were very kind and accommodating. They answered any questions I had about the procedure and were constantly checking up on me. A special thank you to Christina for all her support throughout.
I would just like to state the quality of care received from the nurses at Centre for Surgery was beyond the highest level. Sophie takes her patient care to another level beyond words. She always puts me at ease. She is there for me even at awkward hours just when I mostly needed reassurance and she is one of the most compassionate nurses I have come across and demonstrates her passion naturally for caring for others. She totally deserves recognition at its finest and thank you for always being there for me. 😍