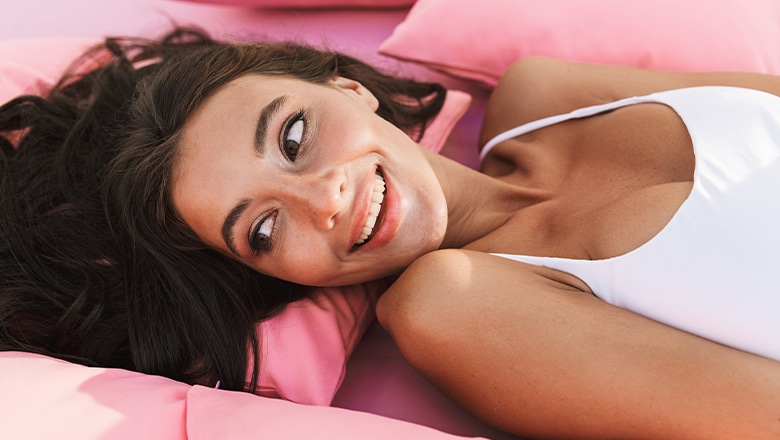 Vaginoplasty surgery is most commonly carried out under a general anaesthetic using total intravenous anaesthesia (TIVA) at our Baker Street clinic. Having vaginal tightening under a general anaesthetic means you will not experience any pain or discomfort during the procedure, and any symptoms you experience in the post-operative period should be very mild. Your surgeon will prescribe a course of prescription painkillers for you to take regularly for the first few days to remain as comfortable as possible during your vaginoplasty recovery.
RELATED: What is a designer vagina?
Any discomfort and swelling at the procedure site will settle down fully after approximately two weeks. Your surgeon only uses absorbable sutures during the procedure, so there is no need to have them removed at your post-operative one-week appointment with one of our wound care nurses. The vast majority of patients can resume work after 7 to 10 days, but in pelvic floor repair cases, you may require a full two weeks off work. For the first six weeks after vaginoplasty, you should avoid any strenuous exercise and sexual activity until you have been reviewed by your surgeon at your six-week review appointment.
RELATED: Vaginal Tightening for Loose Vagina and Vaginal Laxity
Dr Dimitriadi is our specialist cosmetic gynaecologist and regularly performs vaginoplasty surgery with excellent outcomes and has never used vaginal mesh during vaginal tightening surgery as the post-operative outcomes with vaginal mesh have a greater risk of complications occurring.
RELATED: How much does vaginal rejuvenation cost?
Is vaginoplasty recovery painful?
Vaginal tightening surgery, also known as vaginoplasty, is a well-tolerated procedure and is most commonly carried out under general anaesthetic or IV sedation. Our anaesthetists are experts in total intravenous anaesthesia, which is considered safer and more effective than traditional general anaesthetic techniques used in hospitals. The recovery following total intravenous anaesthesia is much quicker, which allows people to recover in the comfort of their own homes on the same day after vaginoplasty surgery.
RELATED: What is recovery like after vaginoplasty surgery?
It is not uncommon to experience mild discomfort during the early vaginoplasty recovery period. The area operated on may be tender to the touch and may appear bruised and swollen for the first two weeks after the procedure. Full recovery after vaginoplasty surgery typically occurs in six weeks. It is essential to comply with the surgeon's post-operative instructions to minimise the risk of complications arising.
RELATED: Vaginal Rejuvenation (Designer Vagina)
Our dedicated post-operative nursing team are available 24 hours a day, seven days a week. If you have any questions or concerns about your vaginoplasty recovery, you can access them on the dedicated telephone number provided on your discharge summary.
What is the average vaginoplasty healing time?
After vaginoplasty surgery, it is normal to experience bruising and swelling at the operated site, and a mild degree of soreness may be experienced during the first few days. These symptoms can be easily controlled with the prescription painkillers provided to you by your surgeon. We would encourage you to mobilise after the first 48 hours to minimise the risk of venous thromboembolism (VTE).
Vaginoplasty surgery requires time off work to facilitate proper healing and we would recommend a minimum of one week off work. Most patients should be able to drive a car after one week. It is essential to avoid strenuous exercise, including gym exercise, for the first four weeks after surgery. You should avoid any sexual activity which involves vaginal intercourse for a minimum of six weeks after vaginoplasty Surgery. You will be reviewed by your surgeon at six weeks, and the vast majority of patients who have had vaginoplasty will be fully healed by the six-week mark. After having vaginoplasty surgery, the best sleeping position is to lie on your back for a minimum of four weeks to avoid any rubbing on the operated area.
Vaginal rejuvenation is used to describe several treatments which can be used to enhance both the appearance and function of the female genitalia. Vaginal tightening surgery is one component of vaginal rejuvenation and can be used to reduce the size of a big vagina. Vaginoplasty is commonly combined with surgery on the perineum, especially in women who have had a traumatic childbirth. Vaginoplasty can also be combined with a labiaplasty which is a procedure that involves reducing the size of the labia minora. Pelvic floor repair can also be combined with a vaginoplasty for women who suffer from urinary incontinence or pelvic organ prolapse. Vaginal rejuvenation recovery takes approximately the same amount of time as a vaginal tightening procedure however, this will depend on the treatments which comprise the vaginal rejuvenation treatment. In most cases, full recovery after vaginal rejuvenation takes approximately six weeks.
For patients who are considering having vaginoplasty at Centre for Surgery in London, there are several important preoperative instructions to comply with to make sure the risk of complications is minimal. You must stop smoking for a minimum of four weeks before the procedure, and you should avoid drinking alcohol for at least two weeks prior. Your surgeon will also recommend you stop any aspirin-containing medicines to reduce the risks of bleeding during or after the procedure. Vaginoplasty healing can also be affected by women who actively smoke, and the risk of wound breakdown and infection is much higher in smokers.
Patients having vaginoplasty at our Baker Street clinic in London will need to ensure they have a responsible adult escort to drop them off and pick them up after the procedure is complete and they are medically fit for discharge. Your caregiver should look after you for a minimum of 24 hours after your procedure and ideally for the first 2 to 3 days. Having good social support after the procedure will help to optimise your vaginoplasty recovery.
Patients can also speed the recovery time by the application of ice packs to the operating area as this will help to significantly reduce the vaginoplasty swelling and you should avoid wearing tight-fitting clothing to avoid irritating the area which may increase the risk of wound complications and significant pain and discomfort. All patients who have had vaginoplasty surgery should refrain from applying vaginal tampons until full healing has taken place which takes approximately six weeks in most cases. As an alternative measure, patients should apply external sanitary towels to the area as the optimum hygiene measure. As with all types of cosmetic surgery, you should be sure to follow the surgeon's preoperative and post-operative instructions in full to minimise the risk of complications occurring.
Does vaginoplasty affect sensation?
The purpose of vaginoplasty surgery is to restore the female vagina to the pre-pregnancy condition. The newly tightened vagina has enhanced tone, control and muscle strength as well as being smaller in diameter. These benefits help to increase feeling after vaginoplasty surgery which has a direct impact on sexual intercourse with many women reporting increased satisfaction after having had a vaginoplasty. It is important to bear in mind that a vaginoplasty does not affect sexual desire or the ability to have an orgasm as there are a number of interconnected factors which contribute to these phenomena. Having vaginoplasty surgery does not automatically increase sexual desire. Vaginoplasty surgery can improve symptoms caused by stress incontinence and pelvic organ prolapse when combined with a pelvic floor repair. Vaginal looseness can also be caused by the ageing process where lowered oestrogen levels contribute to an increase in vaginal laxity.
During the vaginoplasty recovery period, many women report sensation to be either increased or decreased during the first six weeks and these changes are normal as the body is healing. These temporary changes in sensation should normalise after six weeks. In cases where patients have abnormally increased levels of sensitivity or even discomfort then we would recommend being seen by your surgeon for further assessment. These symptoms are common after vaginoplasty surgery and are only permanent in an extremely small number of cases. Your surgeon will outline the risks and complications of vaginoplasty surgery at your face-to-face vaginal tightening consultation in London.
When can I start walking after vaginoplasty?
We would recommend that patients begin to mobilise after the first 24 hours after vaginoplasty surgery. It is uncommon to experience pain or discomfort with gentle walking around the house. To minimise the risk of complications, it's important not to do too much too soon and if you experience increased pain or discomfort, it is important to slow down and always to listen to your body.
What does a vaginoplasty scar look like?
Vaginoplasty surgery involves all incisions being made within the vagina which means there are no visible scars after the surgery. The purpose of vaginoplasty is to reduce the size of the vagina which helps to tighten the vagina. Surgical techniques used in vaginoplasty involve removing ligaments and muscles which have been loosened as a result of childbirth. The vaginal is then reconstructed using absorbable sutures. The newly tightened vagina is returned to its pre-pregnancy state. All the incisions used for vaginoplasty surgery are within the vagina and are therefore not visible on the outside.
Dr Dimitriadi is one of the most experienced vaginoplasty surgeons in London and treats over 100 patients each year with a loose vagina as a result of childbirth and the ageing process. If you are keen to book a vaginoplasty consultation, please get in touch and speak to one of our friendly and experienced patient coordinators to book a face-to-face consultation with Dr Dimitriadi at our state-of-the-art Baker Street clinic in London.
Amazing from start to finish, the communication was the main thing was fully informed and looked after, on the day of my breast augmentation, the staff were fab and made me feel at ease through out the whole process. Thank you so much.
Mohammed Farid
18/11/2021
I've had such a great experience with excellent advice, care and attention and surgical treatment (gynaecomastia) - I can fully endorse the treatment I have received from Centre for Surgery with absolutely no qualms at all. Brilliant in every way - thank you all so much.
Caroline Thorpe
14/11/2021
Very pleased with my whole experience of having a procedure. Was so nervous about getting treatment and i was reassured and felt so comfortable throughout thanks to the amazing nurses. I definitely made the right decision to have breast augmentation at centre for surgery with dr erel.
Melissa Briggs
08/11/2021
So glad I went with centre for surgery, the whole process went very smoothly from the consultations down to the actual day of the procedure. I was so nervous on the day but the whole team put me at ease and I'm happy with my results as I feel a lot more comfortable wearing certain clothes now. My surgeon was Alberto Di Giuseppe who performed a breast Augmentation on me, and I would definitely recommend as he was very clear on what the outcome of the surgery would be and which size would look the best for my frame.
Couldn't be happier with Dr Tillo work,i had my breast surgery one week ago and so happy with the results so far,all the staff are extremely nice and very supportive,i would definitely recommend their services,thank so much
From start to the finish everything was perfect for tummy tuck surgery. All staff is very friendly and the aftercare has been good. The Doctor and the nurse team was fantastic. I'm so happy...result is amazing. Thank you!!!
This was overall a great experience, all the staff at Centre for Surgery were friendly and put me at ease. It is a nerve wracking thing to go through an op but the staff were so nice. Mr Ertan has got a great team around him. On the day of the operation everything went smoothly to plan, there was no delay or holdups, I had another consultation with Mr Ertan who confirmed what was going to be done and that I was still happy to proceed. I was prepped for the procedure, I met with the anaesthetist who again was really nice and put me at ease explaining his role. After the procedure I woke up with the nurse by my side making sure I was OK and checking on me, I was able to stay in the clinic until I was ready to leave and was not rushed at all. I was well looked after from the start to the point when I was discharged. Post operation I was staying at a local hotel it was so close there was no point in even getting a taxi and I was able to walk back where my partner was waiting for me. I was expecting a lot of bruising to both my eyes but there was very little if any by the time the cast came off after 7 days, I am now at the two week post operation point and it is healing well with no outwardly visible bruising or scaring. The next milestone is a checkup at the 6 week point with my surgeon. If you're thinking of having something like this done I would highly recommend getting in touch with Centre for Surgery.
The staff at Centre for Surgery were very kind and accommodating. They answered any questions I had about the procedure and were constantly checking up on me. A special thank you to Christina for all her support throughout.
I would just like to state the quality of care received from the nurses at Centre for Surgery was beyond the highest level. Sophie takes her patient care to another level beyond words. She always puts me at ease. She is there for me even at awkward hours just when I mostly needed reassurance and she is one of the most compassionate nurses I have come across and demonstrates her passion naturally for caring for others. She totally deserves recognition at its finest and thank you for always being there for me. 😍