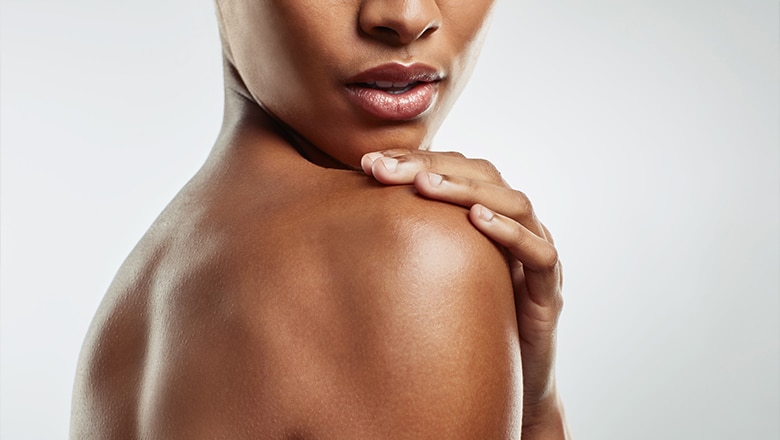 A mole, also known as a benign pigmented naevus, involves the dermis and the epidermis. Complete surgical removal therefore often results in a minor skin defect. Any type of surgical procedure, including mole removal, will result in a scar. Mole removal at Centre for Surgery is carried out using techniques designed to minimise the appearance of scars.
In some cases, particularly if the mould is very small, the surgeon may elect to leave the minor skin defect to heal on its own without stitches. However, in most cases, an elliptical incision is made around the mole to facilitate skin closure along the natural lines of skin tension to minimise the appearance of the scar. Facial mole removal will often require stitches to be removed earlier to avoid prominent scars. Moles found elsewhere on the body may involve using deeper stitches and overlying skin tape to avoid unsightly stitch holes.
Moles that are raised above the level of the skin can often be removed with shave excision or with erbium laser. Laser mole removal with Erbium YAG laser is a particularly effective technique for cosmetic mole removal. It is essential to bear in mind that although the mole has been lasered to remove localised pigment, some residual mould tissue may remain. This may slightly increase the chances of mole recurrence. Although rare, it may result in visible scarring, which may need to be addressed with surgical scar revision. Some moles may have a hairy component, and these types of moles should be removed surgically to prevent hair regrowth from the deeply situated hair follicles. Moles that exhibit cancerous features should be surgically removed and sent for diagnostic histology to confirm their nature, whether benign or malignant.
RELATED: Should I be concerned about an itchy or bleeding mole?
After mole removal, proper wound care will help to minimise the risk of infection and potential worsening of the scar. Antibiotics are only given to treat active infection and should not be used in a prophylactic manner as this may increase the risk of antibiotic resistance developing.
Moles in certain body parts may result in more prominent scarring than in other areas. Some people are more likely to develop noticeable scars, particularly those with darker skin types or a history of keloid scars. If you think you may be at risk of developing keloid scars, please let your doctor know so that the most appropriate treatment can be undertaken.
What is the best way to minimise scars after mole removal?
Mole scars can be improved by ensuring your treatment is carried out by an appropriately experienced plastic surgeon with expertise across the full range of mole removal techniques, including shave excision, surgical excision and laser mole removal.
RELATED: Why choose a plastic surgeon for mole removal?
After mole removal, several recognised techniques can be used to improve mole scars. Once the incision has fully healed, the application of silicone gel sheets can help to flatten scars quicker. Certain types of laser treatment can be used to improve red scars or raised hypertrophic scars. Morpheus8 is particularly effective for surgical scars including mole scars. Non-invasive treatments include topical products which may contain vitamin E to help keep the scar moist and reduce redness. We are fortunate to offer the full range of scar treatments at our 106 Crawford Street clinic in Marylebone.
After mole removal, it is important to maintain the cleanliness of the wounds and keep them appropriately covered for the first few days after treatment. Petroleum jelly will help to keep the incision sites moist to prevent scab formation. The development of scabs may increase the risk of subsequent scarring. The mole removal dressings should be changed regularly to maintain moistness and the healing incisions should be kept out of direct sunlight.
You should avoid applying alcohol onto mould removal scars as this can adversely affect healing which may increase the risk of infection. Once the incisions have fully healed, localised massage will help to break down localised scar tissue and promote vascularity of the area. Healing can be quickened with regular mole scar massage and promote suppleness of the area.
When do mole scars begin to fade?
A mole scar can take over 12 months to lighten and form a pale white scar. Certain cosmetic interventions can help to speed the process up. Laser treatment and Morpheus8 can help to improve the appearance of the mole scar in as little as 3 months with permanent and significant results.
Here at Centre for Surgery in London, our surgeons are experts in carrying out mole removal treatment using the most advanced techniques to ensure a quick recovery after treatment. If you would like to learn more about minimising scarring after mole removal, please contact us on 0207 993 4849 or complete the contact form below to book a consultation.
Can a mole grow back after surgical removal?
After surgical removal, it is very rare for moles to grow back, provided the mole is entirely removed, and diagnostic histology has confirmed complete removal. If you notice a mole to recur, please get in touch with your plastic surgeon to arrange a follow-up appointment. In some cases of hairy moles, hair follicles may grow back in the area. This can be easily treated with a variety of non-surgical or surgical methods.
Why choose Centre for Surgery for mole removal or mole scar removal?
Centre for Surgery is a leading cosmetic surgery clinic with expertise in mole removal and treatments to improve the appearance of mole scars. Our expert plastic surgeons are experienced in mole checks and treatment of all types of moles. They are trained in the most effective surgical techniques that ensure complete removal of the mole and cosmetically acceptable mole scars. Get in touch with us today and receive expert treatment from the leading mole removal clinic in London.
Amazing from start to finish, the communication was the main thing was fully informed and looked after, on the day of my breast augmentation, the staff were fab and made me feel at ease through out the whole process. Thank you so much.
Mohammed Farid
18/11/2021
I've had such a great experience with excellent advice, care and attention and surgical treatment (gynaecomastia) - I can fully endorse the treatment I have received from Centre for Surgery with absolutely no qualms at all. Brilliant in every way - thank you all so much.
Caroline Thorpe
14/11/2021
Very pleased with my whole experience of having a procedure. Was so nervous about getting treatment and i was reassured and felt so comfortable throughout thanks to the amazing nurses. I definitely made the right decision to have breast augmentation at centre for surgery with dr erel.
Melissa Briggs
08/11/2021
So glad I went with centre for surgery, the whole process went very smoothly from the consultations down to the actual day of the procedure. I was so nervous on the day but the whole team put me at ease and I'm happy with my results as I feel a lot more comfortable wearing certain clothes now. My surgeon was Alberto Di Giuseppe who performed a breast Augmentation on me, and I would definitely recommend as he was very clear on what the outcome of the surgery would be and which size would look the best for my frame.
Couldn't be happier with Dr Tillo work,i had my breast surgery one week ago and so happy with the results so far,all the staff are extremely nice and very supportive,i would definitely recommend their services,thank so much
From start to the finish everything was perfect for tummy tuck surgery. All staff is very friendly and the aftercare has been good. The Doctor and the nurse team was fantastic. I'm so happy...result is amazing. Thank you!!!
This was overall a great experience, all the staff at Centre for Surgery were friendly and put me at ease. It is a nerve wracking thing to go through an op but the staff were so nice. Mr Ertan has got a great team around him. On the day of the operation everything went smoothly to plan, there was no delay or holdups, I had another consultation with Mr Ertan who confirmed what was going to be done and that I was still happy to proceed. I was prepped for the procedure, I met with the anaesthetist who again was really nice and put me at ease explaining his role. After the procedure I woke up with the nurse by my side making sure I was OK and checking on me, I was able to stay in the clinic until I was ready to leave and was not rushed at all. I was well looked after from the start to the point when I was discharged. Post operation I was staying at a local hotel it was so close there was no point in even getting a taxi and I was able to walk back where my partner was waiting for me. I was expecting a lot of bruising to both my eyes but there was very little if any by the time the cast came off after 7 days, I am now at the two week post operation point and it is healing well with no outwardly visible bruising or scaring. The next milestone is a checkup at the 6 week point with my surgeon. If you're thinking of having something like this done I would highly recommend getting in touch with Centre for Surgery.
The staff at Centre for Surgery were very kind and accommodating. They answered any questions I had about the procedure and were constantly checking up on me. A special thank you to Christina for all her support throughout.
I would just like to state the quality of care received from the nurses at Centre for Surgery was beyond the highest level. Sophie takes her patient care to another level beyond words. She always puts me at ease. She is there for me even at awkward hours just when I mostly needed reassurance and she is one of the most compassionate nurses I have come across and demonstrates her passion naturally for caring for others. She totally deserves recognition at its finest and thank you for always being there for me. 😍