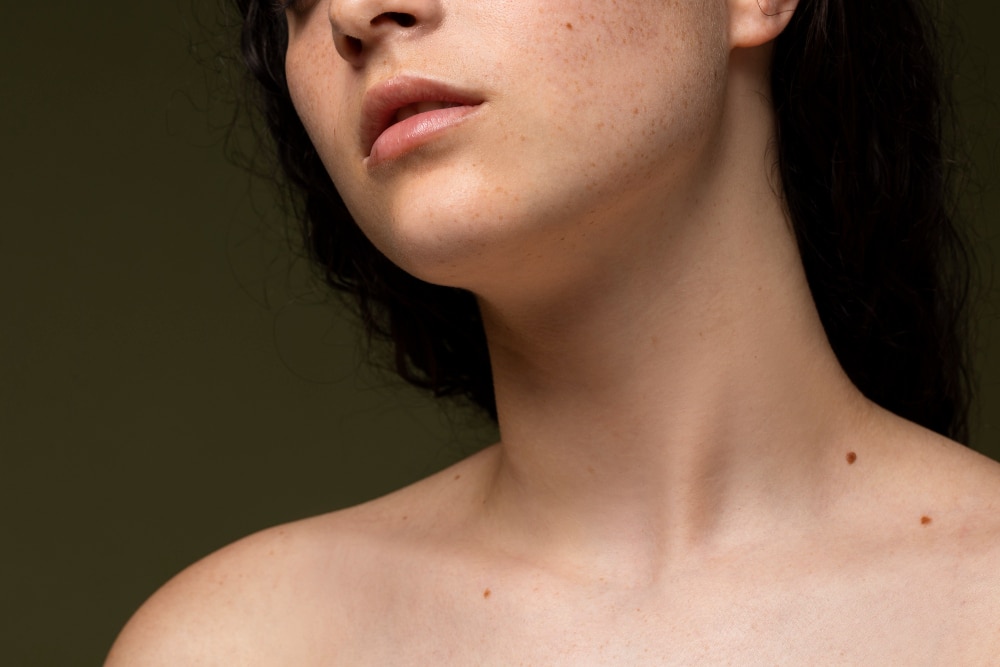 The NHS has recently stopped carrying out certain treatments including many types of cosmetic skin lesion removal including mole removal. Moles that are potentially cancerous or life-threatening are still removed in the NHS. For all other types of moles, people will need to have treatment at a private clinic.
Even with potentially cancerous moles, given the COVID-19 global pandemic, surgical waiting lists have significantly lengthened. We would advise checking with your local GP to get an idea of waiting times although you may be disappointed to learn that even potentially suspicious moles are facing long delays to treatment in the NHS.
How can I qualify for mole removal treatment on the NHS?
You will first need to consult with your GP so that you can receive a formal diagnosis. After this, you will be referred to see a dermatologist in an NHS hospital for a detailed clinical assessment. If the dermatologist diagnoses a cancerous mole, you will be eligible for treatment on the NHS. If your mole turns out to be benign, you will be advised to seek treatment at a private clinic.
Centre for Surgery is a specialist centre for the removal of all types of skin lesions including moles. We pride ourselves on providing a comprehensive mole removal service delivered by highly trained plastic surgeons working from our state-of-the-art clinics in Marylebone central London.
RELATED: What do mole removal scars look like?
Should I have mole removal at a private clinic instead?
We would recommend having mole removal at a reputable private clinic such as Centre for Surgery as a diagnosis can be achieved much quicker and treatment can be arranged promptly for your peace of mind. NHS waiting times may cause considerable anxiety for many patients.
If you think you may have a suspicious mole, you should book a consultation with your GP. GP waiting times have increased significantly in recent years due to staff shortages which may result in a potentially late diagnosis and this could affect the success of treatment. An early and accurate diagnosis is vital to ensure the best outcomes and prevent the risk of life-threatening complications from occurring.
Since the onset of the COVID-19 global pandemic, waiting times for many types of treatments including mole removal have gotten much longer in the NHS. By choosing to have treatment at a private clinic, you could be seen on the same day and in suitable cases could have treatment in the same session for maximum peace of mind. This allows you to return to your everyday activities straight away with a minimum of fuss.
How can I tell if I have a cancerous mole?
Although most moles are benign and therefore entirely harmless, in a small number of cases moles could exhibit potentially cancerous features. Typical features which you should look out for include moles that appear irregular, larger than normal or have different colours within them. Moles that are rapidly growing, itchy, start to bleed or are painful should be urgently assessed as these are potential clinical features of melanoma.
In most cases, moles are completely harmless although you should be familiar with the ABCDE approach to assessing your moles. If you have any concerns, please get in contact with us today to book a consultation and get a rapid diagnosis followed by appropriate treatment.
RELATED: Should I be concerned about an itchy or bleeding mole?
Why should I choose Centre for Surgery for mole removal?
Centre for Surgery it's one of the leading private clinics in London for mole removal using the full range of techniques including shave excision, surgical excision and laser mole removal. Once you have had a consultation with an expert plastic surgeon, you'll be able to have the treatment on the same day or at a time to suit you for speedy mole removal. Moles that are surgically removed will be sent for diagnostic analysis and the report will come back to us within a few days. If you would like to get more information about mole removal in London, get in touch with us today on 020 7993 4849 or complete the contact form below.
RELATED: Why choose a plastic surgeon for mole removal?
How much does mole removal cost in the UK
Mole removal in the UK typically starts from £400 and the final cost will depend on the number of moles being removed. Laser mole removal is cheaper compared with surgical mole removal and is suitable for raised moles that are assessed to be benign and completely harmless. Suspicious moles should always be removed using surgical removal with the specimen sent for histology analysis. Once you have had a physical examination, you will receive customised recommendations on the most appropriate form of mole removal and your dedicated patient coordinator will give you an accurate quotation after your consultation.
Amazing from start to finish, the communication was the main thing was fully informed and looked after, on the day of my breast augmentation, the staff were fab and made me feel at ease through out the whole process. Thank you so much.
Mohammed Farid
18/11/2021
I've had such a great experience with excellent advice, care and attention and surgical treatment (gynaecomastia) - I can fully endorse the treatment I have received from Centre for Surgery with absolutely no qualms at all. Brilliant in every way - thank you all so much.
Caroline Thorpe
14/11/2021
Very pleased with my whole experience of having a procedure. Was so nervous about getting treatment and i was reassured and felt so comfortable throughout thanks to the amazing nurses. I definitely made the right decision to have breast augmentation at centre for surgery with dr erel.
Melissa Briggs
08/11/2021
So glad I went with centre for surgery, the whole process went very smoothly from the consultations down to the actual day of the procedure. I was so nervous on the day but the whole team put me at ease and I'm happy with my results as I feel a lot more comfortable wearing certain clothes now. My surgeon was Alberto Di Giuseppe who performed a breast Augmentation on me, and I would definitely recommend as he was very clear on what the outcome of the surgery would be and which size would look the best for my frame.
Couldn't be happier with Dr Tillo work,i had my breast surgery one week ago and so happy with the results so far,all the staff are extremely nice and very supportive,i would definitely recommend their services,thank so much
From start to the finish everything was perfect for tummy tuck surgery. All staff is very friendly and the aftercare has been good. The Doctor and the nurse team was fantastic. I'm so happy...result is amazing. Thank you!!!
This was overall a great experience, all the staff at Centre for Surgery were friendly and put me at ease. It is a nerve wracking thing to go through an op but the staff were so nice. Mr Ertan has got a great team around him. On the day of the operation everything went smoothly to plan, there was no delay or holdups, I had another consultation with Mr Ertan who confirmed what was going to be done and that I was still happy to proceed. I was prepped for the procedure, I met with the anaesthetist who again was really nice and put me at ease explaining his role. After the procedure I woke up with the nurse by my side making sure I was OK and checking on me, I was able to stay in the clinic until I was ready to leave and was not rushed at all. I was well looked after from the start to the point when I was discharged. Post operation I was staying at a local hotel it was so close there was no point in even getting a taxi and I was able to walk back where my partner was waiting for me. I was expecting a lot of bruising to both my eyes but there was very little if any by the time the cast came off after 7 days, I am now at the two week post operation point and it is healing well with no outwardly visible bruising or scaring. The next milestone is a checkup at the 6 week point with my surgeon. If you're thinking of having something like this done I would highly recommend getting in touch with Centre for Surgery.
The staff at Centre for Surgery were very kind and accommodating. They answered any questions I had about the procedure and were constantly checking up on me. A special thank you to Christina for all her support throughout.
I would just like to state the quality of care received from the nurses at Centre for Surgery was beyond the highest level. Sophie takes her patient care to another level beyond words. She always puts me at ease. She is there for me even at awkward hours just when I mostly needed reassurance and she is one of the most compassionate nurses I have come across and demonstrates her passion naturally for caring for others. She totally deserves recognition at its finest and thank you for always being there for me. 😍