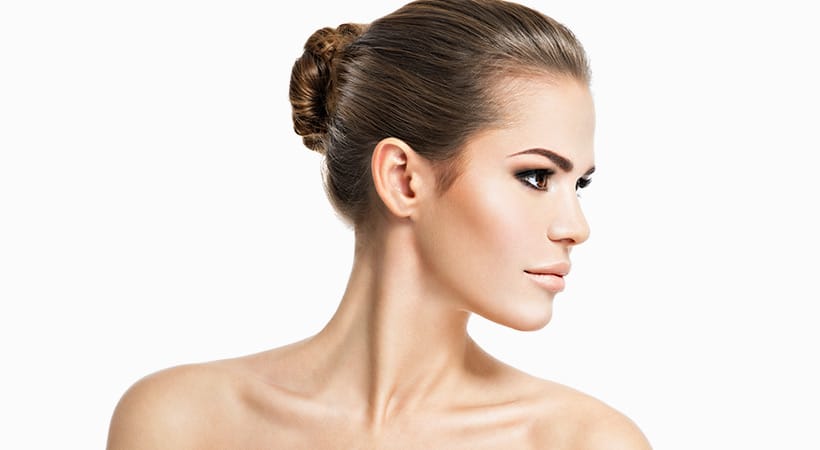 Certain aspects of our facial features may lead people to feel self-conscious about how they look, and unlike other parts of the body, we cannot hide our faces. When people develop a loss of self-confidence because of how they look, many may consider the option of cosmetic surgery to improve their appearance and boost self-esteem. Facial implants are often recommended for people who may be upset with certain aspects of their facial anatomy. Whether it's to enhance volume or definition, achieve a more contoured look or for reconstructive purposes, facial implant surgery may be the solution.
RELATED: Types of facial rejuvenation treatments
Genetics is what makes our faces unique, and that is why no two faces are the same. Certain facial features may run in families, including having a large nose, a well-defined jaw line or a certain shape of the face. Certain aspects of our facial features may be amenable to surgical correction with facial implants. Here we discuss the most commonly used types of facial implants in cosmetic surgery.
RELATED: Fat Transfer To Face
What are facial implants?
Facial implants are used to enhance facial features as part of a cosmetic surgery procedure. The procedure can be carried out in both women and men to enhance facial anatomy. Silicone is the most common type of synthetic material which composes facial implants. Face implants involve a straightforward surgical procedure to insert them into targeted areas of the face and can correct a variety of facial concerns, including:
Enhancing side profile
Correction of deformities, whether present from birth or from injury
Correction of facial asymmetry
Treat signs of facial ageing
Optimise facial definition
Determining the appropriate type of facial implants can be achieved by having a detailed consultation with an expert cosmetic surgeon at Centre for Surgery in London. Facial implants come in a variety of different shapes and sizes and must be appropriately sized depending on your expectations for treatment.
What are the different types of facial implants?
Facial implants are used to enhance virtually any part of the face. They are most commonly used to improve the volume and create a more contoured look. Expected results include a fuller and more youthful appearance. People who have lost facial volume as part of the ageing process can achieve a plumper-looking face with facial implants. The most common areas for facial implant surgery include the chin, cheeks and jawline.
Chin implants – these are the most commonly used type of facial implants and can improve the side profile and optimise the definition of the lower part of the face. Chin implants are commonly combined with rhinoplasty to create a more balanced facial appearance.
Cheek implants – High cheekbones are often considered to be a highly desirable facial feature. Social media has fuelled the debate about facial beauty and what is considered attractive facial features. People who do not have well-defined cheekbones can now achieve this with cheek implant surgery. Cheek implants are made of silicone and are most commonly positioned either directly on the cheekbone or just below it. In some cases, cheek implants can use both approaches. Cheek implants can help to treat sunken cheeks and flattened cheeks as a result of the ageing process to enhance cheek definition. Cheek fillers are an alternative non-surgical treatment to treat sunken cheeks.
Jaw implants – the jawline plays a key role in determining the overall appearance of our faces. Both women and men may be unhappy about the lack of definition in their jawline. Some may feel their chin has receded as a result of the ageing process. Jawline implants can help to restore the definition of the jawline to enhance facial features. Jawline implants are commonly combined with a surgical rhinoplasty in the same procedure.
What does facial implant surgery involve?
Facial implants are most commonly inserted using a general anaesthetic which means you will be asleep for the procedure. The location of the surgical incision will differ depending on the type of implant being inserted. Implants may involve incisions being placed inside the mouth. Chin implant surgery most commonly involves a small incision beneath the chin. Preoperative markings are first made to match the size and shape of the implant being inserted. Once the general anaesthetic has been administered, the surgeon will make incisions designed for the specific facial implant. The surgeon will then create a small pocket to accommodate the implant. The implants will then be gently inserted into the created pockets. Incisions will then be closed with dissolvable stitches.
What is recovery like after facial implant surgery?
In common with all types of cosmetic surgery, facial implants will require a period of downtime to ensure proper healing and recovery. It is normal to have bruising and swelling in the postoperative period after the insertion of jaw implants or cheek implants. Although it may look noticeable, it will rapidly resolve, and the process can be accelerated by the application of cold packs intermittently. Eating a healthy diet with plenty of nutrients will help to give your body the energy needs to heal smoothly. We would recommend eating a soft diet initially as foods which require lots of chewing may disrupt the incision lines. If you have had known dissolvable stitches inserted, these will be removed approximately one week after surgery. You will need to maintain a soft diet for at least ten days and can return to most types of activities after one week. You should avoid all types of strenuous physical activities for a minimum of six weeks. Once you have been reviewed by your surgeon at your six weeks appointment, you'll be given clear instructions which will help your recovery. You are free to reach out to us at any time if you have any questions or issues concerning your healing and recovery.
How long do facial implants last?
Many people choose to have facial implants as opposed to fillers as plants produce permanent results. Facial implants do not get absorbed by the body and will provide effective enhancement of the chin, cheeks or Joe. As long as there are no complications of facial implant surgery, they can last a lifetime and do not need to be removed or replaced. If, however, you decide you no longer want facial implants, they can be easily removed in a straightforward surgical procedure.
What are the differences between facial implants and fillers?
Facial implants are made up of synthetic silicone and are designed to enhance facial definition and improve the side profile. Dermal fillers containing hyaluronic acid are used to enhance facial volume and are a non-surgical procedure. Deciding between dermal fillers and facial implants will be determined by your treatment goals and customised recommendations given to you by your surgeon. Facial implant surgery only requires one procedure and can produce permanent results. Soft tissue fillers will need a series of treatments to achieve optimal results. Although facial implant surgery costs more than dermal fillers, the overall cost, in the long run, works out cheaper as dermal fillers will require regular treatments to maintain the results. Soft tissue fillers last between nine months to 18 months, depending on the area injected. Further treatment will be required after this period to maintain results.
Amazing from start to finish, the communication was the main thing was fully informed and looked after, on the day of my breast augmentation, the staff were fab and made me feel at ease through out the whole process. Thank you so much.
Mohammed Farid
18/11/2021
I've had such a great experience with excellent advice, care and attention and surgical treatment (gynaecomastia) - I can fully endorse the treatment I have received from Centre for Surgery with absolutely no qualms at all. Brilliant in every way - thank you all so much.
Caroline Thorpe
14/11/2021
Very pleased with my whole experience of having a procedure. Was so nervous about getting treatment and i was reassured and felt so comfortable throughout thanks to the amazing nurses. I definitely made the right decision to have breast augmentation at centre for surgery with dr erel.
Melissa Briggs
08/11/2021
So glad I went with centre for surgery, the whole process went very smoothly from the consultations down to the actual day of the procedure. I was so nervous on the day but the whole team put me at ease and I'm happy with my results as I feel a lot more comfortable wearing certain clothes now. My surgeon was Alberto Di Giuseppe who performed a breast Augmentation on me, and I would definitely recommend as he was very clear on what the outcome of the surgery would be and which size would look the best for my frame.
Couldn't be happier with Dr Tillo work,i had my breast surgery one week ago and so happy with the results so far,all the staff are extremely nice and very supportive,i would definitely recommend their services,thank so much
From start to the finish everything was perfect for tummy tuck surgery. All staff is very friendly and the aftercare has been good. The Doctor and the nurse team was fantastic. I'm so happy...result is amazing. Thank you!!!
This was overall a great experience, all the staff at Centre for Surgery were friendly and put me at ease. It is a nerve wracking thing to go through an op but the staff were so nice. Mr Ertan has got a great team around him. On the day of the operation everything went smoothly to plan, there was no delay or holdups, I had another consultation with Mr Ertan who confirmed what was going to be done and that I was still happy to proceed. I was prepped for the procedure, I met with the anaesthetist who again was really nice and put me at ease explaining his role. After the procedure I woke up with the nurse by my side making sure I was OK and checking on me, I was able to stay in the clinic until I was ready to leave and was not rushed at all. I was well looked after from the start to the point when I was discharged. Post operation I was staying at a local hotel it was so close there was no point in even getting a taxi and I was able to walk back where my partner was waiting for me. I was expecting a lot of bruising to both my eyes but there was very little if any by the time the cast came off after 7 days, I am now at the two week post operation point and it is healing well with no outwardly visible bruising or scaring. The next milestone is a checkup at the 6 week point with my surgeon. If you're thinking of having something like this done I would highly recommend getting in touch with Centre for Surgery.
The staff at Centre for Surgery were very kind and accommodating. They answered any questions I had about the procedure and were constantly checking up on me. A special thank you to Christina for all her support throughout.
I would just like to state the quality of care received from the nurses at Centre for Surgery was beyond the highest level. Sophie takes her patient care to another level beyond words. She always puts me at ease. She is there for me even at awkward hours just when I mostly needed reassurance and she is one of the most compassionate nurses I have come across and demonstrates her passion naturally for caring for others. She totally deserves recognition at its finest and thank you for always being there for me. 😍