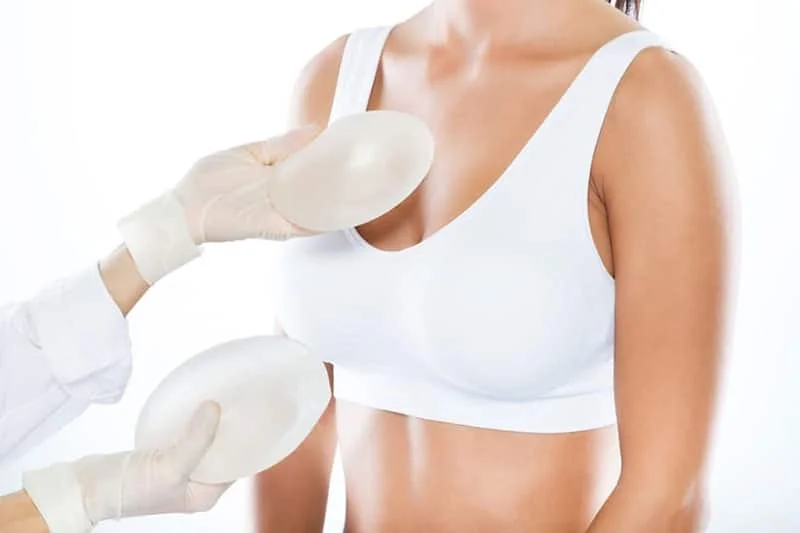 Are you considering getting breast implants and unsure about the size that would be best for you? This guide is here to support you in making an informed choice. It's essential to remember that the ideal size for one person may not be the same for another. Finding the perfect fit for your body and your preferences can be a bit challenging, but don't worry!
Your first step should be to arrange a meeting with a professional plastic surgeon, especially one from the Centre for Surgery in London. They will provide expert advice tailored to your unique needs. Only after this consultation will you be able to make a final decision confidently. It's always best to get the opinion of an expert when considering such an important decision for your body.
One of the most common questions patients ask our plastic surgeons involves determining the correct size of the breast implant as part of a breast augmentation procedure. For patients who want to choose bigger breast implants, the question is how big can they go. In terms of cup size, many patients want to know what volume will give that desired increase. The obvious concern with any breast augmentation procedure is choosing a breast implant that you feel is not big enough and therefore regretting your choice of implant size in the postoperative period.
There are several factors to consider when deciding to undergo a breast augmentation in London. We always recommend all patients undertake as much research as possible and speak with friends or family who may have had breast augmentation previously. You may already have an idea of the approximate size of the implant which you would like to have. For many patients, this is when they will begin to feel very excited as having a breast augmentation is an investment in yourself for renewed self-confidence.
At the face-to-face consultation with the surgeon, a key aspect of the discussion will centre around an emphasis on the maximum size limit of breast implants for your anatomy. Many patients can feel a little disheartened if their anticipated implant size does not fit with the advice given by their surgeon. This is the point many patients will ask "why can't I go bigger?".
Pregnancy and breastfeeding after breast enlargement
Understandably, patients may be a little disappointed at this point but fortunately, this does not mean that you will not be able to get the result that you have been aiming for. In virtually all cases there are well-founded reasons why your surgeons may advise against a particular size of the breast implant and these include both the effect on your soft tissues as well as the risk of implant-related complications.
The risks of choosing overly large breast implants
The anatomy or structure of the patient's chest will be the most important factor in determining the most appropriate size of breast implant for you. At the consultation, your surgeon will carry out several key measurements of the chest to offer customised treatment specific to you and that will deliver the very best possible results most safely. The anatomy of your chest wall determines many factors from the type of breast implant which is used to the position of the implant whether sub-glandular or dual plane and also the type of incision used for the breast augmentation. The most common type of incision for breast augmentation surgery is the inframammary approach.
Breast implant incisions and positioning
Many patients will have a minimal amount of breast tissue and may also have a tighter skin envelope. This means there are fewer options for implant sizing compared with a patient who has more breast tissue and a less tense skin covering. It's important to emphasise to patients in the first category that the surgeon is focusing on putting your health and safety first and to ensure the results are both significant and natural-looking for your body shape. In both types of patients, if the surgeon were to insert an oversized breast implant with the patient's anatomy then there would be a significantly increased risk of complications that may not look aesthetically pleasing and could lead to medium to long-term issues in the worst-case scenario.
One of the key risks in inserting oversized breast implants involves possible implant malposition where the implant does not sit in its desired position. In severe cases, there is even a risk of developing a condition called symmastia, also known as a "uni-boob". Symmastia is the term used to describe a lack of cleavage between the breasts and is often due to excessive pressure exerted by the implants on the soft tissue. Very large implants can also end up dropping a lot lower than the inferior breast fold and this is also referred to as a "double bubble" appearance. The risk of implant bottoming out can also develop where the underlying soft tissues lose their structural support as a result of the weight of the heavy implant. This then leads to nipple malpositioning whereby the nipple tends to point upwards and a lack of upper pole fullness.
Large breast implants that are too big for your body frame also carry risks of visible skin rippling and the edges of the implant may be felt or even seen. Most patients and their surgeons will agree that these are not cosmetically acceptable outcomes and can also lead to a significant degree of social embarrassment as well as a great deal of pain and discomfort. Often these patients will require breast implant replacement surgery to address the problem of oversized breast implants. Our philosophy at Centre for Surgery in London is to assess patients thoroughly and formulate a sensible treatment plan to make sure that patients achieve the results they deserve without the need for a revision procedure three months later. This is why doctors will emphasise that there is a size limit to choosing the right size of breast implant for you.
In the most serious cases, there may be a risk of reduced blood circulation to the breasts. This is due to the very large breast implant exerting a high level of compression on the surrounding tissues which can lead to impairment of blood flow and in the most severe cases this could lead to skin necrosis or skin loss. This is a complication that can be avoided by choosing breast implants that are not too big for your frame.
The importance of correct planning for breast implant sizing
At Centre for Surgery in London, our surgeons are highly experienced in all types of breast augmentation surgery, including complex revision surgery and have advanced tools at their disposal for accurate breast implant sizing. Our surgeons always aim to carry out bespoke planning for every breast implant surgery they carry out, as every patient has unique characteristics and different expectations for treatment.
Breast implants do impart changes to the breast over time. All breast implants we use have the most comprehensive warranty for both capsular contracture and implant rupture. Our surgeons use both Mentor breast implants and Sebbin breast implants. Your surgeon plans for not only the immediate post-operative appearance but also how your implants could look 5 to 10 years postoperatively. Choosing the most appropriate-sized implant will help to minimise the impact of excessive thinning or stretching out of the soft tissues of the breast. Both of these soft tissue changes can lead to implant edges becoming more visible, breast ptosis or sagging and visible rippling of the implant.
How breast implants are measured
The first thing to know is exactly how breast implant sizes are measured. Many women will have an idea of how large they want their breasts to be going by bra size – they may want to increase one or two cup sizes. However, bra sizes vary from store to store, and as such, this is not the measurement system used for implants.
Instead, implants are measured in cubic centimetres, otherwise referred to as CCs. Implants range from 120cc's to 850cc's. When you book a consultation, you will be able to see sample implants and see the different sizes. You will even be able to put the sample implants into a bra and try them on. This will help you gauge an idea of the best size breast implants for you. During your consultation, the surgeon will also be able to employ 3D reconstruction techniques which will show you exactly what the implants will look like on you.
The rice test
There are various other things you can do to get an understanding of the exact size of the implants. One of these is known as the rice test. This involves filling a stocking with rice (keep in mind that 30 cc's is one ounce). Flatten the rice and place it within a bra that is not padded. This can help you to get an idea of the actual size of the implants before you have the chance to come to a consultation with the surgeon. Some women may wish to undertake this test but with water and ziplock bags instead of rice.
However, knowing the sizes and trying on samples are not the only factors which will influence which size implants you eventually decide to get. There are many questions you will have to consider before settling on a final size.
Important questions which will alter the size of the implants include:
What will the implants be made of?
At Centre for Surgery, we use silicone-based implants which are approved by the UK medicines and healthcare products regulatory agency (MHRA). Saline breast implants are no longer used within the UK.
Silicone implants consist of a cohesive silicone gel which holds together. This feels more natural and more closely resembles breast tissue than saline implants.
What breast profile can I have?
A breast profile means how forward the implants will protrude from your chest. A low profile is fairly flat, while a high profile will be more prominent and may appear more unnatural. Those who are wanting to be larger but still appear natural may wish to choose a medium profile.
Which implant shape can I have?
You will also have to decide on which implant shape to have. This will either be round or teardrop. Round implants tend to be more popular as they provide more fullness in the cleavage area.
The size of your body
The surgeon will take measurements of the base width of your breasts. The surgeon will also take note of how broad your chest is and the space between your breasts. The surgeon will also note your skin elasticity and how much skin and tissue is available. This will help the surgeon to know what the maximum size implants you can have.
Problems with larger sizes
Some women may wish to choose implants that are larger sizes. However, before doing so it is important to consider whether or not the larger size is actually right for you. While larger sizes may be perfect for some women, they may not actually suit others. If you have a small body frame, with less skin and tissue available, you may not be able to have large size implants. If you choose to have them, the edges of the implants may become visible after surgery. Large implants can also cause other problems such as back and neck pain.
It is also important to consider your lifestyle. If you undertake a lot of physical exercise, particularly large implants may interfere and become problematic. You may also wish to undertake the rice test with a large size and try on a variety of clothes. In certain clothing, particularly clothing that is not tight fitting, large implants can make some women appear as if they have gained more weight.
Breast Augmentation at Centre for Surgery
The main priority with properly performed breast augmentation surgery is to create results that both look and feel natural using tried and tested techniques involving the lowest risk profile. Our medical practice is centred around optimising both aesthetic results and your health and safety with every procedure we carry out. Everyone at Centre for Surgery focuses on ensuring you get your desired appearance. By coming in for a face-to-face consultation with the surgeon at Centre for Surgery, you will receive honest and accurate medical advice that is based on your needs and preferences. In virtually all cases, you may be asked to try on a variety of different implant sizes to get an idea of how you could look after surgery and your dedicated patient coordinator will be able to act as your point of contact throughout all stages of your patient journey.