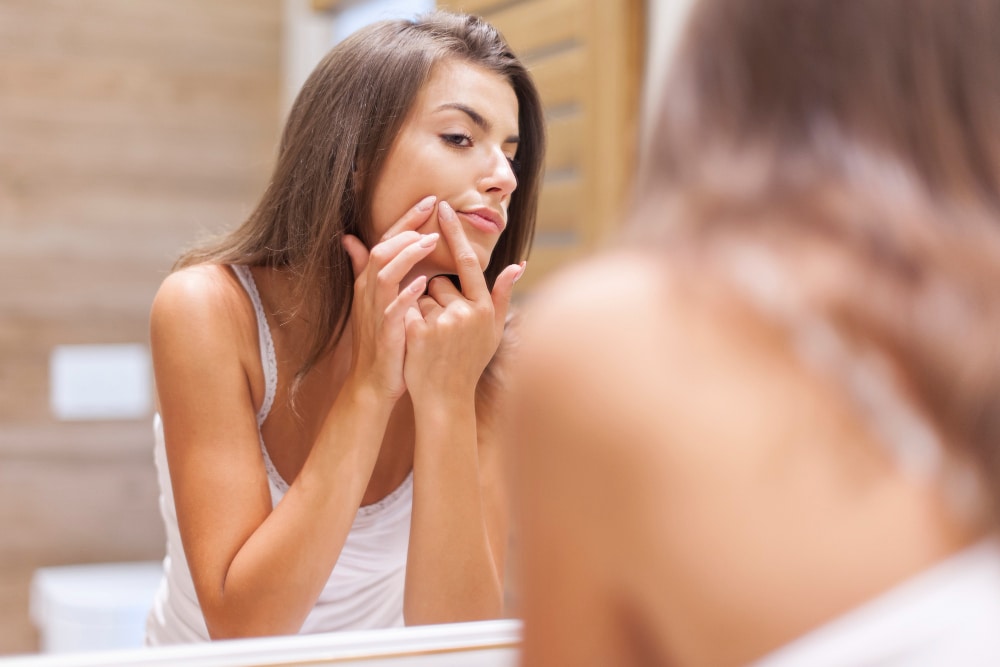 Acne is one of the most common skin conditions to affect young adults and teenagers. Acne in teenagers is most often related to significant hormonal fluctuations, especially testosterone. Acne occurs in a wide variety of different age groups and not just in teenagers who are experiencing puberty. Acne can also affect older adults and it's just as common in those aged over 24. Globally, the large number of people who have adult acne means it is one of the most commonly occurring skin conditions and has become increasingly prevalent over the last 15 years with approximately one and eight of all women affected. Although less common in men, acne still affects up to 1 and 10 of all men.
There are differing severities of adult acne and can most easily be categorised into mild moderate or severe cases. Acne in adults most commonly involves the face, upper chest or back. The type of acne treatment chosen will depend on the severity of the acne. Typical clinical features associated with acne depend on the severity:
Mild acne – adult acne in its mildest form most commonly manifests as blackheads, whiteheads and small pustular lesions. These pustules appear as raised small bumps which appear white and are often surrounded by erythematous or red skin.
Moderate acne – in moderate cases of acne, the skin off the face often becomes covered with papules with up to half of the face being affected. Papules are raised skin lesions which measure less than 10mm in diameter and can resemble the colour of the surrounding skin or appear red.
Severe acne – adult acne in its most severe form results in the appearance of diffuse redness with associated swelling. Severe acne is associated with the formation of deep nodules and cysts.
Advances in acne treatment now mean there are highly effective treatments designed to prevent severe outbreaks of acne without the need for more intensive treatments such as Roaccutane.
What are the causes of acne in adults?
Acne affecting adults is related to the same causes of acne affecting teenagers with significant overlap. Both acne in teenagers and in adults share the following characteristics:
An increase in sebum production
Blockage of the pores
The presence of acne-causing bacteria
Inflammatory changes
Although teenage acne shares many features with adult acne, adult acne can also be precipitated by other causes including:
Emotional upset – people who feel significant amounts of emotional stress may result in increased secretion of cortisol witches are recognised hormone associated with many types of stress. Excessive levels of stress can affect underlying hormonal balance and this may trigger the development of adult acne.
Genetics – people who have first-degree relatives such as parents who have acne are more likely to develop it themselves which suggests a strong genetic link.
Hormonal fluctuations – as with teenage acne, an imbalance in hormone levels can trigger adult acne. Both oestrogen and testosterone may stimulate an increase in the production of sebum. Hormonal changes also occur during pregnancy, breastfeeding and menstruation. The ageing process may also affect hormonal balance.
Stress and fatigue – people who suffer from sleep deprivation or have had a significant illness may develop fluctuations in hormone levels and this could affect immune functioning. A weakened immune system could increase the likelihood of developing acne.
Skin irritation – certain types of skin care products can lead to irritation of the skin and this can result in adult acne. Although the exact cause is unknown, certain skin types may be more at risk of becoming irritated by repetitive shaving and this could affect the natural barrier function of the skin resulting in inflammation and the development of acne.
Can adult acne go away on its own?
We commonly get asked by people with adult acne if it will go away on its own or whether it needs acne treatment. Acne becomes less prevalent with age and is quite rare in women after menopause. Although in a small number of cases, adult acne may improve on its own, many people find their symptoms persist and are keen to explore the various treatment options for adult acne.
As explained above, there are different grades of acne and the severe forms of acne are more likely to result in acne scarring particularly if it is left untreated. This is why it is important to see a specialist early for a prompt diagnosis followed by the institution of correct acne treatment. Acne can present in a variety of different ways with the most common features below:
Blackheads
Whiteheads
Papules
Pustules
Nodules
Cysts
Cystic acne is considered the most serious type of adult acne and has a high risk of resulting in significant acne scars. Cystic acne can also cause considerable discomfort especially when inflamed. The cystic lesions found in severe forms of acne contain pus and looks similar to common skin boils. Untreated cystic acne will inevitably result in acne scarring especially if the cysts are manually squeezed.
Why is laser considered the best treatment for adult acne?
There are now a wide variety of different treatments for adult acne and not all are effective. At Centre for Surgery, acne treatment is always customised to the individual patient to achieve symptom control and reduce the risk of developing acne scarring. The grade of acne will determine the best treatment.
Here at Centre for Surgery, our expert practitioners are highly experienced in the treatment of all types of adult acne including cystic acne. The foundation of successful treatment is based on taking a full medical history and carrying out a physical examination to determine the most appropriate treatment options. Although acne may go away on its own in some cases, we would always recommend a detailed clinical assessment with appropriate treatment to prevent the risk of acne scars. Highly effective adult acne treatment can give you much improved and healthier skin with a significant boost in self-confidence with little or no acne scars.
Traditional types of acne treatments used for all grades of acne include:
Topical creams and gels including benzoyl peroxide
The oral contraceptive pill
Oral antibiotics
Isotretinoin, also known as Roaccutane can only be prescribed by a specialist
Other types of in-clinic treatments for adult acne have also been used with varying levels of success including:
Our approach at Centre for Surgery is the target the underlying disease process by targeting the underlying sebaceous glands with Nd:YAG laser. Laser acne treatment targets the underlying bacteria responsible for causing acne and reducing the activity of the sebaceous glands with a reduction in sebum production. Laser acne treatment is a safe and effective option for all types of acne including cystic acne. Treatment with acne laser also helps to reduce the risk of acne scarring.
RELATED: Laser acne treatment
Acne treatment before and after
Case 1:
Complete clearance with only one treatment of Nd:YAG laser.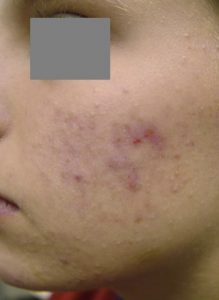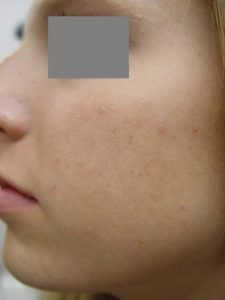 Case 2:
19-year-old transgender woman with a 3-year history of acne on the face. The patient had tried multiple oral and topical treatments, retinoids and benzoyl peroxide with minimal improvement. The patient had 4 sessions of Nd:YAG laser every 2 weeks. The after photo was taken after the final treatment and there was no recurrence at the 1-year follow-up appointment.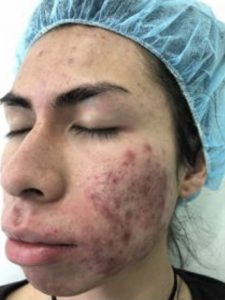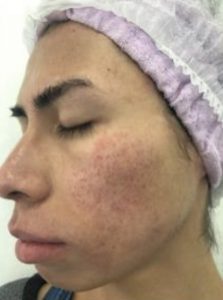 Case 3: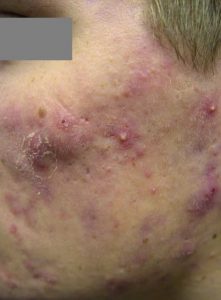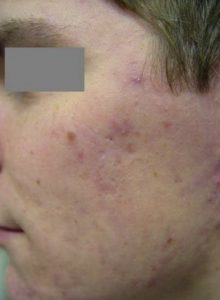 Case 4:
This was a 22-year-old Chinese male who had active acne for over 6 months. He had tried many different treatments including topical acne treatments. He was not keen on taking acne drugs and wanted a faster solution. Three sessions of Nd:YAG laser were performed. Each treatment was spaced 28 days apart.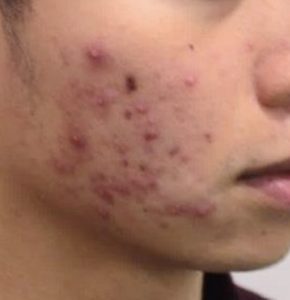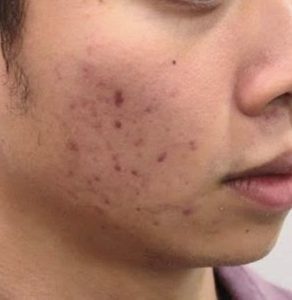 Case 5:
Cystic acne is very unpleasant and presents as inflamed pustules filled with pus. Before and after of the treatment of acutely painful cystic acne lesion of the nose with combined Nd:YAG and Erbium laser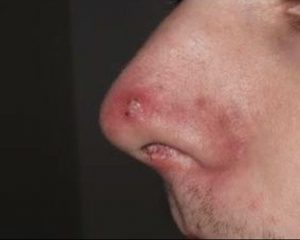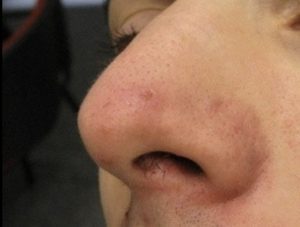 If you would like to learn more about adult acne treatment at Centre for Surgery in London, please contact us today to book a consultation with an acne specialist by calling 020 7993 4849 or by completing the contact form below. Our friendly and expert patient coordinator team will arrange a consultation at our state-of-the-art clinic located on 106 Crawford Street in Marylebone.
Amazing from start to finish, the communication was the main thing was fully informed and looked after, on the day of my breast augmentation, the staff were fab and made me feel at ease through out the whole process. Thank you so much.
Mohammed Farid
18/11/2021
I've had such a great experience with excellent advice, care and attention and surgical treatment (gynaecomastia) - I can fully endorse the treatment I have received from Centre for Surgery with absolutely no qualms at all. Brilliant in every way - thank you all so much.
Caroline Thorpe
14/11/2021
Very pleased with my whole experience of having a procedure. Was so nervous about getting treatment and i was reassured and felt so comfortable throughout thanks to the amazing nurses. I definitely made the right decision to have breast augmentation at centre for surgery with dr erel.
Melissa Briggs
08/11/2021
So glad I went with centre for surgery, the whole process went very smoothly from the consultations down to the actual day of the procedure. I was so nervous on the day but the whole team put me at ease and I'm happy with my results as I feel a lot more comfortable wearing certain clothes now. My surgeon was Alberto Di Giuseppe who performed a breast Augmentation on me, and I would definitely recommend as he was very clear on what the outcome of the surgery would be and which size would look the best for my frame.
Couldn't be happier with Dr Tillo work,i had my breast surgery one week ago and so happy with the results so far,all the staff are extremely nice and very supportive,i would definitely recommend their services,thank so much
From start to the finish everything was perfect for tummy tuck surgery. All staff is very friendly and the aftercare has been good. The Doctor and the nurse team was fantastic. I'm so happy...result is amazing. Thank you!!!
This was overall a great experience, all the staff at Centre for Surgery were friendly and put me at ease. It is a nerve wracking thing to go through an op but the staff were so nice. Mr Ertan has got a great team around him. On the day of the operation everything went smoothly to plan, there was no delay or holdups, I had another consultation with Mr Ertan who confirmed what was going to be done and that I was still happy to proceed. I was prepped for the procedure, I met with the anaesthetist who again was really nice and put me at ease explaining his role. After the procedure I woke up with the nurse by my side making sure I was OK and checking on me, I was able to stay in the clinic until I was ready to leave and was not rushed at all. I was well looked after from the start to the point when I was discharged. Post operation I was staying at a local hotel it was so close there was no point in even getting a taxi and I was able to walk back where my partner was waiting for me. I was expecting a lot of bruising to both my eyes but there was very little if any by the time the cast came off after 7 days, I am now at the two week post operation point and it is healing well with no outwardly visible bruising or scaring. The next milestone is a checkup at the 6 week point with my surgeon. If you're thinking of having something like this done I would highly recommend getting in touch with Centre for Surgery.
The staff at Centre for Surgery were very kind and accommodating. They answered any questions I had about the procedure and were constantly checking up on me. A special thank you to Christina for all her support throughout.
I would just like to state the quality of care received from the nurses at Centre for Surgery was beyond the highest level. Sophie takes her patient care to another level beyond words. She always puts me at ease. She is there for me even at awkward hours just when I mostly needed reassurance and she is one of the most compassionate nurses I have come across and demonstrates her passion naturally for caring for others. She totally deserves recognition at its finest and thank you for always being there for me. 😍