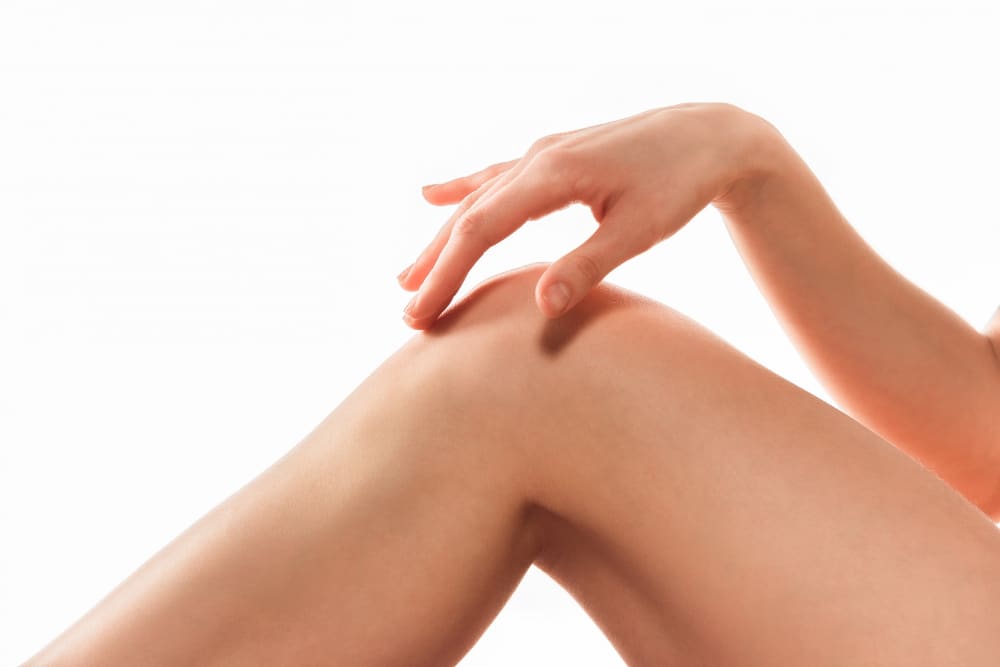 Knee liposuction is one of the most effective fat removal procedures to permanently remove knee fat. Many people come to us having tried diet and exercise and still have resistant areas of fat usually found on the inner aspect of the knee. Fat may also accumulate at the front of the knee and is often difficult to shift with diet and exercise alone. Knee liposuction is most commonly carried out with specialised vibrating calculus two effectively separate the fat from its surrounding attachments before being removed from the body with vacuum suction. Patients are often highly pleased with the outcome after knee liposuction. The procedure's objective is to produce slimmer and more contoured knees that appear in proportion to the rest of the legs. Knee liposuction is commonly combined with thigh liposuction to create an overall slimmer and sculpted leg.
What does knee liposuction involve?
We perform all knee liposuction procedures at our specialist Marylebone clinic in central London. When you arrive for your procedure, you will be admitted by one of our nursing staff before being assessed by your anaesthetist. Then you will be finally reviewed by your surgeon, who will carry out preoperative markings around your knees. Once you are anaesthetised for the knee liposuction surgery, the surgeon will access the areas of excess fat around the knees by making 3 mm incisions to permit the insertion of the liposuction cannula. The liposuction cannula is designed to vibrate to effectively break up fat cells before they are removed using vacuum suction. Once the procedure is complete, the surgeon will express any residual anaesthetic fluid out of the small incisions, which will help improve liposuction recovery. Sterile dressings will be applied, and then you will be transferred to our designated recovery area, where you will be prepared for discharge a few hours later. All patients who have a general anaesthetic must have a responsible adult escort to pick them up from the centre and look after them for the first 24 hours after their knee liposuction.
Fat that has been removed with knee liposuction does not grow back. The new shape of the knees will be maintained as long as you continue to eat a healthy diet and exercise regularly.
The inner part of the knee often accumulates fat in many genetically predisposed people, and knee liposuction can effectively remove these stubborn pockets are fat. When knee liposuction is carried out independently, the procedure can be performed under local anaesthetic. If knee liposuction is combined with other lipo areas, such as thigh liposuction, then we recommend a general anaesthetic for your comfort. Knee liposuction alone will be able to create slimmer knees without the need to remove excess skin. The procedure can also address stubborn pockets of fat, which are situated at the front of the knee above the knee cap.
Not all types of knee fat are amenable to removal with liposuction, especially some kinds of fat located at the front of the knee. The most common cause of inaccessible areas of fat for conventional liposuction is the deeper suprapatellar fat pad. In these cases, your surgeon may use microcannula tumescent liposuction to remove these difficult-to-access areas of knee fat effectively.
Getting the best results from knee liposuction depends on following your surgeon's postoperative instructions in full. You should wear the specialised compression garment for a minimum of six weeks and avoid strenuous exercise for a minimum of four weeks. He will therefore be in the best position to get the best liposuction results once you have reached the six-week mark. Complete liposuction recovery can be expected within 6 to 8 weeks.
Why have the procedure?
Although knee liposuction is a straightforward procedure, many patients develop a significant increase in self-confidence from the procedure. This type of liposuction surgery is designed to produce slimmer knees. Thigh liposuction is commonly combined with liposuction of the knees to result in slimmer-looking legs that appear contoured. Knee liposuction results can be enhanced when combined with liposuction of the thighs. It is not uncommon to develop prominent fat bulges just above the area where the liposuction was carried out. Simultaneously carrying out knee lipo helps improve the overall appearance of the legs.
Many people may have knee asymmetry, which often appears more pronounced when viewed face-on. Knee liposuction is an excellent technique for correcting asymmetrical knees with a quick and straightforward procedure. Patient satisfaction rates after knee lipo are typically very high due to the significant improvement in emotional well-being many patients experience after the operation. Many patients who come to us complain about having fat knees and are often unable to wear specific clothing items such as swimwear, skirts or shorts. They are keen to explore the potential benefits of knee lipo to improve how they feel about themselves and give them back their self-confidence.
Cellulite can often affect the outer thighs and can sometimes extend to the knees. It is essential to remember that liposuction cannot get rid of cellulite and, in some cases, could make it worse. We would recommend treatment with CelluTite, a radiofrequency cellulite treatment, to effectively remove cellulite. For older patients in their 50s and above, the ageing process often results in the development of loose skin. Any loose and wrinkly skin can be easily removed with surgical skin removal if required.
Who is an ideal candidate?
Knee liposuction is a quick and straightforward procedure to carry out. You will be assessed at your consultation to determine your suitability, and the following factors will be taken into account:
You are in physically good health and have no chronic medical conditions
You have a body mass index below 30
You have tried diet and exercise, which have failed to improve the appearance of fat knees.
You are aware of the risks and complications of the procedure and have realistic expectations of what knee liposuction can achieve
You have developed a loss of confidence as a result of having knees
Can knee liposuction be combined with other treatments?
Our surgeons regularly combine knee liposuction with liposuction to other areas of the body, including the thighs, calves and ankles, abdomen, back and chest. Most people develop excess knee fat in the knee's inner part, which commonly coexists with inner thigh fat. Most patients will therefore choose knee liposuction in combination with thigh liposuction.
Our surgeons use a gentle method of fat extraction as part of the liposuction procedure. This helps preserve the delicate structure of fat cells, which can then be used in a fat transfer procedure. Fat transfer involves the removal of fat from unwanted parts of the body followed by its injection into desired areas which require volume augmentation. Fat transfer to the face commonly involves knee liposuction to extract fat cells before being injected into different parts of the face, such as the cheeks, temples or lips. Power-assisted liposuction is the best liposuction technique to produce optimally prepared fat for fat transfer.
Pregnancy is often when women gain weight, and excess weight may develop in particular areas of the body, including the knees. Excessively fat can result in the appearance of fat knees. Many women after childbirth will choose to have a mummy makeover procedure which is a highly effective combination treatment encompassing breast surgery, liposuction and tummy tuck surgery, as well as liposuction to other areas such as the knees. Women can effectively restore their pre-pregnancy body shape with a significant increase in self-confidence.
Although liposuction cannot get rid of cellulite, the treatment can be combined with CelluTite, a specialised radiofrequency treatment to remove cellulite permanently. CelluTite only requires one treatment to achieve permanent cellulite reduction with minimally invasive techniques.
If you would like to learn about the different treatment options which can be combined with knee liposuction, get in touch with us today and speak to one of our knowledgeable patient coordinators and book a face-to-face consultation with one of our expert surgeons.
Why choose Centre for Surgery?
Our plastic surgeons at Centre for Surgery are renowned for their expertise in carrying out many cases of knee liposuction each year.
Our surgeons are fully GMC registered and have completed many years of training in plastic surgery.
We carry out hundreds of liposuction procedures yearly, including revision liposuction for treatment carried out elsewhere.
Our preoperative and postoperative nursing team are dedicated to providing the highest standards of medical care both before and during your procedure.
Our state-of-the-art cosmetic surgery clinic is located on Baker Street in Marylebone, London.
We have expertise in fat transfer and skin excision surgery to ensure you have the full range of options available to get rid of fat knees.
We are regulated by the Care Quality Commission and achieved a 'good' rating at our 106 Crawford Street clinic.
How much does knee liposuction cost?
Knee liposuction costs £3500 under a general anaesthetic. The procedure will cost less if you choose to have any liposuction under local anaesthetic. Patients who want to combine knee liposuction with other body areas should factor in the increased cost when planning the procedure. 360 liposuction of the legs start from £6000 and can produce slimmer and more toned legs and includes knee liposuction as standard.
Knee liposuction costs include all preoperative and postoperative nursing care, facility fees, and anaesthetic fees. You will have your own patient coordinator to act as your dedicated point of contact throughout your patient journey with Centre for Surgery. If you have any questions or concerns, please feel free to reach out at any time. All guide prices given online should be viewed as a rough estimate, and you will receive an accurate quotation once you have had your face-to-face surgeon consultation. As with all types of cosmetic surgery, knee liposuction incurs VAT as it is carried out to improve cosmetic appearance and not treat a medical condition. The NHS does not carry out procedures for improving cosmetic appearance, and this treatment will need to be carried out in a private clinic.
What are the causes of fat knees?
One of the most common causes of fat knees is due to the development of excessive weight gain. People who gain weight often do so from eating an unhealthy diet and carrying out little or no exercise. Many women may also get fat knees during pregnancy when there is often an increase in oestrogen levels, and fat knees after pregnancy is a common problem we get asked about. Puberty results in a significant rise in oestrogen, and this can be a cause of fat knees. Women approaching menopause often notice a gradual increase in body fat which may be more noticeable around the knees. Our metabolic rate naturally decreases as we age, increasing the propensity to gain excessive fat, particularly manifest as fat knees.
Fat knees rarely exist in isolation. Inner thighs fat often develops simultaneously and will usually need to be treated to achieve proportionate slimmer and contoured legs. Genetics can also be a cause of fat knees, and this can be effectively treated with knee liposuction for people who are otherwise generally slim.
How can I get rid of fat knees without surgery?
People often wonder how to get rid of knee fat. One of the most effective ways to improve the appearance of fat knees is to adopt healthy lifestyle habits. Losing weight can be achieved by following a healthy diet and carrying out regular physical exercise. The prevalence of obesity continues to increase and is most commonly due to the development of sedentary lifestyles with little or no exercise coupled with a highly calorific diet. A healthy diet should contain plenty of fresh vegetables and fruit. Eating whole-grain foods has been proven to reduce the risk of certain medical conditions, including heart disease and type two diabetes. Consuming more lean protein will help you feel fuller for longer, and this should help minimise consuming junk foods such as burgers or French fries. Reducing sugar intake will help lose weight and eliminate fat knees. Many sweetened fizzy drinks contain large amounts of sugar and should be eliminated from the diet.
NHS guidelines recommend carrying out a minimum of 150 minutes of exercise each week. This can be easily broken down into five 30-minute moderate to high-intensity training sessions. Achieving consistency with exercise depends on incorporating achievable routines into your everyday schedule to ensure you can maintain workouts for the long term. Regular activities which we would recommend include running and cycling. These are both excellent ways to burn fat and tone the knees. Before any cardiovascular exercise, you should carry out warmup exercises to minimise the risk of injury. Some patients may have difficulty with high-impact workouts such as running, and cycling may be a better option to reduce knee strain.
Older people can still derive significant benefits from exercise by going on long walks. Walking each day for at least 30 minutes will help improve the knees' appearance and strengthen the legs.
Skipping is also an excellent activity for reducing leave that. You should ensure you follow the correct technique when skipping to avoid injury to your knees. Regular physical exercise Will help to strengthen the leg muscles and improve the appearance of the knees at the same time. Many weight loss supplements are available online, although many products have unproven claims of effectiveness and can be very expensive to purchase. We would advise avoiding weight loss supplements as the only method of losing weight. We would also recommend having a medical assessment by your GP before considering weight loss supplements in conjunction with a healthy diet and exercise.
Despite following a sensible diet and exercising regularly, many patients are genetically predisposed to having the fat, which will not improve with an improved lifestyle alone. The best way to get rid of stubborn fat deposits in the knee would be to have a knee liposuction procedure. This procedure can get rid of knee fat permanently. Our expert surgeons have years of experience in carrying out knee lipo and will be able to advise you on the best options for you.
Amazing from start to finish, the communication was the main thing was fully informed and looked after, on the day of my breast augmentation, the staff were fab and made me feel at ease through out the whole process. Thank you so much.
Mohammed Farid
18/11/2021
I've had such a great experience with excellent advice, care and attention and surgical treatment (gynaecomastia) - I can fully endorse the treatment I have received from Centre for Surgery with absolutely no qualms at all. Brilliant in every way - thank you all so much.
Caroline Thorpe
14/11/2021
Very pleased with my whole experience of having a procedure. Was so nervous about getting treatment and i was reassured and felt so comfortable throughout thanks to the amazing nurses. I definitely made the right decision to have breast augmentation at centre for surgery with dr erel.
Melissa Briggs
08/11/2021
So glad I went with centre for surgery, the whole process went very smoothly from the consultations down to the actual day of the procedure. I was so nervous on the day but the whole team put me at ease and I'm happy with my results as I feel a lot more comfortable wearing certain clothes now. My surgeon was Alberto Di Giuseppe who performed a breast Augmentation on me, and I would definitely recommend as he was very clear on what the outcome of the surgery would be and which size would look the best for my frame.
Couldn't be happier with Dr Tillo work,i had my breast surgery one week ago and so happy with the results so far,all the staff are extremely nice and very supportive,i would definitely recommend their services,thank so much
From start to the finish everything was perfect for tummy tuck surgery. All staff is very friendly and the aftercare has been good. The Doctor and the nurse team was fantastic. I'm so happy...result is amazing. Thank you!!!
This was overall a great experience, all the staff at Centre for Surgery were friendly and put me at ease. It is a nerve wracking thing to go through an op but the staff were so nice. Mr Ertan has got a great team around him. On the day of the operation everything went smoothly to plan, there was no delay or holdups, I had another consultation with Mr Ertan who confirmed what was going to be done and that I was still happy to proceed. I was prepped for the procedure, I met with the anaesthetist who again was really nice and put me at ease explaining his role. After the procedure I woke up with the nurse by my side making sure I was OK and checking on me, I was able to stay in the clinic until I was ready to leave and was not rushed at all. I was well looked after from the start to the point when I was discharged. Post operation I was staying at a local hotel it was so close there was no point in even getting a taxi and I was able to walk back where my partner was waiting for me. I was expecting a lot of bruising to both my eyes but there was very little if any by the time the cast came off after 7 days, I am now at the two week post operation point and it is healing well with no outwardly visible bruising or scaring. The next milestone is a checkup at the 6 week point with my surgeon. If you're thinking of having something like this done I would highly recommend getting in touch with Centre for Surgery.
The staff at Centre for Surgery were very kind and accommodating. They answered any questions I had about the procedure and were constantly checking up on me. A special thank you to Christina for all her support throughout.
I would just like to state the quality of care received from the nurses at Centre for Surgery was beyond the highest level. Sophie takes her patient care to another level beyond words. She always puts me at ease. She is there for me even at awkward hours just when I mostly needed reassurance and she is one of the most compassionate nurses I have come across and demonstrates her passion naturally for caring for others. She totally deserves recognition at its finest and thank you for always being there for me. 😍