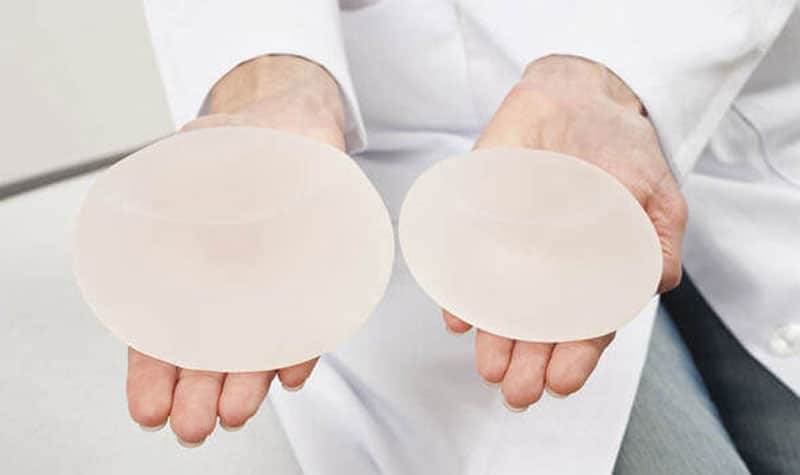 As with any surgical procedure, there are certain risks involved. Breast augmentation is an invasive type of cosmetic surgery involving the surgical placement of breast implants. Breast augmentation in the UK is considered a very safe procedure with a low risk of complications. Breast implant illness has recently been discussed in the media, and many patients may be wondering whether this is a recognised complication of breast implant surgery.
RELATED: What are the risks of breast augmentation?
Breast implant illness, or BII, describes a range of potential symptoms that may occur after breast augmentation surgery. Breast implant illness is not yet entirely accepted by the medical community as a formal diagnosis because it covers a wide range of potential symptoms. Some patients may experience tension-type headaches with dry eyes or dry mouth. Other patients may suffer from chronic fatigue and muscle aches and pains.
Recognised complications of breast augmentation surgery include the risk of bleeding or infection, as can occur after any surgical procedure. It is always worth carrying out plenty of research about all aspects of the procedure to identify potential symptoms of concern before they progress further. Here we discuss likely symptoms of breast implant illness and what to look out for during the recovery period after breast augmentation.
Potential symptoms of breast implant illness after having breast augmentation
Breast implant illness is still being actively studied by researchers and is not yet fully understood, although there are specific symptoms which are more likely as part of breast implant illness. It is helpful to understand what breast implant illness is and what symptoms to look for in case you experience similar symptoms after breast augmentation. It is important to remember that breast implant illness is sporadic and certain symptoms should be taken seriously during breast augmentation recovery. Many of the symptoms described below can often be found in other medical conditions and are often short-lived. If you have any concerns about potential breast implant illness symptoms, we recommend having a follow-up appointment with your surgeon for a detailed clinical assessment.
Decline in mental well-being – many patients may have difficulty focusing on specific tasks, become increasingly irritable, forgetful or develop short-term or long-term memory loss as part of a "brain fog" syndrome.
Fatigue and lethargy – lack of energy may also be reported by many patients who often feel tired for most of the day and lack energy to carry out normal activities.
Sleep disruption and insomnia – although it is common to experience altered sleeping habits in the early period after breast augmentation surgery, this is most commonly due to the need to sleep on your back which may not be ideal for many patients who prefer to sleep on their side or front. Some patients may develop persistent alterations to their sleeping habits and may have difficulty falling asleep or staying asleep.
Hormonal imbalance – disruption in the levels of oestrogen and progesterone may contribute to potential symptoms of breast implant illness. Patients may develop hair loss or weight changes. A reduced sex drive or may be experiencing early menopausal symptoms. Some women may produce alterations in the normal menstrual cycle.
Skin concerns – changes in pigmentation and the development of a coarse skin texture may occur. Allergic reactions may be more common, including persistent itchiness or dry skin on specific body areas such as the legs.
Gastrointestinal upset – patients may be more prone to developing abdominal discomfort, loose stools or constipation, which may be indistinguishable from symptoms of irritable bowel syndrome.
Breast changes – breast implant illness may be linked to symptoms affecting the breast. Typical examples include pain and discomfort, swelling, change in breast shape, redness, nipple discharge or an increase in heaviness.
RELATED: How long is breast augmentation recovery?
What are the medical risks of breast augmentation?
Much is still unknown about breast implant illness and whether it exists as a defined medical condition. Breast augmentation is most commonly associated with certain risks. When performed by an expert consultant plastic surgeon, the risks of breast augmentation are considered minimal. Typical risks include:
Capsular contracture
Implant rupture
Seroma
Haematoma
Changes in the sensation affecting the nipples or breasts
Inability to breastfeed
Excessive scarring
What are the cosmetic risks of breast augmentation?
Many patients are often more familiar with breast augmentation's cosmetic risks than the medical risks described above. Some patients may be unhappy with their procedure's outcome, which is often related to unrealistic expectations for treatment or when the surgeon does not achieve what the patient was looking for. Recognised cosmetic complications of breast augmentation include:
Too big or too small – the most common risk associated with breast augmentation is having implants considered too large or too small compared with treatment goals. Here at Centre for Surgery, we always strongly recommend trying on implants with breast sizes during the consultation to form a good idea of which size of implant you like the most. The ideal implant will also match your chest wall anatomy.
Implants that sit too high on the chest – breast implants often appear higher up on the chest during the early recovery phase, and it's not necessarily related to implant malposition. It is normal to have swelling in the early recovery period, and the implants will gradually fall into the correct position during the first four weeks of recovery.
Implants that are too low – Just as breast implants may be positioned too high on the chest, they can also end up too low as part of a 'bottoming out' phenomenon. Women with minimal breast tissue may find the implants are not adequately supported, which may result in the implants sitting lower on the chest and more commonly occurs with excessively large implants due to their extra weight.
Implants positioned too close together or too far apart – breast implants may be placed too close, resulting in symmastia, which is related to improper implant placement. Symmastia can be very difficult to correct. Implants can also be positioned too wide apart, which is also related to poor surgical planning and execution.
Schedule a breast augmentation consultation at the Centre for Surgery today
Being on the lookout for potential clinical features which may suggest a complication after breast augmentation surgery is important. However, it should also be borne in mind that the risks of breast augmentation surgery are very low when performed by an experienced plastic surgeon. The vast majority who have breast augmentation at Centre for Surgery in London are incredibly pleased with their results. We recommend carrying out plenty of research and asking as many questions as possible at your consultation before deciding to move forward with breast augmentation in London. Breast augmentation surgery is performed at our state-of-the-art Baker Street clinic in Marylebone.
To learn more about breast augmentation and potential risks, please get in touch with us on 020 7993 4849 to book a consultation or complete the contact form below.
RELATED: Breast Augmentation Before And After Photos
Amazing from start to finish, the communication was the main thing was fully informed and looked after, on the day of my breast augmentation, the staff were fab and made me feel at ease through out the whole process. Thank you so much.
Mohammed Farid
18/11/2021
I've had such a great experience with excellent advice, care and attention and surgical treatment (gynaecomastia) - I can fully endorse the treatment I have received from Centre for Surgery with absolutely no qualms at all. Brilliant in every way - thank you all so much.
Caroline Thorpe
14/11/2021
Very pleased with my whole experience of having a procedure. Was so nervous about getting treatment and i was reassured and felt so comfortable throughout thanks to the amazing nurses. I definitely made the right decision to have breast augmentation at centre for surgery with dr erel.
Melissa Briggs
08/11/2021
So glad I went with centre for surgery, the whole process went very smoothly from the consultations down to the actual day of the procedure. I was so nervous on the day but the whole team put me at ease and I'm happy with my results as I feel a lot more comfortable wearing certain clothes now. My surgeon was Alberto Di Giuseppe who performed a breast Augmentation on me, and I would definitely recommend as he was very clear on what the outcome of the surgery would be and which size would look the best for my frame.
Couldn't be happier with Dr Tillo work,i had my breast surgery one week ago and so happy with the results so far,all the staff are extremely nice and very supportive,i would definitely recommend their services,thank so much
From start to the finish everything was perfect for tummy tuck surgery. All staff is very friendly and the aftercare has been good. The Doctor and the nurse team was fantastic. I'm so happy...result is amazing. Thank you!!!
This was overall a great experience, all the staff at Centre for Surgery were friendly and put me at ease. It is a nerve wracking thing to go through an op but the staff were so nice. Mr Ertan has got a great team around him. On the day of the operation everything went smoothly to plan, there was no delay or holdups, I had another consultation with Mr Ertan who confirmed what was going to be done and that I was still happy to proceed. I was prepped for the procedure, I met with the anaesthetist who again was really nice and put me at ease explaining his role. After the procedure I woke up with the nurse by my side making sure I was OK and checking on me, I was able to stay in the clinic until I was ready to leave and was not rushed at all. I was well looked after from the start to the point when I was discharged. Post operation I was staying at a local hotel it was so close there was no point in even getting a taxi and I was able to walk back where my partner was waiting for me. I was expecting a lot of bruising to both my eyes but there was very little if any by the time the cast came off after 7 days, I am now at the two week post operation point and it is healing well with no outwardly visible bruising or scaring. The next milestone is a checkup at the 6 week point with my surgeon. If you're thinking of having something like this done I would highly recommend getting in touch with Centre for Surgery.
The staff at Centre for Surgery were very kind and accommodating. They answered any questions I had about the procedure and were constantly checking up on me. A special thank you to Christina for all her support throughout.
I would just like to state the quality of care received from the nurses at Centre for Surgery was beyond the highest level. Sophie takes her patient care to another level beyond words. She always puts me at ease. She is there for me even at awkward hours just when I mostly needed reassurance and she is one of the most compassionate nurses I have come across and demonstrates her passion naturally for caring for others. She totally deserves recognition at its finest and thank you for always being there for me. 😍