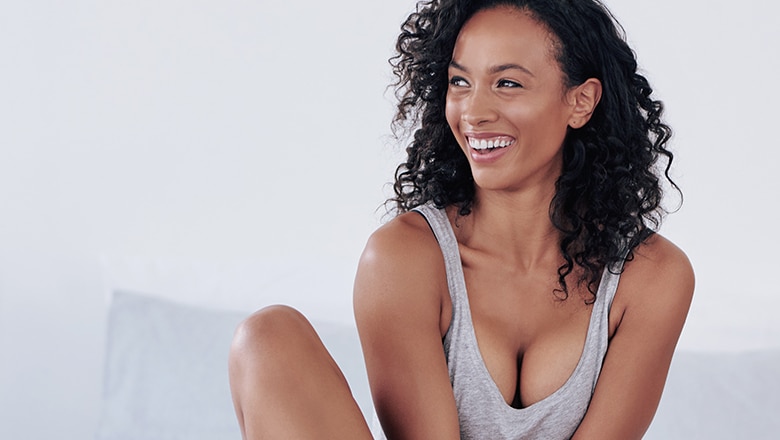 When carried out by an expert plastic surgeon, breast augmentation is a very safe procedure with minimal risk of complications. Any type of surgery carries certain risks, and breast augmentation is no different. Your surgeon will discuss the risks and potential complications of breast augmentation at your consultation. This will allow you to weigh up the pros and cons of the procedure before making your decision.
RELATED: Are breast implants worth it?
Some of the risks of breast augmentation include (but are not limited to):
Anaesthesia-related complications such as anaphylaxis
Excessive bleeding
Wound infection
Post-operative haematoma formation
Seromas
Implant malposition
Change in nipple sensitivity
Capsular contracture – formation of excessive scar tissue around the implant
Implant rupture
Breast implant-associated anaplastic large-cell lymphoma (BIA-ALCL)
Excessive pain that does not improve over the first two weeks
Need for revision surgery
It is essential to bear in mind that many of these risks are very rare. In contrast, others, such as haematoma formation, can be easily managed by a washout procedure with the preservation of the breast implant.
Breast augmentation risks
Breast implants must be approved by the medicines and healthcare products regulatory agency (MHRA) before they are suitable for use in the UK. We also use FDA-approved implants. This means the implants have been shown to be safe and effective. The vast majority of breast augmentation patients do not develop serious complications during or after their procedure.
Several key risks should be borne in mind when considering breast augmentation. Breast implant-associated anaplastic large cell lymphoma is a severe complication of breast augmentation. However, it is extremely rare, with only a handful of cases reported worldwide out of millions of procedures performed. Breast implant illness is a condition some patients believe is due to breast implants. Patients may complain of the following symptoms:
Excessive fatigue
Generalised muscle and joint pains
Skin rashes
Cognitive impairment or 'brain fog.'
If complications occur after breast augmentation, we would advise you to get in touch with our post-operative nursing team immediately. The next step would be to have an urgent clinical assessment by your surgeon. If you decide to have breast implant removal, we recommend discussing this with your surgeon.
Key points about breast augmentation:
Breast implants are not designed to last for your entire lifetime. It is recommended to have revision breast surgery to remove or replace one, or both breast implants 10 to 15 years after your first procedure.
The appearance of breast implants can change over time due to the influence of significant weight loss, pregnancy or menopause.
Excessively large breast implants could exacerbate breast sagging. A breast lift may be required in combination with breast augmentation to treat saggy breasts.
X-ray mammograms can be more challenging to interpret in the presence of breast implants. However, x-ray technology has significantly improved over the last ten years, making this less of a problem.
We would advise regular checks to monitor for breast implant rupture. Centre for Surgery is one of the few clinics to offer complimentary high-resolution ultrasound scans to monitor the condition of your silicone breast implants. If a potential rupture is detected, we advise having an MRI scan to confirm the diagnosis.
Breastfeeding can, in some cases, be affected by breast augmentation. Although many women can breastfeed normally after surgery, other women may find it more difficult.
Women who have breast augmentation will require regular post-operative reviews to monitor the condition of the breasts and ensure capsular contracture or implant rupture has not occurred.
If you think your breasts or implants appear different in some way after the surgery and/or you have symptoms of pain and discomfort, please get in touch with us to arrange a consultation with your surgeon for further evaluation.
Am I suitable for breast augmentation?
We would recommend women be familiar with the potential risks of breast augmentation before considering their suitability for the procedure:
Patients should be in good physical and mental health with no chronic medical conditions or active bacterial infection. If you have a significant medical condition, discussing this with your doctor at the consultation is essential to determine if any further investigations will be required to confirm your suitability for the procedure.
Patients with a flat chest or have saggy or tubular breasts are ideal candidates for breast enlargement surgery.
We recommend patients stop smoking and avoid excessive amounts of alcohol for at least six weeks before and after the procedure.
The procedure is designed to significantly improve the appearance of your chest for permanent results. Therefore, we recommend being in optimum mental health to embrace the changes after the procedure.
Breast augmentation is not designed to address body image problems such as body dysmorphic disorder or to make you look like a completely different person. It is vital to have realistic expectations about what the surgery can achieve.
It is essential to follow the post-operative instructions in full. Taking at least one week off work to allow breast augmentation recovery will help ensure your healing is as smooth as possible. You should avoid lifting heavy objects and have someone around you to help with everyday tasks.
What happens at the consultation?
The breast augmentation consultation is an ideal opportunity to enquire further about the risks of breast implants. Your surgeon will ask the following questions as part of the clinical assessment:
Your reasons for wanting the procedure and your treatment expectations
Any medical conditions you may have and potential allergies to medicines
What medicines you are currently taking, including any over-the-counter herbal supplements
Whether you have a personal or family history of breast cancer
RELATED: Breast Augmentation Before And After Photos
What does the procedure involve?
Breast augmentation is most commonly carried out under a general anaesthetic to ensure your comfort during and after the procedure. There are three main types of breast augmentation incisions which can be used for breast implant placement, including:
Incisions under the breast crease (inframammary)
Incisions around the nipple (periareolar)
Incisions under the arm (transaxillary)
Once the incision has been made, the surgeon will gently separate the overlying breast tissue from the pectoralis muscle. This leads to creating a breast pocket positioned either on top of the chest muscle or beneath it. The surgeon will then place the implant in the pocket and ensure the implant is correctly centred behind the nipple to prevent implant malposition. The implants are inserted using a breast funnel as part of a 'no-touch' technique to minimise implant-related infection. Once the implants are correctly positioned, the incisions will be closed with dissolvable stitches, followed by applying sterile dressings. A post-operative support bra will be applied before the anaesthetist wakes you up. It is normal to have localised swelling and mild post-operative discomfort for up to 2 weeks after the procedure. Any breast augmentation scars will gradually become less noticeable over time, although they will not disappear completely.
RELATED: How long is breast augmentation recovery?
If you develop pain, redness or localised warmth around your incisions or you generally feel unwell, we would advise seeking an urgent clinical assessment from your surgeon as these symptoms could be signs of infection.
Schedule a London breast augmentation consultation
If you have been thinking about breast augmentation for some time and have been unsure about what the procedure involves, we recommend booking an in-depth consultation with a specialist plastic surgeon at our state-of-the-art Baker Street clinic in central London. During the consultation, your surgeon will take time to explain breast augmentation risks and how they can be minimised with proper medical techniques.
Amazing from start to finish, the communication was the main thing was fully informed and looked after, on the day of my breast augmentation, the staff were fab and made me feel at ease through out the whole process. Thank you so much.
Mohammed Farid
18/11/2021
I've had such a great experience with excellent advice, care and attention and surgical treatment (gynaecomastia) - I can fully endorse the treatment I have received from Centre for Surgery with absolutely no qualms at all. Brilliant in every way - thank you all so much.
Caroline Thorpe
14/11/2021
Very pleased with my whole experience of having a procedure. Was so nervous about getting treatment and i was reassured and felt so comfortable throughout thanks to the amazing nurses. I definitely made the right decision to have breast augmentation at centre for surgery with dr erel.
Melissa Briggs
08/11/2021
So glad I went with centre for surgery, the whole process went very smoothly from the consultations down to the actual day of the procedure. I was so nervous on the day but the whole team put me at ease and I'm happy with my results as I feel a lot more comfortable wearing certain clothes now. My surgeon was Alberto Di Giuseppe who performed a breast Augmentation on me, and I would definitely recommend as he was very clear on what the outcome of the surgery would be and which size would look the best for my frame.
Couldn't be happier with Dr Tillo work,i had my breast surgery one week ago and so happy with the results so far,all the staff are extremely nice and very supportive,i would definitely recommend their services,thank so much
From start to the finish everything was perfect for tummy tuck surgery. All staff is very friendly and the aftercare has been good. The Doctor and the nurse team was fantastic. I'm so happy...result is amazing. Thank you!!!
This was overall a great experience, all the staff at Centre for Surgery were friendly and put me at ease. It is a nerve wracking thing to go through an op but the staff were so nice. Mr Ertan has got a great team around him. On the day of the operation everything went smoothly to plan, there was no delay or holdups, I had another consultation with Mr Ertan who confirmed what was going to be done and that I was still happy to proceed. I was prepped for the procedure, I met with the anaesthetist who again was really nice and put me at ease explaining his role. After the procedure I woke up with the nurse by my side making sure I was OK and checking on me, I was able to stay in the clinic until I was ready to leave and was not rushed at all. I was well looked after from the start to the point when I was discharged. Post operation I was staying at a local hotel it was so close there was no point in even getting a taxi and I was able to walk back where my partner was waiting for me. I was expecting a lot of bruising to both my eyes but there was very little if any by the time the cast came off after 7 days, I am now at the two week post operation point and it is healing well with no outwardly visible bruising or scaring. The next milestone is a checkup at the 6 week point with my surgeon. If you're thinking of having something like this done I would highly recommend getting in touch with Centre for Surgery.
The staff at Centre for Surgery were very kind and accommodating. They answered any questions I had about the procedure and were constantly checking up on me. A special thank you to Christina for all her support throughout.
I would just like to state the quality of care received from the nurses at Centre for Surgery was beyond the highest level. Sophie takes her patient care to another level beyond words. She always puts me at ease. She is there for me even at awkward hours just when I mostly needed reassurance and she is one of the most compassionate nurses I have come across and demonstrates her passion naturally for caring for others. She totally deserves recognition at its finest and thank you for always being there for me. 😍