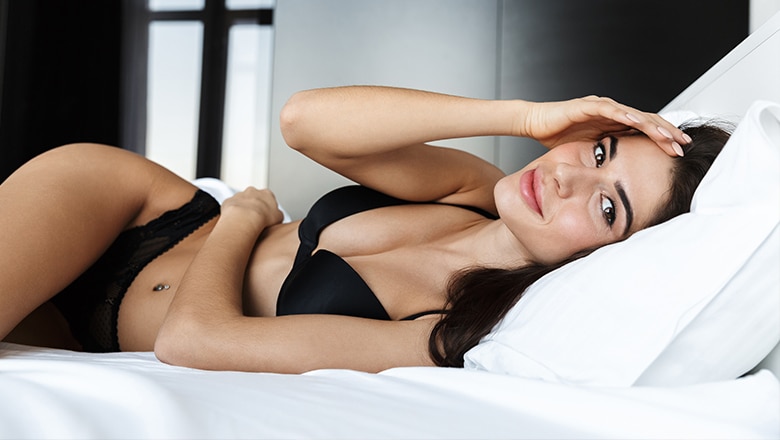 The most popular cosmetic surgery procedure in the UK is breast augmentation, also known as breast enlargement and breast implant surgery. Many women choose to have breast implants because they have felt unhappy with the overall size of their chest. Some women, particularly after childbirth, may find they are unsatisfied with the shape and size of their breasts and often choose to combine a breast lift with breast implants. Some also choose to have breast implants for medical reasons, including women who have undergone a previous mastectomy to remove breast cancer. Breast augmentation is also combined as part of a mummy makeover procedure with liposuction or a tummy tuck to achieve a comprehensive body transformation to restore a woman's body to its pre-pregnancy state.
In any of the scenarios, breast implant surgery can help women to restore their self-confidence. The procedure is straightforward to carry out and applies to a wide range of women of different ages. You may already know someone who has had breast implants, even if they haven't told you they have done it. With tens of thousands of breast implant procedures carried out each year, breast enlargement remains the most popular type of cosmetic surgery in the United Kingdom.
Is it worth getting breast implants?
The most common reason to have breast implant surgery is to improve the cosmetic appearance of the breasts with larger and fuller-looking breasts. For many women, this is the most common goal, but many also ask themselves, is it really worth having breast implant surgery?
When deciding on having breast implants, making the final decision is often related to several factors including breast implants cost, recovery after breast implant surgery and whether women can take the required period of time off for the procedure.
RELATED: How much is a boob job?
Breast implant surgery is not available on the NHS, and it's not covered by private medical insurance. Most women will need to take off at least one week from work and follow the post-operative instructions in full to ensure the incisions heal without any complications. We would recommend speaking to someone who has had breast augmentation previously, and they'll almost certainly tell you it was one of the best decisions they ever made to have breast implants.
Many people consider breast augmentation to be a worthwhile investment in themselves for several reasons. The cost of breast augmentation has become increasingly affordable over the last few years and is a much safer procedure compared with 20 years ago. The recovery after breast augmentation is significantly shorter compared with previous years, and it is now possible for women to return to most activities within a week of surgery. Breast augmentation is now a day-case procedure meaning patience can be back to their daily activities the next day.
The most important reason people choose this procedure is the significant boost in self-confidence and emotional well-being the procedure can give. Women may have previously resorted to using push-up bras or even applying breast tape to give the impression of bigger breasts. Breast implant surgery means that women can get rid of these ineffective techniques and enjoy permanent breast enhancement results that they have always desired.
Why have breast implant surgery?
One of the key benefits of breast implant surgery is that women don't have to resort to spending hundreds of pounds on uncomfortable specialist bras to increase breast cleavage. Some women often find themselves having to constantly readjust their clothing when wearing low-cut tops and when in swimwear, they may choose to wear specific designs that do not reflect their sense of style. The great thing about breast implants is that women can look fabulous all the time without the need to use breast enhancement products to create the illusion of bigger breasts. Whether you choose to wear no bra and just a T-shirt, you'll still have a pleasing silhouette, and that's why women are so pleased with their breast augmentation results.
RELATED: Common Questions about Breast Implants
Do breast implants look natural?
Many prospective patients are often concerned that having breast implants may not look natural, and this is an entirely valid concern. However, specialist plastic surgeons at Centre for Surgery take extra care and attention to ensure natural-looking results when performing breast implant surgery. The key to achieving this begins at the consultation and choosing the right type of implant for your body frame. You can rest assured that looking unnatural or having the 'fake look' is not an issue. Our surgeons will take time to listen to your ideas concerns and expectations and will use expert clinical judgement to produce natural-looking breast augmentation results.
RELATED: Choosing the right size of breast implants for breast augmentation
Our practice philosophy is to produce results that appear natural and in harmony with your body controls. Most patients who come to us don't want to look like they have had a surgical procedure. The impact on self-confidence can be enormous with the ability to produce an improvement in your overall profile without significant effort.
Am I suitable for breast augmentation?
Once you have decided that breast implants are the right choice for you, the next step is to book your breast augmentation consultation at Centre for Surgery. You will have a face-to-face consultation with an expert breast surgeon who will carry out a detailed clinical assessment to determine your suitability for breast augmentation. We would recommend patients be non-smokers and be at or near the ideal body weight. Patients should be in a good state of physical and mental health and understand what the procedure can achieve.
It is important to bear in mind that breast implants are not a quick fix for women who are unhappy with their body shape. Breast implant surgery should not be seen as an answer to anything. The purpose of breast implant surgery is to give patients back their confidence and self-esteem. When women feel happier about themselves, there often follows a heightened sense of emotional well-being which can impact most areas of their life. Women who feel better about how they look often feel more confident and find they are developing more satisfying relationships, may be more focused at work and home, and have a generally better outlook on life.
Breast implant options
As one of London's top cosmetic surgery practices for breast augmentation & boob job surgery, we use only the highest quality CE-marked silicone breast implants from Sebbin and Mentor for optimal outcomes after breast augmentation. Sebbin has a superb reputation built up over 30 years of designing and manufacturing the highest quality breast implants. Our surgeons love the natural feel and consistency they offer, along with an implant warranty with coverage for both capsular contracture and implant rupture after breast augmentation. We only work with the best breast implant manufacturers, and our patient satisfaction rate reflects this – more than 99.3%.
If you have ever wondered how Sebbin breast implants are made, take a look at the amazing video below which shows the process in detail:
During your consultation at our London breast clinic, your surgeon can help you choose the best breast implants for you. This will depend on several factors, such as breast implant size, shape, composition, and placement. This will be carefully chosen to create the breast size and shape for your body type.
Our silicone breast implants for breast augmentation surgery are approved by the UK medicines and healthcare products regulatory agency (MHRA). Silicone breast implants are filled with a cohesive silicone gel that holds uniformly together and is available in different densities. A silicone implant has a more natural, pliable quality that more closely resembles natural breast tissue than the older saline breast implants that are no longer used in the UK.
The optimum breast implant profile
What is a breast profile?
The profile of a breast implant refers to how much the breast implant protrudes forward from your chest wall. A low-profile implant is very flat, while a higher-profile implant will protrude forward (stick out) from your body and create a more prominent-looking breast mound. While some patients prefer the bubbly appearance of high-profile implants, those who prefer a more natural-looking breast augmentation should choose a moderate-profile implant.
Choosing the Best Breast Implant Size and Shape for breast enlargement
The choice of breast implant size is the biggest decision you will have to make before undergoing breast augmentation surgery. Many women think that implant volume is often linked with bra sizes – A, B, C, D, etc. The volume of an implant is actually measured in cc's. The patient and surgeon can therefore fine-tune the exact size implant to each woman's body shape. Implants are available in a very wide variety of sizes and shapes, and women can therefore have a great deal of choice in choosing the ideal sized implant. Breast implant sizers are not 100% accurate in determining the actual appearance of an implant when used for breast augmentation but are very useful as a general guide to helping women choose the correct sized implant for the best results.
The surgeon will need to assess if you have sufficient tissue to cover and hide your chosen implant size especially if you are very slim. If the size you have chosen is too big, the implant edges may become visible following your breast augmentation surgery.
Breast implants can be round or teardrop. Most women prefer smooth round implants because they provide more fullness in the upper half of the breast.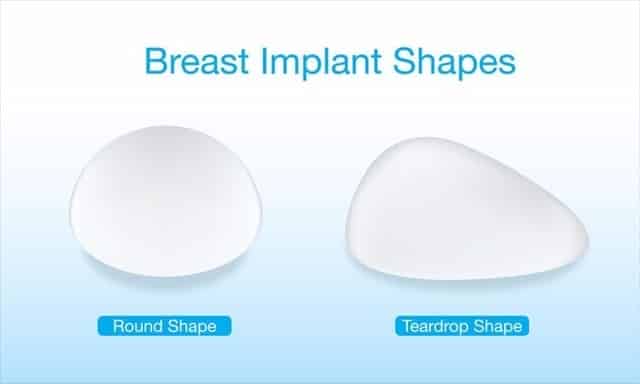 Why choose Centre for Surgery for breast implants?
If you have been considering having breast implant surgery, we would recommend booking a consultation with an expert cosmetic breast surgeon at Centre for Surgery to learn more about the procedure and your suitability. When you have your consultation, it is an ideal opportunity to discuss your expectations for treatment and what you hope to achieve with breast augmentation surgery. You should also ask as many questions as you like to build up an accurate picture of what the procedure involves. Your surgeon will listen to you carefully and determine if your expectations for treatment are realistic. After a medical history and physical examination, the best treatment options will be discussed, including the selection of breast implants. Breast implants can be round or teardrop-shaped, smooth or micro-textured and come in a variety of different sizes and profiles to match your chest wall anatomy.
We would recommend wearing a shirt that can button down and fit comfortably, as this will facilitate a smooth physical examination. It will be a good idea to drop down a list of potential questions and any concerns you may have about the procedure. It might also be helpful to bring some photos of people who have had breast implants, and if you like the results. Having this foundation serves as the ideal platform to get the best possible breast augmentation results.
Amazing from start to finish, the communication was the main thing was fully informed and looked after, on the day of my breast augmentation, the staff were fab and made me feel at ease through out the whole process. Thank you so much.
Mohammed Farid
18/11/2021
I've had such a great experience with excellent advice, care and attention and surgical treatment (gynaecomastia) - I can fully endorse the treatment I have received from Centre for Surgery with absolutely no qualms at all. Brilliant in every way - thank you all so much.
Caroline Thorpe
14/11/2021
Very pleased with my whole experience of having a procedure. Was so nervous about getting treatment and i was reassured and felt so comfortable throughout thanks to the amazing nurses. I definitely made the right decision to have breast augmentation at centre for surgery with dr erel.
Melissa Briggs
08/11/2021
So glad I went with centre for surgery, the whole process went very smoothly from the consultations down to the actual day of the procedure. I was so nervous on the day but the whole team put me at ease and I'm happy with my results as I feel a lot more comfortable wearing certain clothes now. My surgeon was Alberto Di Giuseppe who performed a breast Augmentation on me, and I would definitely recommend as he was very clear on what the outcome of the surgery would be and which size would look the best for my frame.
Couldn't be happier with Dr Tillo work,i had my breast surgery one week ago and so happy with the results so far,all the staff are extremely nice and very supportive,i would definitely recommend their services,thank so much
From start to the finish everything was perfect for tummy tuck surgery. All staff is very friendly and the aftercare has been good. The Doctor and the nurse team was fantastic. I'm so happy...result is amazing. Thank you!!!
This was overall a great experience, all the staff at Centre for Surgery were friendly and put me at ease. It is a nerve wracking thing to go through an op but the staff were so nice. Mr Ertan has got a great team around him. On the day of the operation everything went smoothly to plan, there was no delay or holdups, I had another consultation with Mr Ertan who confirmed what was going to be done and that I was still happy to proceed. I was prepped for the procedure, I met with the anaesthetist who again was really nice and put me at ease explaining his role. After the procedure I woke up with the nurse by my side making sure I was OK and checking on me, I was able to stay in the clinic until I was ready to leave and was not rushed at all. I was well looked after from the start to the point when I was discharged. Post operation I was staying at a local hotel it was so close there was no point in even getting a taxi and I was able to walk back where my partner was waiting for me. I was expecting a lot of bruising to both my eyes but there was very little if any by the time the cast came off after 7 days, I am now at the two week post operation point and it is healing well with no outwardly visible bruising or scaring. The next milestone is a checkup at the 6 week point with my surgeon. If you're thinking of having something like this done I would highly recommend getting in touch with Centre for Surgery.
The staff at Centre for Surgery were very kind and accommodating. They answered any questions I had about the procedure and were constantly checking up on me. A special thank you to Christina for all her support throughout.
I would just like to state the quality of care received from the nurses at Centre for Surgery was beyond the highest level. Sophie takes her patient care to another level beyond words. She always puts me at ease. She is there for me even at awkward hours just when I mostly needed reassurance and she is one of the most compassionate nurses I have come across and demonstrates her passion naturally for caring for others. She totally deserves recognition at its finest and thank you for always being there for me. 😍