What is a breast haematoma?
A breast haematoma is a type of complication that can occur after
breast surgery,
particularly after
breast augmentation
or
breast reduction surgery
. It happens when a blood vessel ruptures, and blood accumulates inside the breast tissue. This can cause the breast to appear swollen, painful, and tender to the touch.
Breast haematoma can happen during or after surgery, and it is more common in procedures where larger incisions are made. Factors that can increase the risk of developing a breast haematoma include excessive bleeding during surgery, the use of blood thinning medications, and high blood pressure.
If left untreated, a breast haematoma can lead to infection, tissue damage, and necrosis. It is essential to seek medical attention immediately if you experience symptoms of a breast haematoma after breast surgery.
The treatment for a breast haematoma typically involves draining the accumulated blood through a small incision. In some cases, the haematoma may resolve on its own without any intervention. Pain management and close monitoring are also essential parts of the treatment process.
Preventing a breast haematoma involves following your surgeon's postoperative instructions precisely. This includes avoiding strenuous activities, taking any prescribed medications as directed, and wearing proper supportive garments. It is crucial to attend all follow-up appointments with your surgeon to ensure that any potential complications are detected and treated early.
What causes a breast haematoma?
A breast haematoma is usually caused by some form of trauma or injury to the breast area. During breast surgery, such as breast augmentation or breast reduction, trauma to the blood vessels can also lead to a haematoma. The use of blood thinners or clotting disorders can also cause haematomas to form. In some cases, breast cancer may cause a haematoma to develop. Additionally, physical trauma, such as a fall or impact, can cause a haematoma to form in the breast tissue. Overall, any condition or event that causes damage to blood vessels in the breast tissue can lead to a haematoma.
Who is at risk of developing breast haematomas?
All patients undergoing breast surgery are at risk of developing breast hematomas. However, certain factors can increase the risk of developing this condition, including:
Large breasts
Extensive surgical procedures
High blood pressure
Obesity
Smoking
Use of blood-thinning medications
Previous history of bleeding disorders or hematomas
Poor surgical technique or improper postoperative care
It is important to discuss your medical history and any risk factors with your surgeon before undergoing breast surgery to minimize the risk of complications such as breast hematomas.
What are the symptoms of a breast hematoma?
A breast haematoma is a collection of blood that can occur within breast tissue following surgery, injury, or trauma. The symptoms of a breast haematoma can vary depending on the severity and location of the hematoma. Common symptoms of a breast haematoma include:
Swelling: A breast haematoma can cause swelling in the breast, which may be localised or affect the entire breast. The swelling can be painful and may feel warm to the touch.
Bruising: A breast haematoma can cause bruising, which may be visible on the skin surface. The colour of the bruise may range from red to purple, and it may change over time as the hematoma heals.
Pain: A breast haematoma can cause pain, which may be severe in some cases. The pain may be constant or may increase with movement or pressure.
Discolouration: A breast haematoma can cause a change in the colour of the breast, which may be red or purple.
Numbness: A breast haematoma can cause numbness or tingling in the breast or nipple.
Difficulty moving the arm: In some cases, a breast haematoma can cause difficulty moving the arm on the affected side.
Fever: In rare cases, a breast haematoma can cause a fever, which may be a sign of infection.
If you experience any of these symptoms after breast surgery or trauma to the breast, it is important to contact your healthcare provider immediately. Early detection and treatment of a breast haematoma can help prevent complications and ensure the best possible outcome.
Is a breast haematoma dangerous?
A breast haematoma can be dangerous if it is left untreated or if it leads to other complications such as infection or tissue death. In some cases, a large haematoma can put pressure on the surrounding tissue and blood vessels, which can interfere with blood flow and potentially cause damage. Additionally, if the haematoma is caused by an injury or trauma to the breast, there may be underlying damage to the breast tissue or other structures that require medical attention. Therefore, it is important to seek medical attention if you suspect you have a breast haematoma or if you have any concerns about your recovery after breast surgery.
How is a breast haematoma diagnosed?
A breast haematoma can be diagnosed through a combination of physical examination and imaging studies. A physical examination alone can identify most breast hematomas without the need for further diagnostic imaging.
During a physical examination, the surgeon will look for signs of swelling, bruising, and tenderness in the breast. They may also ask about the patient's medical history, any recent surgeries or injuries, and any medications or supplements they are taking.
Imaging studies, such as ultrasound or MRI, can also be used to confirm the presence of a breast haematoma. These imaging tests can help determine the size and location of the haematoma, and whether any surrounding tissue has been affected.
In some cases, the doctor may also perform a fine needle aspiration or biopsy to collect a sample of the fluid or tissue from the haematoma for further testing. This can help rule out other conditions or identify any underlying causes of the haematoma.
How is a breast haematoma treated?
The treatment of breast haematoma depends on its size, location, and severity. Some small haematomas may resolve on their own, while others may require medical intervention. The goal of treatment is to relieve pain and discomfort, prevent infection, and reduce the risk of complications.
Conservative Treatment
Small breast haematomas may resolve on their own without treatment, especially if they are asymptomatic. However, the patient should be monitored closely for any signs of infection or other complications. Rest, ice, and compression may be recommended to reduce pain and swelling. Pain medication and antibiotics may be prescribed to manage symptoms and prevent infection.
Surgical Treatment
Large breast haematomas or those causing significant pain and discomfort may require surgical intervention. The surgery involves draining the accumulated blood from the haematoma using a needle or making an incision in the breast to remove the blood clots. The surgeon may also remove any damaged tissue and perform a reconstruction procedure if necessary. This surgical intervention is called an evacuation of the haematoma. After implant surgery, the implants can be reinserted in the same procedure once the haematoma has been drained. A drainage tube may be placed after the procedure to remove any excess fluid or blood from the breast.
What precautions can I take to avoid a haematoma after breast surgery?
There are several precautions you can take to reduce the risk of developing a haematoma after breast surgery:
Follow your surgeon's instructions: It is crucial to follow all instructions given by your surgeon before and after the procedure. This includes avoiding certain medications, stopping smoking, and refraining from alcohol consumption. Your surgeon may also advise you to avoid certain activities that can increase your risk of developing a haematoma.
Avoid strenuous activity: For the first few weeks after breast surgery, you should avoid any activity that can put pressure on your chest or cause you to strain. This includes heavy lifting, strenuous exercise, and bending over.
Wear a compression garment: Your surgeon may recommend that you wear a compression garment or surgical bra after breast surgery. This can help to reduce swelling and promote healing, which can reduce the risk of developing a haematoma.
Manage pain and swelling: Pain and swelling after breast surgery can increase your risk of developing a haematoma. Follow your surgeon's instructions for managing pain and swelling, which may include taking medication or applying cold compresses.
Avoid blood thinners: Certain medications, supplements, and foods can thin your blood, which can increase your risk of bleeding and haematoma formation. Avoid these as recommended by your surgeon.
Keep the incision site clean: Proper hygiene is essential to preventing infection, which can increase the risk of haematoma formation. Keep the incision site clean and dry, and follow your surgeon's instructions for care and cleaning.
Attend follow-up appointments: Regular follow-up appointments with your surgeon are important to monitor your healing progress and identify any complications, including haematoma formation. Attend all scheduled appointments and report any concerns or symptoms to your surgeon immediately.
Treatment of breast haematoma
Discovering a breast haematoma can be unsettling, especially if you have undergone a breast surgery or suffered an injury. However, a haematoma is simply an indication of broken blood vessels, similar to a bruise. The good news is that it usually heals on its own over time, as your body effectively manages the repair process. However, even with proper safety measures, a breast haematoma can still occur, although it is rare when performed by an experienced plastic surgeon.
However, if the haematoma is large and causing significant discomfort or interfering with the healing process, medical intervention may be needed. At Centre for Surgery, our experienced surgeons can assess the severity of the haematoma and determine the best course of action. Treatment options may include aspiration, which involves draining the fluid with a needle, or in rare cases, surgery to remove the haematoma. Treatment of breast haematoma is included in the cost of your treatment.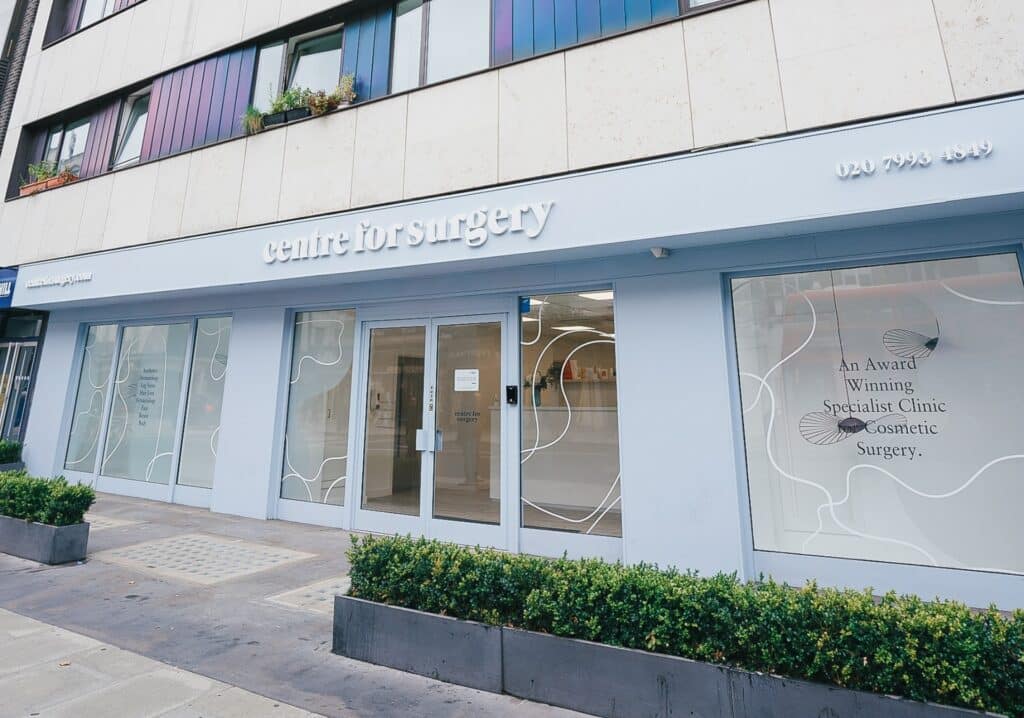 Amazing from start to finish, the communication was the main thing was fully informed and looked after, on the day of my breast augmentation, the staff were fab and made me feel at ease through out the whole process. Thank you so much.
Mohammed Farid
18/11/2021
I've had such a great experience with excellent advice, care and attention and surgical treatment (gynaecomastia) - I can fully endorse the treatment I have received from Centre for Surgery with absolutely no qualms at all. Brilliant in every way - thank you all so much.
Caroline Thorpe
14/11/2021
Very pleased with my whole experience of having a procedure. Was so nervous about getting treatment and i was reassured and felt so comfortable throughout thanks to the amazing nurses. I definitely made the right decision to have breast augmentation at centre for surgery with dr erel.
Melissa Briggs
08/11/2021
So glad I went with centre for surgery, the whole process went very smoothly from the consultations down to the actual day of the procedure. I was so nervous on the day but the whole team put me at ease and I'm happy with my results as I feel a lot more comfortable wearing certain clothes now. My surgeon was Alberto Di Giuseppe who performed a breast Augmentation on me, and I would definitely recommend as he was very clear on what the outcome of the surgery would be and which size would look the best for my frame.
Couldn't be happier with Dr Tillo work,i had my breast surgery one week ago and so happy with the results so far,all the staff are extremely nice and very supportive,i would definitely recommend their services,thank so much
From start to the finish everything was perfect for tummy tuck surgery. All staff is very friendly and the aftercare has been good. The Doctor and the nurse team was fantastic. I'm so happy...result is amazing. Thank you!!!
This was overall a great experience, all the staff at Centre for Surgery were friendly and put me at ease. It is a nerve wracking thing to go through an op but the staff were so nice. Mr Ertan has got a great team around him. On the day of the operation everything went smoothly to plan, there was no delay or holdups, I had another consultation with Mr Ertan who confirmed what was going to be done and that I was still happy to proceed. I was prepped for the procedure, I met with the anaesthetist who again was really nice and put me at ease explaining his role. After the procedure I woke up with the nurse by my side making sure I was OK and checking on me, I was able to stay in the clinic until I was ready to leave and was not rushed at all. I was well looked after from the start to the point when I was discharged. Post operation I was staying at a local hotel it was so close there was no point in even getting a taxi and I was able to walk back where my partner was waiting for me. I was expecting a lot of bruising to both my eyes but there was very little if any by the time the cast came off after 7 days, I am now at the two week post operation point and it is healing well with no outwardly visible bruising or scaring. The next milestone is a checkup at the 6 week point with my surgeon. If you're thinking of having something like this done I would highly recommend getting in touch with Centre for Surgery.
The staff at Centre for Surgery were very kind and accommodating. They answered any questions I had about the procedure and were constantly checking up on me. A special thank you to Christina for all her support throughout.
I would just like to state the quality of care received from the nurses at Centre for Surgery was beyond the highest level. Sophie takes her patient care to another level beyond words. She always puts me at ease. She is there for me even at awkward hours just when I mostly needed reassurance and she is one of the most compassionate nurses I have come across and demonstrates her passion naturally for caring for others. She totally deserves recognition at its finest and thank you for always being there for me. 😍