Characteristics of the Ideal Breasts
There are times when you come across a pair of breasts that seem absolutely flawless. However, when you try to envision them on your own body, the mental image doesn't quite feel right. So, what constitutes the perfect breasts for you?
Optimal breast qualities encompass excellent breast symmetry, the ideal breast size, a natural breast contour, a well-defined cleavage, proportionate breast and nipple placement, and evenly distributed breast firmness. Ultimately, the perfect breasts are the ones that make you feel most at ease and confident in your skin.
It's essential to acknowledge that individual preferences and perspectives on the perfect breasts vary greatly. Some people in the UK may prefer a more voluptuous and rounded appearance, while others might be drawn to a smaller, more delicate, and athletic look. Each person's unique vision of the perfect outcome should be taken into account during the evaluation process at our Baker Street clinic.
Centre for Surgery, a leading plastic surgery clinic in London, specialises in breast cosmetic surgery. Our expert surgeons employ a range of surgical techniques for breast augmentation, breast reduction, breast lift, and reconstruction procedures to help you achieve the aesthetic results you've always desired.
First Step Towards Achieving Your Ideal Breasts
The initial stage in the journey to obtaining your perfect breasts is the consultation process. This involves discussing your expectations with your surgeon at our Baker Street clinic to develop a clear understanding of your desired outcome. This mutual understanding will then be used to create a tailored surgical plan aimed at delivering the results you envision.
It might be necessary to attend multiple consultations to ensure a comprehensive understanding of your goals. Bringing images of your desired outcome can be particularly helpful in facilitating productive discussions with your surgeon.
Several factors must be taken into consideration when evaluating the best surgical approach. These include the patient's height, weight, chest width, lifestyle, chest length, and the ratio between their chest and torso dimensions. By carefully considering these factors, your surgeon can help you achieve the perfect breasts that best suit your unique body and preferences. In the end, the Centre for Surgery is committed to helping you feel confident and comfortable in your own skin.
Anatomy of the female breast
The female breast is a complex and unique anatomical structure that serves both functional and aesthetic purposes. The primary function of the breast is to produce and secrete milk for breastfeeding, while its aesthetic role is often linked to femininity and body image. The anatomy of the female breast comprises several layers and components, including skin, fatty tissue, glandular tissue, connective tissue, blood vessels, nerves, and the lymphatic system.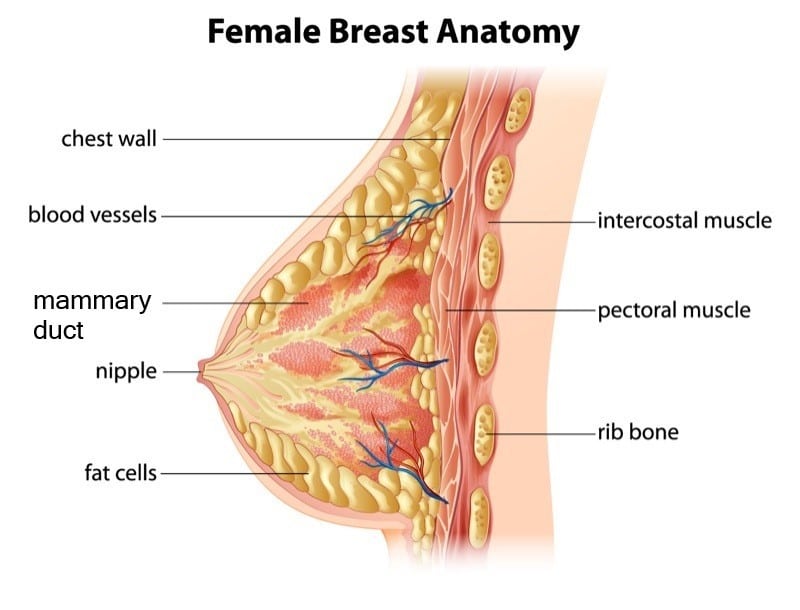 Skin: The outermost layer of the breast is the skin, which provides a protective barrier and houses the nipple and areola. The areola is the pigmented area surrounding the nipple, and it usually darkens during pregnancy and breastfeeding.
Fatty Tissue: Beneath the skin lies the fatty tissue, which makes up a significant portion of the breast's volume. The amount of fat in the breast varies from person to person, and it can affect breast size, shape, and firmness.
Glandular Tissue: The glandular tissue, also known as the mammary glands, is responsible for milk production. Each breast contains approximately 15 to 20 lobes of glandular tissue, which are further divided into lobules. The lobules contain clusters of alveoli, the milk-producing cells. Milk travels from the alveoli through a network of ducts, eventually converging into the lactiferous ducts that open onto the nipple.
Connective Tissue: The connective tissue, consisting of collagen and elastin fibres, provides structural support to the breast. It surrounds the glandular and fatty tissue, maintaining the breast's shape and position on the chest wall.
Blood Vessels: The breast is supplied with blood by the internal mammary artery and the lateral thoracic artery. These arteries branch into smaller vessels that nourish the breast tissue. Veins are responsible for draining the blood from the breast, with the primary veins being the internal mammary vein and the lateral thoracic vein.
Nerves: Nerves in the breast provide sensory information, such as touch and temperature, as well as playing a role in the let-down reflex during breastfeeding. The primary nerve supply to the breast is derived from the intercostal nerves.
Lymphatic System: The lymphatic system plays a crucial role in the immune response and the transport of fluids in the body. Lymphatic vessels within the breast drain lymph fluid to the nearby lymph nodes, primarily located in the axillary (armpit) area, the supraclavicular region, and the internal mammary chain.
Discovering the Perfect Breasts: Key Features and Considerations
When contemplating the perfect breasts, numerous factors come to mind. How large should they be? What should the ideal spacing be? What is the most desirable breast shape, and where should they sit on the chest? No single characteristic defines beautiful breasts; instead, a combination of features contributes to their overall appeal.
The perfect breast shape has been widely discussed in terms of angles, distances, width, and volume. Some argue that the ideal shape consists of 45% of the breast volume above the nipple and 55% below, with a gentle slope from the top of the breast to the nipple location. An inclination of approximately 15° above the horizontal is also commonly cited. However, individual preferences and expectations vary, and different people may have distinct ideas of what constitutes the "perfect" breasts.
Several factors must be taken into account when considering breast aesthetics, including symmetry, volume, shape, perkiness, and position on the chest.
The Right Breast Size
Proportional breast size is crucial for a balanced and attractive upper body. "Bigger is always better" is not a universal truth when it comes to breast size. Ideally, breasts should complement the individual's body shape and dimensions.
Breast Symmetry
Symmetry is often associated with beauty and attractiveness, and breasts are no exception. Asymmetrical breasts, where one is larger or droops more than the other, can create an uneven appearance that may be less visually appealing. Ideally, the breasts should be as symmetrical and harmonious as possible.
Breast Shape
A natural and appealing breast shape is highly desirable. There are numerous breast shapes, such as round, bell-shaped, and teardrop. A natural teardrop shape, with thinner tissue at the top and gradually increasing fullness below the nipple, is often considered the most aesthetically pleasing.
Breast Firmness
The perfect breasts should strike a balance between firmness and softness, reflecting youth and health while also providing a comfortable feel.
Perky Breasts
Perkiness is an attractive feature in breasts, and factors such as weight loss, childbirth, or ageing can impact the breasts' appearance, causing them to sag or deflate. Ideally, breasts should be lifted and pointing forward, creating a youthful and perky appearance.
Cleavage
A well-defined cleavage is often considered a hallmark of attractive breasts. The perfect cleavage should be neither too wide nor too narrow, whether wearing a push-up bra, bikini, or nothing at all.
Breast Position on the Chest
The positioning of the breasts on the chest significantly influences their overall appearance. Breasts that sit too low can appear saggy, while those positioned too high may look crowded. The perfect breasts should be situated in the middle of the chest – not too high, not too low.
Nipple Position
Attractive breasts typically have well-positioned nipples. Nipple ptosis, where the nipple hangs low on the breast or points downward, can detract from the breast's appearance. Ideally, nipples should be lifted and centred for a natural and attractive look.
Comfort
Ultimately, the ideal breasts are those that make you feel comfortable and confident. They should not feel too heavy, should fit easily into clothing, and should meet your personal beauty standards and aesthetic goals. Since everyone has a unique perception of beauty, the perfect breasts are those that align with your individual preferences and ideals.
Achieving Your Ideal Breasts: A Comprehensive Guide
Your breasts may not always look exactly as you would like them to. Fortunately, there are several cosmetic surgery options available to help you attain the perfect chest, addressing issues such as size, shape, and firmness. At Centre for Surgery in London, our skilled surgeons offer a variety of plastic and reconstructive breast procedures to modify various breast characteristics, resulting in natural and appealing breasts.
Breast Augmentation
Breast augmentation surgery, also known as a boob job or augmentation mammoplasty, enhances the size and shape of the breasts. The procedure increases breast volume using fat transfer or implants, which can be silicone or saline. Patients have several choices to make, such as the incision location, whether the implant is above or below the muscle, the implant's shape (round or teardrop), and the implant's fill (silicone or saline). Implant volumes can range from 100 cc to 800 cc, each impacting the final outcome.
Our surgeons can perform breast augmentation to:
Enlarge your breasts
Improve breast shape
Accentuate your cleavage
Add volume and firmness to your chest
Breast implants can be placed above the muscle (subglandular implants) or below the muscle (submuscular implants), affecting the final appearance. For example, above-the-muscle implants provide greater volume and cleavage, while under-the-muscle implants create a more natural look.
Breast Lift
A breast lift, or mastopexy, reshapes and rejuvenates breasts without using implants. If your breasts have ample volume but are sagging, we offer breast lifts to correct the issue.
The perfect breast shape ideally positions the nipple at the apex of the breast mound. If the nipple has descended due to ageing, weight loss, or pregnancy-related changes, a breast lift may be necessary to achieve the desired shape.
Breast lift techniques include:
Anchor lift
Lollipop lift
Doughnut lift
Crescent lift
These mastopexy techniques enable surgeons to lift your breasts into a perkier position, providing a smoother and tighter contour. Additionally, the nipple and areola are elevated to a more natural and youthful height.
Breast Reduction
Breast reduction surgery, or reduction mammaplasty, permanently reduces the size of excessively large breasts. For some patients, the ideal breast involves alleviating back, neck, and shoulder pain caused by heavy breasts.
During breast reduction surgery, the surgeon removes excess breast fat, glandular tissue, and skin to create smaller, more proportional breasts. This procedure is an excellent option for patients experiencing daily pain and discomfort due to heavy and pendulous breasts.
Breast Reconstruction
Breast reconstruction surgery reshapes the breasts and rebuilds damaged breast tissue. Our surgeons frequently perform reconstructive surgery for patients with tuberous breast deformity or those who have undergone breast cancer surgery.
Breast reconstruction can:
Correct breast anatomical deformities
Increase breast volume
Sculpt a more aesthetically pleasing breast shape
Our surgeons customise each cosmetic breast surgery to ensure that you achieve the breast features that best suit your body and beauty ideals. With the right procedure and expert guidance, you can attain the perfect breasts that enhance your overall appearance and boost your confidence.
FAQs about Perfect Breasts
What steps can I take to enhance the appearance of my breasts?
There are several ways to improve the appearance of your breasts, ranging from non-surgical methods to cosmetic surgery. Some options include:
Exercise: Incorporate chest exercises, such as push-ups, chest flies, and chest presses, to strengthen the pectoral muscles, which can help provide better support for your breasts and enhance their appearance.
Proper support: Invest in well-fitting, supportive bras that can help lift and shape your breasts, giving them a more attractive look.
Clothing choices: Wear clothes that flatter your breast shape and size, such as V-neck or scoop-neck tops that accentuate your cleavage and create a more attractive silhouette.
Maintain a healthy weight: Weight fluctuations can affect breast size and shape, so try to maintain a stable, healthy weight to minimize changes in breast appearance.
Cosmetic procedures: If you're looking for more significant changes, consult a plastic surgeon at Centre for Surgery to discuss options such as breast augmentation, breast lift, or breast reduction surgery, depending on your individual needs and goals.
What are the options for improving the appearance of sagging breasts?
To address sagging breasts, consider the following:
Non-surgical options: While there are no guaranteed non-surgical treatments for significantly lifting sagging breasts, maintaining a healthy lifestyle, wearing supportive bras, and practising good posture can help minimize further sagging and enhance overall appearance.
Breast lift (mastopexy): A surgical procedure that lifts and reshapes sagging breasts by removing excess skin and tightening the remaining breast tissue. The nipple and areola are also repositioned to a more youthful height. This procedure can be performed alone or in conjunction with breast augmentation or reduction, depending on your goals.
What solutions are available if one breast is larger than the other?
Breast asymmetry is a common concern, and there are several options to address this issue:
Acceptance: Understand that some degree of breast asymmetry is normal and natural. If the size difference is minimal and does not cause discomfort or self-consciousness, embracing your unique shape may be the best solution.
Padding: Use removable bra inserts or choose bras with built-in padding on one side to balance the appearance of your breasts under clothing.
Cosmetic surgery: If breast asymmetry is significant or causes distress, consult a plastic surgeon to discuss surgical options such as:

Breast augmentation: Inserting an implant into the smaller breast to match the size of the larger breast.
Breast lift: Lifting and reshaping one or both breasts to create a more symmetrical appearance.
Breast reduction: Removing breast tissue from the larger breast to match the size of the smaller breast.
Choosing Centre for Surgery for Cosmetic Breast Surgery
Centre for Surgery is a premier cosmetic surgery clinic located in London, specializing in a wide range of plastic and reconstructive breast procedures. By choosing Centre for Surgery, you can be confident in our commitment to providing the highest standards of care and achieving the best possible outcomes for our patients. Here's what sets us apart:
Expert Surgeons: Our team of highly skilled and experienced plastic surgeons has a wealth of knowledge and expertise in performing various breast surgeries, including breast augmentation, breast lift, breast reduction, and breast reconstruction. Our surgeons stay up-to-date with the latest techniques and advancements in the field to ensure that you receive the most advanced and effective treatments available.
Personalised Approach: We understand that each patient has unique goals and concerns when it comes to breast surgery. That's why we take the time to listen to your needs, assess your individual anatomy and preferences, and develop a customised surgical plan tailored to achieve your desired results.
Comprehensive Consultations: The consultation process is an essential step in your breast surgery journey. During your consultation, our surgeons will discuss your expectations, explain the available surgical options, and help you make informed decisions about the procedure that's best for you. We may also use advanced imaging technology to give you a realistic idea of the potential outcomes of your surgery.
State-of-the-art Facilities: Centre for Surgery is equipped with modern, cutting-edge facilities designed to provide a safe and comfortable environment for your procedure. We adhere to the highest standards of cleanliness, sterilisation, and patient safety to ensure that your experience is as smooth and complication-free as possible.
Comprehensive Aftercare: We believe that post-operative care is just as important as the surgery itself. Our dedicated team will provide you with detailed instructions and support throughout your recovery, monitoring your progress and addressing any concerns you may have. We also offer a comprehensive aftercare program to ensure that you achieve optimal results and satisfaction with your surgery.
Transparent Pricing: At Centre for Surgery, we believe in providing clear and transparent pricing for our services. We offer a detailed, all-inclusive quote for your procedure, with no hidden fees or surprises.