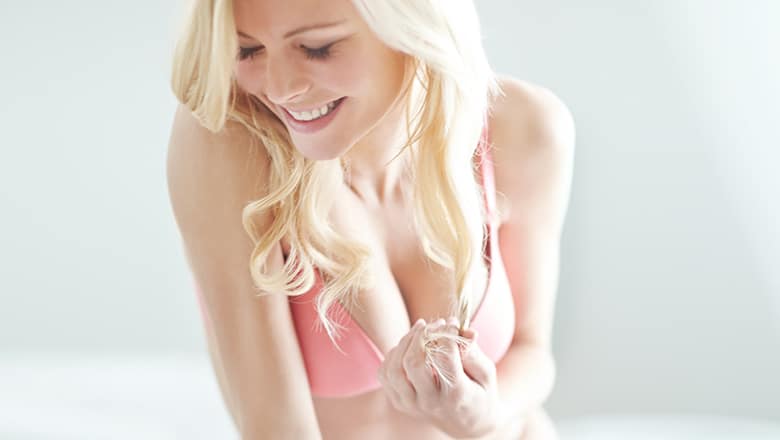 Many of our patients who come to us for breast reduction surgery have been considering it for a significant period of time. If you are early on in your research on breast reduction and are keen to know about all the key aspects of the procedure, we thought it would be useful to put together a comprehensive guide on all aspects of breast reduction surgery at Centre for Surgery in London.
The ideal candidate for breast reduction
As with all types of cosmetic surgery procedures, it's important to make sure that you fulfil the treatment criteria for breast reduction surgery to get the best possible results with minimal risks.
Is Breast Reduction Surgery Right For Me?
Having very large breasts has resulted in significant pain and discomfort for a long period of time including both back pain and neck pain.
The weight of the breasts often leads to excessive pressure on the shoulders from tight bra straps which may develop early on in the day and get worse as the day progresses.
Women often have great difficulty in selecting clothes that fit them correctly and often have to seek specialist suppliers of bras which can be a nuisance.
Many women often find their normal day-to-day activities are restricted including the ability to carry out certain types of exercise such as cardiovascular exercise.
Ideal candidates for breast reduction have breasts that are mature and well developed and patients have excellent knowledge and understanding of what the surgery involves. All patients should have realistic expectations of what sort of results can be expected with the breast reduction procedure.
Preparing for your consultation
When choosing whether or not to undergo a breast reduction procedure, patients will often carry out a lot of research online to learn about as many aspects of the procedure as they can. Others often prefer to wait for their consultation to enable them to build up a clear picture of what the procedure involves. In some cases, it can be possible to almost do too much research and this may result in patients receiving inaccurate medical information which can affect the quality of the subsequent consultation as the surgeon often has to spend time dispelling a lot of the myths surrounding the procedure.
However, in most cases carrying out research before the consultation helps to improve the quality of the consultation and afford the opportunity to ask the pertinent questions which are important to you. Our surgeons often say that there is no right or wrong way to go about planning for the consultation.
Some useful tips that you may find helpful before your consultation:
Patients should bear in mind that at least one week should be taken off from work or strenuous activities after breast reduction surgery and it is never a bad idea to begin planning for this as early as possible
For women who have younger children, it may be useful to have in some home help to help with looking after the children as they will be restrictions on lifting them up for 2 to 3 weeks after the procedure.
Breast reduction surgery involves a general anaesthetic during which you will be fully asleep and comfortable throughout the entire procedure. When you are woken up from the anaesthetic, your anaesthetist will keep a close eye on you until you are fully recovered from the effects of the anaesthetic
Many patients will have a particular target size in mind and it can be very useful for the surgeon to get an idea of your goals for treatment although we would always emphasise not to be too fixated on a particular size. The most important aspect involves tailoring the surgical procedure to your anatomy to make sure the weight of the breasts is reduced as well as optimally shaping them.
Our surgeons are trained in all types of breast reduction surgery including the vertical scar breast reduction which involves incisions positioned around the areola and vertically downwards to the inferior breast fold but without the horizontal incision component also known as the anchor breast lift
The breast reduction consultation
You will have your consultation for breast reduction at our state of the art Baker Street facility located in the heart of London. The consultation serves as a foundation of effective treatment planning and it will give you the opportunity to ask any questions you may have thought of and allows the surgeon to conduct a full clinical assessment which involves taking a medical history and performing a thorough physical examination to determine what can be achieved with a breast reduction.
Many patients will have a clear idea by the end of the first consultation that breast reduction is absolutely right for them. Other patients may find they will need more time to reflect and think about further aspects of the procedure and perhaps to talk to people who have undergone the procedure. Our patient coordinators may be able to put you in touch with past patients who have had the procedure to give you a clear idea of what the procedure could achieve. Coming back for a second consultation often helps to build up a complete understanding of the treatment and also gives the opportunity to ask any follow-up questions which you may have forgotten about at the first consultation. Either way, our plastic surgeons are more than happy to see you again to make sure that you are as fully prepared for the procedure as possible.
Consultations last between 30 to 45 minutes and you'll be able to see your dedicated patient coordinator after consultation will be able to ask any further questions you may have about any aspect of the breast reduction procedures including what finance options are available for treatment.
Preparing for breast reduction surgery
Once you have been booked in for breast reduction, our expert preoperative nursing team Will be in contact to provide you with full details of the procedure with an information pack. It is important to read these instructions in full to make sure that you are fully aware of what the procedure involves. When you come on the day of your procedure, you will require a responsible adult escort to collect you once the procedure is complete and you are fully recovered and to look after you for at least the first 24 to 48 hours. It would be a good idea to share the preoperative and post-operative instructions with your carer so that everyone is fully familiar with the instructions to follow pre-and post-surgery. Don't worry if you are unsure about anything, our expert nursing team will be able to go through an area in detail on the day of your procedure or any time beforehand.
You will also need to come in for a face-to-face preoperative assessment with one of our nurses after you've had your consultation with the surgeon. This assessment is designed to make sure you are medically fit for the breast reduction procedure. In some cases, you may be required to have some blood tests undertaken to rule out any medical conditions including anaemia. You may be asked to stop certain medications including aspirin as this may increase the risk of bleeding during or after the procedure. You will also be given a prescription for antibiotics and painkillers to collect in advance of your procedure. It's a good idea to discuss how to take the medicines with your carer as you may be too drowsy after waking up from anaesthetic to know which medicines to take and when.
On the day of your breast reduction surgery
We cannot emphasise enough that it is completely normal to feel very nervous before your breast reduction procedure. Always remember you can get in contact with your dedicated patient coordinator who will act as a point of contact throughout your journey with us from start to finish. We would recommend wearing loose dark coloured clothing that can be buttoned up from the front. A warm coat could also be useful as you may feel slightly cold after the procedure due to the effects of the anaesthetic. You must remove any make up including nail polish and remove any jewellery including piercing. When you arrive at the centre, you'll be taken downstairs to the day ward by one of our admission nurses who will get you changed into patient clothing. It's a good idea to bring a book or a tablet as it can take a period of time before you are taken through for your procedure. Your nurse will carry out a series of vital sign checks, check your fasting status and other key aspects as part of the admission. You will then be seen by the anaesthetist who will carry out a medical assessment and will insert an intravenous cannula into the back of your hand. Finally, you will be seen by your surgeon who will mark the areas to be operating on with a marker pen. Once everything is ready, you will be walked through to the operating room and your anaesthetist will then start the process of putting you to sleep. Once you wake up from the anaesthetic, it is common to feel a little bit drowsy or dizzy but this will settle down rapidly after 15 to 20 minutes. It is unusual to feel any significant discomfort after surgery as your surgeon will inject a local anaesthetic into the operation area. Once you have recovered from the effects of the anaesthetic, you will be discharged by our team into the care of your responsible adult escort. A pack of sterile dressings will be given just in case the original wound dressings become wet.
First day after breast reduction
You will be reviewed over the telephone by a member of our post-operative nursing team the next day. In many cases, you may be asked to be seen in person back at the clinic especially if you are from out of town. You must not drive yourself to the appointment. The nurse will examine you to make sure that everything is healing as intended and there will be an opportunity to ask any questions you may have about the early post-operative period and what to expect.
In the first 2 to 3 days after surgery, you may notice mild to moderate pain or discomfort. This is mainly due to an increase in post-operative swelling which is common at this stage after surgery. Any pain or discomfort can usually be well controlled with the prescription painkillers provided to you. If there is any significant swelling affecting one breast more than another, you must urgently get in touch with our post-operative team who may call you in to be examined to rule out a post-operative haematoma. Women will heal at different rates following the surgery as people heal differently and this can be due to a number of medical factors including diabetes or smoking. Your post-operative nurses are on hand and available on the phone and face-to-face at any point in time after your procedure.
First week after breast reduction
The first week is where you should look to take it very easy to make sure that your healing progresses as smoothly as possible. Patients who take time to rest more may find that they heal quicker and better which may lead to overall better results. It's a good idea to stay mobile and move around the house from time to time and stay well hydrated to minimise the risk of DVT. We would avoid any strenuous activity during this period to minimise any increase in post-operative swelling which may lead to a delay in the healing process. The surgical bra which was placed at the time of surgery can now be removed and replaced with a soft support bra similar to a sports bra and it is important to wear this continuously for the first four weeks to facilitate proper healing.
The first month after breast reduction
You will continue to have face-to-face post-operative checkups with our amazing post-operative nursing team. Our nursing team act as a point of contact to answer any questions or concerns you may have about your recovery after breast reduction. They will also take care to look after your incisions as best as possible. If you have any concerns, it is always wise to get in contact however minor you feel your concern may be. There is a 24-hour number available for the first 24 hours after surgery if you have any immediate concerns about your healing.
You will be seen at one week following your procedure where are your dressings will be removed and incisions will be inspected. If you have had drains placed, these are usually removed 3 to 4 days after the surgery. At the two week mark, it is a good idea to commence gentle exercises which focus on walking and to avoid high impact activities such as running or rowing or lifting weights. After four weeks, you may be allowed to commence certain activities however it is always important to go slow and never to do too much too soon. If you feel any significant pain or discomfort then this is probably a sign not to overdo it and to always important to listen to your body.
First year after breast reduction
So you finally reached one year after having a breast reduction procedure. Well done! You can look forward to a significant improvement in the size and shape of the breasts and to wearing all those stylish items of clothing which you were unable to wear before the breast reduction procedure. Patients do not have to wear any specialist support bras anymore. You can now walk much better with an improvement in posture and a significant improvement if not complete resolution in back pain or neck pain and are now able to undertake certain types of physical activities which you were unable to before.
We will invite you to come in and see your surgeon at the six-week mark following surgery. Your surgeon will then want to see you three months, six months and one year following surgery. We find reviewing our post-operative patients to be the most satisfying part of our work and for us, it is a privilege to be part of your journey towards a new and improved self.
If you would like to find out more about breast reduction and how it can benefit you, you can read more on our breast reduction page and you can also call us and speak to one of our friendly and knowledgeable patient coordinators will be more than happy to book you in to see a surgeon at our state of the art Baker Street clinic in London.
Amazing from start to finish, the communication was the main thing was fully informed and looked after, on the day of my breast augmentation, the staff were fab and made me feel at ease through out the whole process. Thank you so much.
Mohammed Farid
18/11/2021
I've had such a great experience with excellent advice, care and attention and surgical treatment (gynaecomastia) - I can fully endorse the treatment I have received from Centre for Surgery with absolutely no qualms at all. Brilliant in every way - thank you all so much.
Caroline Thorpe
14/11/2021
Very pleased with my whole experience of having a procedure. Was so nervous about getting treatment and i was reassured and felt so comfortable throughout thanks to the amazing nurses. I definitely made the right decision to have breast augmentation at centre for surgery with dr erel.
Melissa Briggs
08/11/2021
So glad I went with centre for surgery, the whole process went very smoothly from the consultations down to the actual day of the procedure. I was so nervous on the day but the whole team put me at ease and I'm happy with my results as I feel a lot more comfortable wearing certain clothes now. My surgeon was Alberto Di Giuseppe who performed a breast Augmentation on me, and I would definitely recommend as he was very clear on what the outcome of the surgery would be and which size would look the best for my frame.
Couldn't be happier with Dr Tillo work,i had my breast surgery one week ago and so happy with the results so far,all the staff are extremely nice and very supportive,i would definitely recommend their services,thank so much
From start to the finish everything was perfect for tummy tuck surgery. All staff is very friendly and the aftercare has been good. The Doctor and the nurse team was fantastic. I'm so happy...result is amazing. Thank you!!!
This was overall a great experience, all the staff at Centre for Surgery were friendly and put me at ease. It is a nerve wracking thing to go through an op but the staff were so nice. Mr Ertan has got a great team around him. On the day of the operation everything went smoothly to plan, there was no delay or holdups, I had another consultation with Mr Ertan who confirmed what was going to be done and that I was still happy to proceed. I was prepped for the procedure, I met with the anaesthetist who again was really nice and put me at ease explaining his role. After the procedure I woke up with the nurse by my side making sure I was OK and checking on me, I was able to stay in the clinic until I was ready to leave and was not rushed at all. I was well looked after from the start to the point when I was discharged. Post operation I was staying at a local hotel it was so close there was no point in even getting a taxi and I was able to walk back where my partner was waiting for me. I was expecting a lot of bruising to both my eyes but there was very little if any by the time the cast came off after 7 days, I am now at the two week post operation point and it is healing well with no outwardly visible bruising or scaring. The next milestone is a checkup at the 6 week point with my surgeon. If you're thinking of having something like this done I would highly recommend getting in touch with Centre for Surgery.
The staff at Centre for Surgery were very kind and accommodating. They answered any questions I had about the procedure and were constantly checking up on me. A special thank you to Christina for all her support throughout.
I would just like to state the quality of care received from the nurses at Centre for Surgery was beyond the highest level. Sophie takes her patient care to another level beyond words. She always puts me at ease. She is there for me even at awkward hours just when I mostly needed reassurance and she is one of the most compassionate nurses I have come across and demonstrates her passion naturally for caring for others. She totally deserves recognition at its finest and thank you for always being there for me. 😍