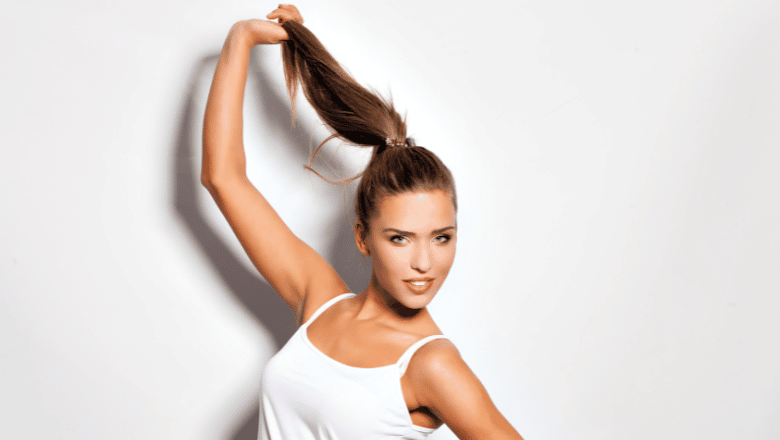 Many people may have found they can achieve a modest reduction in many signs of facial ageing by tying their long hair back into a ponytail. A similar effect can be achieved with a newly emerging facelift technique known as the ponytail facelift. A ponytail facelift is ideal for younger patients with early signs of facial ageing. Centre for Surgery in London is a centre of excellence for facelift surgery and is one of the few cosmetic surgery clinics in the UK to offer the ponytail lift.
RELATED: What are the signs of ageing in the face over time?
What is a ponytail lift?
A ponytail facelift is designed to enhance the jawline and lift the mildly sagging tissues of the upper face and brow for a more youthful look. The procedure takes between two and three hours to perform under a general anaesthetic. Recovery time after a ponytail facelift is shorter compared with a traditional facelift, with most people being able to return to their normal activities after one week. The results of a ponytail lift match those of a mini facelift and can last between 5 to 7 years.
RELATED: What is the best age for a facelift?
There are several different types of facelift surgery, including traditional facelifts, deep plane facelifts and mini facelifts. Certain types of facelift procedures are designed to target particular areas of the face, including a mid-facelift or lower facelift. Despite the different techniques of facelift surgery, the objectives of the procedure share many similarities. There is no one size fits all approach to facelift surgery, and a facelift is always customised to the needs of the individual patient. Some people may have more extensive signs of facial ageing and require a full face and neck lift to address sagging skin affecting the cheek, jowls and neck. Those with early signs of facial ageing can achieve excellent results with a minimally invasive facelift procedure designed to target the upper face, midface or lower face. A ponytail facelift could be the ideal procedure.
RELATED: Are facelift results permanent?
The ponytail facelift involves making incisions in the temple region just within the hairline or in front of it and extending towards the upper part of the ear. Compared with a traditional facelift, the ponytail lift incisions do not have around the earlobe to the back of the ear and posterior hairline. An incision beneath the chin is also not required in those who do not have signs of ageing affecting the neck. The incisions for a ponytail lift can be well hidden when performed by an expert plastic surgeon with years of experience in all types of facelift surgery. Getting the best results means spending time with your surgeon to allow detailed procedure planning and to learn about all aspects of the recovery period after a ponytail facelift.
Am I suitable for ponytail lift surgery?
If you have been learning about the benefits of a ponytail facelift and wonder if the procedure is ideal for you, we recommend booking a consultation with one of our facelift surgeons. A ponytail facelift is most suitable for women in their 30s or 40s who want to enhance the cheek and eyebrow area and have only mild features of facial ageing. Older women in their 50s and above who have established jowls and sagging neck skin are not suitable patience for a ponytail facelift and will require a traditional face and neck lift which could be a SMAS facelift or a deep plane facelift.
Ponytail facelift surgery involves making incisions which are much shorter compared with a traditional facelift which means the dissection of the deeper tissues is much more limited. The procedure can produce effective correction of the outer part of the eyebrow and the upper part of the cheek. A ponytail lift cannot address the lower part of the cheeks or jowls along the jawline in the lower part of the face. A saggy or ill-defined neckline with jowls and saggy cheeks is best treated with a deep plane facelift combined with a neck lift.
Recovery after a ponytail facelift
Compared with a full facelift, a ponytail facelift has a much shorter recovery period which in most cases it's no more than one week. Most patients can return to desk-based work one week after ponytail facelift surgery. The procedure is performed under general anaesthesia at our Baker Street clinic, which allows patients to be comfortable both during and immediately after the procedure. Your surgeon will prescribe both antibiotics and painkillers for you to take after the procedure. You should avoid any vigorous physical exercise for at least four weeks after surgery. The surgery is always customised to the needs of the individual patient, and therefore, the recovery period will differ from one patient to the other. Your surgeon will give you detailed information on what to expect during the recovery period after a ponytail facelift. It would be best if you avoid excessive sun exposure whilst your incisions are still healing, and it is important to eat a healthy and balanced diet to promote proper healing and recovery. It is important to drink plenty of water and get sufficient sleep. All types of smoking, including vaping, should be avoided as it is associated with an increased risk of postoperative wound complications.
RELATED: Facelift Recovery – top tips
Ponytail facelift surgery potential risks
As with any type of surgery involving incisions, there are certain risks associated with a ponytail lift. The risks which patients should be aware of include bleeding, infection and wound breakdown. It is normal to experience bruising and swelling at the site of surgery and may be numb for up to 6 weeks after surgery.
Ponytail facelift surgery involves much shorter incisions compared with a traditional facelift. Your surgeon will show you the location of the proposed incisions for a ponytail lift at your in-person consultation.
Ponytail facelift FAQs
Is a ponytail lift less invasive than a traditional facelift?
A ponytail lift is a minimally invasive procedure as the incisions are shorter compared with a full facelift, and the procedure is quicker to perform. It is ideal for younger patients in their 30s and 40s. Scarring is minimal after a ponytail facelift, although the results are not as significant compared to a full facelift using the deep plane technique.
What is the best age for a ponytail facelift?
Most patients who choose to have a ponytail facelift are aged in their late twenties to mid-40s and would like to achieve a refreshed and youthful appearance without the downtime and risks of a traditional full facelift.
How long do the results of a ponytail facelift last?
The results of this procedure can last between five and seven years which is similar to a mini facelift. The natural ageing process will gradually affect the results of the procedure. Many patients may choose to have a second facelift later in life to maintain a refreshed and youthful appearance.
Ponytail facelift at Centre for Surgery
Centre for Surgery is renowned for its significant expertise in all types of facelift surgery, including deep plane facelifts and mini facelifts. The ponytail facelift is a new variant of the mini facelift and is ideal for younger women with milder features of facial ageing. Our Baker Street clinic in Marylebone is one of the most advanced cosmetic surgery clinics in the UK and many patients travel from overseas to our London Centre for highly specialised facelift surgery.
Contact us today at 020 7993 4849 or complete the contact form below to schedule an in-person consultation with a specialist plastic surgeon with expertise in facelift surgery.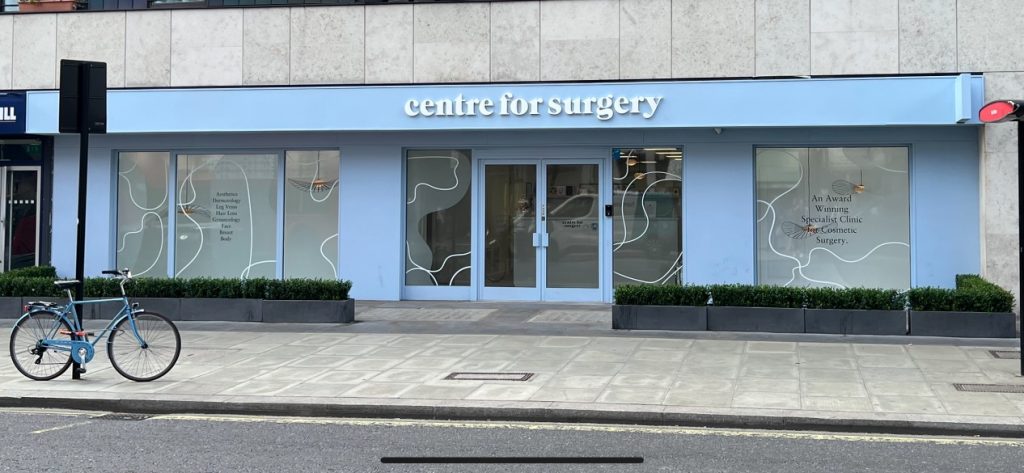 Amazing from start to finish, the communication was the main thing was fully informed and looked after, on the day of my breast augmentation, the staff were fab and made me feel at ease through out the whole process. Thank you so much.
Mohammed Farid
18/11/2021
I've had such a great experience with excellent advice, care and attention and surgical treatment (gynaecomastia) - I can fully endorse the treatment I have received from Centre for Surgery with absolutely no qualms at all. Brilliant in every way - thank you all so much.
Caroline Thorpe
14/11/2021
Very pleased with my whole experience of having a procedure. Was so nervous about getting treatment and i was reassured and felt so comfortable throughout thanks to the amazing nurses. I definitely made the right decision to have breast augmentation at centre for surgery with dr erel.
Melissa Briggs
08/11/2021
So glad I went with centre for surgery, the whole process went very smoothly from the consultations down to the actual day of the procedure. I was so nervous on the day but the whole team put me at ease and I'm happy with my results as I feel a lot more comfortable wearing certain clothes now. My surgeon was Alberto Di Giuseppe who performed a breast Augmentation on me, and I would definitely recommend as he was very clear on what the outcome of the surgery would be and which size would look the best for my frame.
Couldn't be happier with Dr Tillo work,i had my breast surgery one week ago and so happy with the results so far,all the staff are extremely nice and very supportive,i would definitely recommend their services,thank so much
From start to the finish everything was perfect for tummy tuck surgery. All staff is very friendly and the aftercare has been good. The Doctor and the nurse team was fantastic. I'm so happy...result is amazing. Thank you!!!
This was overall a great experience, all the staff at Centre for Surgery were friendly and put me at ease. It is a nerve wracking thing to go through an op but the staff were so nice. Mr Ertan has got a great team around him. On the day of the operation everything went smoothly to plan, there was no delay or holdups, I had another consultation with Mr Ertan who confirmed what was going to be done and that I was still happy to proceed. I was prepped for the procedure, I met with the anaesthetist who again was really nice and put me at ease explaining his role. After the procedure I woke up with the nurse by my side making sure I was OK and checking on me, I was able to stay in the clinic until I was ready to leave and was not rushed at all. I was well looked after from the start to the point when I was discharged. Post operation I was staying at a local hotel it was so close there was no point in even getting a taxi and I was able to walk back where my partner was waiting for me. I was expecting a lot of bruising to both my eyes but there was very little if any by the time the cast came off after 7 days, I am now at the two week post operation point and it is healing well with no outwardly visible bruising or scaring. The next milestone is a checkup at the 6 week point with my surgeon. If you're thinking of having something like this done I would highly recommend getting in touch with Centre for Surgery.
The staff at Centre for Surgery were very kind and accommodating. They answered any questions I had about the procedure and were constantly checking up on me. A special thank you to Christina for all her support throughout.
I would just like to state the quality of care received from the nurses at Centre for Surgery was beyond the highest level. Sophie takes her patient care to another level beyond words. She always puts me at ease. She is there for me even at awkward hours just when I mostly needed reassurance and she is one of the most compassionate nurses I have come across and demonstrates her passion naturally for caring for others. She totally deserves recognition at its finest and thank you for always being there for me. 😍