Labiaplasty in London
Labiaplasty Surgery in London for Clitoral Hood Reduction & Labia Reduction with Centre for Surgery. For many adult women, enlargement of the labia minora and / or labia majora can cause aesthetic, functional or psychological issues. Women who have enlargement of one or both sides of the labia minora may report increased irritation, inflammatory changes, reduced personal hygiene during menses, painful intercourse. Many women with labia minora enlargement or asymmetry also report increased levels of anxiety or self-consciousness, embarrassment or feelings of being insecure in sexual relationships or when wearing tight clothing. This has resulted in more requests for aesthetic surgery of the labia minora and / or labia majora. Dr Paraskevi Dimitriadi at Centre for Surgery performs labia reduction surgery to improve labial appearance and also address functional aspects and alleviate psychological concerns.
There are three main types of labiaplasty procedure:
View our labiaplasty patient education video
If you are more concerned with vaginal laxity, you may wish to consider a vaginoplasty which Dr Paraskevi also performs.
Our specialist centre at 106 Crawford Street was recently inspected and rated by the Care Quality Commission as good across all five domains of care. 
What is included in my labiaplasty treatment package?
As many preoperative consultations with Dr Dimitriadi as you like to make sure the procedure is right for you
Treatment at a specialist day surgery facility recently rated 'Good' by the CQC
Enhanced same day discharge with the added benefits of recovering in your own home
24/7 clinical support from your surgeon for first 48 hours and our expert postoperative support team
Your very own dedicated patient coordinator for all stages of the patient journey
In-depth preoperative medical assessment to make sure you are fully fit for the labiaplasty procedure
Exceptionally high standards of postoperative care described as 'outstanding' by the CQC with regular telephone and face to face checks by our expert postoperative support team
RealSelf Top Doctors for labiaplasty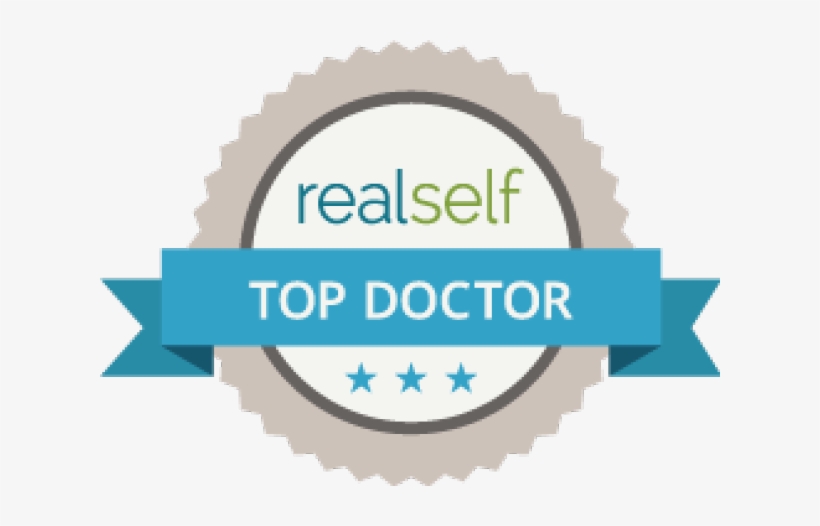 RealSelf top doctor status is awarded to less than 10% of the RealSelf doctor community.  This status is earned by achieving consistently high patient satisfaction (from RealSelf reviews), getting excellent feedback on expert answers to patient questions, and after investing significant time in Q&A and other doctor activity. RealSelf top doctors are rated among the very best surgeons in the United Kingdom and USA.
| Labiaplasty | Fast facts |
| --- | --- |
| Procedure time ⏳ | 1-2 hours |
| Anaesthetic type 💉 | Local anaesthetic or general anaesthetic |
| Length of stay 🛏 | Day case |
| Up and mobile 🚶🏻‍♂️ | 1 day |
| Washing 🛁 | 1 week |
| Travel ✈️ | 4 weeks |
| Sexual activity ❤️ | 6 weeks |
| Driving 🚗 | 2 weeks |
| Postoperative garment 👕 | 3 days |
| Sleeping 😴 | On back for 3 days |
| Exercise 🏃🏽‍♀️ | 6 weeks |
| Full recovery 🕺🏻 | 6 weeks |
| Final results 😃 | 6 months |
Why do women choose to have a labiaplasty?
The popularity of labiaplasty has increased in recent years. There is now an increased public awareness of problems with overdeveloped labia minora. An increasing proportion of women seek treatment not only for aesthetic reasons but also for functional reasons. There is a wide range of normal variation in the size and shape of the labia although in recent years the trend is more towards a smaller and more compact appearance. The reasons for seeking a labiaplasty include both aesthetic and functional concerns. It is important for the specialist gynaecologist to understand the full range of symptoms associated with larger or mishapen labia minora and the best method for surgical correction. According to several recently published studies in the medical literature, labiaplasty has a satisfaction rate of over 95%. As more research is conducted into labia reduction surgery, Dr Dimitriadi is better able to understand reasons for the procedure and recommend the best techniques for an optimal result.
The rise in popularity of waxing (Brazilian or Hollywood), shaving and laser hair removal has also made many women aware of the appearance of their genitalia. Women may compare the appearance of their genitalia to the appearances found on the internet. Unfortunately exposure to unrealistic media images may make some women feel particularly self-conscious and decide to have vaginal rejuvenation surgery.
Initially, I felt really uneasy about having to undergo surgery as I have never had one in the past. However after my initial consultation with Dr Paraskevi, where she took her time to explain everything in great detail, I felt so much more confident. She is really friendly, honest, sympathetic and caring. During the surgery, Dr Paraskevi made me feel at ease, she was super attentive, responsive to my needs and I didn't feel as if my procedure was getting rushed at all. I am so grateful that I was under her care! I spent a really long time researching where to do my surgery and I am so glad that I chose Centre for Surgery! Highly recommend.
Labiaplasty Surgeon Dr Paraskevi Dimitriadi
Dr Paraskevi Dimitriadi is a specialist aesthetic gynaecologist and has trained at some of the world's leading hospitals in all aspects of gynaecology. Dr Dimitriadi continues to practice in a major London teaching hospital. She takes an active interest in research into aesthetic gynaecology and lectures both nationally and internationally on a range of topics in aesthetic gynaecology. She is a full member of the European Society of Aesthetic Gynaecology (ESAG).
As a female surgeon, Dr Dimitriadi understands her patient's most delicate needs and preferences,  which allows her to create a personalised and bespoke labiaplasty treatment plan to meet the patient's goals. She is regarding as one of the top labiaplasty surgeons in London by her peers and brings years of experience to each and every procedure she performs. Dr Dimitriadi brings together her expertise across both surgical and non-surgical gynaecological treatments – unrivalled in London and exclusive to Centre for Surgery.
Dr Dimitriadi is known for her caring, patient-centred approach, supporting all her patients and she always strives to optimise patient outcomes at stages of the patient journey.
To say they change my life is an understatement. All the staff here are SOO down to earth and make you feel at ease! From check up calls to that first consultation, Lidia made sure everything was running smoothly for me!! The whole team is literally by your side all the way!! Going in to a procedure I was petrified, scared and everything else, I couldn't even bring my self to the consultation but Lidia made it her priority to ensure i was as comfortable as can be and that i was in safe hands! without her kind words I wouldn't have gone ahead with it all.

Having really bad anxiety has always been a challenge for me but I can honestly say after my experience with Dr.Dimitriadi she basically educated me and gave me a whole different perspective on my procedure and that in-fact I was more then normal even if I didn't feel so myself! Something I've never had before!

Her support was beyond belief, I couldn't thank Dr. Dimitriadi and everyone enough for making me feel so secure. Her team were brilliant I've never felt more confident and finally excited about my next chapter in life!! Safe hands is indeed the word for it!!

I would highly recommend Centre for Surgery as I truly believe no other practice would make this journey as professional and comforting as they did! Feeling extremely grateful and blessed to have had the most amazing team to give me a start on my dream life. I say that because with no exaggeration I have been dreaming for this day for as long as I can remember. Slowly but surely I'm going through the healing stages and i couldn't be more happier with my results!!!! Brings me tears of joy just writing this review. You guys are straight out the best!
Why choose Centre for Surgery in London for your Labiaplasty procedure?
Dr Dimitriadi is a highly specialised expert in her field of aesthetic gynaecology and women's health. She has dedicated her practice to a small number of procedures that she performs frequently including labia surgery. Being trained as a gynaecologist and with her extensive background in women's health allows her to assess you in a holistic manner as she regularly performs gynaecological procedures for conditions such as endometriosis, menorrhagia and other common conditions affecting women of childbearing age. We do not subscribe to the 'Jack of all trades' model of medicine. All specialists at Centre for Surgery perform procedures within a very focused remit for optimal outcomes.
If a patient wishes to be considered for liposuction, abdominoplasty or breast surgery, Dr Dimitriadi often works very closely with her plastic surgeon colleagues also based at Centre for Surgery. It is quite common for procedures to be combined and our plastic surgeons are able to perform procedures such as liposuction in the same procedure alongside Dr Dimitriadi.
All-female team for your consultation, procedure and aftercare – Dr Dimitriadi has hand picked a highly skilled team of specialist female nurses
Significant experience in all types of labiaplasty – wedge resection, trim method and de-epithelialisation
Choice of local anaesthetic or general anaesthetic
We own and manage our own surgical facilities. Properly performed labiaplasty takes time and should not be rushed. Dr Dimitriadi performs a maximum of three labiaplasty procedures in a day. We do not cram 5-6 procedures into one day like other providers. You want your surgeon to be well-rested and mentally and physically sharp to take their time and perform labiaplasty well to get the very best results
Dr Dimitriadi lives and works in London. We don't work with 'fly-in, fly-out' surgeons. This is very important because whilst your surgeon takes all precautions to minimise complications, complications can and do occur and our surgeons are readily available to manage any issues if and when they arise
Risks of going abroad for cosmetic surgery
SCHEDULE YOUR LABIAPLASTY CONSULTATION
To find out more about the labiaplasty procedure, why not give us a call on 0207 993 4849 and speak with one of our expert patient coordinators and make that first step to a new you.
Read the latest testimonials from our amazing patients
My experience with CFS has been exemplary from the start. Nikesh Shah was my patient coordinator who answered every single question from the start, and continued to stay in contact from the start to finish. Dr Dimitriadi was my surgeon who takes patient care very seriously, and who's also very friendly and just really lovely! My nurses on the day were Sophie, Comfort and someone else I just can't remember her name but they were so nice, I had a bit of an emotional wobble at one point and they held my hand, chatted to me about girly stuff and we got through it. I had the lovely Christina, Stephanie and Gregory who called me up after to check on me and the wonderful Natalie who works for the support team answered all my emails straight away as well! I'm so happy with my results, which I think is the most important thing as well as the honesty I received from my surgeon about what we could achieve, really happy with the service from the start and aftercare has been brilliant. I'd give 10 stars if I could and I hope the team get the recognition they deserve xxxx
Labiaplasty Surgeons in London
Labiaplasty, which is also known as a labia reduction, is a suitable surgery for women who consider their labia minora to be too big or uneven. A labia minora that is too large can cause discomfort during certain activities or while wearing certain clothing. There is a range of causes for a large labia minora. This includes hormonal changes, childbirth, ageing or simply the shape when you were born.
Anatomy of the female genitalia:
Mons pubis – the defined area of adipose tissue in a triangular shape above the labia and covered by pubic hair
Labia majora – these are the outer lips of tissue that extend backwards from the mons pubis. The labia majora contain hair and the appearance can vary from full to a more loose and baggy appearance.
Labia minora – these are the inner lips which are made up of 2 folds of tissue that extend backwards on each side the of the vaginal opening (introitus). The labia minora can vary in the degree of pigmentation and are typically hairless
Clitoris – the clitoris is oval shaped and is an erectile mass of tissue located beneath the urethral opening and is connected to the mons pubis. It contains many sensory nerve endings.
There is considerable variation in appearance of the female genitalia. However most women who request a labiaplasty procedure typically have a very specific shape in which the labia minora or labia majora are overly prominent, whether in the front, middle or back part. It is not uncommon for there to be considerable asymmetry between left and right labia minora and this can also be corrected with a labiaplasty procedure.
To gain a better appreciation of the different labiaplasty techniques, knowledge of the anatomy of the external genitalia is helpful.
Asymmetries can also exist in other areas such as the clitoral hood, thickness of labia minora or pigmentation.
Labiaplasty focuses on reducing, reshaping and contouring the labia minora and/or labia majora so you will no longer feel any physical discomfort. A clitoral hood reduction can also be performed if symptoms are experienced from too much tissue or asymmetry in this area to effectively balance the appearance.
The labiaplasty consultation
At your consultation with Dr Dimitriadi, you will undergo a full medical assessment. Dr Dimitriadi will take a medical history and perform a thorough physical examination. The vaginal rejuvenation technique will be fully explained. You will have an opportunity to express any concerns and have your questions answered about the procedure. A customised treatment will then be prepared for you.
If you wish, Dr Dimitriadi may be able to show you a selection of before and after photographs of previous patients to show what can be achieved with labia reduction surgery.
Things to consider before having labiaplasty surgery
We believe that the best outcomes after labiaplasty surgery happen when patients make the right choice of clinic and surgeon.
1. In deciding on the right clinic for you, always carry out extensive research and choose a well established and reputable clinic. Centre for Surgery are specialists in labiaplasty surgery and have been established for many years. Our patient coordinators and surgeons are here to answer any questions you may have to empower you with the right information.
2. Your choice of surgeon should be based on their qualifications, experience and having a record of good patient feedbacks. You should know who you will be seeing before your consultation. At Centre for Surgery, our doctors are specially selected after a rigorous appointments process to ensure they have the right skill set to perform procedures safely..
3. When choosing to have a cosmetic surgery or reconstructive procedure, you should not base your decision on price alone. It is important to make sure you are having treatment in a safe and regulated environment by staff who are both fully trained and caring to look after your needs – before, during and after your procedure.
4. Avoid clinics who offer a 'hard-sell'. If something sounds too good to be true, it probably is. Ask the surgeon what techniques will be used. Surgeons at Centre for Surgery perform all types of labiaplasty surgery including complex reconstructive surgery of the female genitalia.
We believe patient safety and happy satisfied patients are the bedrock of our reputation as an ethical provider of cosmetic surgery. Our doctors are known for giving straightforward and honest advice and you can be assured that your journey with Centre for Surgery will be a positive experience on the path to renewed self-confidence.
Ideal candidates for labiaplasty
Women who are experiencing any pain and discomfort from their labia are suitable candidates for a labiaplasty. Pain can arise from clothing, exercises or tugging during sexual activity. In some instances, the labia may be enlarged, or one may be larger than the other.
How to prepare for cosmetic surgery
Dr Dimitriadi does not offer this procedure to women who are below 18 years old, as your labia will still be undergoing growth and development. 
Wound healing is improved if you are a non-smoker.
The effects of smoking on healing after surgery
Labiaplasty Expected Results
Surgical removal of redundant labial tissue on one or both sides to create a more balanced and aesthetically pleasing look to the labia minora and labia majora
Reduction in discomfort when wearing tight fitting clothing or when undertaking sporting activities
Labiaplasty may improve sexual function through alleviation of discomfort during sexual intercourse – a commonly reported reason for having labiaplasty at Centre for Surgery
Everyone I met at Centre for Surgery were amazing; Yasmin and Gregory were great at staying in touch with me! I felt reassured the whole way through from consultation through to aftercare. I am very happy with the results of my labiaplasty, thanks to the work of Dr Dimitriadi and help of the lovely nurses. I would recommend to anyone considering. A huge thanks!
Labiaplasty procedure preparation
Patients who smoke will be advised to stop for at least 2 weeks before the date of their labiaplasty procedure. Smoking has detrimental effects on the microcirculation and is known to slow the wound healing process. All medications, prescribed and over the counter will be reviewed. Aspirin and aspirin containing medicines should be stopped both before and after surgery. Aspirin and NSAIDS impair the body's natural clotting process and may cause bleeding complications after surgery. If you require pain relief after surgery, paracetamol is advised.
Whether your procedure is performed under a local or general anaesthetic, it is mandatory to have a responsible adult escort take you home in a car or taxi. You must not travel home on public transport after labiaplasty surgery.
Labiaplasty procedure
Labiaplasty is highly specialised surgery and requires tremendous attention to detail. If you choose to have the procedure under a local anaesthetic, you will also have option of oral sedation which may make you feel sleepy and hence feel more relaxed before the injection of local anaesthetic by Dr Dimitriadi. For some cases, Dr Dimitriadi may recommend a general anaesthetic and you will then be asleep throughout the procedure under the expert supervision of an anaesthetist. With both techniques, you should not feel any pain or discomfort during the procedure as the area is injected with local anaesthetic prior to the procedure starting. The procedure takes approximately one to two hours to perform and is an outpatient procedure meaning you are admitted and discharged the same day, allowing you to recover in the comfort of your own home.
The decision to have local or general anaesthesia is always your choice, although Dr Dimitriadi may recommend a general anaesthetic in complex or revision cases.
Dr Dimitriadi will discuss with you the desired length of the labia minora to be removed and the area will then be marked with your assistance using a hand mirror prior to the procedure. Additionally, it is important to discuss whether clitoral hood reduction is required. When deciding on the degree of tissue to be excised, the area is marked conservatively to prevent over-reduction. Dr Dimitriadi believes it is always better to slightly under-correct to avoid the risk of overcorrection which is very difficult to successfully treat.
The labiaplasty procedure involves reshaping the labia minora using precise dissection techniques. Any unwanted tissue is accurately removed. There are a number of surgical methods available for labiaplasty surgery. Your surgeon will discuss with you the most appropriate technique applicable to you.
Different labiaplasty techniques
Wedge technique
Trim technique
An advantage of the wedge excision technique is an improvement of the smoothness of the labial border although there may be slight colour changes once the trimmed edges are sutured together and there is a higher risk of wound breakdown with the wedge method of labiaplasty. 
The trim technique is a suitable method for those with larger labia or with significant degrees of asymmetry The technique creates a straighter appearance along the labial edge and removes the existing labial border. Dr Dimitriadi prefers the trim method as problems which can occur following wedge excision techniques, including wound breakdown leading to possible fistula formation, do not occur following the trim excision technique. Dr Dimitriadi takes great care to perform a conservative excision as over-reduction is a difficult problem to correct.
For mild to moderate labial tissue resection, the de-epithelialisation technique may be an appropriate option. The technique reduces the length of the labia whilst also preserving the labial border. This can create a more aesthetically pleasing appearance in addition to correction of the functional symptoms which many women experience. The downside is that it is only applicable for very small degrees of labia minora enlargement.
Once the desired level of correction has been achieved to achieve a youthful appearance, Dr Dimitriadi uses absorbable sutures to ensure correct healing. With her extensive experience as a gynaecologist in a London teaching hospital, Dr Dimitriadi is familiar with the diverse range of labia minora and majora appearances and no one technique can be used in a blanket fashion for every patient. The key is a thorough evaluation in a private consultation to develop a customised treatment plan based on a patient's main concerns. Dr Dimitriadi prefers the labial trim method as it carries the least amount of potential risks and complications and consistently excellent outcomes.
What is the best labiaplasty technique?
Dr Dimitriadi will discuss with you the most appropriate labiaplasty technique based on her extensive experience in labiaplasty surgery.
The best technique is the one the gynaecologist is most comfortable with and which achieves consistent results. Nonetheless, specific techniques offer unique advantages. The labial trim method, is a great choice in patients who dislike their thick, darkly pigmented, or rough edges. Dr Dimitriadi meticulously sutures the labial edges to create a smooth labial contour. The wedge technique, a commonly performed method by plastic surgeons, can be an excellent option for the patient with thin, well-defined labia edges although the risk of wound breakdown is higher and with a higher revision rate.
A redundant clitoral hood should prompt the surgeon to discuss reduction. Failure to reduce a redundant clitoral hood can result in an imbalance that can be distressing to the patient after a labiaplasty alone has been performed. Clitoral hood reduction or hoodectomy is an option for those who desire a more balanced appearance to the labial area and this can be performed at the same time as a labia minora reduction.
Radiofrequency (RF) procedures – Votiva and FemTite
Votiva RF – non-invasive
For a more comprehensive treatment, you may wish to combine a labiaplasty with Votiva RF. This is a non-surgical procedure which uses a specialised bipolar RF handpiece. These handpieces emit RF energy and stimulate the production of collagen and elastin in the dermal layer of the vaginal wall, which works to improve the thickness and elasticity of the vagina leading to a degree of vaginal tightening. 
FemTite RF – minimally invasive
For a smaller number of appropriately selected patients, Centre for Surgery also offer a minimally invasive local anaesthetic alternative to a surgical labiaplasty called FemTite RF. FemTite achieves tissue contraction through the controlled delivery of radiofrequency (RF) energy to the labia minora and/or the labia majora. Patients who are not keen on the idea of a invasive surgical procedure may derive impressive benefit from FemTite.
Labiaplasty recovery process
After the procedure, you may experience some pain and discomfort in the genital area. Bruising and swelling are common side effects. This may last for several weeks. You can use ice packs to reduce any swelling or take pain medication to help alleviate discomfort.
You will be advised that you should wear a pad – not tampons – for one week or until any bleeding stops. It is also recommended to wear loose cotton underwear during this time. You may find that during recovery after surgery, passing water may be slightly uncomfortable although this is temporary in nature.
What to eat to speed up recovery after surgery
How to speed up recovery after cosmetic surgery
You may need to take about 3-5 days off work, and you will have to avoid any heavy exercise for 10 days. You will be able to resume your normal sexual activity about six weeks later. It is important to keep the genital area clean during the recovery period in order to reduce the risk of infection occurring. An antibiotic ointment should be applied to the area twice daily after your procedure.
Labiaplasty before and after
Browse our labiaplasty photo gallery to see results achieved by our surgeons at Centre for Surgery. The before and afters below offer a sampling of the patient photos we have on file. When you come in to see us for a free consultation, a wide variety will be made available to you. At Centre for Surgery, we only show photos of our patients that have given written consent allowing use of their images on our website.
Case 1:
Case 2:
Case 3:
Case 4:
Case 5:
Risks and potential complications of labiaplasty surgery
Dr Dimitriadi has many years of experience in performing aesthetic gynaecological procedures including labiaplasty. She regularly attends conferences overseas to learn about the best and most safest ways of performing aesthetic gynaecology procedures. The labiaplasty surgery performed today is very different to that performed even 20 years ago which is why it is so important for Dr Dimitriadi to keep abreast of changes in the field. Despite everything being done to make sure procedures run smoothly, there is always a small chance of complications occurring. Patients should always start by making sure they choose a skilled surgeon such as Dr Dimitriadi to ensure they get the results which fit with their treatment goals. It is also very important to comply with all the postoperative aftercare instructions and restrictions on activity which are vital to ensure speedy healing. During your consultation with Dr Dimitriadi, the potential risks and complications that can occur with labiaplasty will be discussed.
Risks of labiaplasty surgery:
Anaesthetic risks
Bleeding
Infection
Scarring
Nerve damage or loss of sensation in the operated area
Painful intercourse
Dryness of the vaginal area
Requirement for a revision procedure
Amazing!! I had a labiaplasty done recently and could not fault the practice on anything. The results themselves and the experience I had with the team has been incredible.
Labiaplasty cost
There are a number of factors which will determine the overall cost of your labiaplasty procedure and the final quotation will be given after your face to face consultation with Dr Dimitriadi. Dr Dimitriadi can I advise you on what the procedure involves and what can be achieved from the lab your surgery procedure. Many women choose to have a labia surgery combined with a vaginal tightening procedure for a comprehensive vaginal rejuvenation. The cost would be higher for a combined labiaplasty and vaginoplasty procedure.
Labia minora reduction alone or combined labia minora reduction + labia majora reduction
Anaesthesia cost – local anaesthetic or general anaesthetic
Any previous surgery to the area
What is included in my labiaplasty treatment package?
As many preoperative consultations with your surgeon as you like to make sure the labia reduction procedure is right for you
Treatment at a specialist day surgery facility recently rated 'Good' by the CQC
Enhanced same day discharge with the added benefits of recovering in your own home
24/7 clinical support from your surgeon for first 48 hours and our expert postoperative support team
Your very own dedicated patient coordinator
In-depth preoperative medical assessment to make sure you are fully fit for your procedure
Exceptionally high standards of postoperative care described as 'outstanding' by the CQC with regular telephone and face to face checks
Spread the cost of your labia reduction procedure
Centre for Surgery are fully approved to offer finance for labiaplasty via our specialist finance partner, Chrysalis Finance. You no longer need to use your savings to pay for your treatment – you can apply to spread the cost of your procedure with Chrysalis Finance using their simple 1,2,3 application to pay for your procedure. Don't wait until you have enough money for your treatment, apply today and (subject to status) pay for your procedure easily in monthly instalments, using one of their payment options. Chrysalis Finance is the only ethical provider who focus solely in the provision of specialist financing for medical procedures. Speak to one of our patient coordinators today to learn more about finance for your labiaplasty procedure.
Fotona SMOOTH® laser treatment
Centre for Surgery are one of the few providers in the UK to specialise in non-surgical laser gynaecology treatments for gynaecological concerns. Fotona SMOOTH® laser treatments offer gentle solutions to vaginal problems such as involuntary leakage during coughing and sports activities, loss of vaginal firmness and vaginal dryness and irritation. They are based on a specially engineered, patented laser mode using the award winning SP Dynamis laser that works by delivering gentle heat pulses to the vagina, strengthening and improving the tissue quality through the production of new collagen and elastin.
IntimaLase – vaginal tightening treatment
IncontiLase – stress urinary incontinence treatment
ProlapLase – pelvic organ prolapse treatment
RenovaLase – treatment for genitourinary syndrome of menopause / vaginal atrophy
Fotona SMOOTH® treatments are non-invasive, gentle, painless and quick ambulatory procedures that can also help patients that suffer from more than one type of problem.
[baslider name="Labiaplasty"]
What To Expect
The labiaplasty consultation
Your patient coordinator will book an appointment for you to meet with one of our specialist surgeons for labiaplasty. Your surgeon will discuss with you all aspects of the labiaplasty procedure and will you will be able to discuss your goals for treatment. The surgeon will be able to explain the benefits of the labiaplasty procedure as well as any procedure limitations in terms of achieving a particular result. The surgeon will undertake a full physical examination to assess the labia region in detail. A treatment plan will be formulated after taking into the size and shape of your labia, and if you were experiencing functional symptoms such as discomfort. Your surgeon will also discuss with you all the potential risks, complications and possible side effects and what to expect during the recovery and healing phase. Any history of previous medical conditions will be noted and this includes previous medical procedures, medicines you are taking and any allergies you may have. This information will be used to determine your fitness for the labiaplasty procedure. If your surgeons decides you are an appropriate candidate for the labiaplasty procedure, then you have the choice of moving ahead with the procedure after a nationally recommended two week 'cool-off' period. You should use this time to explore at your own pace, all the possible treatment options including the option of no further treatment. We can arrange for you to see you surgeon for as many follow-up consultations as you like to make sure you are able to make a fully informed decision on potential labiaplasty surgery. We offer a chaperone service for all examinations involving assessment of an intimate area. If you prefer, you may wish to bring a family member or friend to your consultation.
Before your procedure
After considering the treatment options and you have decided to have a procedure, you will be thoroughly prepared for your day of your procedure. Our surgeons recommend for those that smoke, the stopping of smoking for at least 4 weeks prior as studies have shown a higher risk of abnormalities with wound healing including delayed wound healing and breakdown and surgical site infection. At one week before your procedure, you should stop all medicines containing aspirin as these interfere with blood clotting. You should also follow the preoperative fasting guidelines of no food for 6 hours prior and water only can be drunk up to 2 hours prior to the procedure.
The day of your labiaplasty procedure
Our team request that you arrive approximately one hour prior to your labiaplasty procedure start time. Our nursing team will formally admit you first and perform a series a confirmatory checks. Your vital signs will be measured including your blood pressure and you will then meet with your anaesthetist who will perform a final check of your fitness for labia surgery by assessing your medical notes and performing a physical examination. Finally you will meet with your surgeon who will perform preoperative marking of the labia areas to be treated and you will be asked to sign your consent which your surgeon will countersign also once you are fully happy with the proposed treatment plan. The labiaplasty procedure takes approximately 1-2 hours and is performed under TIVA general anaesthesia or local anaesthesia. The labia are first injected with local anaesthetic before the surgeon then surgically reshapes the labia to the desired end result. 2 commonly used labia reduction techniques include the trim excision technique or the wedge excision technique. The labia edges are closed with dissolvable sutures. After the labiaplasty procedure is finished, you will then recover from the effects of the TIVA anaesthetic. Our nursing team will carefully assess your fitness for discharge and once you are safe to discharged, you will need to have a responsible adult to accompany you home and to look after you for the first 24 hours after your labiaplasty procedure.
After your procedure
Once you are safely at home, you can be assured in having access to our specialist postoperative team round the clock. You will be given a contact number to contact your surgeon in the first 24 hours after labiaplasty surgery if there is any concern. Our postoperative team will look to call everyday for the first 2 weeks after your procedure. This is so we can monitor your levels of comfort and can alert your surgeon if there is any concern. Our proactive approach allows the detection of any potential issues early which results in more effective treatment. You are advised to rest for at least a few days after your labiaplasty procedure which will also help with pain control. Heavy exercise should be avoided for at least the first 4 weeks. Sexual intercourse should avoided for a full 6 weeks. Our postoperative clinical team will assess you face to face at your 1 week postoperative appointment to ensure healing is progressing normally and the wounds site are healthy. You will be booked for your surgeon follow-up appointment for 6 weeks after your labiaplasty procedure.