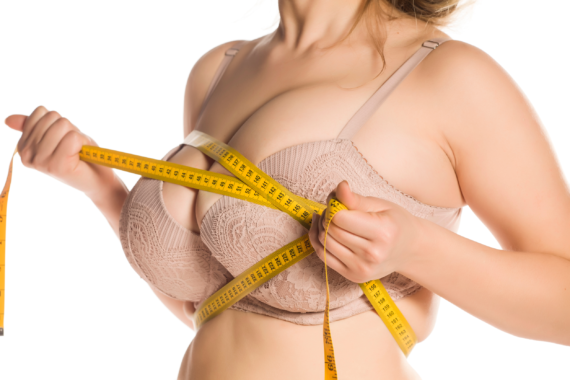 Compared with other types of breast surgery, breast reduction surgery will involve a certain degree of scarring. There are several different types of breast reduction, and the amount of scarring will differ based on the technique chosen. How big the breasts are will also determine the type of breast reduction technique, with very large breast reductions often requiring more substantial incisions and, therefore, a greater degree of scarring. The appearance of scars can also be influenced by skin colour, with dark-skinned patients being slightly more prone to developing hypertrophic and keloid scars.
What is breast reduction?
Breast reduction is also known as reduction mammoplasty and is designed for women with large and pendulous breasts. The surgery involves the targeted removal of fat glandular tissue and overlying skin from the breasts, which helps to make them appear smaller as well as both lighter and firmer in consistency. Breast reduction surgery also helps to decrease the size of the areola, which is the darker surrounding area of skin around the nipple. The aim of breast reduction surgery is to give a woman smaller and better-shaped breasts that are in harmony with the rest of her body.
Breast reduction surgery is one of the most commonly performed cosmetic procedures in the UK, with roughly 15% of all cosmetic surgery being a breast reduction procedure. Some of our surgeons are fully trained in the use of computer 3D imaging to help you visualise how you could look after your breast reduction procedure. The images generated should be seen as an approximate guide of the potential appearance and not a guarantee of the final result. Enquire with one of our coordinators to determine if 3D computer imaging is available for your procedure.
Our London breast reduction surgery services are a way to ensure you appear more in proportion and have smaller, lighter breasts.
What are the most common breast reduction scars?
The amount of scarring after a breast reduction procedure will depend on the type of breast reduction carried out and the size of the breasts to be reduced. Women who have very large and heavy breasts may require more extensive surgery to reduce the size of the breasts effectively.
Most breast reduction scars will involve an incision being made around the Ariola, which extends vertically downwards to the inferior breast crease with a horizontal component extending in either direction across the lower breast crease. This type of breast reduction is known as an 'inverted T' breast reduction or an 'anchor' breast reduction. Modern techniques of breast reduction surgery now allow surgeons to avoid performing the horizontal incision along the inferior breast crease, and this is known as a vertical scar or 'lollipop' reduction. Vertical scar breast reduction is not suitable for every patient, especially patients who have very large breasts and will often require the inverted T reduction.
Breast reduction can also be carried out using liposuction, and which is known as liposuction breast reduction. This method of breast reduction is a minimally invasive technique which does not involve the traditional scars of breast reduction and is particularly suitable for older women who are not keen or may not be medically fit enough for a surgical breast reduction. Our patients are fortunate to have access to expert breast surgeons who perform the full range of breast reduction techniques, including the lollipop lift, the anchor lift and 'scarless' or scar-free breast reduction using liposuction.
Are breast reduction scars permanent?
Breast reduction scars, as with any type of scar after surgery, do not go away completely, but thanks to meticulous surgical technique, the appearance of breast reduction scars can be minimised so that they become barely noticeable over time. The key to getting the best scars after breast reduction is to follow your surgeon's post-operative instructions in full. It is essential to attend regular wound care appointments with our post-operative nurse. You may also be recommended to apply silicone gel sheets to the incisions after four weeks to optimise the appearance of breast reduction scars.
You should avoid exposing your incisions to direct sunlight in the breast reduction recovery period and avoid traumatising the area with excessive rubbing or scratching.
Breast reduction before and after photos
How long does it take for breast reduction scars to heal?
All surgical incisions result in the formation of a scar. The appearance of the scar often looks thickened and red in the first four weeks after surgery. Over time, the scar will lighten in colour and flatten, and this can take anywhere from 3 to 9 months for optimal scar remodelling. This process can be shortened by applying specialised silicone sheets directly to breast reduction scars. Patients with darker skin are at an increased risk of developing hyperpigmentation, hypertrophic scars or keloid scars.
How can I reduce scar tissue after breast reduction surgery?
It is vitally important for patients to continuously wear the post-operative support bra for the first four weeks. Your surgeon may recommend wearing it for up to 8 weeks after breast reduction surgery. The post-operative bra functions to support the breasts and facilitate the healing of the incisions. This can help to reduce scar tissue after breast reduction. Other techniques recommended to improve the scar appearance include massaging the scar to break down localised scar tissue. Centre for Surgery has specialised expertise in score management and has the full range of non-invasive and minimally invasive treatments to optimise the appearance of breast reduction scars.
If you would like to learn more about reducing scar tissue after breast reduction, please speak to one of our post-operative nurses at your wound check appointment. Standard techniques used include Morpheus8 micro-needling and laser scar revision.
Some patients may be suitable for vertical scar breast reduction surgery. This type of breast reduction involves a lollipop-type incision and results in less scarring than inverted T breast reduction. These types of scars can be better concealed under many common types of women's clothing. Vertical scar breast reduction is most suitable for women with moderate degrees of breast sagging and requires small to medium decreases in breast size. Women with very large breasts are not ideal candidates for vertical scar breast reduction and will require full breast reduction, also known as the 'inverted T' technique.
If you would like to learn more about breast reduction surgery scars and how to improve their appearance, please contact one of our post-operative nurses to book a face-to-face appointment where the full range of treatment options will be discussed with you.
Amazing from start to finish, the communication was the main thing was fully informed and looked after, on the day of my breast augmentation, the staff were fab and made me feel at ease through out the whole process. Thank you so much.
Mohammed Farid
18/11/2021
I've had such a great experience with excellent advice, care and attention and surgical treatment (gynaecomastia) - I can fully endorse the treatment I have received from Centre for Surgery with absolutely no qualms at all. Brilliant in every way - thank you all so much.
Caroline Thorpe
14/11/2021
Very pleased with my whole experience of having a procedure. Was so nervous about getting treatment and i was reassured and felt so comfortable throughout thanks to the amazing nurses. I definitely made the right decision to have breast augmentation at centre for surgery with dr erel.
Melissa Briggs
08/11/2021
So glad I went with centre for surgery, the whole process went very smoothly from the consultations down to the actual day of the procedure. I was so nervous on the day but the whole team put me at ease and I'm happy with my results as I feel a lot more comfortable wearing certain clothes now. My surgeon was Alberto Di Giuseppe who performed a breast Augmentation on me, and I would definitely recommend as he was very clear on what the outcome of the surgery would be and which size would look the best for my frame.
Couldn't be happier with Dr Tillo work,i had my breast surgery one week ago and so happy with the results so far,all the staff are extremely nice and very supportive,i would definitely recommend their services,thank so much
From start to the finish everything was perfect for tummy tuck surgery. All staff is very friendly and the aftercare has been good. The Doctor and the nurse team was fantastic. I'm so happy...result is amazing. Thank you!!!
This was overall a great experience, all the staff at Centre for Surgery were friendly and put me at ease. It is a nerve wracking thing to go through an op but the staff were so nice. Mr Ertan has got a great team around him. On the day of the operation everything went smoothly to plan, there was no delay or holdups, I had another consultation with Mr Ertan who confirmed what was going to be done and that I was still happy to proceed. I was prepped for the procedure, I met with the anaesthetist who again was really nice and put me at ease explaining his role. After the procedure I woke up with the nurse by my side making sure I was OK and checking on me, I was able to stay in the clinic until I was ready to leave and was not rushed at all. I was well looked after from the start to the point when I was discharged. Post operation I was staying at a local hotel it was so close there was no point in even getting a taxi and I was able to walk back where my partner was waiting for me. I was expecting a lot of bruising to both my eyes but there was very little if any by the time the cast came off after 7 days, I am now at the two week post operation point and it is healing well with no outwardly visible bruising or scaring. The next milestone is a checkup at the 6 week point with my surgeon. If you're thinking of having something like this done I would highly recommend getting in touch with Centre for Surgery.
The staff at Centre for Surgery were very kind and accommodating. They answered any questions I had about the procedure and were constantly checking up on me. A special thank you to Christina for all her support throughout.
I would just like to state the quality of care received from the nurses at Centre for Surgery was beyond the highest level. Sophie takes her patient care to another level beyond words. She always puts me at ease. She is there for me even at awkward hours just when I mostly needed reassurance and she is one of the most compassionate nurses I have come across and demonstrates her passion naturally for caring for others. She totally deserves recognition at its finest and thank you for always being there for me. 😍