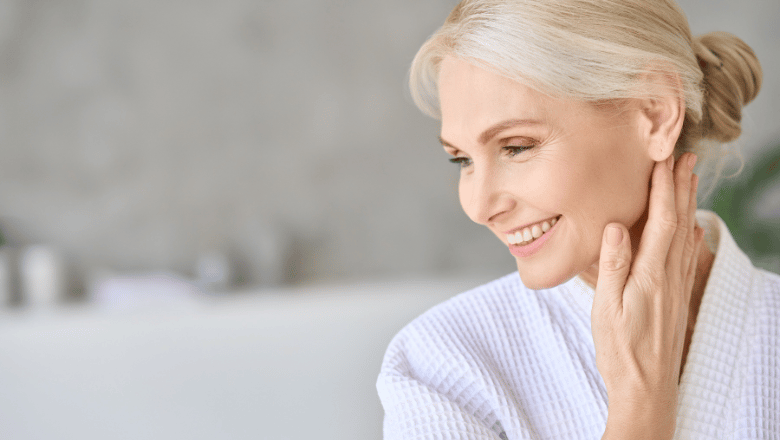 When we get older, our faces begin to lose volume and fullness with thinning of the facial features. These age-related changes can result in the development of sunken cheeks and temporal hollows. Many patients seek non-invasive treatments, including dermal fillers, to restore soft tissue volume in the face. Dermal fillers most commonly contain hyaluronic acid and are effective for treating early signs of ageing, although the treatment is temporary, with results lasting up to 12 months. Facial fat transfer, also known as fat grafting to the face, is completely natural as it involves your own fat and not any artificial substance. Liposuction is used to remove fat from the lower abdomen or inner thighs. The fact is then processed to remove impurities before being injected into targeted areas of the face. Some people may have an allergy to dermal fillers, and fat is an excellent alternative treatment for restoring soft tissue volume in the face for a more youthful appearance. Many patients ask us whether fat transfer to face results is permanent. Here we present essential information about key aspects of facial fat transfer and its benefits.
What are the benefits of facial fat transfer?
Facial fat transfer can effectively fill in sunken or hollow areas to produce a plumper-looking face that appears more youthful. The results of facial fat transfer can last for many years, provided you maintain a stable weight without losing significant amounts of weight. The fat cells are first removed from another part of the body, such as the abdomen or thighs, before being injected into the face. Once the fat has had time to settle into its new location, it will gradually integrate with the recipient tissue and maintain its volume for many years. Fat transfer can produce natural-looking results by filling in areas that may have loose skin or fat loss and is an effective alternative to invasive types of facial rejuvenation procedures such as a facelift or browlift. The procedure is minimally invasive compared with facelift surgery and the recovery period is much quicker with a lower risk of complications. The risks of facial fat transfer are considered relatively low. Dermal fillers involve the injection of hyaluronic acid-based soft tissue filler to enhance fullness and volume. Fat transfer uses your body's own fat cells to produce impressive anti-ageing effects without needing regular top-up treatments with dermal fillers.
How long does facial fat transfer last?
People often ask us whether facial fat transfer produces permanent results. The results of fat transfer to the face can last for many years, with some patients enjoying results that may last a lifetime. Fat that has been injected into the face is designed to integrate with the native tissues for long-term results. Patients often tell us how they feel much younger with a more refreshed appearance. Fat transfer results can produce more dramatic treatment effects than dermal fillers, which are designed to produce more subtle improvements and must be repeated every 12 months. Once the transferred fat cells integrate into the recipient tissues, a blood supply will be established in the area to maintain the permanency of the grafted fat cells. Although once the fat cells have integrated into the new area, it is important to bear in mind that certain factors can affect overall fat volumes, including the natural ageing process and significant weight loss, which may cause a gaunt appearance. Every fat transfer procedure involves a certain amount of fat reabsorption, meaning not all injected fat will survive the injection process. Your surgeon will account for this by injecting slightly more fat to compensate for the small amount of fat reabsorption. It can take three to six months for the final results of facial fat transfer to appear.
Fat transfer vs Dermal fillers
Non-surgical facial treatments with dermal fillers are incredibly popular at our London clinic. Juvederm and Restylane are the most common fillers used by our aesthetic practitioners. Hyaluronic acid fillers are designed to fill hollowed-out areas, enhance soft tissue volume and soften fine lines and wrinkles. Many people may not be keen on the idea of a surgical procedure and often like to start with dermal fillers to restore soft tissue volume. Dermal fillers are an affordable treatment and can last for up to 12 months. The limited duration of results means that patients could spend more in the long run in the quest to maintain their results. Facial fat transfer can last for many years. However, the procedure is considered slightly more invasive as it requires harvesting fat from another area of the body, which requires a local anaesthetic often combined with sedation. The benefits of fat transfer to the face include longer-lasting results and are considered a more affordable procedure over the long term. Deciding between dermal fillers or fat transfer will require an in-person consultation with an expert surgeon at Centre for Surgery.
RELATED: Facial Fat Transfer vs Fillers
Fat transfer vs facelift
Fat transfer can produce results that last more than ten years. Facial fat transfer cannot produce results that match those of a facelift. Facelift surgery is designed to tighten the skin by removing sagging tissue. The jawline and lower face can be tightened by repositioning the tissues higher up on the face. Well-performed facelift surgery can produce impressive anti-ageing effects, lasting up to 15 years, depending on the type of facelift. A mini facelift is one of our most popular procedures at Centre for Surgery as it is straightforward to carry out, carries minimal risks and has a quick recovery. In some cases, fat transfer may be more appropriate than a facelift if a patient's primary concern is sunken areas or hollowness affecting the cheeks or temples. Fat transfer can fill out sunken areas compared with a facelift which is designed to reduce lines and wrinkles by tightening the skin. In many cases, surgeons increasingly bring together the benefits of facelift surgery and fat transfer by combining them both in the same procedure.
Facial fat transfer recovery
During the recovery period, patients should avoid excessively touching or pressing the face for the first week to avoid damaging the transferred fat cells. Patients should make sure to sleep on their backs and keep their heads elevated to reduce swelling. Strenuous exercise, including going to the gym, should be avoided for four weeks. One week off work is recommended, and light activities are allowed. Sun exposure should be minimised with the application of sunscreen in sunny weather. Fat cells require approximately two weeks before they begin integrating with the newly injected areas of the face. Final results are usually visible by four weeks after the procedure. Many patients choose to have facial fat transfer when they find repeated dermal filler treatment inconvenient. Fat transfer is a natural filler without the risk of allergic reactions. With a simple procedure to remove fat from another area of the body and injecting into the face can help to enhance facial volume and restore usefulness.
RELATED: What does fat transfer recovery involve?
Why choose Centre for Surgery for facial fat transfer?
Centre for Surgery is the leading cosmetic surgery clinic in London and is home to some of the best facial plastic surgeons in the UK. We are known as a centre of excellence for fat transfer Surgery and commonly deploy combinations of treatments to achieve enhanced results. Facial fat transfer is commonly combined with a mini facelift for people who would like to achieve a refreshed look without the risks of a traditional full facelift.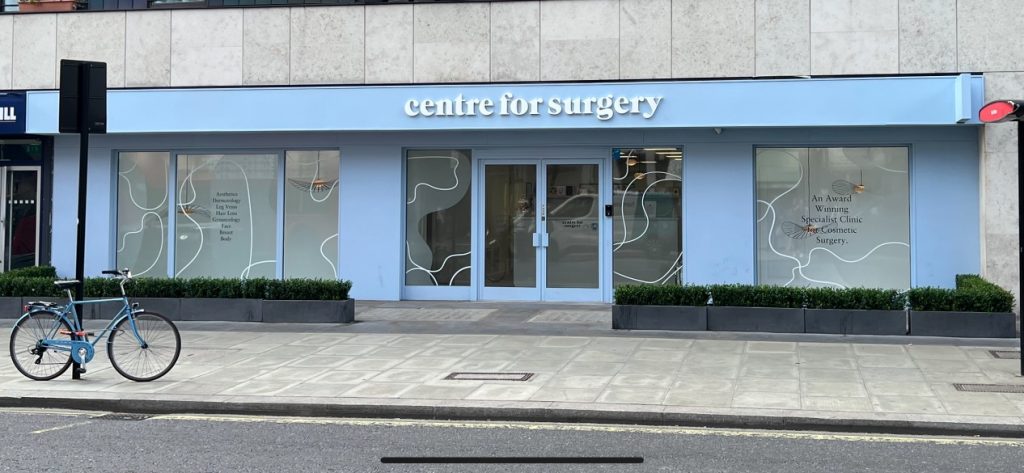 Amazing from start to finish, the communication was the main thing was fully informed and looked after, on the day of my breast augmentation, the staff were fab and made me feel at ease through out the whole process. Thank you so much.
Mohammed Farid
18/11/2021
I've had such a great experience with excellent advice, care and attention and surgical treatment (gynaecomastia) - I can fully endorse the treatment I have received from Centre for Surgery with absolutely no qualms at all. Brilliant in every way - thank you all so much.
Caroline Thorpe
14/11/2021
Very pleased with my whole experience of having a procedure. Was so nervous about getting treatment and i was reassured and felt so comfortable throughout thanks to the amazing nurses. I definitely made the right decision to have breast augmentation at centre for surgery with dr erel.
Melissa Briggs
08/11/2021
So glad I went with centre for surgery, the whole process went very smoothly from the consultations down to the actual day of the procedure. I was so nervous on the day but the whole team put me at ease and I'm happy with my results as I feel a lot more comfortable wearing certain clothes now. My surgeon was Alberto Di Giuseppe who performed a breast Augmentation on me, and I would definitely recommend as he was very clear on what the outcome of the surgery would be and which size would look the best for my frame.
Couldn't be happier with Dr Tillo work,i had my breast surgery one week ago and so happy with the results so far,all the staff are extremely nice and very supportive,i would definitely recommend their services,thank so much
From start to the finish everything was perfect for tummy tuck surgery. All staff is very friendly and the aftercare has been good. The Doctor and the nurse team was fantastic. I'm so happy...result is amazing. Thank you!!!
This was overall a great experience, all the staff at Centre for Surgery were friendly and put me at ease. It is a nerve wracking thing to go through an op but the staff were so nice. Mr Ertan has got a great team around him. On the day of the operation everything went smoothly to plan, there was no delay or holdups, I had another consultation with Mr Ertan who confirmed what was going to be done and that I was still happy to proceed. I was prepped for the procedure, I met with the anaesthetist who again was really nice and put me at ease explaining his role. After the procedure I woke up with the nurse by my side making sure I was OK and checking on me, I was able to stay in the clinic until I was ready to leave and was not rushed at all. I was well looked after from the start to the point when I was discharged. Post operation I was staying at a local hotel it was so close there was no point in even getting a taxi and I was able to walk back where my partner was waiting for me. I was expecting a lot of bruising to both my eyes but there was very little if any by the time the cast came off after 7 days, I am now at the two week post operation point and it is healing well with no outwardly visible bruising or scaring. The next milestone is a checkup at the 6 week point with my surgeon. If you're thinking of having something like this done I would highly recommend getting in touch with Centre for Surgery.
The staff at Centre for Surgery were very kind and accommodating. They answered any questions I had about the procedure and were constantly checking up on me. A special thank you to Christina for all her support throughout.
I would just like to state the quality of care received from the nurses at Centre for Surgery was beyond the highest level. Sophie takes her patient care to another level beyond words. She always puts me at ease. She is there for me even at awkward hours just when I mostly needed reassurance and she is one of the most compassionate nurses I have come across and demonstrates her passion naturally for caring for others. She totally deserves recognition at its finest and thank you for always being there for me. 😍