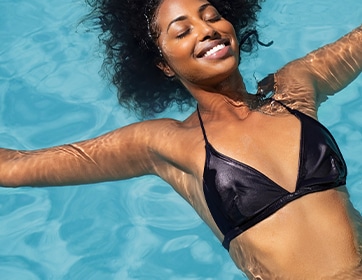 There are a huge number of non-surgical treatment options that have been used to provide skin tightening effects. The majority of these treatments have been found to achieve only modest levels of skin tightening. We continue to see excellent results from both non-surgical laser fat reduction and laser skin tightening but it is rare to have the ability to offer treatment that combines both fat reduction and skin tightening in one treatment. It is also unheard of until now to be able to offer a non-surgical treatment that can also be combined with surgical procedures to produce more significant skin tightening benefits, while at the same time having a lesser scar burden and quicker recovery.
The answer is radio frequency technology using BodyTite for both nonsurgical skin tightening and fat reduction.
Skin Tightening Benefits of FaceTite, BodyTite & AccuTite
How does BodyTite work?
BodyTite has been offered at Centre for Surgery in our 106 Crawford Street clinic since mid-2019 and all our surgeons agree that the treatment has been truly revolutionary in its ability to produce significant skin tightening without the need for more invasive surgery such as a tummy tuck or a facelift. BodyTite by Inmode utilises tried and tested radio frequency technology applied underneath the skin to target the dermis. Subdermal coagulation leads to stimulation of the production of new collagen and elastin which leads to an increase in dermal thickening and an improvement in skin quality and elasticity. It is often possible to achieve up to a 75% reduction in tissue after only one treatment of BodyTite. This has led our surgeons to describe this treatment as a 'one and done' procedure similar to surgical procedures such as liposuction due to the permanent long-term effects it creates. For patients with mild to moderate skin laxity, the results can be truly astounding and all without the need for more invasive surgery.
The real strength of this treatment lies in the fact that it can be carried out both on its own or combined as part of a surgical procedure such as a tummy tuck, arm lift or thigh lift. In many cases combining BodyTite with the surgical procedures often means that a more conservative skin removal can be carried out as converting the full surgical procedure into a mini procedure can occur. BodyTite means that we can carry out more mini tummy tucks in those women who have good muscle tone who otherwise would have had to have a full tummy tuck when BodyTite is not included in treatment.
For many patients who desire mild to moderate skin tightening and combined fat reduction in commonly affected areas such as the abdomen, thighs, back and arms then most surgeons will probably choose to do BodyTite on its own without surgical skin removal.
Liposuction combined with BodyTite
In many cases, for patients who desire more dramatic improvement or for patients who have more significant excess fat deposits then it may be better to combine BodyTite with liposuction to contour and reshape the body. Liposuction is carried out with powered cannulas and is also known as PAL lipo or Microaire. Combination treatment of liposuction with BodyTite can in many cases match the results that could only previously be obtained with more invasive excisional surgery such as an abdominoplasty.
For patients who choose to have liposuction as a treatment on its own, then there is a potential risk of residual skin laxity when the heart is surgically removed and is a common issue in those who already have pre-existing skin laxity or in older patients where there is often a natural reduction in skin elasticity with age.  The best treatment, in this case, would be to combine BodyTite to remove excess fat and tighten the skin at the same time to contour more effectively. Of course, every patient is different and with different needs and preferences, but with expert advice from one of our surgeons, you may be an ideal candidate for BodyTite which may save you the time and hassle of having to undergo a potentially more invasive procedure.
Some patients commonly combine BodyTite with tummy tuck surgery. A tummy tuck, also known as an abdominoplasty, can beautifully contour the abdomen and flanks for patients who are looking for dramatic improvements in the shape and contour of their abdomen and can also simultaneously tighten the weekend abdominal musculature as a result of pregnancy and childbirth. In virtually all cases weakened abdominal muscles can only be effectively addressed with surgery (also known as rectus plication). However skin tightening in adjacent areas can be effectively carried out with BodyTite to enhance the results of a tummy tuck procedure.
The benefits of BodyTite do end there. BodyTite can even be combined with some of our most popular procedures such as breast augmentation when patients are keen to increase the volume in their breasts while also wanting to get rid of that annoying bra bulge which has proven resistant to diet and exercise. The beauty of BodyTite lies in its incredible versatility and is easily incorporated into an existing surgical procedure as a convenient add-on to enhance results with minimal extra risk. For patients looking for that extra special result, then BodyTite could be the ideal minimally invasive solution.
What does BodyTite involve?
BodyTite is a procedure that lends itself well to being carried out under local anaesthetic as an outpatient. However, for treatment of larger areas or when combined with other procedures that it may be better to have the treatment carried out under a general anaesthetic or IV sedation. Once the local anaesthetic has been injected into the area requiring treatment then tiny incisions will be made through the skin through which the BodyTite probe will be inserted to apply radio-frequency energy.
The design of the BodyTite cannula is unique in that it has two probes. The thinner end is the one that is inserted under the skin with the larger probe sitting on top of the skin. The application of radio-frequency energy between the two probes generates controlled thermal energy which leads to liquefying of fat cells while also leading to 'subdermal coagulation'. This tissue affect results in the production of collagen and elastin leading to skin contraction and skin tightening. The amount of energy applied to the tissues will depend on the amount of pre-existing skin laxity. Those with more significant skin laxity may require higher energy settings for more effective tissue tightening.
The BodyTite procedure takes on average between one to 3 hours depending on the number of areas of the body being treated. The treatment duration will be longer when BodyTite is combined with a tummy tuck or facelift.
What BodyTite recovery like?
When compared with more invasive treatments such as liposuction or abdominoplasty, the downtime with BodyTite is much less, although this will depend on whether BodyTite was carried out as a standalone procedure or if combined with surgical skin excision.
When BodyTite is carried out as a single treatment then it is normal to expect between 3 to 5 days of downtime. It is common to have some mild discomfort in the treatment area with associated bruising and swelling. The area may feel a little tender to touch and there may be some associated temporary numbness which will improve with time. Most patients can start gradual exercise after about one to 2 weeks following the procedure however it is important to avoid strenuous exercise for up to 6 weeks following the procedure. The post-operative instructions will vary depending on your occupation and general activity levels so the information may differ slightly from patient to patient. In all cases, it is very important to follow all of your surgeon's post-operative instructions to get the very best results after the BodyTite procedure.
Combination treatment of surgical skin excision with BodyTite will result in a longer period of downtime of up to 7 days which patients will have to take into account when planning time off work.
When can I expect to see BodyTite results?
The appearance of the final results after BodyTite treatment will often depend on whether you had BodyTite as a standalone procedure or whether it was combined with a surgical procedure such as a tummy tuck. For patients who had BodyTite combined with liposuction or tummy tuck surgery then although results will be seen straight away, it will take a longer period of time to see your final results because of prolonged bruising and swelling. The good news is that the results will continue to improve in the 3 to 4 months following the surgery as initial swelling settles down and the body's healing process kicks in.
The skin tightening benefits of BodyTite evolve and improve with time as the underline collagen remodels. It is not uncommon to see results continue to improve up to 3 to 6 months following treatment with BodyTite as the skin contracts and tightens.
Are BodyTite results permanent?
The results of treatment with BodyTite should be seen as a long-term solution and in many cases may be permanent if patients continue to maintain a healthy lifestyle such as eating sensibly and exercising regularly. However, everyone will continue to age and ageing does lead to a gradual increase in skin laxity over time but this worsening of skin laxity will be much less than for patients who had no treatment at all.
Amazing from start to finish, the communication was the main thing was fully informed and looked after, on the day of my breast augmentation, the staff were fab and made me feel at ease through out the whole process. Thank you so much.
Mohammed Farid
18/11/2021
I've had such a great experience with excellent advice, care and attention and surgical treatment (gynaecomastia) - I can fully endorse the treatment I have received from Centre for Surgery with absolutely no qualms at all. Brilliant in every way - thank you all so much.
Caroline Thorpe
14/11/2021
Very pleased with my whole experience of having a procedure. Was so nervous about getting treatment and i was reassured and felt so comfortable throughout thanks to the amazing nurses. I definitely made the right decision to have breast augmentation at centre for surgery with dr erel.
Melissa Briggs
08/11/2021
So glad I went with centre for surgery, the whole process went very smoothly from the consultations down to the actual day of the procedure. I was so nervous on the day but the whole team put me at ease and I'm happy with my results as I feel a lot more comfortable wearing certain clothes now. My surgeon was Alberto Di Giuseppe who performed a breast Augmentation on me, and I would definitely recommend as he was very clear on what the outcome of the surgery would be and which size would look the best for my frame.
Couldn't be happier with Dr Tillo work,i had my breast surgery one week ago and so happy with the results so far,all the staff are extremely nice and very supportive,i would definitely recommend their services,thank so much
From start to the finish everything was perfect for tummy tuck surgery. All staff is very friendly and the aftercare has been good. The Doctor and the nurse team was fantastic. I'm so happy...result is amazing. Thank you!!!
This was overall a great experience, all the staff at Centre for Surgery were friendly and put me at ease. It is a nerve wracking thing to go through an op but the staff were so nice. Mr Ertan has got a great team around him. On the day of the operation everything went smoothly to plan, there was no delay or holdups, I had another consultation with Mr Ertan who confirmed what was going to be done and that I was still happy to proceed. I was prepped for the procedure, I met with the anaesthetist who again was really nice and put me at ease explaining his role. After the procedure I woke up with the nurse by my side making sure I was OK and checking on me, I was able to stay in the clinic until I was ready to leave and was not rushed at all. I was well looked after from the start to the point when I was discharged. Post operation I was staying at a local hotel it was so close there was no point in even getting a taxi and I was able to walk back where my partner was waiting for me. I was expecting a lot of bruising to both my eyes but there was very little if any by the time the cast came off after 7 days, I am now at the two week post operation point and it is healing well with no outwardly visible bruising or scaring. The next milestone is a checkup at the 6 week point with my surgeon. If you're thinking of having something like this done I would highly recommend getting in touch with Centre for Surgery.
The staff at Centre for Surgery were very kind and accommodating. They answered any questions I had about the procedure and were constantly checking up on me. A special thank you to Christina for all her support throughout.
I would just like to state the quality of care received from the nurses at Centre for Surgery was beyond the highest level. Sophie takes her patient care to another level beyond words. She always puts me at ease. She is there for me even at awkward hours just when I mostly needed reassurance and she is one of the most compassionate nurses I have come across and demonstrates her passion naturally for caring for others. She totally deserves recognition at its finest and thank you for always being there for me. 😍