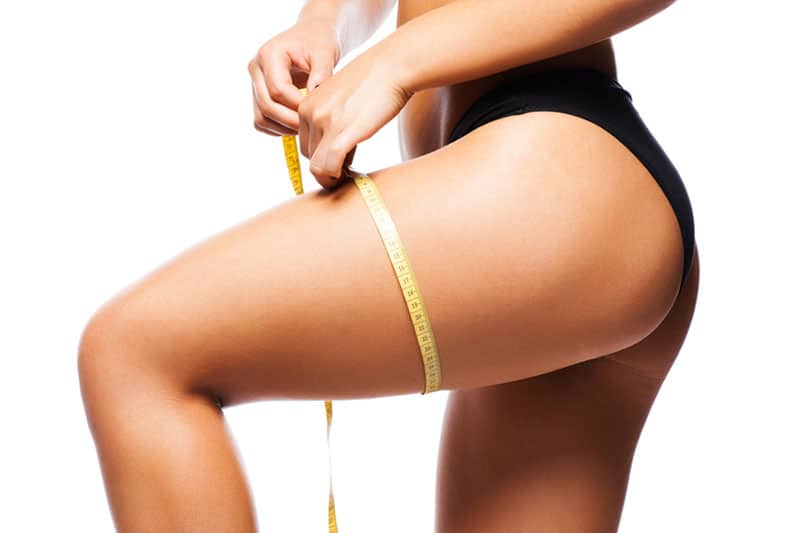 Thigh lift or thigh reduction is a highly effective procedure to tighten loose skin on the face and can be carried out for several reasons. Many people may find they are genetically predisposed to developing saggy skin on the thighs which can be a significant cause for concern. People who have lost significant amounts of weight often develop loose skin in many parts of the body and the thighs are a common area for excess skin to develop after weight loss. The natural ageing process affects us all and results in a loss of collagen and elastin over time. This causes the skin to lose its inherent firmness and often results in skin that looks saggy and at times flabby. Whatever the underlying cause of excess sagging skin, a surgical thigh lift is a highly effective procedure of thigh reduction to achieve firmer, smoother and tighter-looking thighs. Many people will take certain factors into account when planning for a surgical thigh reduction procedure and the issue of thigh lift cost UK becomes an important consideration. Getting rid of thigh fat is something which many patients often enquire about when contacting Centre for Surgery in London.
The prospect of achieving tighter-looking thighs means many patients will be pleased to rid themselves of sagging skin and this is where thigh fat removal surgery cost is often sought from our patient coordinators. The impact of having sagging skin often results in the avoidance of certain styles of clothing such as short skirts, shorts or beachwear.  For many, the impact on self-confidence can be enormous which leads many people to cover up their size even in hot weather. The potentially life-changing results achievable from thigh lift surgery means patients can have the freedom to express their sense of style with an unrestricted choice of clothing with a significant improvement in emotional well-being. An improvement in the appearance of the thighs makes a substantial difference to how people feel about themselves.
How much does a thigh lift cost in the UK?
Leg lift surgery cost UK is determined by a number of key factors including the skills and expertise of the surgeon chosen as well as the reputation of the clinic where the surgery will take place. Centre for Surgery is a specialist cosmetic surgery clinic with years of experience in carrying out all types of thigh lift surgery including mini thigh lifts. The cost of thigh lift surgery generally starts from £6500 depending on the amount of skin removal required and whether the procedure is combined with liposuction. We are fortunate to offer the full range of cosmetic surgery finance options from Chrysalis Finance with loan terms to suit everyone's needs and preferences. If you would like to learn more about finance for thigh lift surgery, please get in touch with us today to undergo a quick online assessment to determine your eligibility for affordable cosmetic surgery finance. We are committed to providing our specialist expertise to as many people as possible as our practice philosophy is to focus on achieving the best surgical outcomes. Getting the best thigh lift results is something our surgeons strive to achieve for each and every patient they see.
It is not uncommon to see many clinics particularly overseas in Turkey promote a lower thigh lift cost UK although it is important to bear in mind what level of care you will be receiving. For such cheap prices advertised elsewhere, inevitably certain aspects of your care will be compromised. The surgeon may not have the skills to carry out the thigh reduction surgery to a high standard or the clinic may lack specialist accreditations. With such potential for a poor standard of care, many patients may need to have corrective surgery performed elsewhere to address the substandard results. Common examples of botched surgery after a thigh lift include legs that lack symmetry or an excessive degree of scarring. In some cases, there has been such an extensive loss of skin that reconstructive surgery will be required to perform skin grafting or skin flaps to restore an acceptable appearance to the thighs.
Thigh fat removal surgery cost in London
Thigh fat removal surgery cost is commonly enquired about by many patients when deciding on their choice of cosmetic surgeon and clinic. Whilst thigh lift cost is important to consider, we recommend it should not be the only factor you base your decision on. You should also consider the qualifications and experience of the surgeon as well as the profile of the clinic. London thigh lift prices tend to be slightly higher than the rest of the UK due to the higher cost of living in the capital. The emotional strain from living with fat thighs that have a severe amount of skin sagging is often enough for patients to take that first step to explore the full range of surgical options to achieve slimmer-looking thighs. Patients often tell us the boost in self-confidence achieved from thigh lift surgery often leads them to wonder why they did not have the surgery earlier.
Although the price of thigh lift surgery may appear expensive it is important to take a holistic view as to what is included as part of the procedure. This includes your preoperative and postoperative care. The thigh lift procedure takes approximately 2 to 3 hours to perform and involves a general anaesthetic for your complete comfort. The incision for a thigh lift is made in the groin and extends down the inner thigh in a boomerang shape often as far as the knee. Any excess skin is surgically removed before the skin is carefully closed to result in the least possible amount of scarring. Your surgeon will also take care to position the incisions so that they are on the inside of the leg which makes them less visible to others. We are renowned for our proactive post-operative nursing care support with our specialist nurses available 24/7 to answer any questions or concerns you may have. You will be reviewed regularly in the 2 weeks after your procedure for regular wound checks as well as being available to see you at any time if you are concerned about your thigh lift healing. Once you are fully healed at approximately four weeks, our nurses may suggest optimum scar management strategies to improve the appearance of your thigh lift scars.
Why inner thigh lift surgery costs more compared with outer thigh lift costs?
Inner thigh lift surgery cost UK generally costs more than an outer thigh lift due to the larger amount of excess skin removal needed in the inner thigh area. An outer thigh lift is commonly combined with buttock lift surgery but may also be carried out on its own. When people refer to a thigh lift, they are most commonly describing the loose inner thigh skin which would require an inner thigh lift. The incision for inner thigh lift surgery extends from the groin down the inside of the thigh as far as the knee. A mini thigh lift involves a small incision located in the groin region only to tighten upper thigh skin. An outer thigh lift is designed to remove excess skin from the outer parts of the thighs.
Inner thigh lift surgery is commonly combined with liposuction and this may increase the price of the surgery. Thigh liposuction is designed to get rid of excess thigh fat with the removal of stubborn areas of fat that have proven resistant to diet and exercise.
How much is thigh liposuction?
The consultation with an expert surgeon is the ideal place to determine your suitability for thigh lift surgery. If you are concerned about the appearance of fat thighs, your surgeon may recommend liposuction combined with a thigh lift to both get rid of fat thighs and tighten the skin resulting in more toned and firmer-looking thighs. Thigh liposuction UK is an extra cost that will have to be factored in when planning for your thigh lift procedure.
Thigh liposuction cost starts from £3500 for one area of liposuction such as the inner thighs. Our surgeons specialise in combining liposuction with a thigh lift to achieve slimmer-looking thighs. Targeting the removal of excess skin and fat means patients can look forward to better-shaped legs that may have a thigh gap. Combining liposuction with excess skin removal produces the best thigh lift results. If you are keen to explore the potential advantages of having thigh lift surgery, please get in touch today and speak to one of our experienced patient coordinators to book a face-to-face consultation with an expert thigh lift surgeon in London.
Why choose Centre for Surgery for thigh lift?
Centre for Surgery is a specialist cosmetic surgery clinic in London. We are home to some of the top cosmetic and plastic surgeons in the UK. We are one of the few providers to own and operate our own specialist day case facility located in Marylebone in the heart of central London. We carry out hundreds of body contouring procedures each year with expertise across both liposuction and excess skin removal.
Amazing from start to finish, the communication was the main thing was fully informed and looked after, on the day of my breast augmentation, the staff were fab and made me feel at ease through out the whole process. Thank you so much.
Mohammed Farid
18/11/2021
I've had such a great experience with excellent advice, care and attention and surgical treatment (gynaecomastia) - I can fully endorse the treatment I have received from Centre for Surgery with absolutely no qualms at all. Brilliant in every way - thank you all so much.
Caroline Thorpe
14/11/2021
Very pleased with my whole experience of having a procedure. Was so nervous about getting treatment and i was reassured and felt so comfortable throughout thanks to the amazing nurses. I definitely made the right decision to have breast augmentation at centre for surgery with dr erel.
Melissa Briggs
08/11/2021
So glad I went with centre for surgery, the whole process went very smoothly from the consultations down to the actual day of the procedure. I was so nervous on the day but the whole team put me at ease and I'm happy with my results as I feel a lot more comfortable wearing certain clothes now. My surgeon was Alberto Di Giuseppe who performed a breast Augmentation on me, and I would definitely recommend as he was very clear on what the outcome of the surgery would be and which size would look the best for my frame.
Couldn't be happier with Dr Tillo work,i had my breast surgery one week ago and so happy with the results so far,all the staff are extremely nice and very supportive,i would definitely recommend their services,thank so much
From start to the finish everything was perfect for tummy tuck surgery. All staff is very friendly and the aftercare has been good. The Doctor and the nurse team was fantastic. I'm so happy...result is amazing. Thank you!!!
This was overall a great experience, all the staff at Centre for Surgery were friendly and put me at ease. It is a nerve wracking thing to go through an op but the staff were so nice. Mr Ertan has got a great team around him. On the day of the operation everything went smoothly to plan, there was no delay or holdups, I had another consultation with Mr Ertan who confirmed what was going to be done and that I was still happy to proceed. I was prepped for the procedure, I met with the anaesthetist who again was really nice and put me at ease explaining his role. After the procedure I woke up with the nurse by my side making sure I was OK and checking on me, I was able to stay in the clinic until I was ready to leave and was not rushed at all. I was well looked after from the start to the point when I was discharged. Post operation I was staying at a local hotel it was so close there was no point in even getting a taxi and I was able to walk back where my partner was waiting for me. I was expecting a lot of bruising to both my eyes but there was very little if any by the time the cast came off after 7 days, I am now at the two week post operation point and it is healing well with no outwardly visible bruising or scaring. The next milestone is a checkup at the 6 week point with my surgeon. If you're thinking of having something like this done I would highly recommend getting in touch with Centre for Surgery.
The staff at Centre for Surgery were very kind and accommodating. They answered any questions I had about the procedure and were constantly checking up on me. A special thank you to Christina for all her support throughout.
I would just like to state the quality of care received from the nurses at Centre for Surgery was beyond the highest level. Sophie takes her patient care to another level beyond words. She always puts me at ease. She is there for me even at awkward hours just when I mostly needed reassurance and she is one of the most compassionate nurses I have come across and demonstrates her passion naturally for caring for others. She totally deserves recognition at its finest and thank you for always being there for me. 😍