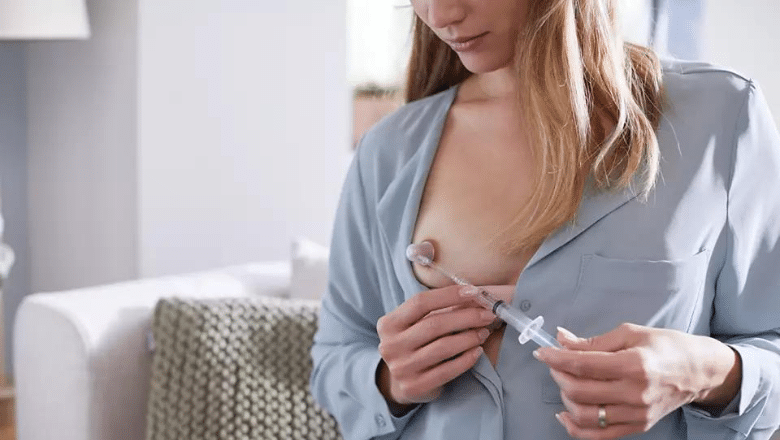 Can Niplette help your Inverted Nipples?
The Niplette is an innovative device designed by a renowned plastic surgeon to provide a simple solution for inverted nipples. The device, which operates on a suction principle, can often help correct inverted nipples without the need for surgery. Here's how it can potentially benefit you:
Non-Surgical Solution: The Niplette is a non-invasive, non-surgical solution for inverted nipples, which can be a great advantage for individuals who are reluctant to undergo surgery. It applies a gentle vacuum to gradually draw the nipple out, potentially providing a permanent solution for inverted nipples.
Ease of Use: The Niplette is easy to use at home. You simply place the device over your nipple and create suction by pulling on the syringe. You can use it during the day under your clothing or at night while you sleep.
Painless Procedure: The process is generally painless, and the device can be worn comfortably for long periods. Many users have reported positive results within a few weeks.
Affordable Option: Compared to surgical options, the Niplette is a much more affordable solution for treating inverted nipples.
Helpful for Breastfeeding: For those planning to breastfeed, it can help draw out inverted nipples making latch-on easier for your baby.
Boosts Self-Esteem: From a cosmetic standpoint, the Niplette can help to improve the appearance of inverted nipples, potentially boosting self-confidence.
What are inverted nipples?
Nipples are situated at the heart of your breasts and are linked to the glands that generate milk (your mammary glands). The areola is the coloured skin that encircles your nipples. Your nipple and areola together compose the NAC (nipple-areola complex).
The presence of short milk ducts can lead to flat or inverted nipples. If your nipples do not protrude beyond the level of your areola and instead lay flush against it, then you possess flat nipples. Conversely, if they retract inwards rather than protruding, even after stimulation, then you have inverted nipples. Around 10% of women have at least one flat or inverted nipple, so rest assured that this is not uncommon.
RELATED: The 3 Grades Of Inverted Nipples
Despite the fact that flat nipples might appear unusual, they should function in the same manner, even during breastfeeding. In certain instances, however, it could be more challenging for your baby to latch onto your breasts and breastfeed if your nipples don't jut out.
Different grades of inverted nipples
Inverted nipples are generally classified into three grades based on their appearance and the ability to protrude or maintain protrusion:
Grade 1: This is the least severe form of nipple inversion. The nipples can be easily pulled out or will become protruded in response to cold or stimulation, and they are able to maintain their projection. There is usually no significant fibrosis (connective tissue formation) or constricted milk ducts, and breastfeeding is typically unaffected.
Grade 2: In this grade, the nipples can be pulled out but will not maintain their projection and will retract or invert immediately or shortly after pressure is released. There might be some moderate fibrosis and some shortening of the milk ducts. Breastfeeding could be possible but might present more challenges than in Grade 1.
Grade 3: This is the most severe form of nipple inversion. The nipples are always inverted and cannot be pulled out manually. There is typically significant fibrosis and constricted or shortened milk ducts. The inverted nipples in this grade could affect breastfeeding significantly, and it might not be possible without intervention.
How does a Niplette work?
The Niplette is a non-surgical solution for flat or inverted nipples that works through a straightforward mechanism of action.
The device itself is a small plastic thimble-like cup that is connected to a syringe. The cup is placed over the nipple, and the syringe is used to create a vacuum and is designed to draw the nipple outwards.
It's important to note that the Niplette is a gradual treatment. It should be used consistently over several weeks or even months for lasting results. It's also crucial to speak with a healthcare provider before starting use, especially if you plan to use it while breastfeeding or are pregnant, to ensure it is safe and appropriate for your individual circumstances.
How to use Niplette
The Niplette is simple and straightforward to use. Here is a step-by-step guide on how to use the device:
Cleanliness: Always ensure the Niplette is clean before using it. You can clean it with warm water and mild soap.
Positioning: Place the small plastic cup of the Niplette over your nipple.
Creating a vacuum: Use the attached syringe to withdraw air from the cup, creating a vacuum.
Maintaining the vacuum: Once a vacuum is created, the Niplette will remain in place by itself. The suction gently pulls the nipple into the cup over time, helping to stretch the lactiferous (milk) ducts.
Duration: Wear the Niplette consistently for best results. Many people find it easiest to wear during sleep, but it can be worn whenever it's comfortable and convenient for you. If you're starting to use the Niplette, begin with shorter periods and gradually increase as you become more comfortable with the device.
Consistency: It's important to be consistent in using the Niplette. For optimal results, use the Niplette daily for several weeks or even months. The amount of time needed will vary from person to person.
Monitoring: Keep an eye on the changes in your nipples. If you experience any discomfort, discontinue use and consult your healthcare provider.
Remember, if you're pregnant, planning to become pregnant, or breastfeeding, it's important to consult with a healthcare professional before using the Niplette. The device could potentially cause changes that might affect breastfeeding, so it's best to seek professional advice.
Is using a Niplette safe?
Using a Niplette is generally considered safe for most people. The device uses a gentle suction process to gradually draw out the nipple, and it does not involve any invasive procedures or drugs.
However, like any medical device, it is important to use the Niplette properly to avoid potential issues such as irritation or discomfort. Always ensure the device is clean before use, and do not use it for longer periods than recommended without consulting a healthcare professional.
If you have any underlying health conditions, particularly related to your breasts, or if you are pregnant or breastfeeding, it's important to discuss the use of the Niplette with your healthcare provider before starting to ensure it is safe and appropriate for you.
It's also important to remember that while the Niplette can help with inverted nipples, it may not be able to fully correct severely inverted nipples or those caused by certain medical conditions. Always consult with a healthcare provider for a full evaluation and discussion of your options.
The Niplette can be effective in correcting mild to moderate nipple inversion. It works by using gentle suction to gradually draw the nipple out from the breast, thereby stretching and elongating the milk ducts over time. This helps to maintain a more 'normal' nipple projection.
However, it's important to note that the effectiveness of the Niplette can vary from person to person, and the device may not be suitable for all types of nipple inversion. It tends to be less effective for severe cases of nipple inversion or in cases where the inversion is due to scarring or tissue damage within the breast.
It's also worth noting that continuous use may be necessary to maintain the results, as nipples can revert back to their original state, especially if the device is not used as directed or if use is discontinued too soon.
Moreover, while the Niplette can aid in making breastfeeding easier by drawing out the nipples, it should not be used during pregnancy or breastfeeding without consulting a healthcare provider first.
What are the surgical options for fixing inverted nipples?
Correcting inverted nipples can greatly improve the aesthetic appearance of your breasts and can also make breastfeeding more straightforward for those who wish to do so. Various surgical options are available if non-surgical methods, like the use of a Niplette, are not successful or not suitable. Here's an overview of some of the common surgical techniques used to correct inverted nipples:
Nipple Projection Surgery: This is the most common type of inverted nipple surgery. It aims to create a more prominent nipple that projects outward from the breast. The surgeon achieves this by making a small incision around the base of the nipple. Then, the short lactiferous (milk) ducts that are pulling the nipple inward are carefully cut to allow the nipple to protrude outward. Stitches are then used to secure the nipple in its new position. It's worth noting that this procedure can potentially impact breastfeeding ability, as it involves the cutting of milk ducts.
Purse-String Suture Technique: This less invasive technique aims to correct inverted nipples without cutting the milk ducts. It involves placing a suture in a circular pattern around the base of the nipple, similar to how a drawstring works in a purse or bag (hence the name). When the suture is tightened, it pulls the nipple outward, allowing it to protrude more. The advantage of this method is that it preserves the milk ducts, thereby maintaining the potential for breastfeeding.
Dermal Filler Injections: While not a surgical procedure per se, dermal filler injections can provide a temporary solution for nipple inversion. The filler is injected into the area around the nipple to provide volume and support, which helps to push the nipple outward. This procedure has the advantage of being minimally invasive with no downtime, but the results are temporary and repeat treatments are required to maintain the outcome.
RELATED: Nipple Reshaping – Benefits Of Areola & Nipple Surgery
Are inverted nipples dangerous?
Inverted nipples themselves are not dangerous or harmful. They are a common physical characteristic and occur in a significant proportion of the population. Inverted nipples are often a congenital condition, meaning they have been present since birth. They don't usually signify any health risk and do not affect general breast function. They can, however, potentially present challenges to breastfeeding, although many individuals with inverted nipples can still breastfeed successfully.
However, if your nipples suddenly become inverted or there is a change in the appearance of your nipples, especially if it is accompanied by other symptoms such as nipple discharge, pain, or changes in the breast skin or size, this could be a sign of an underlying medical condition such as breast cancer. Therefore, it is essential to regularly self-examine your breasts for any changes and consult a healthcare professional if you notice any unusual changes in your breast tissue.
Niplette FAQs – Frequently asked questions about Niplette and Inverted Nipples
Can you still breastfeed if you have inverted nipples?
Yes, many women with inverted nipples are still able to breastfeed. Although it might be slightly more challenging for the baby to latch on, with guidance and use of some special techniques or breastfeeding aids, successful breastfeeding can be achieved.
Are inverted nipples less sensitive?
Inverted nipples may or may not have decreased sensitivity. This largely depends on the individual and the grade of the inversion. While some people may experience less nipple sensitivity due to inversion, others do not notice any significant change in sensation.
Can you correct inverted nipples without surgery?
Yes, non-surgical methods such as using a device like the Niplette, nipple shields, or breast shells can be used to correct inverted nipples. However, the effectiveness of these methods may depend on the severity of the inversion.
Can I breastfeed after having surgery to correct inverted nipples?
Breastfeeding after inverted nipple surgery depends on the surgical technique used. Some methods preserve the milk ducts, enabling breastfeeding post-surgery. However, others may involve cutting the milk ducts, which can potentially inhibit breastfeeding. Discuss your desire to breastfeed with your surgeon before the operation.
Does a niplette work permanently?
Generally, the Niplette provides permanent results for many users. However, it depends on the severity of nipple inversion and the individual's unique physiological responses. For the most effective and permanent results, it's recommended to use the Niplette consistently over several weeks or months.
How long should you wear a niplette?
For the best results, it is typically recommended to wear the Niplette for at least eight hours a day, ideally at night when you're sleeping. The duration of use might vary depending on the severity of the nipple inversion and how your body responds to the treatment.
How do you fix Grade 3 Inverted nipples?
Grade 3 inverted nipples, which are always inverted and cannot be pulled out manually, usually require surgical intervention. The surgical procedure generally involves releasing the fibrous tissues and milk ducts that are causing the nipple to invert.
Can I make my areolas smaller naturally?
Unfortunately, there are no natural or non-surgical methods to effectively reduce the size of the areolas. Any significant change in areola size usually requires a surgical procedure known as areola reduction.
What causes flat nipples?
Flat nipples are usually a natural and normal anatomical variation. They can be caused by shorter than average milk ducts which don't allow the nipple to protrude. Changes in nipple appearance can also occur due to pregnancy, breastfeeding, ageing, or significant weight changes.
Why choose Centre for Surgery?
Choosing Centre for Surgery for your cosmetic or medical procedures comes with a variety of benefits:
Experienced Surgeons: Our team of skilled surgeons have extensive training and experience in their respective fields. They remain up-to-date with the latest techniques and technologies to provide the best possible results.
Comprehensive Care: We believe in a holistic approach to healthcare, which means we not only focus on the surgical procedure but also on the pre and postoperative care to ensure a smooth and comfortable experience.
High-Quality Facilities: We offer state-of-the-art facilities equipped with advanced technology to ensure the safety and comfort of our patients.
Personalised Treatment Plans: Understanding that each patient is unique, we provide personalised treatment plans tailored to the individual needs and goals of each patient.
Transparency: We provide clear and transparent information about the procedures, including risks and benefits, to help our patients make informed decisions.
Patient Satisfaction: Our top priority is patient satisfaction. We strive to exceed patient expectations at every stage of the process, from consultation through recovery.
Safety Standards: We are committed to maintaining the highest standards of safety. Our clinical governance framework ensures rigorous monitoring of all aspects of care delivery.
By choosing Centre for Surgery, you're choosing a healthcare provider that is committed to delivering exceptional patient care. Whether you're considering cosmetic or medical surgery, we'll be with you every step of the way, making sure that your journey is as smooth and comfortable as possible.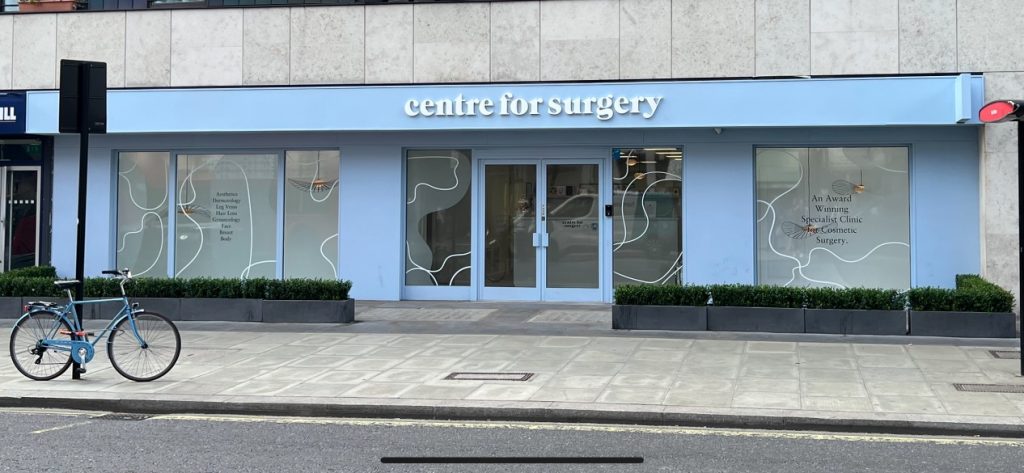 Amazing from start to finish, the communication was the main thing was fully informed and looked after, on the day of my breast augmentation, the staff were fab and made me feel at ease through out the whole process. Thank you so much.
Mohammed Farid
18/11/2021
I've had such a great experience with excellent advice, care and attention and surgical treatment (gynaecomastia) - I can fully endorse the treatment I have received from Centre for Surgery with absolutely no qualms at all. Brilliant in every way - thank you all so much.
Caroline Thorpe
14/11/2021
Very pleased with my whole experience of having a procedure. Was so nervous about getting treatment and i was reassured and felt so comfortable throughout thanks to the amazing nurses. I definitely made the right decision to have breast augmentation at centre for surgery with dr erel.
Melissa Briggs
08/11/2021
So glad I went with centre for surgery, the whole process went very smoothly from the consultations down to the actual day of the procedure. I was so nervous on the day but the whole team put me at ease and I'm happy with my results as I feel a lot more comfortable wearing certain clothes now. My surgeon was Alberto Di Giuseppe who performed a breast Augmentation on me, and I would definitely recommend as he was very clear on what the outcome of the surgery would be and which size would look the best for my frame.
Couldn't be happier with Dr Tillo work,i had my breast surgery one week ago and so happy with the results so far,all the staff are extremely nice and very supportive,i would definitely recommend their services,thank so much
From start to the finish everything was perfect for tummy tuck surgery. All staff is very friendly and the aftercare has been good. The Doctor and the nurse team was fantastic. I'm so happy...result is amazing. Thank you!!!
This was overall a great experience, all the staff at Centre for Surgery were friendly and put me at ease. It is a nerve wracking thing to go through an op but the staff were so nice. Mr Ertan has got a great team around him. On the day of the operation everything went smoothly to plan, there was no delay or holdups, I had another consultation with Mr Ertan who confirmed what was going to be done and that I was still happy to proceed. I was prepped for the procedure, I met with the anaesthetist who again was really nice and put me at ease explaining his role. After the procedure I woke up with the nurse by my side making sure I was OK and checking on me, I was able to stay in the clinic until I was ready to leave and was not rushed at all. I was well looked after from the start to the point when I was discharged. Post operation I was staying at a local hotel it was so close there was no point in even getting a taxi and I was able to walk back where my partner was waiting for me. I was expecting a lot of bruising to both my eyes but there was very little if any by the time the cast came off after 7 days, I am now at the two week post operation point and it is healing well with no outwardly visible bruising or scaring. The next milestone is a checkup at the 6 week point with my surgeon. If you're thinking of having something like this done I would highly recommend getting in touch with Centre for Surgery.
The staff at Centre for Surgery were very kind and accommodating. They answered any questions I had about the procedure and were constantly checking up on me. A special thank you to Christina for all her support throughout.
I would just like to state the quality of care received from the nurses at Centre for Surgery was beyond the highest level. Sophie takes her patient care to another level beyond words. She always puts me at ease. She is there for me even at awkward hours just when I mostly needed reassurance and she is one of the most compassionate nurses I have come across and demonstrates her passion naturally for caring for others. She totally deserves recognition at its finest and thank you for always being there for me. 😍