The tummy tuck or abdominoplasty is a transformative procedure that can deliver amazing results, but it is also one of the most extensive procedures carried out in the UK with a long recovery time. It removes excess skin and fat around the abdomen, tightens the skin, and repairs and tightens the muscles of the abdominal wall. A tummy tuck is commonly combined with liposuction to sculpt and contour the abdomen. Centre for Surgery is considered the leading plastic surgery clinic in London for tummy tuck surgery. Our expert plastic surgeons regularly perform abdominoplasty surgery
RELATED: Recovery after Tummy Tuck – Top Tips after Abdominoplasty
One of the most important aspects of tummy tuck recovery is learning how to walk and carry yourself after the procedure. Here are some tips to help you walk safely and comfortably after your tummy tuck surgery.
Top Tips for Walking After a Tummy Tuck
Walking after a tummy tuck surgery can be challenging due to the changes that the body has undergone. The muscles and skin of the abdomen have been tightened, excess skin has been removed, and the body has been contoured to a new shape. As a result, patients will need to modify their gait and posture for a period of time following the procedure.
Here are some tips on how to walk after a tummy tuck surgery:
Take it Slow
After a tummy tuck surgery, it is important to take it slow and ease into walking gradually. Patients should avoid rushing and take their time with each step. Walk slowly and carefully, taking small steps at first.
Walk with a Slight Hunch
Patients will need to walk with a slight hunch or slouching after their tummy tuck surgery. This is because the body needs time to adjust after the skin tightening and muscle tightening that the body underwent. Patients should not stand completely upright until their body has fully recovered.
Keep the Hips Bent
Patients should also keep their hips bent slightly while walking. This will help to reduce tension and strain on the abdominal muscles and prevent any discomfort or pain. The hips should be bent at an angle of about 30 degrees.
Use a Supportive Garment
After a tummy tuck surgery, patients will need to wear a supportive garment to help with the healing process. This garment will help to reduce swelling, provide support to the abdomen, and promote proper healing. Patients should wear the garment as directed by their surgeon, including during walking and other activities.
Take Breaks
It is important to take frequent breaks during walking to avoid overexertion. Patients should listen to their bodies and stop and rest as needed. Walking should be done in short, frequent sessions rather than long, continuous periods.
Avoid Strenuous Activity
Patients should avoid any strenuous activity, such as heavy lifting or exercise, for at least 6-8 weeks after their tummy tuck surgery. These activities can cause strain on the abdominal muscles and slow down the healing process. Patients should consult with their surgeon regarding when it is safe to resume normal activities.
RELATED: Exercise after Tummy Tuck – top tips
Follow Postoperative Instructions
Patients should follow their surgeon's post-operative instructions carefully, including any recommendations for walking or physical activity. This may include specific exercises or stretches to promote healing and reduce discomfort.
Report Any Concerns to your surgeon
If any concerns or issues arise during the walking process, patients should report them to their surgeon immediately. This may include symptoms such as excessive pain, swelling, or bleeding. Our clinical support team at Centre for Surgery are available to answer any questions or concerns you may have during recovery after tummy tuck surgery.
Abdominal tightness after tummy tuck
Abdominal tightness is a common side effect following a tummy tuck surgery. This occurs as a result of the muscles being tightened, and the skin is pulled taut. The abdominal area will feel tight, especially in the first few days after surgery.
The sensation of tightness can be compared to the feeling of wearing a tight corset. The pressure is often felt across the entire abdomen, from the upper abdomen down to the pubic area. Some patients may also experience a burning sensation or mild discomfort.
It is important to note that abdominal tightness is normal and is a sign that the healing process is progressing as expected. The tightness is a temporary side effect and will subside over time as the body heals. Most patients experience relief from abdominal tightness after two to four weeks, but it can take up to six weeks for some.
To manage abdominal tightness, patients are advised to take it easy and avoid strenuous activity during the initial recovery period. Walking with a slight hunch and avoiding overextending or standing upright too quickly can help relieve the pressure and discomfort.
Pain medications may be prescribed to manage any discomfort associated with the tightness. Over-the-counter pain relief medication, such as acetaminophen or ibuprofen, may also be recommended. Patients should avoid aspirin or any medications that can thin the blood, as this can increase the risk of bleeding.
Applying a cold compress to the affected area can also help to reduce swelling and provide relief. Patients should avoid applying heat to the area, as this can increase swelling.
Feeling tired and lightheaded after tummy tuck
Feeling tired and lightheaded after a tummy tuck surgery is a common side effect that many patients experience. This is often a result of the anaesthesia and medications used during the surgery, as well as the physical changes that the body has undergone.
During a tummy tuck surgery, patients are placed under general anaesthesia, which can cause feelings of fatigue and grogginess for several days following the procedure. Pain medication may also be prescribed, which can cause drowsiness and contribute to feelings of fatigue.
In addition to the effects of anaesthesia and medication, the body has undergone significant physical changes during a tummy tuck surgery. The abdominal muscles have been tightened, excess skin has been removed, and the body has been contoured to a new shape. This process can be physically exhausting, and the body needs time to adjust and recover.
The combination of these factors can leave patients feeling tired and lightheaded in the days and weeks following a tummy tuck surgery. It is important to take it easy during this time and listen to your body's signals.
Patients are advised to avoid strenuous activity and get plenty of rest during the initial recovery period. Walking should be done slowly and with care to avoid dizziness or fainting. Patients should also take care when getting out of bed, sitting up, and standing up, as these movements can cause dizziness.
Staying hydrated and eating a healthy, balanced diet can also help to alleviate feelings of fatigue and lightheadedness. Drinking plenty of water can help to flush out any remaining anaesthesia or medications from the body and keep the body functioning at its best. Eating a diet rich in protein and nutrients can provide the body with the energy it needs to heal and recover.
While feeling tired and lightheaded after a tummy tuck surgery is normal, patients should be alert for any signs of complications, such as excessive bleeding, fever, or severe pain. If any of these symptoms occur, it is important to seek medical attention immediately.
Learn more about how to walk safely after tummy tuck surgery
Experiencing significant back soreness is a common occurrence after being hunched over for an extended period following a tummy tuck surgery. However, it's crucial to remember that this discomfort is only temporary and does not indicate any complications. It's also important to avoid overextending the back. Walking with a hunched or slouched posture only requires a small bend at the hips, not a full 90-degree angle. This slight bend will provide more comfort and alleviate some of the pressure on the back.
Centre for Surgery in London is a specialist plastic surgery clinic, and we are home to you some of the most experienced cosmetic surgeons in the UK. Our state-of-the-art Baker Street clinic is a specialist surgical facility for all types of tummy tuck and abdominoplasty surgery. Using gentle yet advanced techniques to minimise recovery and ensure you get the best possible results. Call us today at 020 7993 4849, or complete the contact form below to schedule a face-to-face consultation with a tummy tuck surgeon.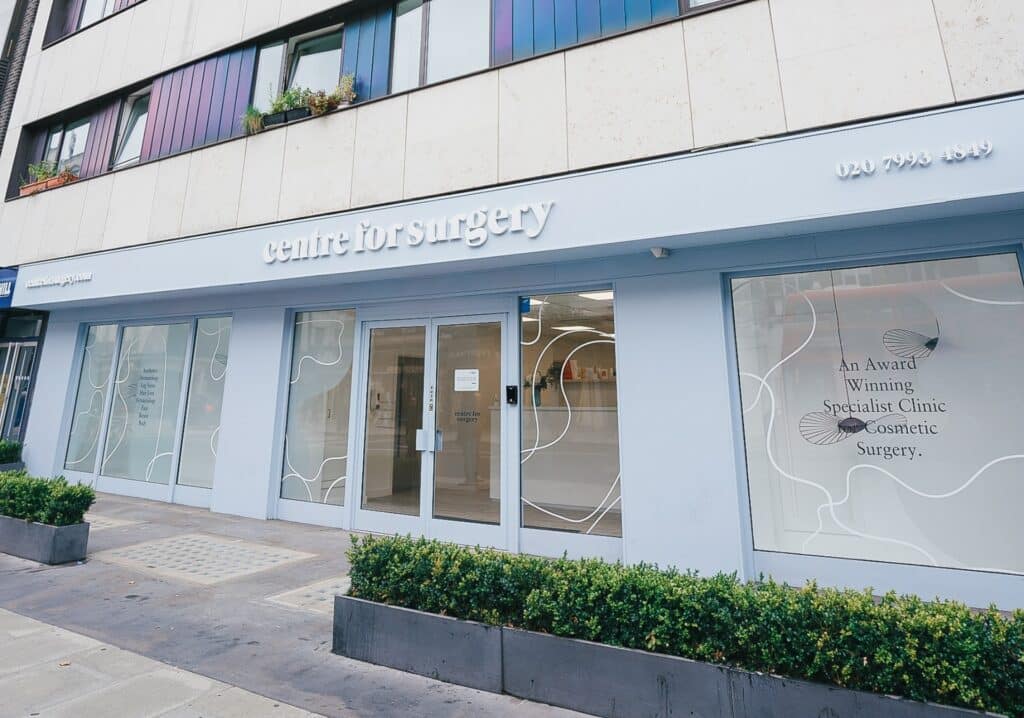 Amazing from start to finish, the communication was the main thing was fully informed and looked after, on the day of my breast augmentation, the staff were fab and made me feel at ease through out the whole process. Thank you so much.
Mohammed Farid
18/11/2021
I've had such a great experience with excellent advice, care and attention and surgical treatment (gynaecomastia) - I can fully endorse the treatment I have received from Centre for Surgery with absolutely no qualms at all. Brilliant in every way - thank you all so much.
Caroline Thorpe
14/11/2021
Very pleased with my whole experience of having a procedure. Was so nervous about getting treatment and i was reassured and felt so comfortable throughout thanks to the amazing nurses. I definitely made the right decision to have breast augmentation at centre for surgery with dr erel.
Melissa Briggs
08/11/2021
So glad I went with centre for surgery, the whole process went very smoothly from the consultations down to the actual day of the procedure. I was so nervous on the day but the whole team put me at ease and I'm happy with my results as I feel a lot more comfortable wearing certain clothes now. My surgeon was Alberto Di Giuseppe who performed a breast Augmentation on me, and I would definitely recommend as he was very clear on what the outcome of the surgery would be and which size would look the best for my frame.
Couldn't be happier with Dr Tillo work,i had my breast surgery one week ago and so happy with the results so far,all the staff are extremely nice and very supportive,i would definitely recommend their services,thank so much
From start to the finish everything was perfect for tummy tuck surgery. All staff is very friendly and the aftercare has been good. The Doctor and the nurse team was fantastic. I'm so happy...result is amazing. Thank you!!!
This was overall a great experience, all the staff at Centre for Surgery were friendly and put me at ease. It is a nerve wracking thing to go through an op but the staff were so nice. Mr Ertan has got a great team around him. On the day of the operation everything went smoothly to plan, there was no delay or holdups, I had another consultation with Mr Ertan who confirmed what was going to be done and that I was still happy to proceed. I was prepped for the procedure, I met with the anaesthetist who again was really nice and put me at ease explaining his role. After the procedure I woke up with the nurse by my side making sure I was OK and checking on me, I was able to stay in the clinic until I was ready to leave and was not rushed at all. I was well looked after from the start to the point when I was discharged. Post operation I was staying at a local hotel it was so close there was no point in even getting a taxi and I was able to walk back where my partner was waiting for me. I was expecting a lot of bruising to both my eyes but there was very little if any by the time the cast came off after 7 days, I am now at the two week post operation point and it is healing well with no outwardly visible bruising or scaring. The next milestone is a checkup at the 6 week point with my surgeon. If you're thinking of having something like this done I would highly recommend getting in touch with Centre for Surgery.
The staff at Centre for Surgery were very kind and accommodating. They answered any questions I had about the procedure and were constantly checking up on me. A special thank you to Christina for all her support throughout.
I would just like to state the quality of care received from the nurses at Centre for Surgery was beyond the highest level. Sophie takes her patient care to another level beyond words. She always puts me at ease. She is there for me even at awkward hours just when I mostly needed reassurance and she is one of the most compassionate nurses I have come across and demonstrates her passion naturally for caring for others. She totally deserves recognition at its finest and thank you for always being there for me. 😍