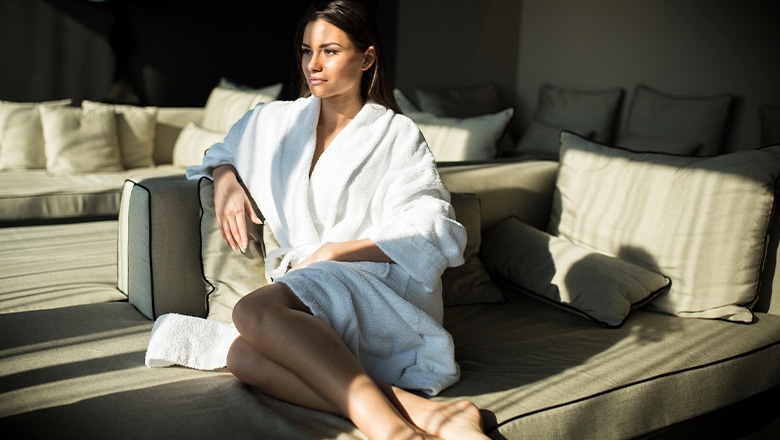 The most effective technique for increasing the size of the breasts is a breast augmentation procedure using either silicone implants or fat transfer. Women's breasts come in a wide range of different sizes and shapes and all can be considered normal variants. The main factors which contribute to a woman's breast size are hereditary factors which also determine the number of other characteristics such as height or weight. Many women are simply born with smaller breasts. The appearance of the breasts is also determined by a woman's body shape. Women who have a taller and leaner figure may appear to have breasts that look small. On the other hand, women who have a more petite body shape may appear to have larger breasts. The breasts undergo a number of changes over a woman's lifetime and the most common factors contributing to changes in breast size and shape during pregnancy and breastfeeding or changes in weight. These factors may have a combined effect in contributing to the size of a woman's breast. Many women often noticed their breasts get bigger just prior to their period and hormonal factors are a recognised factor in changes in breast size. Women undergoing menopause may notice their breasts begin to become smaller as changes in oestrogen occur as part of the normal ageing process.
There are a number of medical conditions which may influence the size of female breasts. An underactive thyroid gland also referred to as hypothyroidism can result in delayed onset of puberty which therefore delays breast growth and development. Fortunately, this can be easily treated with the administration of hormonal supplements taken on a daily basis.
Micromastia is the medical term used to describe small breasts or breasts that are underdeveloped after puberty. In many cases, women may have very little or no underlying breast tissue and this can also affect the appearance of the nipple. One or both breasts can be affected by micromastia. Micromastia can be genetic in origin and there are a number of rare conditions present from birth which can result in micromastia. These include Poland syndrome which refers to the absence of the pectoralis muscle, Turner syndrome and genetic disorders affecting the adrenal glands. Previous trauma to the breast including breast surgery or radiotherapy can also lead to small breasts.
The size of the breasts is a subjective area which often depends on how a woman views her breasts compare to others leading to the idea that the breasts may be too small in size. For many women, this can have a negative impact on self-confidence which results in many women seeking to improve their breast size with breast augmentation. Breast augmentation with implants or fat transfer is the only effective method of permanently increasing the size of the breasts. There are a number of so-called natural methods of breast enlargement including external massage but there is no clinical proof to support the effectiveness of these various treatments.
With so many potential treatments advertised online for increasing the size of your breasts, it can be difficult to identify accurate factual information. We hope we can dispel many of these myths surrounding alternative treatments for breast enlargement with the information presented below.
What is the best way to increase the size of my breasts?
The only permanent and effective solution to increasing breast size is with a surgical procedure such as breast augmentation with implants or a natural breast augmentation with fat transfer to the breasts. In many cases, there are a number of simple lifestyle modifications that can be applied to help improve the appearance of smaller breasts.
Regular physical exercise including bench presses and push-ups can help to tone the breasts as a result of enlargement of the chest wall muscles. This will also help to improve posture and women who stand up straight up may give the appearance of the larger looking breasts. Although having a good posture in itself does not increase the size of the breasts. The perception of perky breasts is increased by having a better posture.
Lifestyle modifications which may have beneficial effects include eating a balanced healthy diet with plenty of fruit and vegetables and nuts. These foods help to maintain healthy levels of hormones in the body although it is a common misconception that drinking milk and eating dairy products leads to an increase in breast size. The design and fitting of a bra can also help to improve the appearance of breasts in clothing. Most bra fitting suppliers note that women often wear incorrectly fitting bras and these can lead to breasts that may appear small. Tight-fitting bras may result in a significant flattening of the breasts thus reducing their perkiness under clothing. Wearing padded bras containing specialised gel inserts may help to give the impression of larger volume breasts. This is a cheap and easy way of making the breasts appear larger without actually increasing the size. Some women may apply specialised make-up products which may give the impression of larger breasts but in all these cases the actual size of the breasts remains the same.
Which is the best breast enlargement cream?
Breast enlargement cream, lotions or other topical products have no effect on breast size whatsoever despite manufacturer claims on the product. Many of these products are sold from overseas where product labelling regulations are less strict compared with the UK. Many patients therefore may unwittingly opt for these products as a result of their misleading claims of effectiveness. Breast enhancement pumps and other similar products which combine the use of suction and pressure to the breast to increase breast size have no recognised place in breast enlargement.
Is breast massage beneficial for achieving bigger breasts?
Breast massage although carried out for well-being purposes and four stimulating blood flow and lymphatics in the breast is not a recognised technique of Preston lodgement. Both the tone and elasticity of the breasts remain unchanged with breast massage and there is no clinical evidence linking massaging the breasts with getting bigger breasts. If you are looking to increase the size of your breasts you should avoid breast massaging as a technique for achieving this goal.
What are the best oils for breast enlargement?
Massage oils may be useful for stimulating better blood flow in the breasts and common oils include almond oil, coconut oil and olive oil. These products do not however have a recognised role in increasing the size of the breast.
What supplements can be used for breast enlargement?
Nutritional supplements have no recognised place in the treatment of breast enlargement and in many cases, some formulations could even be harmful to your health, particularly when purchased from unregulated suppliers located overseas. Many of the constituents of these products may interact with medicines you may be taking already leading to adverse side effects. As with the treatments discussed already, we would advise you to stay well clear of supplements for breast augmentation.
Breast augmentation for small breasts
There are a huge number of ineffective treatments available for purchase online including supplements, creams, pumps, massage products and oils which are claimed to improve breast growth. Maintaining a healthy lifestyle by eating well, exercising regularly and maintaining a good posture can help to give the appearance of perky breasts.
There are only two effective options for increasing the size of the breast which include breast augmentation with implants and breast enlargement with fat transfer. Breast augmentation surgery involves the enhancement of breast size with the insertion of silicone breast implants and is the most effective method of permanently increasing the size of the breasts. Modern breast implants are placed most commonly below the breast muscle but can also be placed on top of it depending on your goals for treatment and the amount of soft tissue coverage on your chest. There are a wide variety of different sizes and shapes of breast implants available including both round and teardrop breast implants. For many patients who are not keen on the idea of artificial silicone implants for breast enlargement, there is now the option of natural breast augmentation with fat transfer.
Breast Implants vs Fat Transfer
Fat transfer to the breasts involves the removal of excess fat from other parts of the body that have excess fat deposits using liposuction. The removed fat is then processed and purified before being injected into the breasts to enhance both contour and volume. Fat transfer breast augmentation involves minimal scars and has a quicker recovery compared with breast enlargement with implants. The procedure makes use of your own natural fat and so no artificial materials are being inserted into the body.
What is Fat Transfer Breast Augmentation?
Fat transfer breast augmentation can be viewed as a two-in-one procedure as the first step involves body contouring with liposuction followed by breast fat transfer to increase breast size. Many patients can improve the appearance of the abdomen or thighs with liposuction contouring of these areas to achieve a more sculpted body silhouette. Breast fat transfer is a popular technique for women who have recently undergone breast reconstruction and require fat transfer to improve the symmetry of the breast. Fat transfer to the breasts can also be combined with breast implants for women keen to achieve natural-looking results and this procedure is known as a hybrid breast augmentation.
Top 5 myths about breast enlargement
At Centre for Surgery in London, our surgeons are experienced in all types of breast enlargement including breast implant surgery and breast fat transfer using the most advanced techniques. We focus on producing natural-looking results in the safest way and with minimal downtime. Our post-operative nursing team are available 24 hours a day to answer any questions or queries you may have. You will be reviewed by a member of a nursing te at one week after your procedure to review your wounds and make sure you are healing correctly. If you would like to learn more about breast augmentation surgery, speak to one of our friendly experienced patient coordinators to book a face-to-face consultation with an expert breast augmentation surgeon in London.
Amazing from start to finish, the communication was the main thing was fully informed and looked after, on the day of my breast augmentation, the staff were fab and made me feel at ease through out the whole process. Thank you so much.
Mohammed Farid
18/11/2021
I've had such a great experience with excellent advice, care and attention and surgical treatment (gynaecomastia) - I can fully endorse the treatment I have received from Centre for Surgery with absolutely no qualms at all. Brilliant in every way - thank you all so much.
Caroline Thorpe
14/11/2021
Very pleased with my whole experience of having a procedure. Was so nervous about getting treatment and i was reassured and felt so comfortable throughout thanks to the amazing nurses. I definitely made the right decision to have breast augmentation at centre for surgery with dr erel.
Melissa Briggs
08/11/2021
So glad I went with centre for surgery, the whole process went very smoothly from the consultations down to the actual day of the procedure. I was so nervous on the day but the whole team put me at ease and I'm happy with my results as I feel a lot more comfortable wearing certain clothes now. My surgeon was Alberto Di Giuseppe who performed a breast Augmentation on me, and I would definitely recommend as he was very clear on what the outcome of the surgery would be and which size would look the best for my frame.
Couldn't be happier with Dr Tillo work,i had my breast surgery one week ago and so happy with the results so far,all the staff are extremely nice and very supportive,i would definitely recommend their services,thank so much
From start to the finish everything was perfect for tummy tuck surgery. All staff is very friendly and the aftercare has been good. The Doctor and the nurse team was fantastic. I'm so happy...result is amazing. Thank you!!!
This was overall a great experience, all the staff at Centre for Surgery were friendly and put me at ease. It is a nerve wracking thing to go through an op but the staff were so nice. Mr Ertan has got a great team around him. On the day of the operation everything went smoothly to plan, there was no delay or holdups, I had another consultation with Mr Ertan who confirmed what was going to be done and that I was still happy to proceed. I was prepped for the procedure, I met with the anaesthetist who again was really nice and put me at ease explaining his role. After the procedure I woke up with the nurse by my side making sure I was OK and checking on me, I was able to stay in the clinic until I was ready to leave and was not rushed at all. I was well looked after from the start to the point when I was discharged. Post operation I was staying at a local hotel it was so close there was no point in even getting a taxi and I was able to walk back where my partner was waiting for me. I was expecting a lot of bruising to both my eyes but there was very little if any by the time the cast came off after 7 days, I am now at the two week post operation point and it is healing well with no outwardly visible bruising or scaring. The next milestone is a checkup at the 6 week point with my surgeon. If you're thinking of having something like this done I would highly recommend getting in touch with Centre for Surgery.
The staff at Centre for Surgery were very kind and accommodating. They answered any questions I had about the procedure and were constantly checking up on me. A special thank you to Christina for all her support throughout.
I would just like to state the quality of care received from the nurses at Centre for Surgery was beyond the highest level. Sophie takes her patient care to another level beyond words. She always puts me at ease. She is there for me even at awkward hours just when I mostly needed reassurance and she is one of the most compassionate nurses I have come across and demonstrates her passion naturally for caring for others. She totally deserves recognition at its finest and thank you for always being there for me. 😍