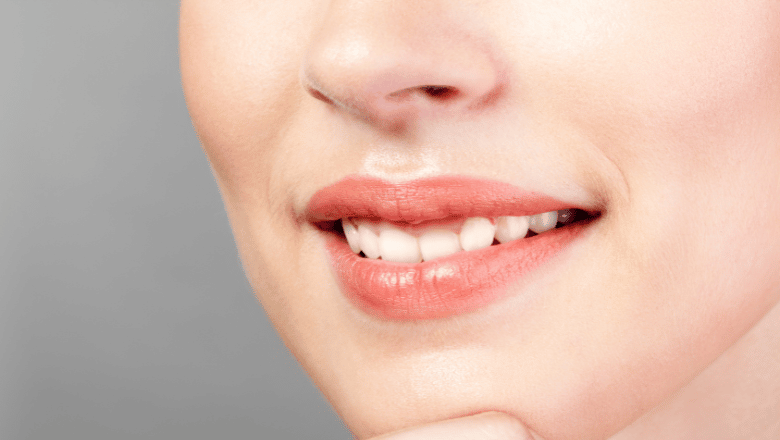 A bullhorn lip lift, also known as a subnasal lip lift, is a surgical procedure that is designed to enhance the fullness of the lips without the need for lip filler. Unlike lip filler treatment which is temporary in nature, the results of a bullhorn lip lift are permanent. There are several types of lip lift techniques. A bullhorn lip lift shortens the distance between the nose and the lips, also known as the philtrum. This type of lip lift is known as the 'bullhorn technique' because the incision runs along the nostrils from one side to the other and resembles the shape of a bullhorn.
RELATED: How much does a lip lift cost?
Am I suitable?
Ideal patients for bullhorn lip lift surgery are those who want to make their lips look fuller. Patients who want to achieve natural-looking results with a higher lip position without added volume are also suitable. Generally, patients with a wider distance between the nostrils and small mouths are good candidates for a lip lift. A lip lift may also be performed as part of facial feminisation surgery (FFS).
If the distance between the uppermost part of the lip and the base of the nose is below 1.5 cm, you may not be suitable for a bullhorn lip lift. Patients considering this procedure should be non-smokers or be willing to stop smoking at least four weeks before surgery to reduce the risk of wound healing complications. Viral infections that affect the area around the mouth may include herpes infection, which could affect the blood's ability to form an effective clot. The risk of bleeding may therefore be increased. We would recommend speaking to the surgeon at your consultation to determine your suitability for the procedure.
How to prepare for a bullhorn lip lift?
You will be given detailed preoperative instructions to prepare yourself for the procedure in the weeks leading up to your surgery. If you smoke, you should stop smoking at least four weeks before the procedure, as smoking can affect wound healing and cause excessive scarring. Alcohol should be avoided for at least three days before the procedure as it has been known to interact with the anaesthetic. On the day of surgery, you should avoid eating food for at least hours beforehand, and clear fluids are allowed up to two hours before the procedure. Clear fluids include black tea, black coffee and still water.
What does a bullhorn lip lift involve?
The bullhorn lip lift procedure is designed to reduce the space between the nose in the upper lip, which helps to bring the lip upwards to expose more of the inner pink tissue of the lip. Lip lift surgery does not enhance the actual volume of the lips, which means patients are not at risk of developing so-called "duck lips" which may occur from overdone lip fillers. A lip lift can help increase your teeth visibility, especially when smiling. A good guide to determine how you could look after a bullhorn Nick lift is to use your finger to exert traction upwards on your upper lip. You should have a good idea of how you could luck with this simple technique.
A bullhorn lip lift is most commonly carried out as an outpatient under local anaesthetic at our Baker Street clinic. When you have been admitted for the procedure, your surgeon will ensure you are lying comfortably on the operating table. The planned regions for skin excision will be marked with a surgical marker pen. Your surgeon will then inject local anaesthetic along the skin markings to numb the area. Once the area is fully numb, your surgeon will clean the area with an antiseptic solution and then apply sterile drapes. An incision will be made from one nostril to the other side. The tissue will then be surgically removed, and cautery will be used to address any small pinpoint areas of bleeding. The incision will then be closed with dissolvable stitches. A sterile dressing will be applied to protect the incision lines. Once you fully recover from the anaesthetic effects, you will be able to go home later the same day.
What does recovery after a bullhorn lip lift involve?
You will receive detailed post-operative instructions to ensure you have a smooth recovery after your bullhorn lip lift. It is normal to have bruising and swelling affecting the upper area of the lips for up to 4 weeks after the procedure. The amount of post-operative swelling will depend on the extent of surgical correction carried out. People with naturally larger lips may take longer to recover than those with slim or thinner lips due to the extra amount of tissue in those with larger lips. Scars after lip lift take up to 3 months to fade, flatten, and form a faint white line. After a lip lift, permanent results can be expected when the post-operative instructions are fully followed. Getting the best results means adhering to the following instructions:
Take it easy for the first 24 hours after surgery
Avoid sleeping on your front for up to 2 weeks.
Avoid strenuous exercise, including going to the gym for up to 4 weeks.
Be careful when using a toothbrush to avoid traumatising the incision lines.
Keep your lips hydrated with regular application of moisturiser.
Avoid chewing gum.
Make sure to attend your postoperative review appointments to ensure your healing is progressing as intended.
Why choose Centre for Surgery for lip lift surgery?
Centre for Surgery is a specialist cosmetic surgery clinic located in the heart of central London. Our experienced plastic surgeons regularly perform lip lift surgery using the bullhorn technique. Our state-of-the-art surgical facility on Baker Street in Marylebone is considered one of the most advanced medical facilities in the UK. If you would like to learn more about a bullhorn lip lift, please contact us on 020 7993 4849 or complete the contact form below, and one of our patient coordinators will be in touch to arrange a consultation with an expert surgeon.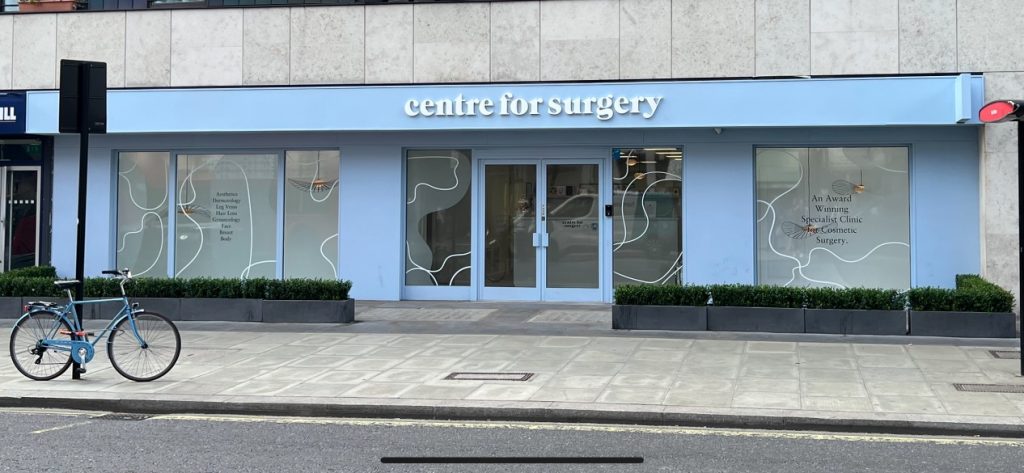 [wpseo_map id="9814″ width="750″ height="300″ zoom="15″ map_style="roadmap" scrollable="1″ draggable="1″ show_route="0″ show_state="0″ show_url="1″ show_email="1″ default_show_infowindow="1″ show_phone="1″ show_phone_2="0″ show_fax="0″]
[trustindex no-registration=google]