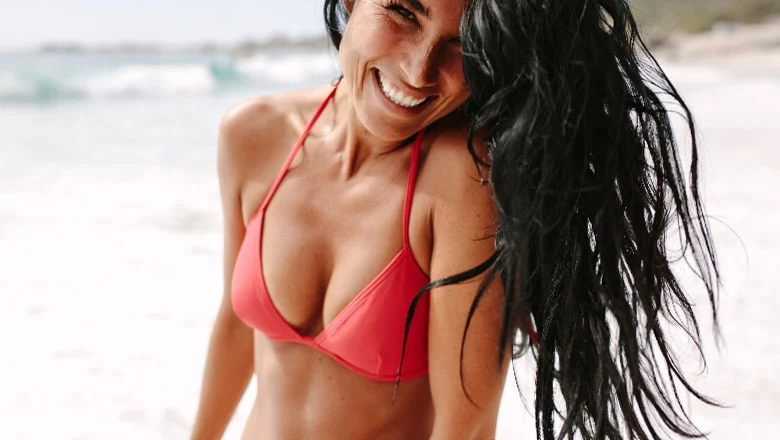 Many women increasingly request an exchange of breast implants, also known as implant exchange or breast augmentation revision. Several factors change the shape of the breasts since the first procedure, and the most common reasons include pregnancy, breastfeeding and the ageing process. In other cases, many women decide that they would wish to have either bigger or smaller-sized implants. Some women may even decide that they no longer want breast implants but would still like to maintain a larger size breast, and this can be achieved with fat transfer breast augmentation.
Once you have decided that an implant exchange may be for you, you might find the following information useful to help you plan for the breast implant revision procedure.
Why would I need implant exchange surgery?
Why do women have implant exchange?
Over time, several different processes may change the body's size and shape. The implant exchange procedure is most commonly requested when patients have undergone pregnancy and breastfeeding or have gained or lost a significant amount of weight. Whether patients have breast implants already or not, pregnancy and breastfeeding and substantial weight changes can affect the soft tissue architecture in the breast. However, women who have breast implants may find that these changes are more pronounced.
The shape of the breast tissue will be affected by hormonal changes that occur during pregnancy and any significant weight changes. Women who have given birth and have breastfed the baby may notice that the initial increase in breast volume settles down after a while, giving rise to droopy or saggy-looking breasts. Some women will complete their family before considering a cosmetic breast procedure. This may not apply to every patient. Many women, especially in their early 20s, are often unhappy with the size of their breasts and would prefer to have a Breast augmentation procedure earlier. For some women, the issue of pregnancy and being a parent may not be foremost in their minds. Throughout life, people's circumstances change, and this inherent unpredictability means many women may require a secondary breast augmentation later in life.
Having children can affect the outcome of primary breast augmentation, and many women are keen to restore the appearance of their breasts to what they look like after their first procedure. The appearance and feel of the breasts can be corrected with an implant exchange procedure. Breastfeeding may take several months for the breasts to settle down, which is why our surgeons always recommend waiting at least three months before having a consultation with one of our surgeons. This means you will get a more accurate clinical assessment and a clear idea of what type of implant exchange procedure will work best for you.
What types of fat transfer can I have?
Patients who have gained or lost a significant amount of weight in a short time will often notice substantial changes to their breasts, making them appear saggy or deflated. An implant exchange procedure can effectively restore the size and shape of the breasts for renewed self-confidence.
Should I go bigger or smaller with breast implant exchange?
Many patients who consult with our surgeons at Centre for Surgery in London will often say that they feel they went too small with their first breast augmentation procedure, or they feel the results of the first breast procedure are not as significant or as dramatic as they had hoped for. In other cases, patients have been delighted for some time but now feel they want larger-looking breasts. Many patients have held off to see if they think any differently over time, which may lead to them deciding that whilst they were initially happy with their choice of breast implant, they now feel that these implants are too small for their body frame.
It is a common assumption with breast implant exchange surgery that women prefer to have only big implants or to have their implants removed, but that is not our experience at Centre for Surgery. The converse is also equally true, with patients often concerned that they might have chosen implants that are too small that then turned out to be too large for them, which can result in functional symptoms such as lower back pain and is often described as a "fake look". This category of patients still prefers to have volume enhancement compared with what they currently have. Still, they don't want too much of a volume increase that could be a risk of developing back pain or an unnatural-looking appearance.
Combining implant exchange with fat transfer to breasts
It is increasingly common for patients to have breast implant removal to enhance the fullness of the breasts, especially in the upper poles. What was previously a technique used for breast reconstruction is now commonly used in many types of aesthetic breast surgery. Breast augmentation with fat transfer is a fantastic technique involving the liposuction of unwanted fat from other body parts with fat transfer to the breasts to restore volume.
With any fat transfer breast augmentation procedure, it's important to remember that fat transfer cannot achieve the same volume enhancement and upper pole fullness that breast augmentation can achieve. This is why patients must have realistic expectations of what breast augmentation with fat transfer can achieve. There are limitations to what fat transfer procedures can do. If you have a 350cc implant removed, it is not possible to inject 350cc of fat and have an identical appearance as there is always a degree of fat reabsorption in any fat transfer procedure.
In several cases, it may be advised to have a breast lift or mastopexy procedure in combination with fat transfer to the breasts. Although a breast lift involves more scars than a fat transfer procedure, it has a powerful effect in raising the level of the nipple and tightening the lower part of the breast to result in a lifted and natural-looking breast. Centre for Surgery is renowned for its expertise in scar management, and our postoperative nurses will be able to advise you on the best techniques to optimise the appearance of your scars.
There is a crucial prerequisite for any patient interested in having fat transfer breast augmentation. All patients must have sufficient fat reserves in unwanted body parts to enable sufficient fat harvesting via liposuction. The best fat is often removed from the abdomen or flanks, and it is also possible to remove good quality far from the outer and inner thighs. For particularly thin patients, it may be recommended that you undergo a period of weight gain before the procedure to increase the amount of fat injected into your breasts.
During the postoperative period after fat transfer to breasts, there may be a significant amount of bruising and swelling, although this often looks much more dramatic than it feels. Our postoperative nurses often say that the pain or discomfort after the fat transfer is mild to moderate. Fortunately, any significant bruising or swelling will settle within the first four weeks. It is also recommended to avoid wearing a tight-fitting bra as the fat which has been injected into the breast needs time to soften and mature to facilitate good blood circulation to the newly transferred fat cells. After any fat transfer procedure, including breast fat transfer, the fat can often feel very doughy in consistency. Any tight-fitting garment can quickly leave indentations on the delicate fat.
[trustindex no-registration=google]