1. Collaboration of True Specialists
Centre for Surgery does not adhere to the 'Jack of all trades' model of cosmetic surgery. Our doctors are recognised specialists in their field of expertise. They perform a smaller number of procedures at an expert level. Examples include rhinoplasty, breast lift, liposuction, tummy tuck and labiaplasty. They do these procedures frequently and take pride in striving to achieve the very highest standards of care. We believe there are few other practices in the United Kingdom that conform to our sub-specialisation model of care.
RELATED: Cosmetic Surgery Consultation
In a typical cosmetic surgery practice with many surgeons, there is often an element of competition for patients by the surgeons. Our surgeons do not compete with each other – they collaborate to achieve optimal patient outcomes. This is because each surgeon has their own highly specialised practice. Often our surgeons perform surgery together on the same patient under the same general anaesthetic – each surgeon benefiting from the other's expertise and coming together for the benefit of the patient. Our expert plastic surgeons frequently perform mummy makeover procedures as joint cases. Our surgeons hold regular clinical meetings together as a group in a collaborative manner and where cases are discussed to make sure the right decisions are made on care and treatment, which leads to happy patients – best outcomes with the lowest risk
2. Centre for Surgery own and operate our own facilities
Unlike most other cosmetic surgery providers, we own and operate all our own facilities from start to finish. Every team member, including surgeons, patient coordinators, nurses, and healthcare assistants, works under the same clinical governance framework. We don't rent other providers' facilities to ensure the same high standards of care are delivered throughout the organisation. Procedure costing is, therefore, much more transparent.
We are also more prepared to manage any complications as a full-service provider. Our helplines are available 24/7, and we often call in patients the same day for further assessment if required.
3. Respected and Highly Awarded
Our reputation for delivering high standards of patient care is reflected in our many awards, including, most recently, the WhatClinic 2020 award for outstanding customer service. Our surgeons also receive individual clinical accolades, which is a testament to their impeccable codes of ethics and professionalism.
4. Commitment to achieving high standards of patient care
In London and further afield, there are often many cheaper cosmetic surgery providers with highly tempting offers of discounts and special offers, including '2 for 1' deals. As highly regulated private healthcare providers, we steer well clear of such ethically dubious practices, which could end up enticing many potentially unsuitable patients into having unnecessary procedures.
We serve patients. We don't have 'customers' or 'clients', and we never aim to cross-sell, up-sell or indeed sell you anything. It is vitally important for all prospective patients to understand that any cosmetic surgery is a serious medical endeavour that comes with potential risks.
We don't work with celebrities or social media influencers or endorsers – we would prefer for all patients to come to us based on unbiased decisions free of financial incentives for the influencer. Many of our patients come to us by word of mouth, happy in the knowledge that a close friend or family member previously received excellent treatment from us.
We see ourselves as a results-driven practice backed up with a commitment to excellent patient care and delivered by an expert team of medical and non-medical professionals.
5. Convenient Locations
Our clinics in central London are state of the art, with our non-surgical facility at 106 Crawford Street and the surgical facility only a 5-minute walk away at 95-97 Baker Street. The London locations lie in the heart of leafy Marylebone, easily accessible by both public transport and car and close to all the major entertainment and shopping districts. Our Watford day surgery centre is particularly well located with free parking and close to all the major motorway networks for patients who choose to travel to us from outside of London. 
6. Safety-First Approach
Your health and safety are of paramount importance to us. Where others take risks or cut corners, we simply try to do things properly according to national rules and regulations. It is important to note that even in the most ideal conditions, complications and adverse events can and do occur whether before, during or after your procedure.
By adhering to national guidelines and codes and conduct, we keep these risks to a minimum. We aim to treat every patient as we would to a member of our family or a close friend. No one needs 'special treatment' as everyone gets it! Our surgical facilities are equipped to nationally recommended standards, and our medical equipment often exceeds the quality to be found even in a modern large teaching hospital. Our practitioners adhere to strict infection prevention protocols, which are being continually refined in line with best practices.
Before a procedure, all patients are required to undergo a thorough medical assessment by their surgeon. You will also receive pre-procedure support from a member of our dedicated pre-operative assessment team, who will be in close contact with you up to the day of your procedure and beyond. Our policies and procedures go above and beyond National Institute for Clinical Excellence (NICE) recommendations. We don't just aim to follow the NICE guidelines. We want to go above and beyond and be known for being the very best cosmetic surgery clinic in London.
Preparing for your procedure starts long before your scheduled procedure date. Our pre-and post-op instructions should be followed to the letter to ensure a smooth recovery with a minimum of bruising and swelling. Good nutrition is also vitally important.
We want you to be over-prepared for your procedure!
After your procedure, our aftercare protocols are known for being particularly thorough. Our practice was recently described as 'outstanding' by the Care Quality Commission for the quality of our postoperative care – something we are very proud of.
7. Doctor-Only Practice
All cosmetic surgery consultations are exclusively with your operating surgeon. Post-operative follow-up appointments are also with your operating surgeon and assisted by an expert nursing team for wound checks and dressing changes.
RELATED: Applying for Practising Privileges
As obvious as it may sound, our surgeons perform their own procedures. We never allow trainees or students to come into our operating theatres and do any part of the procedure. Many hospitals allow this practice in the name of efficiency – not so in our operating theatres. Our surgeons are never in a rush to finish as we schedule procedures in such a way as to give ample time for surgeons to get the best possible results. We own and operate all our own facilities, and we habitually overestimate the time needed to complete a procedure. At other providers, it is not uncommon to hear surgeons boast about doing a breast augmentation procedure in 30 minutes or less – in our view, not something to be proud of!.
All our injectable treatments are performed by accredited surgeons and dermatologists.
8. Effective Skincare and Laser Technology
All the products we use and work with are thoroughly scrutinised by our medical assessment committee to make sure our patients are getting the very best options available today. If we were not happy to have the treatment on ourselves, we would not be recommending it to our patients!.
Our medical-grade skincare lines are proven to be the most clinically effective products around. Many are prescription-only, which is a testament in itself to their clinical effectiveness. Our lasers are gold-standard top of line models. No two lasers are built the same – there is enormous variability in laser efficacy. We do not purchase second-hand models, and we never buy cheap lasers from China. There are numerous skin resurfacing lasers on the market, and all claim to do the same thing, but we focus on the facts and scientific evidence to make the right choices on the best equipment to use. We are experts in using Morpheus8 for various aesthetics and dermatology concerns. We never push you into a treatment with a laser we have just purchased just to get it busy – that has never been the Centre for Surgery model of medicine. None of our doctors has a financial interest in any of the equipment we use. Objective and unbiased clinical decision-making lie at the heart of everything we do.
9. Ethics and professionalism at the heart of what we do
Most of the large cosmetic surgery providers in the UK are sales and profit-driven. Often it is an initial meeting with a commission-driven salesperson leading to a 10-minute consultation at most with a surgeon. Special offers and discounts are frequently offered to get you to book on the day of your consultation. As a responsible medical practice, we often turn patients away if they are deemed inappropriate for a procedure – 25-40% of patients for some procedures. We believe the expert provision of a cosmetic surgery service should be firmly rooted in the ethical practice of medicine. Our strong culture as a healthcare organisation is to do what we feel is right for the patient – sometimes, the best treatment is no treatment. You'll always hear that as a potential treatment option at your consultation with your surgeon at Centre for Surgery.
Our surgeons don't just perform primary surgery. They also perform complex revision procedures for patients with their first procedure elsewhere. An increasing number of patients choose to have their cosmetic surgery procedure in Turkey or Eastern Europe. The medical standards in these destinations are nowhere near world-class British standards. If you're looking for a bargain – the Centre for Surgery may not be for you. Our surgeons built their reputation over many years, and many referring doctors choose to send their patients to surgeons at Centre for Surgery for revision cosmetic surgery. These include revision rhinoplasty, revision facelifts, revision breast surgery and revision liposuction, amongst many other types of revision procedures. Revision surgery patients are understandably very apprehensive about undergoing another procedure. Our surgeons make sure that anything that is planned is both realistic and achievable.
10. Consultations direct with the operating surgeon
The consultation is the most important aspect of the patient journey. It is where all potential treatments are planned in detail. All consultations are with your surgeon. There is no patient advisor, no salesperson and no middleman. The surgeon is there to listen to you, understand your goals, and answer any questions you may have, with no up-selling or cross-selling whatsoever. In many cases, the surgeon may perform 3D computer imaging so that you can form an accurate and realistic idea of how you could look after your procedure. The consultation is for you to receive valuable and unbiased information and recommendations on what is the most appropriate option. The consultation is not about us. We are not here to sell anything. We have no sales targets. It is about you and what is best for you.
We never double-book consultations, and our surgeons do their very best to ensure all patients are seen on time, and the consultation is not rushed in any way. This is not the case at many other cosmetic surgery practices. Elsewhere, surgeons can often get through 15-20 patients in a morning consultation session alone! We very much doubt the quality of the advice given against such time pressures. Suppose we feel we lack the skill or expertise in a particular area. In that case, we will have no hesitation in referring you to another doctor in our trusted network of partner providers – again without any payment being received by us for the referral. All our doctors currently work in or have worked in the NHS in senior positions. We try to replicate our model of care on NHS standards which, for us, is the best healthcare system in the world.
We look forward to helping you achieve your goals.
Best wishes,
The Centre for Surgery team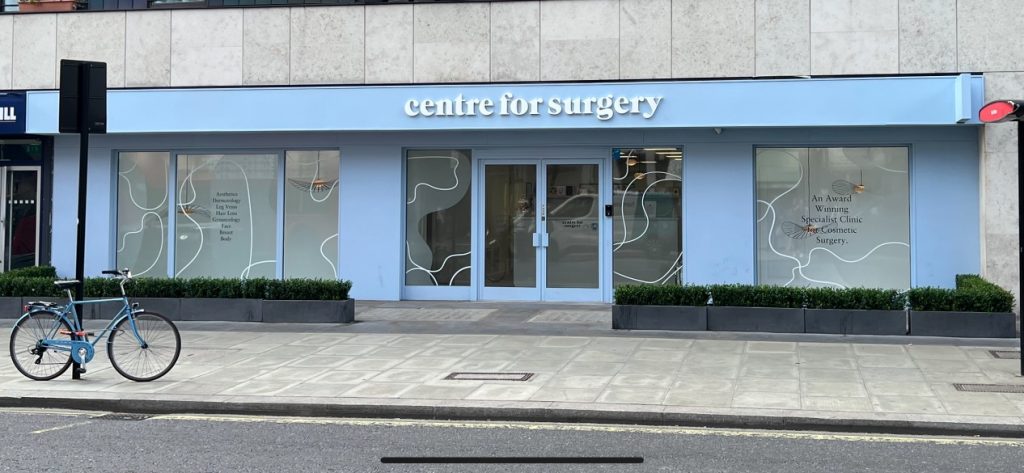 Amazing from start to finish, the communication was the main thing was fully informed and looked after, on the day of my breast augmentation, the staff were fab and made me feel at ease through out the whole process. Thank you so much.
Mohammed Farid
18/11/2021
I've had such a great experience with excellent advice, care and attention and surgical treatment (gynaecomastia) - I can fully endorse the treatment I have received from Centre for Surgery with absolutely no qualms at all. Brilliant in every way - thank you all so much.
Caroline Thorpe
14/11/2021
Very pleased with my whole experience of having a procedure. Was so nervous about getting treatment and i was reassured and felt so comfortable throughout thanks to the amazing nurses. I definitely made the right decision to have breast augmentation at centre for surgery with dr erel.
Melissa Briggs
08/11/2021
So glad I went with centre for surgery, the whole process went very smoothly from the consultations down to the actual day of the procedure. I was so nervous on the day but the whole team put me at ease and I'm happy with my results as I feel a lot more comfortable wearing certain clothes now. My surgeon was Alberto Di Giuseppe who performed a breast Augmentation on me, and I would definitely recommend as he was very clear on what the outcome of the surgery would be and which size would look the best for my frame.
Couldn't be happier with Dr Tillo work,i had my breast surgery one week ago and so happy with the results so far,all the staff are extremely nice and very supportive,i would definitely recommend their services,thank so much
From start to the finish everything was perfect for tummy tuck surgery. All staff is very friendly and the aftercare has been good. The Doctor and the nurse team was fantastic. I'm so happy...result is amazing. Thank you!!!
This was overall a great experience, all the staff at Centre for Surgery were friendly and put me at ease. It is a nerve wracking thing to go through an op but the staff were so nice. Mr Ertan has got a great team around him. On the day of the operation everything went smoothly to plan, there was no delay or holdups, I had another consultation with Mr Ertan who confirmed what was going to be done and that I was still happy to proceed. I was prepped for the procedure, I met with the anaesthetist who again was really nice and put me at ease explaining his role. After the procedure I woke up with the nurse by my side making sure I was OK and checking on me, I was able to stay in the clinic until I was ready to leave and was not rushed at all. I was well looked after from the start to the point when I was discharged. Post operation I was staying at a local hotel it was so close there was no point in even getting a taxi and I was able to walk back where my partner was waiting for me. I was expecting a lot of bruising to both my eyes but there was very little if any by the time the cast came off after 7 days, I am now at the two week post operation point and it is healing well with no outwardly visible bruising or scaring. The next milestone is a checkup at the 6 week point with my surgeon. If you're thinking of having something like this done I would highly recommend getting in touch with Centre for Surgery.
The staff at Centre for Surgery were very kind and accommodating. They answered any questions I had about the procedure and were constantly checking up on me. A special thank you to Christina for all her support throughout.
I would just like to state the quality of care received from the nurses at Centre for Surgery was beyond the highest level. Sophie takes her patient care to another level beyond words. She always puts me at ease. She is there for me even at awkward hours just when I mostly needed reassurance and she is one of the most compassionate nurses I have come across and demonstrates her passion naturally for caring for others. She totally deserves recognition at its finest and thank you for always being there for me. 😍