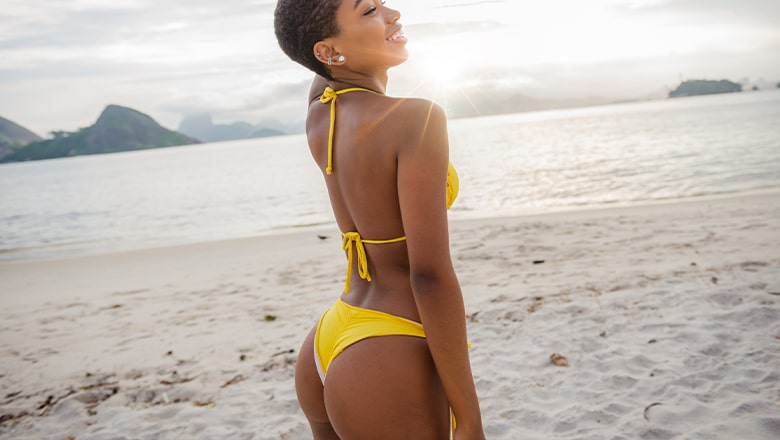 At Centre for Surgery, patients often come to us interested in more than one body contouring procedure and it's often the case that they would like to have them as one combined procedure. This certainly makes sense in a number of ways including having only one anaesthetic, one recovery period, and more affordable treatment costs. In many cases you will already have made the decision to transform your body with a cosmetic body contouring procedure so why not have a dramatic transformation with a combined procedure?.
Our plastic surgeons very commonly get asked the question by our patients as to whether a tummy tuck and Brazilian butt lift can be combined. A lot of patients have as their treatment goal, a flat contoured abdomen and a shapelier buttock region.
In theory, it is entirely possible to combine a tummy tuck with a Brazilian butt lift procedure. In practice, none of our surgeons would recommend the combination of a BBL with a tummy tuck and we will explain why below.
Many surgical procedures can be successfully combined for optimal results
We commonly perform combination procedures for women who have developed abdominal laxity and changes to their breasts after pregnancy and breastfeeding. Common treatment combinations include liposuction or tummy tuck with some form of breast surgery including breast augmentation and a breast lift. This is known as a mummy makeover procedure and leads to fantastic results with a much shorter recovery time than if you were to have had the tummy tuck and breast surgery separately. Having said that, a mummy makeover is still a major surgical procedure with a longer recovery period than most individual surgical procedures involving the breast or body.
The reason why mommy makeover surgery works so well is that when performing a tummy tuck, liposuction will often already be included to contour the flanks and waist area and the breasts can easily be dealt with whilst the patient is lying on their back whilst still being able to maintain operating times below five hours. Patients for mummy makeovers need to be in excellent health with a normal weight and body mass index to ensure that they are as safe as possible under anaesthetic which can last for up to 5 to 6 hours. The recovery after mummy makeover is fairly straightforward as all the Surgery is on the same side of the body.
Keeping procedure times as short as possible
Procedures like tummy tuck and BBL can take a significant amount of time to carry out as there are a number of individual steps to each procedure that have to be carried out as thoroughly as possible to get the best possible results. If patients were to combine a BBL and tummy tuck, they would need to be in pristine health with no medical problems, all their blood test results would need to be normal, and they would need to have a BMI below 25 in order to be as safe as possible under the longer anaesthetic times which can be associated with such surgery.
Longer anaesthetic and surgical times can be associated with an increase in post-operative risks and complications. This is why at Centre for Surgery, we always advise simpler treatment combinations to stay absolutely safe and not to increase your risk profile unnecessarily. Also as we are a day surgery facility, every surgical procedure must be assessed to ensure it meets our stringent admission criteria. It is always important to bear in mind that patient safety comes first every time.
Recovery after Brazilian butt lift and tummy tuck
The most important reason why we do not recommend combining a BBL with a tummy tuck is that the recovery period would be very difficult to endure. It is always important to bear in mind that both a BBL and a tummy tuck individually are quite major procedures that can each take 3 to 4 hours to carry out. Longer surgical procedures generally result in much longer recovery periods.
We would always advise anyone considering a BBL to take one week off work and to avoid any strenuous exercise or gym activities for at least four weeks. The major issue here is that for at least two weeks he will not be able to sit on your buttocks or lie flat on your back when you sleep and your surgeon will probably recommend you avoid any pressure on your buttocks for longer periods of time for the first 4 to 6 weeks.
Patients having tummy tuck surgery should generally expect a recovery period last in between 4 to 6 weeks before they can consider resuming strenuous exercise. Many patients will find that they are unable to stand fully upright in the first week following their tummy tuck procedure. All patients are advised to avoid lying on the front to prevent any pressure from being exerted on the abdominal area.
So the major problem with combining a BBL with a tummy tuck procedure is that you will need to stay away from putting any pressure on either your back or your buttocks. This, therefore, makes it virtually impossible for you to lie down comfortably and so the rest and recovery period are significantly more difficult. The overall recovery period therefore may end up being much longer than if you had had the two surgical procedures carried out as individual surgeries.
It is very important after all cosmetic surgery that patients take the proper time out for rest and recovery. Surgery can lead to a number of changes in the body and it's important that you comply with all the post-operative instructions to achieve the desired results. The inherent disadvantages of a combined BBL and a tummy tuck procedure often prevent patients from fully following all of the surgeon's post-operative instructions. The final results could therefore be significantly impaired.
So in theory, it is entirely possible to combine BBL with a tummy tuck into one combined surgery. Getting ideal results it's probably most possible in the hands of the most specialist and experienced body contouring surgeon. However, the same Surgeon will look to put patient safety and your well-being above all else and will tailor his or her advice to make sure that you will be able to tolerate the recovery period.
Cosmetic surgery is something that should not be taken lightly and certainly should never be rushed in any way. In many cases, it is always better to commit to a slightly longer but ultimately more sensible treatment plan to ensure you get the very best results matched with the most favourable and lowest risk profile.
Lisa Davies
16:29 06 Mar 23
I have had excellent results from Dr Tillo. They results have exceeded my expectations, additionally Dr Tillo is very professional and put me at ease, even when I was awake for one treatment 🙂
Alex Loveridge
18:13 24 Jan 23
The treatment, consultation and friendliness of Centre for Surgery is outstanding. I had to travel a very long way but the support staff helped in every way to accommodate me. I would definitely recommend the Surgery to anyone and my experience is one of satisfaction. Also I am totally happy with the result of my surgery and recovery. Others have recommended, Centre for Surgery...and now I am one of them.
Justine Farrell
18:11 29 Nov 22
I had Umbilicoplasty done by DR M Sarwar. I have never had cosmetic surgery before so I was very worried and reluctant but finally took the plunge. I didn't choose my surgeon it was just done at random but I'm glad I had him anyways because I am SO SO SO happy with my results. He is extremely honest and transparent to make sure your expectations are not too high or unrealistic. This scared me off initially but the fact he did this made me feel like my results were 10x better than what I was expecting them to look like. The aftercare was very good. I cannot fault anything. Thank you so much to everyone I met at the surgery 😊
Julie Dyson
11:05 23 Jun 22
Everyone at the Centre for Surgery has exceeded my expectations by miles! From the moment I made contact and enquired about the procedures offered, all the way through to my post-operative aftercare, I have been blown away by the levels of customer service and empathy shown to me on my journey.At 62 years of age, some might question whether I was a bit old for a "mummy makeover" wanting both a bi-lateral breast reduction and an abdominoplasty. However, I was treated so kindly and with such respect that these thoughts were soon left behind. Lidia the Patient Coordinator allocated to me was great – she sent me loads of information to read and arranged a consultation with Mr Ertan Erel, the surgeon.When I met Mr Erel, he immediately made me feel at ease. We discussed performing the procedures in a staged format, to allow my body to recover in between surgeries. He also encouraged me to lose a few kilos before my surgery saying it would be of benefit health-wise and give better results. He walked me through both of the procedures, what to expect and likely outcomes. We agreed that I would have the breast reduction first, followed by the tummy-tuck 4 to 6 months after that. I was offered a follow-up consultation, but didn't need one, I was so happy with the first.Lidia then helped me choose a date for the first op based on my personal commitment to lose the weight. The encouragement helped tremendously and in January 2022, I had my first surgery. On the day, the whole team were amazing, from the receptionist who greeted me, the entire theatre team – Mr Erel, the anaesthetist and all the theatre nurses couldn't have looked after me any better. What was truly wonderful for me – I was able to go home the same day once Mr Erel and the nurses were happy for me to leave, no stay in hospital where you can't sleep etc. – absolute bliss.The support team telephoned me the next day to ensure all was well and organised an appointment to see a perioperative nurse to check my wounds and re-dress. How lucky am I – Sophie Ship is just the best! Knowing that support team was always available together with regular check-ups in Sophie's very capable hands I was very soon on the mend.AT 6 weeks post-op, I had a review with both Mr Erel and Sophie. We were all delighted with the results and my recovery, it was agreed that the second operation could take place in May/June.Lidia, then sent me loads more information about the procedure, answering all my questions swiftly and booked the date. To ensure I was fit for surgery, Mr Erel saw me again two weeks before my surgery. All was agreed and the abdominoplasty performed on 25th May. Once again, everything went like clockwork and every member of the team were outstanding.I'm now 4 weeks post-op 2 and already delighted with the results. Mr Erel is a genius! I feel so privileged to have had both my surgeries performed by him. The swelling is already going down and I can't wait to see how I look in a couple of months.I have given Centre for Surgery and Mr Erel permission to show my photographs to anyone considering the procedure(s) and am more than happy to provide more details/chat to anyone about any concerns they have. Please just ask Centre for Surgery/Mr Erel to arrange.
Rita W. Eversole
10:18 28 May 22
Highly recommend this clinic for anyone wanting a friendly, welcoming, professional and non judgmental approach to all your surgical and non surgical needs. I wouldn't consider going anywhere else.