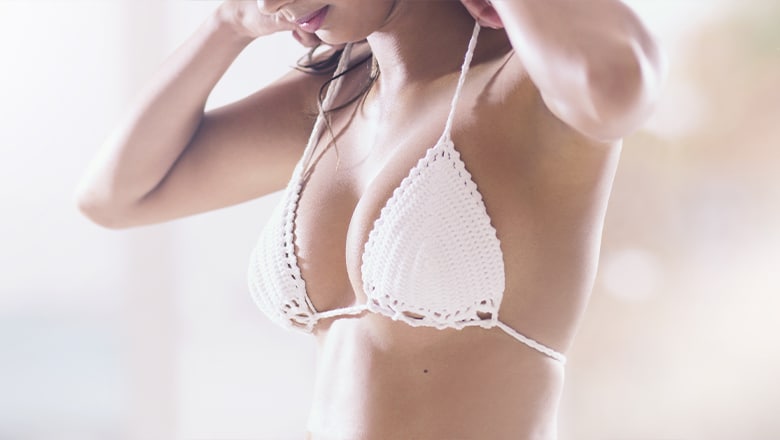 Breast augmentation most commonly involves the insertion of breast implants although fat transfer breast augmentation has recently emerged as a way to increase breast size naturally using your body's own fat. In the UK, breast augmentation remains the most popularly requested cosmetic surgery procedure with thousands of these procedures being carried out in London cosmetic surgery clinics. Any type of breast augmentation procedure is designed to enhance the size and shape of the breast with a significant improvement in skin tightness and smooth-looking skin.
Is it possible to get breast augmentation without implants?
Centre for Surgery specialises in fat transfer breast augmentation also known as 'fat transfer to breasts'. Breast fat transfer is a straightforward method of breast augmentation that utilises fat transfer to increase the size of the breasts using your body's own fat. A natural Breast augmentation that does not involve the use of artificial silicone breast implants and has the advantage of producing more natural-looking results.
Fat transfer breast augmentation involves performing liposuction as a first step to remove fat from unwanted areas of the body with liposuction, followed by the purification of the fat prior to re-injecting the fat into the breasts. Many people complain of having stubborn areas of fat that do not respond to diet and exercise. Fat transfer breast augmentation can be viewed as a combined procedure for simultaneous body sculpting of areas where fat is removed and breast enhancement in the same procedure. Unlike breast augmentation with implants, the risks and complications of natural breast augmentation are much lower and with much less scarring.
The procedure uses your own body fat and the risk of implant-related complications is therefore minimised which includes infection. Fat transfer to the breasts can also be combined with breast implants and this is known as a hybrid breast augmentation. Hybrid breast augmentation allows the use of smaller implants placed on top of the muscle combined with fat transfer around the implant edges to give the benefits of a predictable increase in size with implants coupled with the natural results achievable from fat transfer surgery.
How can I increase my breast size without surgery?
The size of the breasts is most commonly determined by a number of factors including hereditary factors, body mass index and lifestyle factors. The choices for increasing the size of the breasts without surgery are extremely limited and relatively ineffective.
Certain types of exercise can help to strengthen the shoulder and chest muscles and these include press-ups and bench press exercises to improve muscle tone and definition of the pectoralis muscle which sits behind the breasts. It is important to note that the breasts themselves do not change with physical exercise although developing an improved posture will help to convey the impression of more prominent breasts.
Carrying out regular exercises to tone up the chest wall muscles can take a significant period of time and women should not hope for instant results with any potential results being minimal at best.
We would advise staying away from the many breast enhancement products easily found online that claim to increase breast size and these include breast creams, breast enlargement pumps, breast massage techniques and herbal remedies. Many of these treatments are very expensive and in some cases may even be dangerous to take.
How can I achieve a natural look with breast implants?
Breast implant surgery remains the most effective surgical technique to increase the size of the breasts with a high level of predictability.
When you attend your consultation at Centre for Surgery in London, you will be assessed by an expert specialist breast surgeon who will assist you to help you find the right breast implants which are most appropriate for your body frame and anatomy. This will help to achieve natural-looking results after breast augmentation. We use breast implants from Mentor and Sebbin. Both of these manufacturers have an excellent reputation for producing high-quality implants with an impressive safety record. Implants come in different sizes and shapes which include both round, teardrop, anatomical or polyurethane implants. Implant profile and breast implant size will also be taken into account when planning for your breast implant surgery.
There are generally four different types of implant profiles from low profile to extra high profile. Implant profile is used to describe the distance the implant projects from the chest wall with high profile implants projecting outwards more than lower profile implants which tend to have a softer edge. Low profile implants are generally considered to produce a more natural-looking appearance however high profile implants will have a greater possibility of improving breast cleavage.
Your surgeon will also discuss breast implant placement with the two most common techniques involving implant placement below the muscle or above the muscle. Placing breast implants below the muscle is thought to result in a more natural-looking appearance in slimmer women with minimal existing breast tissue. The best approach will be discussed with you at your consultation.
Fat transfer to breasts can be combined with breast implants as part of a hybrid breast augmentation procedure to achieve a natural looking breast augmentation.
How can I get a natural-looking breast augmentation?
Our expert breast surgeons are specialists in producing natural-looking results after both fat transfer breast augmentation and breast augmentation with implants. Very often the ideal procedure will involve the insertion of a low-profile breast implant combined with fat transfer around the edges of the implant to achieve a natural-looking result. If you would like to learn more about how to get a natural-looking breast enhancement, please get in touch today and speak to one of our friendly patient coordinators to book a consultation with one of our specialist breast surgeons in London.
Amazing from start to finish, the communication was the main thing was fully informed and looked after, on the day of my breast augmentation, the staff were fab and made me feel at ease through out the whole process. Thank you so much.
Mohammed Farid
18/11/2021
I've had such a great experience with excellent advice, care and attention and surgical treatment (gynaecomastia) - I can fully endorse the treatment I have received from Centre for Surgery with absolutely no qualms at all. Brilliant in every way - thank you all so much.
Caroline Thorpe
14/11/2021
Very pleased with my whole experience of having a procedure. Was so nervous about getting treatment and i was reassured and felt so comfortable throughout thanks to the amazing nurses. I definitely made the right decision to have breast augmentation at centre for surgery with dr erel.
Melissa Briggs
08/11/2021
So glad I went with centre for surgery, the whole process went very smoothly from the consultations down to the actual day of the procedure. I was so nervous on the day but the whole team put me at ease and I'm happy with my results as I feel a lot more comfortable wearing certain clothes now. My surgeon was Alberto Di Giuseppe who performed a breast Augmentation on me, and I would definitely recommend as he was very clear on what the outcome of the surgery would be and which size would look the best for my frame.
Couldn't be happier with Dr Tillo work,i had my breast surgery one week ago and so happy with the results so far,all the staff are extremely nice and very supportive,i would definitely recommend their services,thank so much
From start to the finish everything was perfect for tummy tuck surgery. All staff is very friendly and the aftercare has been good. The Doctor and the nurse team was fantastic. I'm so happy...result is amazing. Thank you!!!
This was overall a great experience, all the staff at Centre for Surgery were friendly and put me at ease. It is a nerve wracking thing to go through an op but the staff were so nice. Mr Ertan has got a great team around him. On the day of the operation everything went smoothly to plan, there was no delay or holdups, I had another consultation with Mr Ertan who confirmed what was going to be done and that I was still happy to proceed. I was prepped for the procedure, I met with the anaesthetist who again was really nice and put me at ease explaining his role. After the procedure I woke up with the nurse by my side making sure I was OK and checking on me, I was able to stay in the clinic until I was ready to leave and was not rushed at all. I was well looked after from the start to the point when I was discharged. Post operation I was staying at a local hotel it was so close there was no point in even getting a taxi and I was able to walk back where my partner was waiting for me. I was expecting a lot of bruising to both my eyes but there was very little if any by the time the cast came off after 7 days, I am now at the two week post operation point and it is healing well with no outwardly visible bruising or scaring. The next milestone is a checkup at the 6 week point with my surgeon. If you're thinking of having something like this done I would highly recommend getting in touch with Centre for Surgery.
The staff at Centre for Surgery were very kind and accommodating. They answered any questions I had about the procedure and were constantly checking up on me. A special thank you to Christina for all her support throughout.
I would just like to state the quality of care received from the nurses at Centre for Surgery was beyond the highest level. Sophie takes her patient care to another level beyond words. She always puts me at ease. She is there for me even at awkward hours just when I mostly needed reassurance and she is one of the most compassionate nurses I have come across and demonstrates her passion naturally for caring for others. She totally deserves recognition at its finest and thank you for always being there for me. 😍