Cheek fillers are a type of dermal filler treatment aimed at enhancing cheek volume, which helps to soften fine lines and wrinkles. When cheek fillers plump out your cheeks, there is a significant improvement in cheekbone definition. Choosing to have a cheek dermal filler is a quick and straightforward treatment to improve the appearance of sunken cheeks. Sunken cheeks are most commonly caused by the natural ageing process, which results in a loss of volume in the face leading to the appearance of deflated cheeks. Cheek filler treatment can help to rejuvenate the ageing face for a refreshed and more youthful appearance.
Cheek filler treatment in London takes no more than 30 minutes to perform. Patients can return to their normal everyday activities immediately after treatment. When deciding to have treatment with cheek fillers, it is important to bear in mind the other areas of the face will continue to be affected by the natural ageing process, and this is a normal phenomenon. Cheek fillers can be easily combined with dermal filler treatment to other areas of the face to enhance definition and add volume to the lips, temples and brow. The best results are obtained when cheek fillers are administered by a qualified and experienced medical practitioner in a regulated medical environment.
How do cheek fillers work?
The intrinsic elasticity of the skin is due to the presence of collagen. Collagen helps to give the skin its youthful and glowy contour. As part of the ageing process, the production of collagen begins to diminish, leading to sagging skin and loss of volume. This can lead to the development of sunken cheeks. Dermal fillers are precisely injected by an expert practitioner using specialised needles. When the dermal filler is injected, The hyaluronic acid-based gel helps to plump up the cheeks to address the age-related changes caused by collagen depletion. Dermal fillers also exert a hydrating effect on the skin as moisture is absorbed by the filler during the first two weeks after treatment. Dermal fillers also possess antioxidant properties, which are well-recognised as beneficial for their anti-ageing effects.
Here at Centre for Surgery, our doctors focus on using hyaluronic acid-based fillers. This type of filler produces temporary treatment effects and gradually gets absorbed by the body with no untoward long-lasting effects.
RELATED: Cheek augmentation candidates, procedure and recovery
Hyaluronic acid based dermal fillers are preferred by our doctors because if you are unhappy with the result achieved during treatment, the filler can be dissolved with the injection of hyaluronidase. The filler can be safely dissolved, and you can then have further injections if you wish to achieve the desired result.
How long does cheek filler treatment last?
Cheek fillers used for the treatment of sunken cheeks should be viewed as a temporary treatment, and the longevity of treatment will differ between people. This is because the filler is metabolised differently from person to person. On average, cheek filler results last anywhere between nine months and 18 months before further treatment is required to maintain the desired effects. In some people, the results of cheek filler treatment can last in excess of 24 months.
If you are unsure about invasive surgical treatment for sunken cheeks, cheek fillers are an excellent option as a tester treatment to see how you could look with plumper cheeks. You can then decide whether you wish to have more permanent surgical treatment with fat transfer to face, also known as facial fat transfer. Facial fat transfer using micro fat is considered a permanent solution for improving cheek volume and involves the minimally invasive removal of unwanted fat from a particular area of the body, such as the inner thighs. The fat is then processed and purified before being injected with precision cannulas into the targeted areas of the face, including the cheeks. At your consultation, your surgeon can discuss the available treatment options for sunken cheeks.
RELATED: Facial Fat Transfer vs Fillers
RELATED: Facial Implants vs Fillers
Cheek fillers for men
Cheek fillers are not only requested by women. Men form an increasingly large proportion of people who have cheek filler treatment in London each year. Men as young as their 30s are increasingly keen to address signs of facial ageing with cheek dermal fillers before considering more invasive surgical treatment.
RELATED: What are the signs of ageing in the face over time?
Facial ageing does not affect women and men in a similar way. The goals of treatment with cheek fillers are significantly different between men and women. Injecting too much cheek filler into a man's cheek may cause excessive enlargement leading to the appearance of 'chipmunk cheeks' or 'pillow face'. There are notable examples of high-profile male celebrities who have had cheek filler treatment causing their cheeks to appear overfilled and puffy.
The key to achieving aesthetically desirable results is to choose an expert cosmetic injector with years of experience in performing cheek filler procedures in both men and women. Optimum results are achieved by injecting the correct volume of cheek filler to achieve a natural appearance. Physically active men generally require both a higher volume of cheek filler as well as more frequent treatment due to their higher metabolic rate compared with sedentary men.
There is no published medical evidence which suggests untoward effects of dermal fillers administered during pregnancy. However, Centre for Surgery does not recommend having invasive cosmetic treatments, including cheek fillers for women who may be pregnant or breastfeeding.
Cheek filler aftercare
Once injected, cheek fillers produce results that are visible immediately, although it can take between seven and ten days for the final cheek filler results to be visible. It may take up to 2 weeks, and some people if they develop significant bruising and swelling after treatment. Many people choose to have cheek fillers due to the lack of downtime required. Once you have had cheek filler injections at Centre for Surgery, you can recommence your everyday activities immediately with no requirement to be off work. As a general precaution, we would avoid strenuous exercise until 24 hours after treatment to allow the cheek injections to stabilise.
Cheek filler side effects are very uncommon, although it is usual to notice a mild degree of bruising, swelling and localised redness at the injection sites. These side effects gradually disappear after 3 to 4 hours. Applying a cold pack to the treatment area will help to minimise swelling, and you should keep your head elevated above the level of your chest during the first 24 hours. You should refrain from applying makeup for eight hours after cheek filler treatment to minimise the risk of infection.
When sleeping, the best position is to lie on your back. You should avoid sleeping on your sides or front to prevent excessive pressure from being applied to the cheeks. Immediately after cheek fillers, you should refrain from excessive touching of your face and practice good facial hygiene with mild soap and water day and night for the first few days after treatment. This will help to minimise infection risk after having cheek injections. Excessive sunlight exposure and tanning salons should be avoided for ten days after treatment.
You should ensure you follow all of your doctor's aftercare instructions to achieve the best possible results and minimise the risk of complications.
Why choose Centre for Surgery for cheek filler in London?
Centre for Surgery is the leading cosmetic surgery clinic in London and has expertise across the full range of non-surgical treatments, including dermal cheek fillers. If you are interested in having cheek dermal fillers, call us today on 0207 993 4849 or complete the contact form below to schedule an in-person consultation with a specialist cosmetic injector. You can view a wide variety of before and after cheek filler results to give you an idea of how you could look after treatment.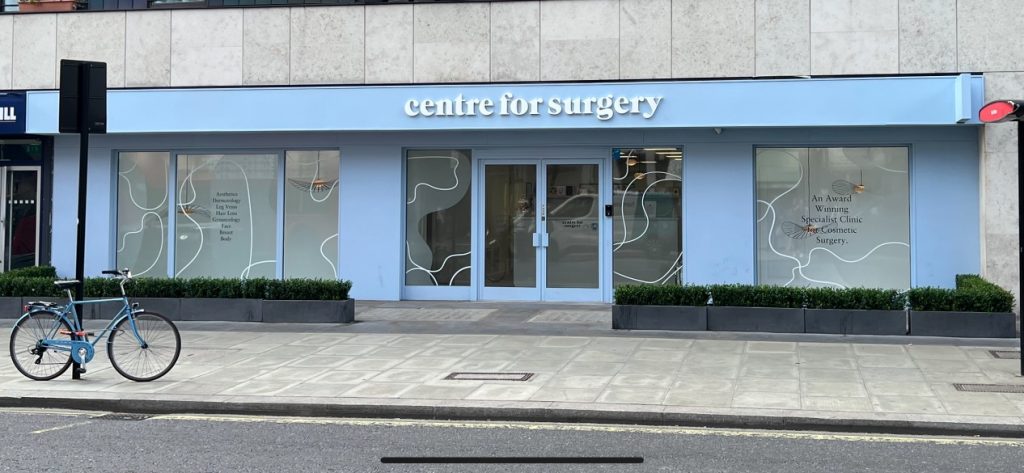 Amazing from start to finish, the communication was the main thing was fully informed and looked after, on the day of my breast augmentation, the staff were fab and made me feel at ease through out the whole process. Thank you so much.
Mohammed Farid
18/11/2021
I've had such a great experience with excellent advice, care and attention and surgical treatment (gynaecomastia) - I can fully endorse the treatment I have received from Centre for Surgery with absolutely no qualms at all. Brilliant in every way - thank you all so much.
Caroline Thorpe
14/11/2021
Very pleased with my whole experience of having a procedure. Was so nervous about getting treatment and i was reassured and felt so comfortable throughout thanks to the amazing nurses. I definitely made the right decision to have breast augmentation at centre for surgery with dr erel.
Melissa Briggs
08/11/2021
So glad I went with centre for surgery, the whole process went very smoothly from the consultations down to the actual day of the procedure. I was so nervous on the day but the whole team put me at ease and I'm happy with my results as I feel a lot more comfortable wearing certain clothes now. My surgeon was Alberto Di Giuseppe who performed a breast Augmentation on me, and I would definitely recommend as he was very clear on what the outcome of the surgery would be and which size would look the best for my frame.
Couldn't be happier with Dr Tillo work,i had my breast surgery one week ago and so happy with the results so far,all the staff are extremely nice and very supportive,i would definitely recommend their services,thank so much
From start to the finish everything was perfect for tummy tuck surgery. All staff is very friendly and the aftercare has been good. The Doctor and the nurse team was fantastic. I'm so happy...result is amazing. Thank you!!!
This was overall a great experience, all the staff at Centre for Surgery were friendly and put me at ease. It is a nerve wracking thing to go through an op but the staff were so nice. Mr Ertan has got a great team around him. On the day of the operation everything went smoothly to plan, there was no delay or holdups, I had another consultation with Mr Ertan who confirmed what was going to be done and that I was still happy to proceed. I was prepped for the procedure, I met with the anaesthetist who again was really nice and put me at ease explaining his role. After the procedure I woke up with the nurse by my side making sure I was OK and checking on me, I was able to stay in the clinic until I was ready to leave and was not rushed at all. I was well looked after from the start to the point when I was discharged. Post operation I was staying at a local hotel it was so close there was no point in even getting a taxi and I was able to walk back where my partner was waiting for me. I was expecting a lot of bruising to both my eyes but there was very little if any by the time the cast came off after 7 days, I am now at the two week post operation point and it is healing well with no outwardly visible bruising or scaring. The next milestone is a checkup at the 6 week point with my surgeon. If you're thinking of having something like this done I would highly recommend getting in touch with Centre for Surgery.
The staff at Centre for Surgery were very kind and accommodating. They answered any questions I had about the procedure and were constantly checking up on me. A special thank you to Christina for all her support throughout.
I would just like to state the quality of care received from the nurses at Centre for Surgery was beyond the highest level. Sophie takes her patient care to another level beyond words. She always puts me at ease. She is there for me even at awkward hours just when I mostly needed reassurance and she is one of the most compassionate nurses I have come across and demonstrates her passion naturally for caring for others. She totally deserves recognition at its finest and thank you for always being there for me. 😍