Breast Augmentation: Understanding Common Side Effects
Breast augmentation is a major decision, and if you've never undergone surgery before, you may be unsure of what to expect afterwards.  While the aftermath of any surgery can be unexpected, it's important to understand that your body is healing and transforming.
Many common side effects experienced after breast augmentation are completely normal and are to be expected. The healing process takes time, and it is important to follow your surgeon's postoperative instructions to get the best results from breast augmentation surgery.
RELATED: How long is breast augmentation recovery?
Here are some common side effects after breast augmentation that you should expect:
Little or No Pain
It's not uncommon for patients to feel good immediately after surgery and experience little to no pain in the first few weeks after their breast augmentation surgery. However, this doesn't necessarily mean that something is wrong. You should still take it easy and avoid any strenuous activity during the first week of recovery. This includes excessive arm movements above the head. It's also important to keep in mind that pain thresholds vary among individuals. Patience may take longer to feel back to the normal self compared with others, and this often depends on the extent of the surgery performed. As with any cosmetic surgery procedure at Centre for Surgery, it is important to avoid doing too much too soon, especially during the first week after surgery.
Tightness and Numbness
Tightness and numbness are common side effects that patients may experience after breast augmentation surgery. The tightness is caused by the surgical procedure itself, as the body needs time to adjust to the newly placed implants and the skin needs time to stretch and conform to the new breast shape. Numbness is also a common side effect, and it occurs because the nerves in the breast tissue are temporarily affected during the surgery.
These sensations of tightness and numbness are usually temporary and should subside as the body heals. The majority of patients regain feeling in the breasts within a few weeks to a few months after the procedure. However, in rare cases, patients may experience prolonged numbness or loss of sensation that can last up to 18 months.
Patients should follow their surgeon's postoperative instructions carefully to help manage these sensations. This may include gentle breast massage to promote healing and alleviate tightness, as well as avoiding strenuous activities that can put excessive pressure on the breasts. It's important to note that patients should not attempt to massage or manipulate the breasts without first consulting with their surgeon.
If patients experience persistent tightness or numbness, they should contact their surgeon to discuss their concerns. While these sensations can be uncomfortable, they are a normal part of the recovery process after breast augmentation surgery. With proper care and attention, patients can ensure a safe and successful recovery and achieve the best possible outcome.
Asymmetrical Swelling
Asymmetrical swelling is a common occurrence after breast augmentation surgery. Each breast may respond differently to the surgical procedure, resulting in one breast being more swollen than the other. This uneven swelling can be concerning for some patients, but it's important to understand that it's a normal part of the recovery process.
Patients should be patient and allow their body time to heal. Asymmetrical swelling typically resolves on its own as the body recovers from surgery. The majority of swelling should subside within the first few weeks after the procedure. However, it can take several months for the breasts to fully settle and achieve their final shape and size.
It's important to keep in contact with the surgeon during the recovery process to ensure proper healing and address any concerns that may arise. If patients experience excessive swelling or other symptoms such as fever or severe pain, they should contact their surgeon immediately.
While asymmetrical swelling may be uncomfortable and cause temporary dissatisfaction with the appearance of the breasts, patients should remain patient and follow their surgeon's post-operative instructions carefully. This will help to ensure optimal healing and the best possible outcome.
Bruising Between or Below the Breasts
Most patients experience bruising in and around the breasts after surgery. However, some patients may be surprised to see bruising between the breasts or below them, around the rib cage. This is normal and happens because of gravity. Bruising naturally follows the direction of gravity. Excessive bruising, particularly if it is around one breast, should be assessed further to rule out a potential breast haematoma.
Unable to "Feel" Your Implants
It's normal for your breasts to feel tight and stiff one month after surgery, and it's common for patients to say they can't feel their implants. As the swelling subsides, you will eventually be able to identify and feel your implants. However, don't worry if you can't identify them immediately, as they feel very natural and can be difficult to detect, even after swelling has gone down. Our postoperative nurses will train you in how to perform breast massages to improve the softness of the breasts and speed up the resolution of swelling.
Leaking from the incisions
Seeing spotting or leakage from your incisions can be alarming, but it's completely normal. It's common to leak or ooze blood, watery blood, or a yellow apple juice-coloured discharge after surgery. Patients may feel alarmed to see a small wound discharge, although fortunately, this commonly occurs after breast surgery. Anything which appears excessive should prompt you to have an urgent consultation with your surgeon.
Constipation
Constipation can be a common side effect after breast augmentation surgery. This is because the prescription pain medications given to manage pain after the procedure can slow down the digestive system and cause constipation. Additionally, the changes in the body's routine and activity level during recovery may also contribute to constipation.
It's essential to stay hydrated after the surgery to help prevent constipation. Patients should drink plenty of water and other fluids, such as fruit juices or clear soups, to help regulate bowel movements. It's also recommended to eat high-fibre foods, such as fruits, vegetables, and whole grains, to promote regular bowel movements.
In some cases, the surgeon may prescribe a stool softener or laxative to help manage constipation. However, patients should consult with their surgeon before taking any over-the-counter medications or home remedies.
It's important to note that constipation can be uncomfortable and even painful, so it's important to address it promptly. If constipation persists for more than a few days or is accompanied by severe abdominal pain, bloating, or nausea, patients should contact our clinical support team immediately for further evaluation and treatment.
Tiredness and fatigue
Feeling tired and fatigued within the first four weeks following your breast augmentation is common. Your body has undergone surgery and is using a lot of energy to heal. Don't be surprised if you feel energetic one moment and then feel like taking a nap the next. Healing after breast implant surgery requires the body to get plenty of rest to minimise the risk of complications. Don't be concerned if you feel you need to have extra rest during the day, especially if you are not used to this in your normal daily routine.
Learn more about Breast Augmentation at Centre for Surgery
It's normal to feel uncertain or anxious about what's happening to your body after surgery. If you have any concerns about anything that's happening following your breast augmentation, don't hesitate to contact your surgeon for guidance. They're there to see you through your journey and ensure a safe and complete recovery.
Centre for Surgery is considered the leading plastic surgery clinic in London for all types of breast surgery, including breast augmentation with implants. We carry out hundreds of breast implant procedures each year at our state-of-the-art Baker Street clinic in Marylebone. Call us today to schedule an in-person consultation at 0207 993 4849. Alternatively, you can complete the contact form below. One of our friendly and knowledgeable Patient coordinators will act as your personal point of contact throughout your journey us at the Centre for Surgery.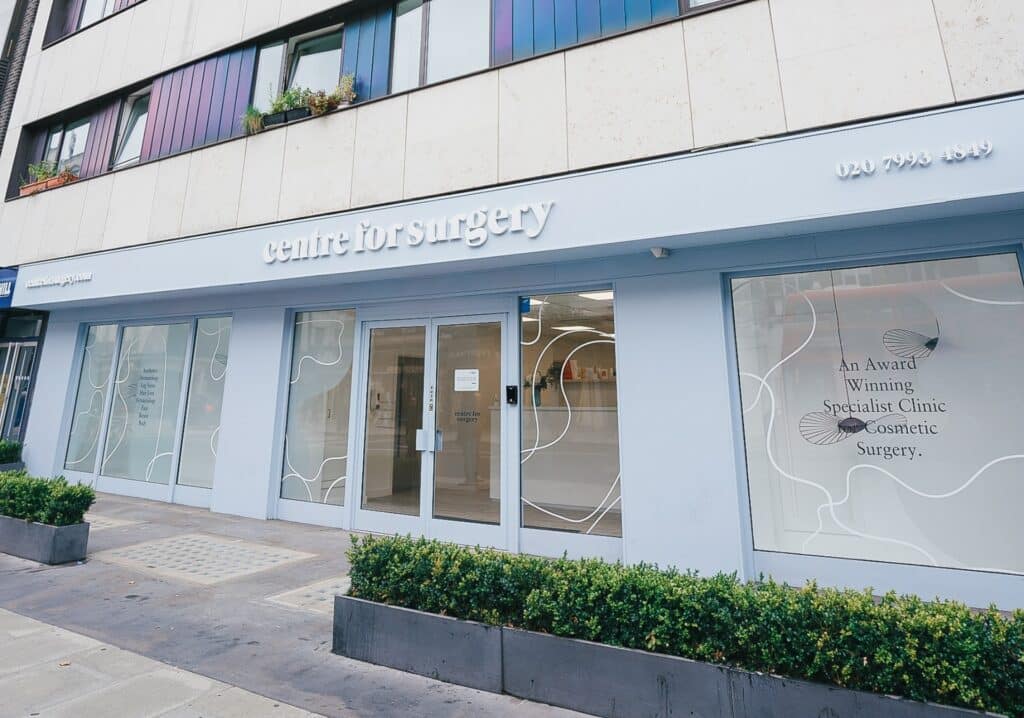 Amazing from start to finish, the communication was the main thing was fully informed and looked after, on the day of my breast augmentation, the staff were fab and made me feel at ease through out the whole process. Thank you so much.
Mohammed Farid
18/11/2021
I've had such a great experience with excellent advice, care and attention and surgical treatment (gynaecomastia) - I can fully endorse the treatment I have received from Centre for Surgery with absolutely no qualms at all. Brilliant in every way - thank you all so much.
Caroline Thorpe
14/11/2021
Very pleased with my whole experience of having a procedure. Was so nervous about getting treatment and i was reassured and felt so comfortable throughout thanks to the amazing nurses. I definitely made the right decision to have breast augmentation at centre for surgery with dr erel.
Melissa Briggs
08/11/2021
So glad I went with centre for surgery, the whole process went very smoothly from the consultations down to the actual day of the procedure. I was so nervous on the day but the whole team put me at ease and I'm happy with my results as I feel a lot more comfortable wearing certain clothes now. My surgeon was Alberto Di Giuseppe who performed a breast Augmentation on me, and I would definitely recommend as he was very clear on what the outcome of the surgery would be and which size would look the best for my frame.
Couldn't be happier with Dr Tillo work,i had my breast surgery one week ago and so happy with the results so far,all the staff are extremely nice and very supportive,i would definitely recommend their services,thank so much
From start to the finish everything was perfect for tummy tuck surgery. All staff is very friendly and the aftercare has been good. The Doctor and the nurse team was fantastic. I'm so happy...result is amazing. Thank you!!!
This was overall a great experience, all the staff at Centre for Surgery were friendly and put me at ease. It is a nerve wracking thing to go through an op but the staff were so nice. Mr Ertan has got a great team around him. On the day of the operation everything went smoothly to plan, there was no delay or holdups, I had another consultation with Mr Ertan who confirmed what was going to be done and that I was still happy to proceed. I was prepped for the procedure, I met with the anaesthetist who again was really nice and put me at ease explaining his role. After the procedure I woke up with the nurse by my side making sure I was OK and checking on me, I was able to stay in the clinic until I was ready to leave and was not rushed at all. I was well looked after from the start to the point when I was discharged. Post operation I was staying at a local hotel it was so close there was no point in even getting a taxi and I was able to walk back where my partner was waiting for me. I was expecting a lot of bruising to both my eyes but there was very little if any by the time the cast came off after 7 days, I am now at the two week post operation point and it is healing well with no outwardly visible bruising or scaring. The next milestone is a checkup at the 6 week point with my surgeon. If you're thinking of having something like this done I would highly recommend getting in touch with Centre for Surgery.
The staff at Centre for Surgery were very kind and accommodating. They answered any questions I had about the procedure and were constantly checking up on me. A special thank you to Christina for all her support throughout.
I would just like to state the quality of care received from the nurses at Centre for Surgery was beyond the highest level. Sophie takes her patient care to another level beyond words. She always puts me at ease. She is there for me even at awkward hours just when I mostly needed reassurance and she is one of the most compassionate nurses I have come across and demonstrates her passion naturally for caring for others. She totally deserves recognition at its finest and thank you for always being there for me. 😍