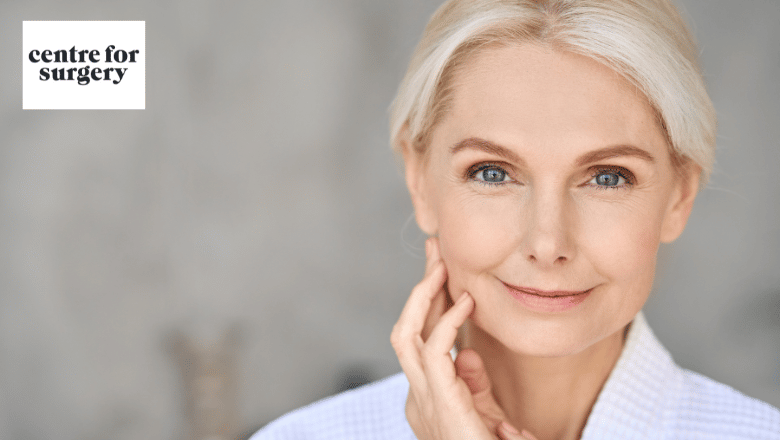 We commonly get asked at Centre for Surgery if there is an age limit for plastic surgery. As a leading provider of surgical and non-surgical cosmetic treatments in London, we take great care to make sure patients are likely to achieve the best possible results. Although there are several factors to take into account when considering the upper age limit for cosmetic surgery, we would say, in most cases, there is no specific age limit for virtually all cosmetic surgery procedures.
Many younger patients often ask us if there is a minimum age they must be to have cosmetic surgery. At most plastic surgery clinics in the UK, patients will need to be at 18 years of age to have a consultation or procedure, and Centre for Surgery follows this guidance in full. In some cases, we may recommend you be at least 21 years of age to allow your body to complete growth and development, and this often applies to many types of nose surgery, such as rhinoplasty.
Whilst patients in their 70s and 80s were previously considered too old for cosmetic surgery, many significant advances over the last two decades have meant cosmetic surgery has become increasingly accessible. We are much healthier now, compared with, say, 30 years ago, and a person who is 60 years old can often have the energy and vitality of someone 20 years younger. If you are medically fit and have a healthy lifestyle, your chronological age is much less important.
We often have patients who choose to have breast augmentation surgery in the 60s, and they often tell us how pleased they were to have the surgery. Similarly, many older women and men in their 70s express an interest in facelift surgery. Nowadays, people want to look and feel much younger. This is why aesthetic plastic surgery can be genuinely life-changing, with people developing a significant boost in self-confidence, even if they choose to have cosmetic surgery later in life.
Here are some key points you may wish to consider before choosing to have cosmetic surgery in London.
Older patients should be medically fit and in good health
Being in an older age group does not necessarily mean you will not qualify for cosmetic surgery. However, if you have serious medical conditions, this may mean you are not suitable for surgery. Here at Centre for Surgery, we place great emphasis on patient safety above all else, and our clinical team will always emphasise this during consultations and procedures. You should be in overall good health to have plastic surgery. At the consultation, your Surgeon will take a detailed medical history, including any previous operations you may have had in the past. You will also be asked about any medications you are currently taking. Patients over the age of 50 may be asked to undergo extra blood testing and an ECG to make sure there are no underlying heart conditions that have gone previously undetected.
Your specialist plastic surgeon will also want to know about your lifestyle. This is an essential determinant of suitability for surgery. Patients who smoke heavily or consume excessive quantities of alcohol have an increased risk of complications during and after surgery. People with a body mass index over 30 may not be suitable for surgery.
As with any surgical procedure, there are certain risks to be aware of. Patients who are medically fit and have a healthy lifestyle will have a lower risk of surgical complications, and their recovery will be smoother. Most cosmetic surgery procedures at our Baker Street clinic are performed under general anaesthetic. If you smoke or drink alcohol, you may be asked to stop in advance of surgery. You may also be asked to stop certain medications to minimise the risk of complications during anaesthesia.
Our admission criteria involve adhering to the internationally recognised ASA (American Society of Anesthesiologists) scoring criteria. The ASA classification is a validated measure of a person's medical fitness for surgery. At Centre for Surgery, we only perform surgery on patients with an ASA score of one or two. If you have an ASA score of three or four, you will not be suitable for plastic surgery at the Centre for Surgery.
RELATED: Anaesthesia for Cosmetic Surgery
The importance of realistic expectations
Although there is no defined age limit for cosmetic surgery, the results achievable with certain procedures will be impacted by the age you choose to have surgery. This is well demonstrated with facelift surgery. Although your surgeon may deem you a suitable candidate for a facelift, you may not achieve as dramatic results as if you had the procedure in your late 40s or early 50s. Facelift surgery, particularly a deep plane facelift is one of the most effective facial rejuvenation procedures to reverse many of the signs of facial ageing. With modern surgical techniques, people can achieve long-lasting, beautiful and natural results as long as they have a sufficient amount of residual skin elasticity.
RELATED: What is the best age for a facelift?
This does not necessarily mean you cannot achieve amazing results with a facelift in your 70s. An experienced plastic surgeon will help you to achieve a refreshed and youthful look to help improve skin tightness and address loss of volume. This does not, however, mean a facelift can prevent further signs of ageing. This is why it is important to have realistic expectations of what surgery can achieve to give you a greater likelihood of being pleased with your final results.
In our experience, patients who are considering facelift surgery in their 70s and 80s are not hoping to look 30 years younger. They are often focused on improving certain areas of the face that they are unhappy about and would like to achieve subtle yet natural, looking enhancements to make them look like the best version of themselves. They are not fixated on eradicating every line or wrinkle or hoping to improve skin quality. Realistic outcomes of surgery include those who are looking to achieve a refreshed, vibrant and natural look to make them feel amazing about themselves.
If you are an older person and are exploring your cosmetic surgery options, make sure to carry out plenty of research to learn about the pros and cons of plastic surgery. This will help you to form realistic expectations about what kind of result can be achieved. At your in-person consultation at Centre for Surgery, you can view a wide selection of before and after photos to give you an idea of how you could look after surgery.
Non-surgical options may be more suitable
Many people may not be aware that there are several highly effective non-surgical options, which may eliminate the need for an invasive surgical procedure with all its potential risks. If you are determined to be medically unfit for surgery or are not keen on the idea of a surgical procedure, there is a wide range of non-surgical options available at our Baker Street clinic. Our most popular nonsurgical treatments include anti-wrinkle injections, dermal fillers, thread lift, Fotona4D, Morpheus8, FaceTite and BodyTite. Virtually all non-surgical treatments have little or no downtime. Patients can have treatment on their lunch break, which often lasts no more than one hour, and be back to normal activities immediately.
At Centre for Surgery, there is no upper age limit for any of our nonsurgical treatments. As an example, we recently had a patient who was keen to explore the option of wrinkle-relaxing injections. Although she was concerned she may not be suitable as she was 85. It's never too late to have non-surgical cosmetic treatment, and she was extremely pleased with the outcome of her treatment to enhance her facial features.
Cosmetic surgery in London at Centre for Surgery
If you have been considering cosmetic surgery and you think you may be too old, always remember that you may be suitable as long as you are in a good state of health and have realistic expectations. Call us today on 020 7993 4849 or complete the contact form below, and one of our expert patient coordinators will act as your personal point of contact throughout your patient journey with us at Centre for Surgery. Our state-of-the-art plastic surgery clinic in London is considered one of the most advanced facilities in the UK and is home to some of the best cosmetic surgeons in London.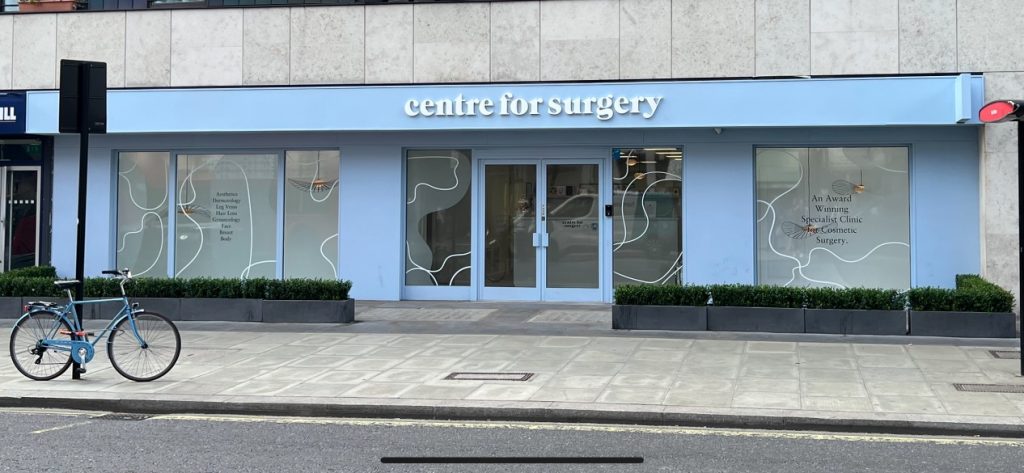 Amazing from start to finish, the communication was the main thing was fully informed and looked after, on the day of my breast augmentation, the staff were fab and made me feel at ease through out the whole process. Thank you so much.
Mohammed Farid
18/11/2021
I've had such a great experience with excellent advice, care and attention and surgical treatment (gynaecomastia) - I can fully endorse the treatment I have received from Centre for Surgery with absolutely no qualms at all. Brilliant in every way - thank you all so much.
Caroline Thorpe
14/11/2021
Very pleased with my whole experience of having a procedure. Was so nervous about getting treatment and i was reassured and felt so comfortable throughout thanks to the amazing nurses. I definitely made the right decision to have breast augmentation at centre for surgery with dr erel.
Melissa Briggs
08/11/2021
So glad I went with centre for surgery, the whole process went very smoothly from the consultations down to the actual day of the procedure. I was so nervous on the day but the whole team put me at ease and I'm happy with my results as I feel a lot more comfortable wearing certain clothes now. My surgeon was Alberto Di Giuseppe who performed a breast Augmentation on me, and I would definitely recommend as he was very clear on what the outcome of the surgery would be and which size would look the best for my frame.
Couldn't be happier with Dr Tillo work,i had my breast surgery one week ago and so happy with the results so far,all the staff are extremely nice and very supportive,i would definitely recommend their services,thank so much
From start to the finish everything was perfect for tummy tuck surgery. All staff is very friendly and the aftercare has been good. The Doctor and the nurse team was fantastic. I'm so happy...result is amazing. Thank you!!!
This was overall a great experience, all the staff at Centre for Surgery were friendly and put me at ease. It is a nerve wracking thing to go through an op but the staff were so nice. Mr Ertan has got a great team around him. On the day of the operation everything went smoothly to plan, there was no delay or holdups, I had another consultation with Mr Ertan who confirmed what was going to be done and that I was still happy to proceed. I was prepped for the procedure, I met with the anaesthetist who again was really nice and put me at ease explaining his role. After the procedure I woke up with the nurse by my side making sure I was OK and checking on me, I was able to stay in the clinic until I was ready to leave and was not rushed at all. I was well looked after from the start to the point when I was discharged. Post operation I was staying at a local hotel it was so close there was no point in even getting a taxi and I was able to walk back where my partner was waiting for me. I was expecting a lot of bruising to both my eyes but there was very little if any by the time the cast came off after 7 days, I am now at the two week post operation point and it is healing well with no outwardly visible bruising or scaring. The next milestone is a checkup at the 6 week point with my surgeon. If you're thinking of having something like this done I would highly recommend getting in touch with Centre for Surgery.
The staff at Centre for Surgery were very kind and accommodating. They answered any questions I had about the procedure and were constantly checking up on me. A special thank you to Christina for all her support throughout.
I would just like to state the quality of care received from the nurses at Centre for Surgery was beyond the highest level. Sophie takes her patient care to another level beyond words. She always puts me at ease. She is there for me even at awkward hours just when I mostly needed reassurance and she is one of the most compassionate nurses I have come across and demonstrates her passion naturally for caring for others. She totally deserves recognition at its finest and thank you for always being there for me. 😍