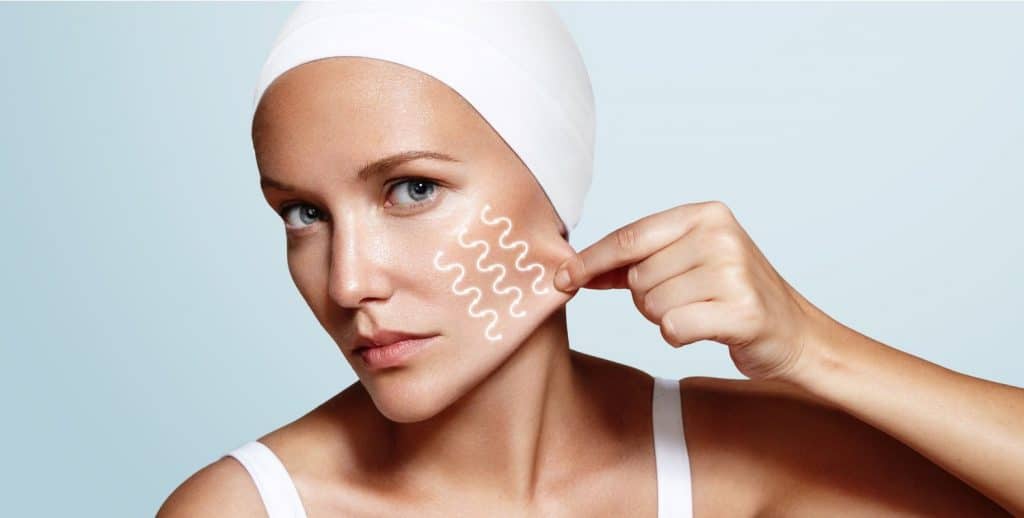 An increasing number of people are choosing non-invasive options like Morpheus8 and Ultherapy for skin tightening because these treatments provide excellent results allowing a quick return to normal activities without the downtime associated with more invasive treatment.
Although Morpheus8 and Ultherapy are both designed to tighten loose and sagging skin for effective skin rejuvenation, they work in very different ways. Both treatments are commonly performed on both women and men with Morpheus8 able to treat a white range of skin conditions like acne scarring and stretch marks removal. The technology underpinning both treatments differs in the way energy is delivered to the soft tissues and here we will discuss the key differences that allow you to make an informed decision on the best skin tightening treatment for you.
| | | |
| --- | --- | --- |
| | Morpheus8 | Ultherapy |
| Treatment | Skin tightening using a combination of microneedling and radio-frequency (RF) | Skin tightening using high intensity focussed ultrasound |
| Treatment Area | Can treat both the face and body | Suitable only for the face and neck |
| Time taken for results to appear | 3-4 weeks | 3-6 months |
| Duration of results | 2-3 years (can be extended with FaceTite/BodyTite) | 1 year |
| Recovery period | 1-2 days for most treatments; 1 week for intensive treatments on the body when combined with BodyTite |  No downtime |
What is Morpheus8?
Morpheus8 is a revolutionary skin rejuvenation treatment that can produce incredible anti-ageing effects with effective FDA-approved clearance. Morpheus8 works by producing RF energy deep into the soft tissues beneath the skin while simultaneously applying advanced microneedling to the superficial and deep layers of the skin for subdermal remodelling of even the most stubborn areas such as the flat below the chin and jowls without the need for invasive surgery. Morpheus8 can tackle both small areas around the eyelids as well as larger areas such as the abdomen and thighs.
Our Morpheus8 experts at Centre for Surgery always customise treatment to match each patient's expectations and goals. Women and men who are keen to improve the appearance of sagging skin, scars, stretch marks, ageing, acne scars and other skin concerns without surgery can have a Morpheus8 consultation to learn more about the benefits of treatment for contouring and tightening the skin at the same time.
Morpheus8 skin tightening benefits
Morpheus8 combines advanced microneedling and radio frequency energy for the effective treatment of skin laxity while simultaneously removing stubborn areas of excess fat. New collagen and elastin are stimulated by Morpheus8 treatment for the creation of an improved skin complexion and a more youthful look. Morpheus8 skin rejuvenation is ideal for women and men who would like to tackle the following skin concerns:
Fine lines and wrinkles
Hyperpigmentation
Loose and sagging skin
Coarse skin texture
Surgical scars
Acne scars
Stretchmarks
Double chin and excess neck fat
Mild facial jowls
Morpheus8 can be used to target a number of areas on the face and body including:
Forehead
Eyelids
Lower face
Chin
Neck
Peri oral region
Large areas of the body including but not limited to the abdomen, upper arms, thighs and chest
Morpheus8 Cost
The cost of Morpheus8 skin tightening treatment will vary depending on the part of the face or body being treated. In general Morpheus eight prices will be less if you choose to purchase a session of three treatments. The following are rough guide prices for Morpheus8 treatment in London. The final cost will be given once you have had a consultation.
RELATED: Morpheus8 cost UK
Morpheus8 Face and Neck
Related: What is Morpheus8 Face?
Morpheus8 Face it's ideal for the treatment of many types of skin condition affecting the face including fine lines and wrinkles, coarse skin texture, acne scars and saggy skin. Prices for Morpheus8 Face at Centre for Surgery are as shown below:
| | | |
| --- | --- | --- |
| | Face  | Face and Neck |
| 1 session | £1200 | £1,500 |
| 2 sessions | £2000 | £2,500 |
| 3 sessions | £2,750 | £3,000 |
Morpheus8 Body
RELATED: Morpheus8 Body for loose skin, scars, stretch marks and cellulite
Morpheus8 Body is designed to treat any area of the body that has loose skin including the abdomen, upper arms, thighs and knees. Surgical scars and stretchmarks can also be effectively treated with permanent results. Prices for Morpheus8 Body:
| | | |
| --- | --- | --- |
| 1 session | 2 sessions | 3 sessions |
| £1,000 | £2,400 | £3,200 |
How does Morpheus8 work?
Morpheus8 utilises a specialised microneedling device that emits radio-frequency energy when activated. Each treatment is customised to match a patients individual preferences and goals for treatment and can be used to treat most areas on the face and body. Before undergoing Morpheus8 treatment, your practitioner will apply a topical numbing cream to the skin and allow to work for at least 45 minutes.
Morpheus8 contours and sculpts the face and body using the principle of subdermal adipose remodelling. This principle utilises both microneedling and radio-frequency energy to penetrate deep into the skin and superficial fat. Morpheus8 directly stimulates new collagen production for a smooth and youthful appearance as the treatment can work at a much deeper level in the skin than most competing devices.
Morpheus8 comes with four different fractional tips with different configurations of micro needles to increase the versatility of treatment and optimise results. The smaller handpiece can be used for treating smaller areas with precision whilst the Morpheus8 body and peace can be used for much larger areas for deeper and more intense treatments. Our aesthetic specialists will choose the optimum micro needling configuration based on your expectations for treatment. Morpheus8 can help to reduce the appearance of broken capillaries, enlarged pores, and brown discolouration and can significantly improve the appearance of fine lines and wrinkles.
Morpheus8 microneedling specifically targets the upper layer of the epidermis and stimulates a wound healing response resulting in the production of new collagen. Collagen is a fundamental building block of the skin responsible for giving it its inherent elasticity and firmness. Each type of Morpheus8 handpiece can be used with four different options:
Prime – 12 needles
Resurfacing – needles
Morpheus8 – 24 needles
Body – 40 needles
The Morpheus8 handpiece is designed to apply controlled radiofrequency thermal energy into the targeted area. Microneedling directly stimulates the upper layer of the skin known as the epidermis whilst the radio frequency energy imports thermal energy to the deeper layer of the skin known as the dermis. The application of thermal energy induces tightening and contouring of the treated area. Combining microneedling with radio frequency (RF) means increased collagen and elastin can be produced which helps to achieve a tighter and smoother-looking appearance. Fine lines and wrinkles, excess fat and saggy skin can be significantly improved. The depth of the micro needles can be precisely adjusted by your practitioner to target specific areas with incredible precision. It is normal for patients to experience a mild warmth along with a slight prickling sensation during Morpheus8 treatment. Although everyone has different goals for treatment, we would recommend carrying out a total of three treatments space to 6 weeks apart to achieve the best Morpheus8 results.
Morpheus8 Recovery
Morpheus8 recovery takes approximately 48 hours. It is normal to experience mild swelling and small red pinpoints in the treatment zone. The vast majority of patients can return today everyday activities and recommence wearing their make-up after two days. You will receive a set of post-treatment care instructions and we recommend having a total of three treatments spaced six weeks apart from most skin concerns. If you are having treatment for acne scarring you may require more treatments as this is a notoriously difficult condition to treat. We would advise using SPF 50 sunscreen after every Morpheus8 treatment. You will begin to see results after the first three days and the results will continue to improve over the next three weeks to 3 months as new collagen and elastin is stimulated and remodelled leading to a youthful appearance.
Your aesthetic practitioner will carry out a series of three Morpheus8 treatments for outstanding and long-lasting results. You should avoid any direct sunlight exposure for approximately four weeks. After a very short period of recovery, you will begin to see smooth skin with better skin tone and contour with a markedly reduced level of fine lines and wrinkles among other skin rejuvenation benefits.
Morpheus8 Before and After
Ultherapy is a non-surgical method of tightening and lifting loose skin on the face and neck without surgery using high-intensity focused ultrasound (HIFU). Controlled ultrasound energy is used to penetrate to the deeper layers of the skin and soft tissues to stimulate the production of collagen and elastin.
Ultherapy involves the use of ultrasound technology to produce a youthful facial appearance. Ultherapy can be used on loose neck skin, tightening the skin of the upper face and brown as well as helping to reduce the appearance of fine lines and wrinkles on the decollete. Many people choose to have Ultherapy as an alternative to more invasive facelift surgery, particularly in those with milder signs of facial ageing.
What Does Ultherapy Treat?
Ultherapy is a non-invasive technique designed to lift and tighten loose and sagging skin. It has been approved as a safe and effective method for skin smoothing with minimal risk of complications. The treatment uses ultrasound technology to treat targeted areas which helps to lift and plump the skin for an improved appearance. The treatment can be performed on the upper face, full face, neck, full face and neck or the upper chest area.
Ultherapy Cost
The cost of Ultherapy treatment will depend on a number of factors including the size of the treatment area. Small areas such as the upper face will cost less compared with a full face and neck treatment where costs can exceed £1400
Ultherapy Procedure
Depending on the area of treatment. Ultherapy takes anywhere between 1:30 hours to carry out. Once the treatment area has been accurately marked, the practitioner will pass the handpiece over the treatment area. The ultrasound energy will gently warm the deepest layers of the tissue which helps to improve collagen generation. Generally no anaesthesia is required for the treatment however many patients believe Ultherapy is quite a painful procedure.
Ultherapy Recovery
Ultherapy has virtually no downtime which means patients can return to their normal routines straight away. The gentle ultrasound energy is used to target the underlying soft tissues of the face and neck which helps to stimulate the body's natural production of collagen and elastin. Over the first 3 to 6 months, the results of Ultherapy Will continue to improve. This treatment can reduce the signs of early ageing to provide long-lasting and permanent results appropriately selected patients.
Is Morpheus8 Better Than Ultherapy?
Here at Centre for Surgery, our aesthetic practitioners and doctors prefer Morpheus8 treatment due to its ability to deliver more impressive skin tightening results compared with Ultherapy.
 The reasons for favouring Morpheus8 are as follows:
Morpheus8 produces quicker results with patients often noticing dramatic improvements in the appearance of the skin after three days with further improvements over the first four weeks of treatment. Ultherapy often takes between 3 to 6 months for results to become visible.
Morpheus8 can treat many areas of the face and body using specialist engineered handpieces whereas Ultherapy has a limited application on the face and neck only.
The results of Morpheus8 often last up to 3 years compared with the results of Ultherapy where 12 to 18 months is typical. Morpheus8 results can be enhanced even further when used in combination with FaceTite and treatment longevity can be up to 5 years in length.
Morpheus8 is the best non-surgical skin tightening treatment with minimal downtime and with superior results compared with Ultherapy. We would recommend booking a consultation to assess your suitability for Morpheus8 treatment at our state-of-the-art 106 Crawford Street clinic in Marylebone Central London.
Morpheus8 FAQ
How many Morpheus8 treatments do I need?
Patients will generally require between 2 to 3 treatments to achieve the best results although this will differ as every patient is unique. Some types of skin concerns such as acne scars will require more sessions as this is a very difficult condition to treat. Morpheus8 used for the body to tighten loose skin may require more treatments compared with Morpheus8 used for the face or neck.
Is Morpheus8 permanent?
Morpheus8 results typically last after three years and we would recommend an annual maintenance treatment to preserve the results over time. Morpheus8 does not stop the ageing process and skin laxity will continue to develop although the rate at which loose skin develops is much slower compared with not having Morpheus8 treatment at all. We would advise maintaining a healthy diet with plenty of regular exercises and avoiding excessive sun exposure. You should also avoid smoking and alcohol as these can have detrimental effects on the skin.
Where can I get Morpheus8 near me?
Morpheus8 is one of our most popular treatments at Centre for Surgery. Our 106 Crawford Street clinic is located in the heart of leafy Marylebone.  You will be treated by expert aesthetic practitioners with years of experience in performing non-surgical aesthetic treatments using gold standard medical techniques including Morpheus8.
How do I prepare for Morpheus8?
Morpheus8 patients should avoid any medicines containing aspirin or anti-inflammatory medicines such as ibuprofen. You should also avoid blood thinners or herbal supplements. Fish oil and vitamin E should be avoided for at least two weeks before treatment to reduce bruising. We would recommend you stop taking any retinol-based skincare products, hydroquinone, benzoyl peroxide products for acne or topical antibiotics for at least two days prior to treatment.
You should avoid exposure to the Sun and should refrain from using tanning beds for at least 24 hours before having Morpheus8 as excessive exposure can result in temporary darkening of the skin and may affect the results of treatment. Your specialist aesthetic practitioner will review your medicines and any skincare products you are using before preparing you for your Morpheus8 treatment.
When will I see results from Morpheus8?
After each Morpheus8 treatment, you will immediately notice a significant degree of skin tightening. The stimulation of collagen and elastin takes longer to occur and the best results are seen approximately four weeks after treatment. The skin tone and texture will be significantly improved with final results being observed after your third treatment.
Amazing from start to finish, the communication was the main thing was fully informed and looked after, on the day of my breast augmentation, the staff were fab and made me feel at ease through out the whole process. Thank you so much.
Mohammed Farid
18/11/2021
I've had such a great experience with excellent advice, care and attention and surgical treatment (gynaecomastia) - I can fully endorse the treatment I have received from Centre for Surgery with absolutely no qualms at all. Brilliant in every way - thank you all so much.
Caroline Thorpe
14/11/2021
Very pleased with my whole experience of having a procedure. Was so nervous about getting treatment and i was reassured and felt so comfortable throughout thanks to the amazing nurses. I definitely made the right decision to have breast augmentation at centre for surgery with dr erel.
Melissa Briggs
08/11/2021
So glad I went with centre for surgery, the whole process went very smoothly from the consultations down to the actual day of the procedure. I was so nervous on the day but the whole team put me at ease and I'm happy with my results as I feel a lot more comfortable wearing certain clothes now. My surgeon was Alberto Di Giuseppe who performed a breast Augmentation on me, and I would definitely recommend as he was very clear on what the outcome of the surgery would be and which size would look the best for my frame.
Couldn't be happier with Dr Tillo work,i had my breast surgery one week ago and so happy with the results so far,all the staff are extremely nice and very supportive,i would definitely recommend their services,thank so much
From start to the finish everything was perfect for tummy tuck surgery. All staff is very friendly and the aftercare has been good. The Doctor and the nurse team was fantastic. I'm so happy...result is amazing. Thank you!!!
This was overall a great experience, all the staff at Centre for Surgery were friendly and put me at ease. It is a nerve wracking thing to go through an op but the staff were so nice. Mr Ertan has got a great team around him. On the day of the operation everything went smoothly to plan, there was no delay or holdups, I had another consultation with Mr Ertan who confirmed what was going to be done and that I was still happy to proceed. I was prepped for the procedure, I met with the anaesthetist who again was really nice and put me at ease explaining his role. After the procedure I woke up with the nurse by my side making sure I was OK and checking on me, I was able to stay in the clinic until I was ready to leave and was not rushed at all. I was well looked after from the start to the point when I was discharged. Post operation I was staying at a local hotel it was so close there was no point in even getting a taxi and I was able to walk back where my partner was waiting for me. I was expecting a lot of bruising to both my eyes but there was very little if any by the time the cast came off after 7 days, I am now at the two week post operation point and it is healing well with no outwardly visible bruising or scaring. The next milestone is a checkup at the 6 week point with my surgeon. If you're thinking of having something like this done I would highly recommend getting in touch with Centre for Surgery.
The staff at Centre for Surgery were very kind and accommodating. They answered any questions I had about the procedure and were constantly checking up on me. A special thank you to Christina for all her support throughout.
I would just like to state the quality of care received from the nurses at Centre for Surgery was beyond the highest level. Sophie takes her patient care to another level beyond words. She always puts me at ease. She is there for me even at awkward hours just when I mostly needed reassurance and she is one of the most compassionate nurses I have come across and demonstrates her passion naturally for caring for others. She totally deserves recognition at its finest and thank you for always being there for me. 😍