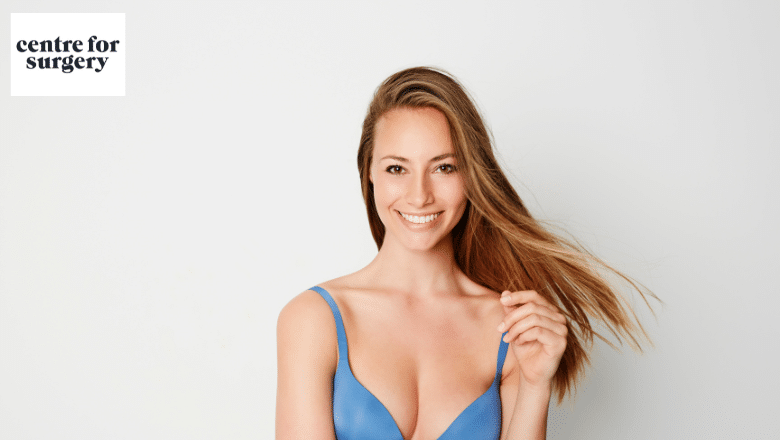 The development of breasts is an incredibly unique and personal experience, varying from one individual to another. It is entirely natural for you to feel dissatisfied with the size, form, or positioning of your breasts as they mature. Once the growth of your breast tissue reaches completion, you might contemplate undergoing cosmetic breast surgery at Centre for Surgery located in London to address any concerns or insecurities you may be experiencing.
RELATED: What are the most natural looking breast implants?
Traditionally, the most aesthetically appealing breast shape is believed to be firm, full, and evenly rounded from top to bottom. Consequently, numerous women who perceive their breasts as pointy or elongated may opt for a breast augmentation procedure in order to attain a more desirable and visually pleasing silhouette. By choosing this surgical intervention, women can enhance their confidence and embrace a more harmonious appearance that aligns with their personal preferences.
Is it normal to have pointy boobs?
Yes, it is completely normal to have pointy breasts, as breast shapes and sizes can vary significantly among individuals. In fact, the diversity in breast appearance is a natural aspect of human anatomy, and no two breasts are exactly alike, even on the same person.
Breast shape and size are influenced by a variety of factors, including genetics, hormonal changes, and body weight. The development of breasts typically begins during puberty, and the final form may take several years to fully mature. Some women may develop rounder, fuller breasts, while others may naturally have a more conical or pointy shape. It is important to remember that all breast shapes are normal and natural, and there is no single standard for what constitutes the "ideal" breast appearance.
RELATED: Boob Job FAQs
That said, societal expectations and personal preferences can influence an individual's perception of their own breasts. For those who feel insecure or uncomfortable with the shape of their breasts, cosmetic breast surgery procedures, such as breast augmentation, can be considered. These procedures can help alter the shape, size, or position of the breasts to achieve a more personally satisfying appearance. However, it is essential to carefully weigh the benefits and potential risks associated with any surgical procedure and consult with a qualified medical professional to determine the best course of action.
What if I am unhappy with the shape of my breasts?
If you find yourself feeling dissatisfied with the shape of your breasts, it is essential to know that you have options to help improve their appearance. Cosmetic breast surgery offers various procedures to address specific concerns and enhance the overall aesthetic of your breasts. When you schedule a consultation at Centre for Surgery, our team of expert surgeons will provide personalised guidance and help you determine which breast surgery technique is best suited to your needs and desires.
Before making any decisions, it is crucial to engage in open and honest communication with your surgeon, discussing your goals and concerns about your breast shape. This will enable your medical professional to better understand your expectations and recommend the most suitable procedure tailored to your unique situation.
There are several types of cosmetic breast surgeries available, including but not limited to the following:
Breast augmentation
Breast implants serve as a means to increase volume and improve the overall contour of the breasts. They can also provide a subtle lift to address mild to moderate sagging, known as ptosis, giving the breasts a more youthful and perky appearance. Additionally, in cases where there is inadequate breast development, such as with tuberous breasts, implants can be utilised during corrective surgery to provide the necessary fullness and achieve a more balanced and aesthetically pleasing shape.
Tuberous breasts are a congenital condition characterised by underdeveloped, elongated, or constricted breasts, often with a puffy or enlarged areola. To correct this issue, breast augmentation surgery using implants can be combined with other surgical techniques, such as releasing constricted breast tissue, reshaping or reducing the size of the areola, and repositioning the nipple-areolar complex. This comprehensive approach not only enhances the size of the breasts but also addresses the unique structural concerns associated with tuberous breasts, resulting in a more natural and harmonious appearance.
Breast lift
Sagging or drooping of the skin and breast tissue is a typical concern as one ages, and breast lift, also known as mastopexy, can help reshape and elevate the breasts for a rejuvenated look. Tubular breasts often present considerable sagging or drooping, making a breast lift necessary to restructure and elevate the breast tissue on the chest. Simultaneously, the areola can be resized and recontoured to enhance the overall appearance.
Breast augmentation with an uplift
A breast augmentation with a lift, also known as augmentation mastopexy, is a procedure that combines the enhancement of breast size and shape with the elevation and rejuvenation of sagging breasts. This comprehensive approach addresses both volume loss and sagging, resulting in a more youthful, fuller, and uplifted appearance.
Breast reduction
Excessively large breasts can lead to various issues, such as neck and back discomfort, poor posture, breathing difficulties, and feelings of self-consciousness or embarrassment. Breast reduction surgery, commonly referred to as reduction mammoplasty, is an operation that aims to decrease the size and heaviness of the breasts. This is achieved by excising surplus breast tissue and skin, resulting in a more comfortable and proportionate breast size.
Breast reconstruction
Often performed after a mastectomy, breast reconstruction involves rebuilding the breast's shape and appearance using various techniques, such as implants or tissue from other areas of the body.
Ultimately, the choice of which procedure to pursue should be based on your personal preferences, medical history, and desired outcome. It is essential to have realistic expectations and to understand that while cosmetic breast surgery can significantly improve the appearance of your breasts, it may not provide absolute perfection. By working closely with a skilled surgeon and considering all available options, you can make an informed decision that best aligns with your goals and leads to increased satisfaction with your breast shape.
Is it normal for boobs to look pointy after breast augmentation?
Yes, it is not uncommon for breasts to appear pointy or have an unnatural shape shortly after breast augmentation surgery. This phenomenon can be attributed to several factors, and in most cases, it is a temporary condition that resolves over time as the breasts heal and settle into their final shape. Some reasons for the initial pointy appearance include:
Swelling: Postoperative swelling is expected after any surgical procedure, including breast augmentation. The swelling can cause the breasts to appear more prominent or pointy than their eventual shape. As the swelling subsides over the weeks following surgery, the breasts will gradually assume a more natural and rounded appearance.
Implant position: Immediately after surgery, the implants may sit higher on the chest due to the tightness of the chest muscles and surrounding tissues. As the muscles and tissues stretch and relax, the implants will gradually descend into a more natural position, leading to a softer and rounder breast contour. This is known as the "drop and fluff" phenomenon.
Implant type and size: The choice of implant type, size, and profile can influence the breast shape after augmentation. For example, high-profile implants may initially create a more pointy appearance, but this can lessen as the tissues accommodate the implants over time.
Capsular contracture: In rare cases, pointy breasts may result from capsular contracture, a complication in which the scar tissue surrounding the implant tightens and causes the implant to feel firm and look misshapen. If this occurs, you should consult your surgeon for further evaluation and potential treatment options.
It is essential to understand that the healing process after breast augmentation can take several months, with the final result becoming more apparent as time passes. If you continue to have concerns about the shape of your breasts after a reasonable healing period, it is advisable to consult with your surgeon to discuss any potential issues and explore appropriate corrective measures if necessary.
Reasons to Select Our Surgical Centre for Breast Surgery
EXPERIENCED AND SKILLED SURGEONS – Our Surgical Centre in London is home to a team of highly qualified and experienced plastic surgeons specialising in breast surgery. Their expertise ensures that you receive the best possible care and results tailored to your unique needs.
STATE-OF-THE-ART FACILITIES – We pride ourselves on offering state-of-the-art facilities equipped with the latest technology, ensuring the highest standards of safety and comfort throughout your surgical journey.
PERSONALISED APPROACH – We believe in a patient-centric approach, taking the time to understand your individual goals and expectations. Our surgeons work closely with you to develop a customized treatment plan that best suits your needs and desires.
COMPREHENSIVE AFTERCARE – Our commitment to your well-being extends beyond the surgery itself. We provide a comprehensive aftercare program to monitor your progress, ensure optimal healing, and address any concerns or questions you may have during your recovery process.
PROVEN TRACK RECORD – Our Surgical Centre has a strong reputation for delivering exceptional results and high patient satisfaction rates. We are dedicated to maintaining the highest standards of care and achieving the best possible outcomes for our patients.
CONFIDENTIALITY AND PRIVACY We understand the importance of privacy and discretion in the context of cosmetic surgery. Our Surgical Centre upholds strict confidentiality policies to protect your personal information and ensure a comfortable, secure experience.
By choosing our Marylebone Surgical Centre for your breast surgery, you can trust that you are in the hands of highly skilled professionals who prioritise your safety, satisfaction, and overall well-being.
RELATED: How much does a boob job cost?(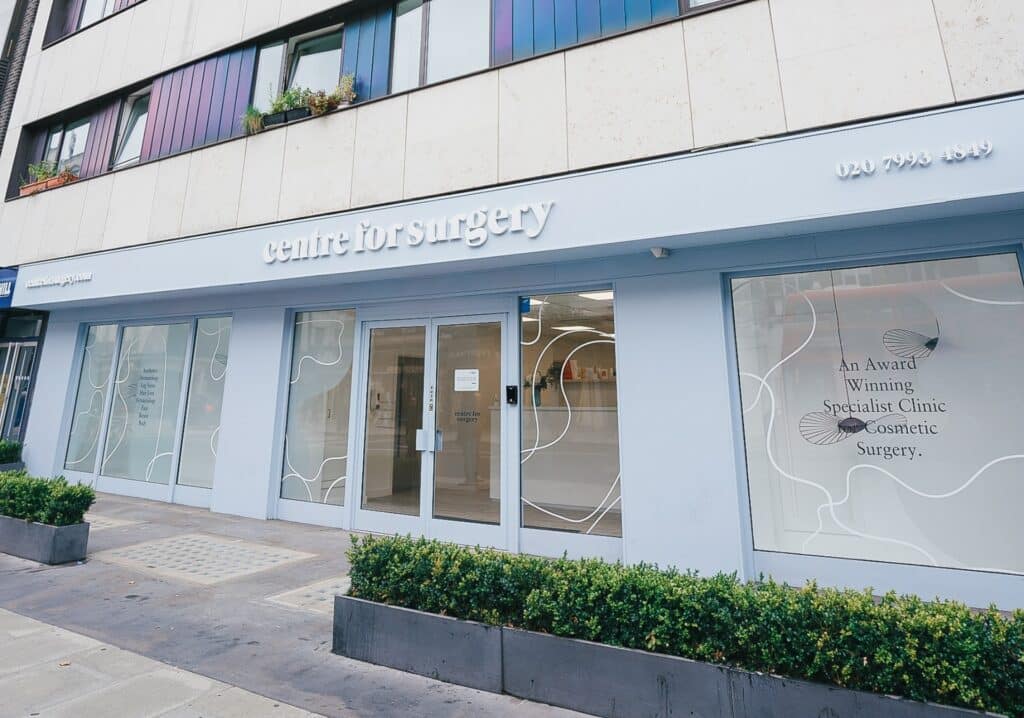 Amazing from start to finish, the communication was the main thing was fully informed and looked after, on the day of my breast augmentation, the staff were fab and made me feel at ease through out the whole process. Thank you so much.
Mohammed Farid
18/11/2021
I've had such a great experience with excellent advice, care and attention and surgical treatment (gynaecomastia) - I can fully endorse the treatment I have received from Centre for Surgery with absolutely no qualms at all. Brilliant in every way - thank you all so much.
Caroline Thorpe
14/11/2021
Very pleased with my whole experience of having a procedure. Was so nervous about getting treatment and i was reassured and felt so comfortable throughout thanks to the amazing nurses. I definitely made the right decision to have breast augmentation at centre for surgery with dr erel.
Melissa Briggs
08/11/2021
So glad I went with centre for surgery, the whole process went very smoothly from the consultations down to the actual day of the procedure. I was so nervous on the day but the whole team put me at ease and I'm happy with my results as I feel a lot more comfortable wearing certain clothes now. My surgeon was Alberto Di Giuseppe who performed a breast Augmentation on me, and I would definitely recommend as he was very clear on what the outcome of the surgery would be and which size would look the best for my frame.
Couldn't be happier with Dr Tillo work,i had my breast surgery one week ago and so happy with the results so far,all the staff are extremely nice and very supportive,i would definitely recommend their services,thank so much
From start to the finish everything was perfect for tummy tuck surgery. All staff is very friendly and the aftercare has been good. The Doctor and the nurse team was fantastic. I'm so happy...result is amazing. Thank you!!!
This was overall a great experience, all the staff at Centre for Surgery were friendly and put me at ease. It is a nerve wracking thing to go through an op but the staff were so nice. Mr Ertan has got a great team around him. On the day of the operation everything went smoothly to plan, there was no delay or holdups, I had another consultation with Mr Ertan who confirmed what was going to be done and that I was still happy to proceed. I was prepped for the procedure, I met with the anaesthetist who again was really nice and put me at ease explaining his role. After the procedure I woke up with the nurse by my side making sure I was OK and checking on me, I was able to stay in the clinic until I was ready to leave and was not rushed at all. I was well looked after from the start to the point when I was discharged. Post operation I was staying at a local hotel it was so close there was no point in even getting a taxi and I was able to walk back where my partner was waiting for me. I was expecting a lot of bruising to both my eyes but there was very little if any by the time the cast came off after 7 days, I am now at the two week post operation point and it is healing well with no outwardly visible bruising or scaring. The next milestone is a checkup at the 6 week point with my surgeon. If you're thinking of having something like this done I would highly recommend getting in touch with Centre for Surgery.
The staff at Centre for Surgery were very kind and accommodating. They answered any questions I had about the procedure and were constantly checking up on me. A special thank you to Christina for all her support throughout.
I would just like to state the quality of care received from the nurses at Centre for Surgery was beyond the highest level. Sophie takes her patient care to another level beyond words. She always puts me at ease. She is there for me even at awkward hours just when I mostly needed reassurance and she is one of the most compassionate nurses I have come across and demonstrates her passion naturally for caring for others. She totally deserves recognition at its finest and thank you for always being there for me. 😍