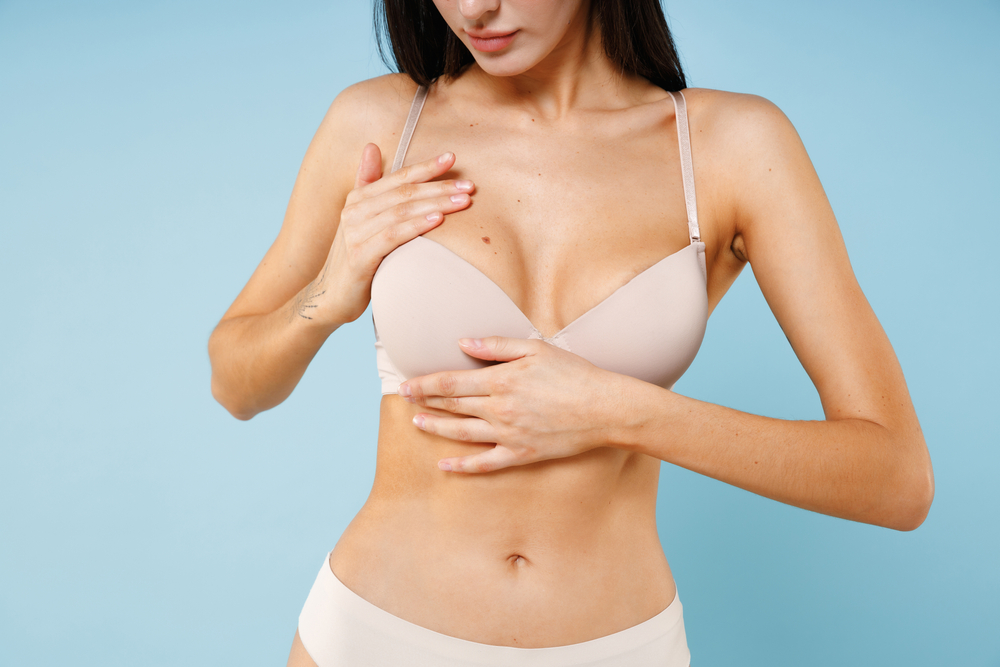 Breast augmentation continues to be one of the most commonly performed cosmetic surgery operations in the UK, with over 2000 procedures carried out in London each year. Breast enlargement surgery is designed to alter the size and shape of the breast with an improvement in breast texture.
Breast implants come in two main types, silicone implants or saline implants. Saline implants are composed of a silicone outer and are filled with a sterile saltwater solution (saline). In contrast, silicone implants are composed of a cohesive gel-like material enclosed by a silicone shall. Saline implants are rarely used in the UK due to the high risk of implant rupture and the inability to achieve natural-looking results. There are also more prone to developing implant rippling, which may be visible through the skin. Silicone breast implants are most commonly used in the UK and have a more natural consistency with a reduced likelihood of developing implant rippling or wrinkling. All types of breast implants have a finite lifespan of approximately 10 to 15 years, and it is recommended to have them removed or replaced at this time. Some women may also want to improve the size and shape of their breasts after a period of time due to the development of breast sagging, and different-sized implants, whether bigger or smaller, may be used to replace old breast implants.
Which types of breast implants look natural?
We commonly get asked how women can achieve a natural look with breast implants. There are several different ways to ensure a natural-looking appearance with breast implants.
Getting natural-looking results with breast augmentation
The first step is to have a consultation with an expert breast augmentation surgeon at Centre for Surgery. At the consultation, your surgeon will assist you in helping to select the most appropriate type of implant to match your chest anatomy. We offer two different brands of breast implants, including Mentor and Sebbin implants. Both types of implants are MHRA-approved for breast augmentation and have a proven track record of safety and quality. Implants come in various sizes and shapes, including round implants, anatomical implants or teardrop implants.
Implants also come in a variety of different profiles, from low profile to very high profile. Implant profile is used to describe the distance of projection from the chest, with low profile implants having a more shallow edge resulting in a more natural appearance. Very high-profile implants project further outwards with more defined edges and help improve breast cleavage. High-profile implants have a lower potential for creating a natural appearance but are often preferred by many patients who want to achieve bigger breasts with enhanced cleavage.
Your surgeon will also discuss optimal breast implant placement with two main techniques for placing the implants, which can be either below the pectoralis muscle or placed on top of the muscle. There are pros and cons to both approaches depending on your desired look. Achieving a natural appearance to the breasts will often depend on where the implants are placed, and you can discuss this further with your surgeon at the consultation.
Natural-looking breast implants can be enhanced further with the addition of fat transfer to the breasts, which is an effective technique for disguising the edges of the implant in thin-skinned patients.
Following the post-operative instructions after breast augmentation surgery is essential to get the best results. You will be provided with a post-operative support bra to maintain the breast implants in the correct position and avoid unnecessary irritation of the healing scars.
We would advise avoiding certain types of strenuous exercise, including cardiovascular exercises and sporting activities such as tennis, which involve raising your arms above your shoulder level. Excessive movements of the arms above the shoulders may result in a risk of developing implant malposition. This complication may require corrective breast surgery further down the line. Avoiding excessive arm movements will also help your breast augmentation scars to heal properly.
How can breast implants look fake?
Fake-looking breast implants often have several characteristics. Choosing very high-profile implants often results in breasts that appear less natural. The position of the implant can also play a factor in creating breast implants that look fake, whether the implant is placed above the breast muscle or beneath it.
The anatomy of the female chest and the size of the breast implant selected can often determine whether breast enhancement results appear fake. Women who only go up one or 2 cup sizes after breast augmentation surgery have a higher likelihood of achieving natural-looking results than women who go up 5 or 6 breast cup sizes. If you are keen to achieve a natural-looking breast augmentation, please discuss this with your surgeon, who will be able to use years of experience in helping you select implants that will appear natural for your body shape.
What is the most natural breast implant?
Compared with saline implants, silicone breast implants have the most natural-looking appearance and optimum feel. At Centre for Surgery, we have extensive experience with Sebbin breast implants manufactured in France. These implants have over 20 years of safety data proving their effectiveness. Sebbin implants contain a highly cohesive silicone gel contained in an outer silicone shell. Patients often tell us how the implants feel similar to the natural breast tissue. Successful breast augmentation surgery to achieve a natural appearance depends on choosing the correct implant size, shape and profile, which must always be customised to each patient to get optimal results.
What kind of breast implant is right for you?
Are there any natural alternatives to breast implants?
Breast augmentation with implants is the most common method of surgically enhancing the breasts. However, fat transfer breast augmentation has emerged as a highly effective way to enhance breast volume without the need for implants.
Centre for Surgery experts in all types of fat transfer surgery, including breast augmentation fat transfer which involves enhancing breast volume by injecting fat into the breasts. Many patients often prefer having breast augmentation with fat transfer as the procedure does not involve the use of artificial substances such as silicone implants and is known for producing natural-looking results.
What are the natural alternatives to breast implants?
Natural breast augmentation with fat transfer to breast involves liposuction to remove fat from unwanted body areas such as the abdomen, thighs or hips, followed by its purification. The purified fat is then injected into the breasts using small diameter cannulas. Many patients appreciate having areas of stubborn fat removed to contour and sculpt body regions such as the stomach. This procedure is often viewed as a two-in-one procedure with the body contouring benefits of liposuction combined with breast fat transfer to increase breast volume in the same procedure. Natural breast augmentation with fat transfer results in fewer scars compared with breast implant surgery.
The risk of complications such as bleeding is much less with breast fat transfer than with breast implant surgery. Not having implants inserted means any risk of infection is minimal. Fat transfer breast augmentation is commonly requested by patients who may be unhappy with the results of a breast implant procedure. Some patients may have had surgery for breast cancer, such as a mastectomy and will require breast reconstruction surgery to restore the shape of the breasts and get rid of breast asymmetry.
Fat transfer breast augmentation is most commonly carried out under a general anaesthetic. At Centre for Surgery, we specialise in TIVA anaesthesia to ensure a quick recovery with minimal risk of post-operative sickness. The procedure takes, on average, between one and three hours, depending on the amount of liposuction carried out and the quantity of fat injected into the breasts.
The recovery time after that transfer to breasts is generally between one week and four weeks. Your surgeon may recommend taking one week off work and restricting physical activities until any post-operative swelling has settled down, which will help improve the quality of your recovery. Once you have seen your surgeon at your six-week review, you may undertake complete activities without restrictions.
Fat transfer to the breasts can be carried out with or without breast implant surgery. When breast fat transfer is combined with breast implants, the procedure is called hybrid breast augmentation. By combining the two procedures, patients can benefit by having a significant increase in breast volume with implants with the natural-looking results achievable with fat transfer. Liposuction can be carried out to other body areas if desired to create a flatter stomach or slimmer-looking thighs.
Some of our surgeons are experienced in 3-D virtual imaging to give you an idea of how you could look after your breast implant surgery. 3-D imaging may help you develop a better idea of what can be achieved and whether your expectations are realistic.
Amazing from start to finish, the communication was the main thing was fully informed and looked after, on the day of my breast augmentation, the staff were fab and made me feel at ease through out the whole process. Thank you so much.
Mohammed Farid
18/11/2021
I've had such a great experience with excellent advice, care and attention and surgical treatment (gynaecomastia) - I can fully endorse the treatment I have received from Centre for Surgery with absolutely no qualms at all. Brilliant in every way - thank you all so much.
Caroline Thorpe
14/11/2021
Very pleased with my whole experience of having a procedure. Was so nervous about getting treatment and i was reassured and felt so comfortable throughout thanks to the amazing nurses. I definitely made the right decision to have breast augmentation at centre for surgery with dr erel.
Melissa Briggs
08/11/2021
So glad I went with centre for surgery, the whole process went very smoothly from the consultations down to the actual day of the procedure. I was so nervous on the day but the whole team put me at ease and I'm happy with my results as I feel a lot more comfortable wearing certain clothes now. My surgeon was Alberto Di Giuseppe who performed a breast Augmentation on me, and I would definitely recommend as he was very clear on what the outcome of the surgery would be and which size would look the best for my frame.
Couldn't be happier with Dr Tillo work,i had my breast surgery one week ago and so happy with the results so far,all the staff are extremely nice and very supportive,i would definitely recommend their services,thank so much
From start to the finish everything was perfect for tummy tuck surgery. All staff is very friendly and the aftercare has been good. The Doctor and the nurse team was fantastic. I'm so happy...result is amazing. Thank you!!!
This was overall a great experience, all the staff at Centre for Surgery were friendly and put me at ease. It is a nerve wracking thing to go through an op but the staff were so nice. Mr Ertan has got a great team around him. On the day of the operation everything went smoothly to plan, there was no delay or holdups, I had another consultation with Mr Ertan who confirmed what was going to be done and that I was still happy to proceed. I was prepped for the procedure, I met with the anaesthetist who again was really nice and put me at ease explaining his role. After the procedure I woke up with the nurse by my side making sure I was OK and checking on me, I was able to stay in the clinic until I was ready to leave and was not rushed at all. I was well looked after from the start to the point when I was discharged. Post operation I was staying at a local hotel it was so close there was no point in even getting a taxi and I was able to walk back where my partner was waiting for me. I was expecting a lot of bruising to both my eyes but there was very little if any by the time the cast came off after 7 days, I am now at the two week post operation point and it is healing well with no outwardly visible bruising or scaring. The next milestone is a checkup at the 6 week point with my surgeon. If you're thinking of having something like this done I would highly recommend getting in touch with Centre for Surgery.
The staff at Centre for Surgery were very kind and accommodating. They answered any questions I had about the procedure and were constantly checking up on me. A special thank you to Christina for all her support throughout.
I would just like to state the quality of care received from the nurses at Centre for Surgery was beyond the highest level. Sophie takes her patient care to another level beyond words. She always puts me at ease. She is there for me even at awkward hours just when I mostly needed reassurance and she is one of the most compassionate nurses I have come across and demonstrates her passion naturally for caring for others. She totally deserves recognition at its finest and thank you for always being there for me. 😍