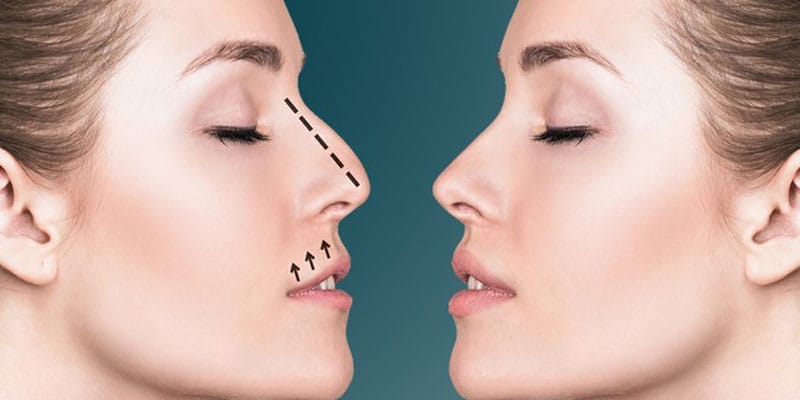 Choosing to undergo a rhinoplasty (nose job) is often preceded by months or even years of careful research to find the best clinic and rhinoplasty surgeon in London. Many choose to have the procedure to improve the aesthetic appearance of their nose. Other people may choose to have a nose job to correct medical issues, including difficulty breathing.
RELATED: Is rhinoplasty worth it?
Whatever the reason for having rhinoplasty surgery, it is important that both patient and surgeon understand the benefits and limitations of the procedure and what can be realistically achieved with a surgical rhinoplasty. Rhinoplasty surgery can correct a wide variety of different nose conditions, including:
Dorsal hump
The presence of a large bump located on the bridge of the nose is also known as a dorsal hump. A dorsal hump can be composed of either bone, cartilage or both. When viewing the nose from the side as part of a profile view, a dorsal hump is easily visible. Using expert rhinoplasty techniques, surgeons are able to reduce the size of a dorsal hump or can get rid of it completely. Many patients develop a significant boost in confidence and self-esteem after dorsal hump removal.
Bulbous tip
Bulbous tips often appear excessively large and out of proportion to the rest of the nose. A bulbous tip is one of the most common conditions that are corrected with a rhinoplasty procedure.
RELATED: Can nose jobs get rid of bulbous nose tips?
Fractured nose
The nasal skeleton consists of two nasal bones. When one or both nasal bones are fractured, significant pain and discomfort may result. Changes to the shape of the nose may occur even with the successful reduction of nasal fractures. Often the best solution is to have a reconstructive rhinoplasty to improve the appearance of a crooked nose.
RELATED: What are the different types of nose shapes?
Difficulty breathing through the nose
Patients with difficulty breathing through the nose may find it difficult at night due to the presence of nasal airflow obstruction. A deviated septum or septal deviation can be responsible for nasal airflow obstruction. This can be responsible for significant snoring issues. In some cases, snoring may disrupt sleep leading to daytime sleepiness. A septorhinoplasty which consists of a rhinoplasty combined with septoplasty, can help to get rid of problems in breathing through the nose due to improvement in the patency of the nasal passages. Nighttime breathing will be much improved.
Chronic sinus problems
Sinus problems can lead to blockage of the nasal passages due to impaired drainage from the sinuses. If left untreated, patients may develop problems in sleeping and even eating. Rhinoplasty to correct sinus issues is commonly carried out by our expert surgeons using the most advanced surgical methods.
Cleft lip or palate
Rhinoplasty is often carried out for those who have cleft lip or palate. Cleft lip or palate is most commonly a congenital condition, although in some cases, cleft lip and palate can result in significant structural deformities in and around the mouth and nose. A cleft rhinoplasty can effectively improve both the appearance and function of the nose in those being treated for cleft lip and palate.
What are the benefits of rhinoplasty?
Improve aesthetics
Rhinoplasty is most commonly carried out to improve the appearance of the nose. At your consultation, your surgeon will assess the shape and form of the nose and will provide customised recommendations on achieving natural-looking rhinoplasty results.
RELATED: Everything you need to know about ethnic rhinoplasty
Boost self-confidence
The size and shape of the nose can have a significant impact on overall facial symmetry. Many people develop significant unhappiness with the size or shape of the nose, which leads them to consider having rhinoplasty surgery. Rhinoplasty can help to improve overall facial balance, which can create a significant boost in self-confidence without feeling self-conscious about how your nose looks.
Before considering having a surgical rhinoplasty, it's important for patients to be aware of other benefits that rhinoplasty surgery can achieve, including:
Reducing the size of a large nasal tip
Improvement in breathing with relief of nasal airflow obstruction
Improved size and shape of the nostrils with nostril reduction surgery
Correction of a deviated septum
What are the risks of rhinoplasty surgery?
As with any type of surgery, rhinoplasty carries certain risks. When performed by an expert rhinoplasty Surgeon, risks of rhinoplasty are considered minimal. Recognised rhinoplasty risks include:
Bleeding
Infection
Septal perforation
Excessive scarring
Persistent swelling
Anaesthesia complications
RELATED: Key Facts And Myths About Rhinoplasty Surgery
How to choose the best place for rhinoplasty near me
Once you have decided to have a Rhinoplasty consultation, it's important to carry out plenty of research to enable the selection of the best rhinoplasty surgeon in London. Viewing reviews and testimonials will help to establish the credibility of a prospective clinic and surgeon. Rhinoplasty is most commonly carried out as a day case procedure which means you'll be able to go home the same day. However, any type of surgery requires pinpoint accuracy and precision to achieve the best possible rhinoplasty results. The consultation serves as an opportunity to ask as many questions as you like about any aspect of the procedure. It's important to feel comfortable with your toes and Surgeon and that they have the required skills and experience to look after you to the best of their ability both before, during and after your procedure.
RELATED: Best Rhinoplasty Surgeon UK
Once you have had your procedure, it's important to follow all of the post-operative care instructions given to you by your surgeon. Special emphasis is placed on maintaining proper care of your dressings and ensuring you attend all of your postoperative review appointments.
If you have any questions about any aspect of the procedure, schedule a consultation with us today at Centre for Surgery before you book your London rhinoplasty procedure. We carry out hundreds of rhinoplasty procedures each year at our state-of-the-art Baker Street clinic in Marylebone.
You can learn more about rhinoplasty and nose job surgery by reading our continuously updated blog, which covers all the latest information about rhinoplasty.
Amazing from start to finish, the communication was the main thing was fully informed and looked after, on the day of my breast augmentation, the staff were fab and made me feel at ease through out the whole process. Thank you so much.
Mohammed Farid
18/11/2021
I've had such a great experience with excellent advice, care and attention and surgical treatment (gynaecomastia) - I can fully endorse the treatment I have received from Centre for Surgery with absolutely no qualms at all. Brilliant in every way - thank you all so much.
Caroline Thorpe
14/11/2021
Very pleased with my whole experience of having a procedure. Was so nervous about getting treatment and i was reassured and felt so comfortable throughout thanks to the amazing nurses. I definitely made the right decision to have breast augmentation at centre for surgery with dr erel.
Melissa Briggs
08/11/2021
So glad I went with centre for surgery, the whole process went very smoothly from the consultations down to the actual day of the procedure. I was so nervous on the day but the whole team put me at ease and I'm happy with my results as I feel a lot more comfortable wearing certain clothes now. My surgeon was Alberto Di Giuseppe who performed a breast Augmentation on me, and I would definitely recommend as he was very clear on what the outcome of the surgery would be and which size would look the best for my frame.
Couldn't be happier with Dr Tillo work,i had my breast surgery one week ago and so happy with the results so far,all the staff are extremely nice and very supportive,i would definitely recommend their services,thank so much
From start to the finish everything was perfect for tummy tuck surgery. All staff is very friendly and the aftercare has been good. The Doctor and the nurse team was fantastic. I'm so happy...result is amazing. Thank you!!!
This was overall a great experience, all the staff at Centre for Surgery were friendly and put me at ease. It is a nerve wracking thing to go through an op but the staff were so nice. Mr Ertan has got a great team around him. On the day of the operation everything went smoothly to plan, there was no delay or holdups, I had another consultation with Mr Ertan who confirmed what was going to be done and that I was still happy to proceed. I was prepped for the procedure, I met with the anaesthetist who again was really nice and put me at ease explaining his role. After the procedure I woke up with the nurse by my side making sure I was OK and checking on me, I was able to stay in the clinic until I was ready to leave and was not rushed at all. I was well looked after from the start to the point when I was discharged. Post operation I was staying at a local hotel it was so close there was no point in even getting a taxi and I was able to walk back where my partner was waiting for me. I was expecting a lot of bruising to both my eyes but there was very little if any by the time the cast came off after 7 days, I am now at the two week post operation point and it is healing well with no outwardly visible bruising or scaring. The next milestone is a checkup at the 6 week point with my surgeon. If you're thinking of having something like this done I would highly recommend getting in touch with Centre for Surgery.
The staff at Centre for Surgery were very kind and accommodating. They answered any questions I had about the procedure and were constantly checking up on me. A special thank you to Christina for all her support throughout.
I would just like to state the quality of care received from the nurses at Centre for Surgery was beyond the highest level. Sophie takes her patient care to another level beyond words. She always puts me at ease. She is there for me even at awkward hours just when I mostly needed reassurance and she is one of the most compassionate nurses I have come across and demonstrates her passion naturally for caring for others. She totally deserves recognition at its finest and thank you for always being there for me. 😍