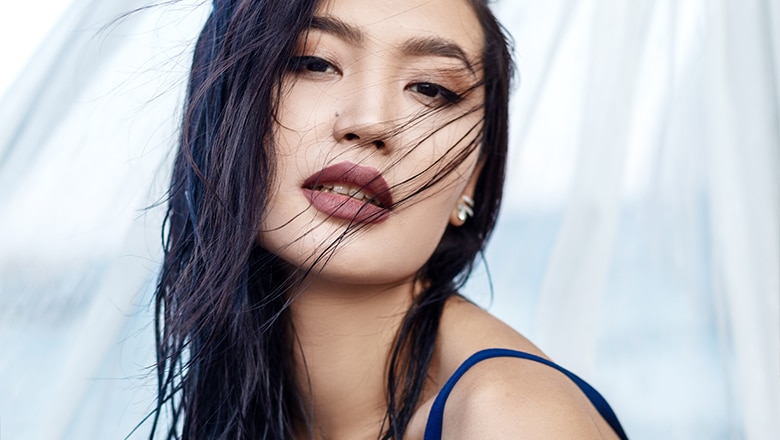 A lip flip is a non-invasive treatment aimed at increasing the fullness of the upper lip. The treatment does not involve the injection of dermal fillers to enhance lip volume. There has been significant media attention about the lip flip procedure recently with many celebrities choosing to have the procedure and talking about their experiences. The procedure involves the injection of botulinum toxin type A into the facial muscles which are located and close to the upper lip. The desired effect is to cause relaxation of these muscles which results in the upper lip projecting outwards and upwards. This can give the impression of enhanced fullness of the upper lip. It is important to bear in mind that the actual volume of the lip has not changed. The injection of botulinum toxin type A is intended to alter the position of the lip so that more of the inner part of the lip is visible.
RELATED: Thin lips – what are the causes and how can it be treated?
Many people are naturally interested in a procedure which can enhance the appearance of the lips without the injection of lip filler. Lip filler injections most commonly involve the use of hyaluronic acid-based dermal fillers which are designed to plump up the lips. We have noticed a significant increase in enquiries about the lip flip treatment and it has now emerged as a viable alternative to traditional lip filler injections using Juvederm, Belotero or Restylane.
Many people are unhappy about the appearance of a gummy smile and often choose to have a lip flip to reduce the amount of gum on show when smiling. Other reasons for having a lip flip include maintaining visibility of the upper lip when smiling. Sometimes people with thin lips may notice the upper lip disappearing when smiling. It is worth having an assessment first to see if you are suitable for the lip lift procedure. As part of the assessment, your aesthetic practitioner will assess your dentition as excessively small teeth may result in them being concealed by an excessively everted or outward-turning lip during many facial movements such as speaking or smiling.
Lip flip treatment is conveniently undertaken as an outpatient and takes no more than 15 minutes to carry out. There is very little discomfort associated with the procedure with no requirement for injection of local anaesthetic. The treatment involves the injection of Botulinum toxin type A into three defined injection points. Two injection points are located on each side of the mouth with the third injection point located in the middle of the upper lip which is also known as Cupid's bow. The injection containing botulinum toxin type A acts to cause muscle relaxation of the muscle surrounding the upper lip. This results in the upper lip to evert or 'flip' outwards. This is why the procedure is called a lip flip. The procedure is designed to create the impression of enhancing the volume in the upper lip without the injection of lip fillers.
Lip flip treatment does not require any time off work and once the treatment is finished, patients can return to their normal daily routine immediately. It is normal to experience mild bruising, swelling and localised redness around the injection sites although this will resolve very quickly. We would advise sleeping on your back in the first three days after treatment to prevent any pressure from being exerted on the site of treatment. We would also advise excessively touching or massaging the lips, especially in the area where the injectable was placed to prevent the spreading of the injection to unintended areas.
Lip flip results should be noticeable after 72 hours. Most patients can expect to see the final results of the treatment approximately two weeks later. A lip flip is designed to produce a pouty look which appears natural looking and in harmony with your facial features. This is compared with lip fillers where excessive injection of lip fillers may result in an 'overfilled' look. This treatment has significantly increased in popularity due to its ability to produce natural-looking results that last for up to 3 months. After this time, top-up treatments will be required to maintain the results.
It is important to bear in mind that a lip flip produces temporary effects and after three months, repeat treatment will be needed. The procedure is not permanent. The treatment involves the injection of tiny amounts of botulinum toxin type A into predefined injection points on either side of the mouth and in the midline of the upper lip. For patients who would like to achieve longer-lasting results of up to 12 months, we would recommend treatment with lip fillers. If you would like to achieve permanent results, a surgical lip lift procedure may be most appropriate to permanently improve the projection of the upper lip. Many patients choose to have further top-up injections after their initial lip flip treatment. When they are happy with the results, they often considered having a more permanent treatment such as a lip lift.
RELATED: What is a lip lift and is it worth it?
Lip flip is a very safe treatment with minimal risk of complications occurring as only very small quantities of injectable are placed into the upper lip. The risk of complications may increase significantly if you choose to have treatment by a beautician or other unqualified practitioners. In some cases, the muscles may become excessively relaxed due to the injection of too much botulinum toxin type A. This may result in functional symptoms including difficulty in closing the mouth sufficiently which may result in problems with drinking or articulating certain words while speaking. Drooling may also occur from the side of the mouth if the muscles have been excessively paralysed. Centre for Surgery only works with the most experienced aesthetic practitioners, many of whom have completed years of training in anti-ageing injectables. Any risks of treatment are therefore very low at Centre for Surgery. When considering injectable treatments, we would always recommend carrying out thorough research and making sure you are happy with your choice of aesthetic practitioner before proceeding with treatment.
Very rare side effects of lip flip treatment may include fever and headache. By injecting only very small amounts with each treatment, the risk of these complications is very low. Every consultation at Centre for Surgery involves a full discussion of potential risks and complications associated with treatment. We would recommend reflecting on all aspects of the consultation before choosing to have lip flip treatment at Centre for Surgery in London.
Although lip fillers are commonly used to enhance the volume of the lips, a lip flip is an excellent alternative for those who are not keen on the injection of dermal filler into the lips. There are other non-invasive treatments designed to plump up the lips including LipLase. LipLase is a non-invasive laser treatment designed for subtle enhancement in the volume of the lips without the need for needles or injections. Lip fillers remain the best treatment for enhancing the overall shape of the lips and improving symmetry. Vertical wrinkles found above the lips also known as smoker lines can also be effectively treated with dermal filler. Lip fillers provide long-lasting lip enhancement results. Typical durations of treatment or up to 12 months depending on the amount of filler injected before requiring top-up treatment. Choosing to have a lip flip is a great way to enhance the appearance of the upper lip. Treatment results last for up to 3 months so if you are unhappy with the appearance, the lip return to its normal shape fairly quickly.
When you have your consultation at our state-of-the-art aesthetic clinic in Marylebone, your practitioner will first carry out a detailed clinical assessment followed by customised recommendations. You can then proceed with treatment on the same day or on a future planned date to suit your preferences.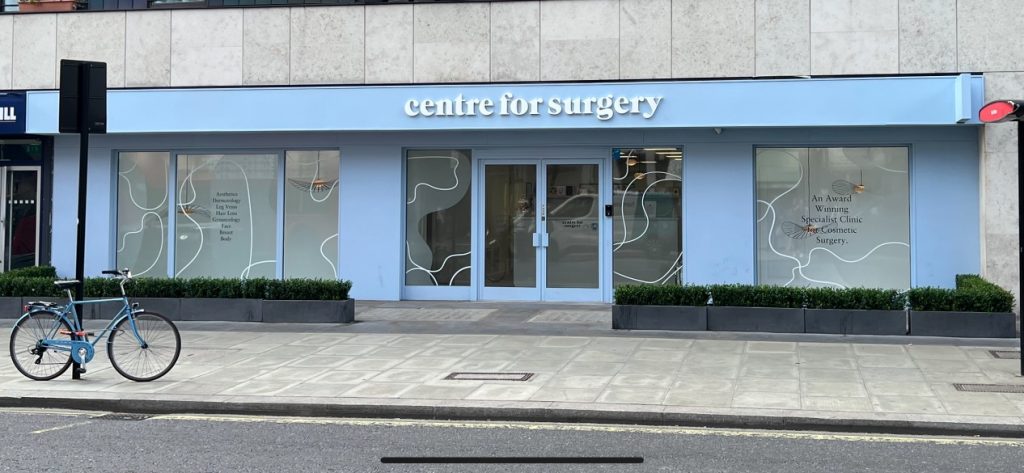 Amazing from start to finish, the communication was the main thing was fully informed and looked after, on the day of my breast augmentation, the staff were fab and made me feel at ease through out the whole process. Thank you so much.
Mohammed Farid
18/11/2021
I've had such a great experience with excellent advice, care and attention and surgical treatment (gynaecomastia) - I can fully endorse the treatment I have received from Centre for Surgery with absolutely no qualms at all. Brilliant in every way - thank you all so much.
Caroline Thorpe
14/11/2021
Very pleased with my whole experience of having a procedure. Was so nervous about getting treatment and i was reassured and felt so comfortable throughout thanks to the amazing nurses. I definitely made the right decision to have breast augmentation at centre for surgery with dr erel.
Melissa Briggs
08/11/2021
So glad I went with centre for surgery, the whole process went very smoothly from the consultations down to the actual day of the procedure. I was so nervous on the day but the whole team put me at ease and I'm happy with my results as I feel a lot more comfortable wearing certain clothes now. My surgeon was Alberto Di Giuseppe who performed a breast Augmentation on me, and I would definitely recommend as he was very clear on what the outcome of the surgery would be and which size would look the best for my frame.
Couldn't be happier with Dr Tillo work,i had my breast surgery one week ago and so happy with the results so far,all the staff are extremely nice and very supportive,i would definitely recommend their services,thank so much
From start to the finish everything was perfect for tummy tuck surgery. All staff is very friendly and the aftercare has been good. The Doctor and the nurse team was fantastic. I'm so happy...result is amazing. Thank you!!!
This was overall a great experience, all the staff at Centre for Surgery were friendly and put me at ease. It is a nerve wracking thing to go through an op but the staff were so nice. Mr Ertan has got a great team around him. On the day of the operation everything went smoothly to plan, there was no delay or holdups, I had another consultation with Mr Ertan who confirmed what was going to be done and that I was still happy to proceed. I was prepped for the procedure, I met with the anaesthetist who again was really nice and put me at ease explaining his role. After the procedure I woke up with the nurse by my side making sure I was OK and checking on me, I was able to stay in the clinic until I was ready to leave and was not rushed at all. I was well looked after from the start to the point when I was discharged. Post operation I was staying at a local hotel it was so close there was no point in even getting a taxi and I was able to walk back where my partner was waiting for me. I was expecting a lot of bruising to both my eyes but there was very little if any by the time the cast came off after 7 days, I am now at the two week post operation point and it is healing well with no outwardly visible bruising or scaring. The next milestone is a checkup at the 6 week point with my surgeon. If you're thinking of having something like this done I would highly recommend getting in touch with Centre for Surgery.
The staff at Centre for Surgery were very kind and accommodating. They answered any questions I had about the procedure and were constantly checking up on me. A special thank you to Christina for all her support throughout.
I would just like to state the quality of care received from the nurses at Centre for Surgery was beyond the highest level. Sophie takes her patient care to another level beyond words. She always puts me at ease. She is there for me even at awkward hours just when I mostly needed reassurance and she is one of the most compassionate nurses I have come across and demonstrates her passion naturally for caring for others. She totally deserves recognition at its finest and thank you for always being there for me. 😍