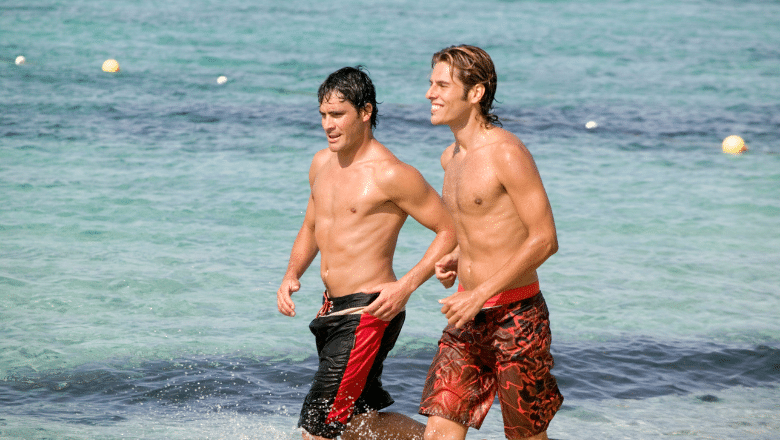 Gynecomastia is when men have bigger breasts than usual because of extra fatty tissue, gland tissue, or a mix of both. This condition can make men look like they have "man boobs," and it can really make them feel anxious or self-conscious.
What's surprising for many is that this is actually very common. In fact, between 70% to 90% of all men will experience this at some stage in their lives. So if you're going through this, you're definitely not alone.
No one is completely sure why this happens, but it's generally thought to be because of changes in hormone levels. Sometimes, the body produces too much of the female hormone estrogen, which is one of the main reasons why men might get bigger breasts.
It's important to note that how this condition affects you can change depending on your age. Because of this, the treatment you might need can vary as well. There are various ways that gynecomastia can show up, depending on how old you are.
Gynecomastia in Babies
It might come as a surprise to many, but gynecomastia is actually quite common in newborn baby boys. In fact, studies show that nearly 90% of them experience some degree of enlarged breast tissue. The main reason behind this is the transfer of the hormone estrogen from the mother to the baby during pregnancy. When the baby is in the womb, the mother's estrogen naturally flows into the baby's system, and this can result in the baby being born with somewhat larger breast tissue.
Usually, there's no reason to worry. In most cases, this is a temporary condition that resolves itself as the baby grows. By the time the child reaches his first birthday, the enlarged breast tissue commonly shrinks back to its normal size, as the baby's own hormonal system starts to take over and balance things out.
However, there are some rare instances where the condition might persist beyond the first year of the baby's life. In such cases, it's a good idea to consult with a healthcare provider for a proper evaluation. A doctor can help determine whether the condition requires any sort of intervention or if it's something that will eventually resolve on its own. It's always better to get a medical opinion to ensure that the child's development is on the right track.
Teenage Boys and Gynecomastia: Hormonal Changes and Treatment Options
During the teenage years, young men go through a lot of changes, especially when it comes to hormones. Puberty is a time of significant hormonal fluctuations, and it's completely normal for these changes to cause gynecomastia, or enlarged breast tissue. While not every teenage boy will experience this, research indicates that about 50-60% of them might go through some mild form of breast enlargement.
Most of the time, there's no reason to be alarmed. As the hormonal levels continue to change and eventually stabilise, with an increase in the production of testosterone, the condition often resolves itself. However, if the breast enlargement persists for more than two years, it might be a good idea to consult a healthcare professional for a proper evaluation and to discuss any necessary treatments.
Gynecomastia in Men: Causes and Treatment Options for Adults
Gynecomastia continues to be a prevalent issue even among adult men, affecting approximately 65% at some point in their lives. Unlike during adolescence, when hormonal imbalances are often the straightforward cause, identifying the root causes of gynecomastia in adult men can be more challenging.
There are a variety of factors that could lead to the development of gynecomastia in adults. These can range from undiagnosed medical conditions to issues with the thyroid gland. Lifestyle choices can also play a role. For example, certain medications you're taking might trigger the condition. Similarly, excessive alcohol consumption or the use of performance-enhancing drugs could also be contributing factors.
In cases where the condition is moderate to severe, one common recommendation is to consider surgical intervention. Gynecomastia surgery involves the removal of excess glandular and fatty tissue through a small incision, usually resulting in minimal scarring. This is often considered an effective and permanent solution for treating gynecomastia in adults.
However, it's essential to remember that every individual is unique, and treatment options may vary. There are instances where identifying and addressing the underlying cause can lead to the resolution of gynecomastia without the need for surgery. Always consult a healthcare professional for a thorough evaluation and personalised treatment plan.
Gynecomastia in Middle-Aged to Senior Men: Prevalence, Causes, and Treatment
As men transition from middle age into their senior years, gynecomastia becomes increasingly prevalent. Studies indicate that about 70% of men between the ages of 50 and 80 will experience some form of breast enlargement. Hormones once again come into play during this stage of life, as the gradual decline in testosterone levels can lead to enlarged breasts.
However, hormones are just one piece of the puzzle when it comes to gynecomastia in older men. Other factors such as undiagnosed medical conditions, specific medications, and lifestyle choices also contribute to the appearance of enlarged breast tissue at this age. For example, certain medications commonly prescribed for older adults can have side effects that include gynecomastia, and lifestyle habits like excessive alcohol consumption can also be contributing factors.
Given the various possible causes, it's crucial for men in this age group to consult healthcare professionals for a comprehensive evaluation. The treatment approach will often depend on the severity of the condition as well as the underlying causes. While surgical intervention remains an option, especially for moderate to severe cases, addressing the root cause could also result in the condition resolving on its own. Always consult a healthcare provider for an individualised diagnosis and treatment plan.
Why Choose Centre for Surgery for Your Gynecomastia Treatment?
When it comes to addressing a sensitive issue like gynecomastia, choosing the right healthcare provider is crucial. At Centre for Surgery, we offer state-of-the-art diagnostic and treatment options to help you regain your confidence and lead a happier, healthier life.
Expert Team of Specialist Plastic Surgeons
We have a dedicated team of highly skilled and experienced plastic surgeons who specialise in treating gynecomastia. Our specialists are trained to accurately diagnose the condition and tailor treatment options that are suited to your specific needs.
Personalised Treatment Plans
Every patient is unique, and that's why we offer individualised treatment plans to suit your specific condition, age, and lifestyle. From diagnosis to treatment and post-operative care, you are at the centre of everything we do.
Patient Testimonials
Don't just take our word for it. Listen to what our satisfied patients have to say:
"My experience at Centre for Surgery was excellent. From the first consultation to post-surgery care, the staff was supportive and professional."
"The treatment I received was exceptional. I can finally wear my favourite shirts without feeling self-conscious."
Modern Facilities and Advanced Technology
Our clinic is equipped with cutting-edge technology to ensure that you receive the best care possible. Our surgical methods are backed by the latest research, providing you with peace of mind.
Transparent Pricing and Financing Options
We offer transparent pricing and various financing options to make your treatment as affordable as possible.
For more information about gynecomastia and other plastic surgery topics, don't forget to check out our blog: Centre for Surgery Blog
Don't let gynecomastia affect your quality of life any longer. The first step toward treatment is an in-person consultation with one of our specialist plastic surgeons. To book your consultation, you can reach us at:
📞 Phone: 0207 993 4849
📧 Email: contact@centreforsurgery.com
📍 Address: 95-97 Baker Street, London W1U 6RN
Take the first step toward regaining your confidence. Book your consultation at Centre for Surgery today.