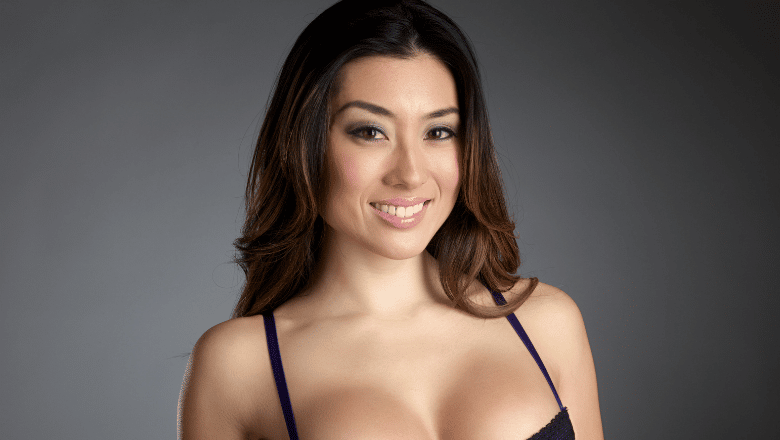 Breast augmentation surgery does not only alter the size of the breasts. The procedure will also affect the type and size of bra you will need to wear after the procedure. Breast implant surgery can produce a significant increase in the size of your breasts. Your existing bras will no longer be suitable, and you will need to invest in new larger-sized bras.  When choosing the right bra after breast augmentation, it may be useful to be fitted by a professional bra fitter after the procedure to ensure you have an appropriately sized bra that supports your breasts in the healing and recovery period in the best possible way. It is important to bear in mind it can take several weeks before you can wear conventional bras after the procedure. The breasts can take weeks or months to reach the final size once any postoperative swelling has disappeared. Here we present top tips on choosing the right bra after breast augmentation and how to look after it.
RELATED: Choosing the right bra after breast implant surgery
Should I wear a bra in the early recovery period after breast augmentation?
Your surgeon can advise you on whether you should wear a postoperative bra after breast implant surgery. Some surgeons may prefer you to wear a sports bra after having breast implants. Sam surgeons may advise against wearing a bra for up to 6 weeks after the procedure. It is important to follow your surgeon's preoperative and post-operative instructions when it comes to wearing post-operative bras. Being advised not to wear a post-operative bra may be because your surgeon may prefer your implants to undergo a degree of "drop and fluff" first.
RELATED: Drop and Fluff after Breast Augmentation
Postoperative bras are not designed to alter the position or shape of the breasts. The correctly fitting surgical bra is designed to provide adequate support and improve comfort, which helps to reduce your reliance on postoperative painkillers. The final appearance of the breasts can be influenced by the pressure exerted by a postoperative bra. Having said that, we recommend wearing a specialist post-operative bra after breast implant surgery.
How to find the correct bra for breast augmentation
Finding the right bra once your surgeon has given you the all-clear to start wearing a bra again can be helped by our specific recommendations. Most women are probably aware of what it may feel like to wear a bra that does not fit correctly and often involves significant discomfort. It is important to think about certain aspects other than the cup size and band of the bra. The cut and style of the bra can also make a significant difference when choosing an appropriate bra. It is important to remember that breast augmentation results take time to develop. The correct size of bra that may be suitable after four weeks may not be appropriate after three months. Swelling after breast augmentation can influence the cup size of the bra. This is why it is best to buy new bras in smaller quantities after breast enlargement surgery. Try to avoid buying too many new ones for weeks after the surgery. It may be the case that most of them may not fit correctly after three months. It is wiser to buy one or two bras at most at a given point in time that fit you correctly.
RELATED: Are breast implants worth it?
What to avoid when buying a breast augmentation bra?
If you choose to wear a normal bra before the initial six weeks after your breast implant procedure, we strongly advise against wearing a bra with an underwire. Although underwired bras do support the breasts, they can significantly increase complications after breast augmentation. Underwired bras may traumatise incisions for women with the inframammary approach to insert breast implants. In the UK, the inframammary incision is the most common incision for breast implant surgery. This may result in wound breakdown or potential excessive scarring. Your surgeon will advise you when it is safe to start wearing underwired bras again. You should also avoid wearing push-up bras. Push-up bras Will affect the position of the breast, which may result in undesired movement of your breast implants. This type of bra can irritate the skin incisions and cause various other problems. You should avoid push-up bras until you have fully recovered from breast surgery. You should also avoid guessing the size of the bra. Even if you have a good idea of what your size could be, it may be slightly different to what is actually measured. We recommend having a professional bra fitter assess you before buying new bras. This will help your breasts to look amazing and have the appropriate support they need to enhance their appearance. You should follow your surgeon's guidance on the most appropriate bra after breast augmentation. They may advise you to wear a compression bra immediately after the procedure; it is important to comply with this to minimise the risk of complications.
RELATED: What are the different types of breast implants?
How to care for your bra after breast augmentation
Once you have healed after breast augmentation, your new breasts should've reached their final position, size and shape. Wearing the appropriate bra type and size will help maintain the results of surgery in the long term. You should avoid wearing the same bra for two consecutive days. The elastic material that makes up the bra will lose its firmness, so the breasts will receive reduced support. You should also wear any new bra on the largest hook. As the bra begins to lose its inherent elasticity, you can tighten it by using the smaller hooks, which will help to provide increased support. Once you are wearing a bra on the tightest hooks, it may be time to replace the bra. You can help maintain your bras' longevity by washing them with cold water on a delicate fabric cycle. You should avoid putting them in a tumble dryer as the heat will diminish the bra's elasticity.
RELATED: Breast Implant Options
Breast augmentation at Centre for Surgery UK
If you want to learn more about breast augmentation in London, schedule an appointment at Centre for Surgery today. At your in-person consultation, your surgeon will learn about your goals for treatment, take a history and examination, and help you decide if breast augmentation surgery is appropriate for you. Centre for Surgery is the leading cosmetic surgery clinic in London and is home to some of the best consultant plastic surgeons in the UK. We have extensive experience in breast implant surgery. Our state-of-the-art clinic is located on Baker Street in the heart of Marylebone. Call us today on 020 7993 4849 or complete the contact form below to schedule an in-person consultation with an expert breast augmentation surgeon in London.
RELATED: How to finance breast implants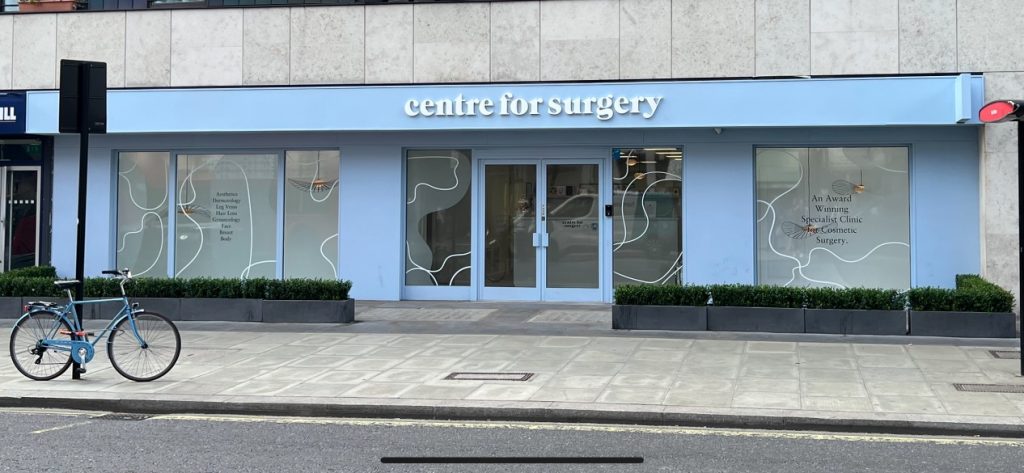 Amazing from start to finish, the communication was the main thing was fully informed and looked after, on the day of my breast augmentation, the staff were fab and made me feel at ease through out the whole process. Thank you so much.
Mohammed Farid
18/11/2021
I've had such a great experience with excellent advice, care and attention and surgical treatment (gynaecomastia) - I can fully endorse the treatment I have received from Centre for Surgery with absolutely no qualms at all. Brilliant in every way - thank you all so much.
Caroline Thorpe
14/11/2021
Very pleased with my whole experience of having a procedure. Was so nervous about getting treatment and i was reassured and felt so comfortable throughout thanks to the amazing nurses. I definitely made the right decision to have breast augmentation at centre for surgery with dr erel.
Melissa Briggs
08/11/2021
So glad I went with centre for surgery, the whole process went very smoothly from the consultations down to the actual day of the procedure. I was so nervous on the day but the whole team put me at ease and I'm happy with my results as I feel a lot more comfortable wearing certain clothes now. My surgeon was Alberto Di Giuseppe who performed a breast Augmentation on me, and I would definitely recommend as he was very clear on what the outcome of the surgery would be and which size would look the best for my frame.
Couldn't be happier with Dr Tillo work,i had my breast surgery one week ago and so happy with the results so far,all the staff are extremely nice and very supportive,i would definitely recommend their services,thank so much
From start to the finish everything was perfect for tummy tuck surgery. All staff is very friendly and the aftercare has been good. The Doctor and the nurse team was fantastic. I'm so happy...result is amazing. Thank you!!!
This was overall a great experience, all the staff at Centre for Surgery were friendly and put me at ease. It is a nerve wracking thing to go through an op but the staff were so nice. Mr Ertan has got a great team around him. On the day of the operation everything went smoothly to plan, there was no delay or holdups, I had another consultation with Mr Ertan who confirmed what was going to be done and that I was still happy to proceed. I was prepped for the procedure, I met with the anaesthetist who again was really nice and put me at ease explaining his role. After the procedure I woke up with the nurse by my side making sure I was OK and checking on me, I was able to stay in the clinic until I was ready to leave and was not rushed at all. I was well looked after from the start to the point when I was discharged. Post operation I was staying at a local hotel it was so close there was no point in even getting a taxi and I was able to walk back where my partner was waiting for me. I was expecting a lot of bruising to both my eyes but there was very little if any by the time the cast came off after 7 days, I am now at the two week post operation point and it is healing well with no outwardly visible bruising or scaring. The next milestone is a checkup at the 6 week point with my surgeon. If you're thinking of having something like this done I would highly recommend getting in touch with Centre for Surgery.
The staff at Centre for Surgery were very kind and accommodating. They answered any questions I had about the procedure and were constantly checking up on me. A special thank you to Christina for all her support throughout.
I would just like to state the quality of care received from the nurses at Centre for Surgery was beyond the highest level. Sophie takes her patient care to another level beyond words. She always puts me at ease. She is there for me even at awkward hours just when I mostly needed reassurance and she is one of the most compassionate nurses I have come across and demonstrates her passion naturally for caring for others. She totally deserves recognition at its finest and thank you for always being there for me. 😍